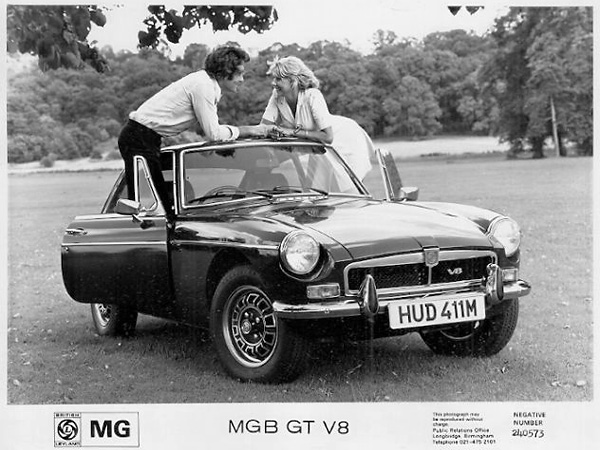 (From the press release for the first-generation "chrome bumper" version of the MGB GT V8 model.)
MG's "Factory" MGB GT V8 Model
Original MGB GT V8 Press Release
Original MGB GT V8 Magazine Ads
MGB GT V8 Fact File
MGB GT V8 Magazine Articles
Most of the following articles were collected by veteran journalist Ken Smith for a book he planned to commemorate the tenth anniversary of the MGB GT V8 model. Ken secured permission to reprint the respective articles, but his book was never printed. Ken has encouraged us to publish his collection here. Where possible, we've included original photos with the articles. In some cases (as specifically indicated) original photos were damaged, lost, or unsuitable for online use so we've endeavored to make appropriate substitutions or additions. (Parenthetical entries in the "photos" column indicate "new" photos.)
Initial Press Coverage of the MGB GT V8 Model
Enjoying these articles? Our magazine is funded through the generous support of readers like you!
To contribute to our operating budget, please click here and follow the instructions.
(Suggested contribution is twenty bucks per year. Feel free to give more!)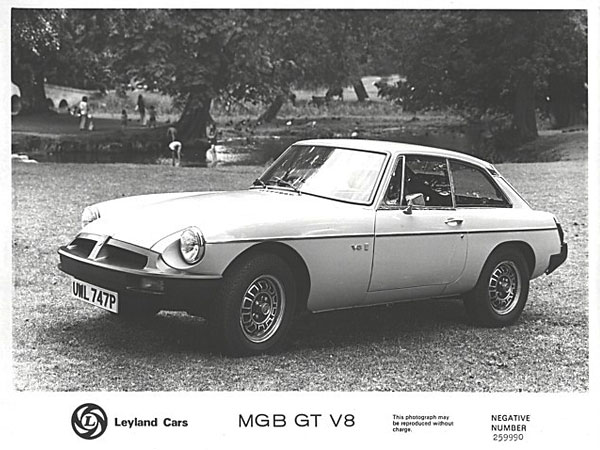 (From the press release for the second-generation "rubber bumper" version of the MGB GT V8 model.)
Later In The MGB GT V8 Production Era
Retrospective Views on the MGB GT V8
A Close Look at Example Factory MGB GT V8 Cars

Note: car serial numbers were assigned sequentially, in four batches. Numbers 0095 through 0099 were assigned to the first five prototype cars. Numbers 0100 through 1956 were assigned to chrome-bumper MGB GT V8s. Numbers 2101 through 2632 and also numbers 2701 through 2903 were assigned to rubber-bumper MGB GT V8s.


Important Pre-Cursor to the Factory MGB GT V8: The Ken Costello MGB V8's
B.C. ("Before Costello"): Early MGB Engine Swaps

Note: literally hundreds of MGB V8 and V6 swaps have been documented in magazines. The article "MGB Buick?" in Sports Car World is special because it featured an aluminum V8 conversion way back in 1967. We'll republish other noteworthy articles about early MGB engine swaps as we obtain permissions and reproducible photos. Other interesting "B.C." conversion articles include "289 + MGB = Fun" in Hot Rod Magazine (11/69) which featured a Ford V8 conversion, "British Bomber" in Popular Hot Rodding, (2/72) which featured a Chevy V8 conversion, and "A Hot English Transplant" in Popular Hot Rodding (3/72) which featuring a Buick V6 conversion. Classic American magazine published an article called "Draggin' Up the Past" in October 2012 which documented what they suggested may have been England's first funny car: "Megalomania". That car was built by Keith Sales of SS Motors in Mitcham Surrey in early 1966. Sales put a 396cid Chevy V8 in a 1963 MGB and was dragracing it at Santa Pod by August 14, 1966. We're always on the look-out for magazine articles about early MGB V8 engine swaps!