MGB GT V8... Police Chase Cars!
as published in British V8 Newsletter, Volume XV Issue 3, December 2007
8-11-1984
Mr. Ken Smith

Early reply, not typed, forgive the spelling, typing takes another week here.

During the early seventies we introduced three MGB GT's into our fleet to perform the role of "plain enforcement cars", in short being plain in color (i.e. not white and with no police markings). These cars could be used to good effect to apprehend persistent speeders, those well in excess of the speed limit on motorways.

During 1974 we replaced these cars with three BGT V8s. Each of those cars gave first class service for 90,000 miles (each) at which time we sold them for around £200 less than we paid for them. Two are still in use by MG enthusiasts.
The police equipment used in these cars included Police Radio, two-tone horns concealed behind the front grille, two flashing blue lights set back into the front grille, fire extinguisher, portable "slow" signs and warning lights, tape measure, 6 red & white cones, crow bar, and a police sign fitted on the rear floor just under the tailgate window so arranged that when the police driver pulled a cord fixed to the roof close to his right shoulder the sign would lift up to show through the rear window and illuminate with the words "POLICE" and "STOP" (in red).

Some of the world's fastest production cars have seen this sign in action at speeds well in excess of 100 MPH.

Had it not been for the demise of MG at Abingdon we would still be using these now. To detect an ex-police MGB GT V8 look for the tell-tale small holes in the headlining at the driver's side roof where the self tap screws were fitted to support the rear window sign pull cord.

Yours faithfully,
David Willcox
Force Transport Officer

Enjoying this article? Our magazine is funded through the generous support of readers like you!
To contribute to our operating budget, please click here and follow the instructions.
(Suggested contribution is twenty bucks per year. Feel free to give more!)
Editor's Note:
this letter has been carefully transcribed from an original handwritten note, written in blue pen on police letterhead. We transcribed the letter to make it accessible to more readers.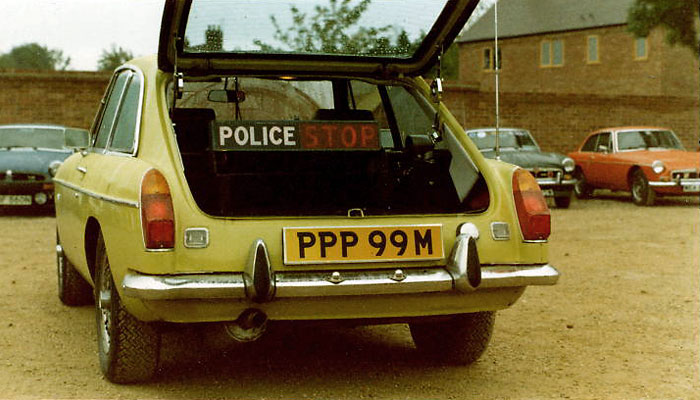 An Actual MGB GT V8 Unmarked Police Car (Photo by Ken Smith.)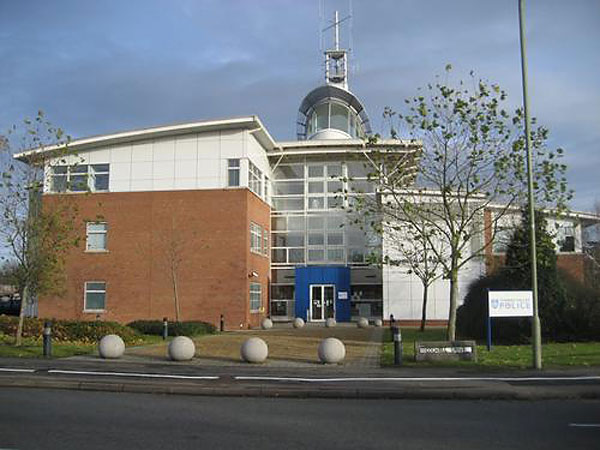 The Thames Valley Police now occupy a large station on the original site of MG's factory at Abingdon.
(Photo by Peter Mittler. Incidentally, Peter is co-chairman of MG2010. Make plans NOW to attend!)


This article is part of a set of two! If you enjoyed this article, check out: "Police Review"
---
BritishV8 Magazine has assembled the largest, most authoritative collection of MG "MGB GT V8" information you'll find anywhere. Check it out! Access our MGB GT V8 article index by clicking here.