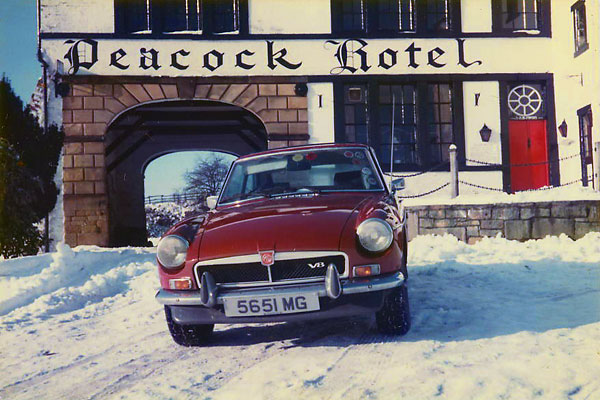 "Damask Red" was the second most popular color for the MGB GT V8 model.

Factory MGB GT V8 Paint and Trim Color Options
as published in BritishV8 Magazine, Volume XVI Issue 2, October 2008
Body Color
Interior Upholstery/Trim Color 1
Official Name
Description
Code
# Built 2
Years
Navy
Ochre
Black
AutumnLeaf
Aconite
dark purple
BLVC 95
98
74-75
Stnd.
Black
black
BK 1
79
74-76
Opt.
Opt.
Black Tulip 3
very deep purple
BLVC 25
5
73 only
Stnd.
Stnd.
Blaze
orange
BLVC 16
147
73-75
Stnd.
Stnd.
Bracken
brownish orange
BLVC 93
154
73-76
Stnd.
BRG + Gold 4
dark racing green
BLVC 25
1
75 only
Stnd.
Bronze Yellow
yellow ochre
BLVC 15
26
73 only
Stnd.
Brooklands Green
very dark racing green
BLVC 169
17
74-76
Stnd.
Chartreuse
pale yellow
BLVC 167
19
75-76
Stnd.
Citron
greenish yellow
BLVC 73
267
73-74
Stnd.
Damask Red
light burgandy
BLVC 99
472
73-76
Stnd.
Stnd.
Ermine White
purest white
BLVC 243
1
75-76
Stnd.
Flame Red
bright red
BLVC 61
1
73 only
Stnd.
Flamenco Red
scarlet
BLVC 133
147
75-76
Stnd.
Glacier White
bluish white
BLVC 59
513
73-76
Stnd.
Opt.
Opt.
Green Mallard
dark green
BLVC 22
15
73-74
Stnd.
Stnd.
Harvest Gold
golden beige
BLVC 19
183
73-74
Stnd.
Stnd.
Limeflower
yellowish green
BLVC 20
2
73 only
Stnd.
Mirage
greyish mauve
BLVC 11
17
74 only
Stnd.
Police White
off white
BLVC 1024
2
73-74
Stnd.
Stnd.
Sandglow
goldish caramel
BLVC 63
8
75-76
Stnd.
Tahiti Blue
bright blue
BLVC 65
90
75-76
Opt.
Opt.
Teal Blue
med/dark blue
BLVC 18
244
73-74
Stnd.
Stnd.
Tundra
olive green
BLVC 94
92
74-76
Stnd.
Unknown 5
?
?
1
75-76
?
?
Total Built 6
2601
(383)
(12)
(1195)
(1010)
Notes:
1) Only navy and ochre trim colors were offered in '73. Only black and autumn leaf trim were offered from '74-'76.
2) Number of cars built in each color was calculated by former MG employee and V8 enthusiast Geoff Allen from MG logs.
Line-built prototypes and show cars are included in the "# Built" column. Development-shop built prototypes apparently
aren't, except for chassis number GD2D2D100G (which is the one flame red car with navy blue interior listed above.)
Geoff also noted that factory employees confused tahiti and teal blue in some cases.
3) Apparently the only paint color that was listed at a premium price was Black Tulip.
4) One special 1975 V8 was built with a two-color paint job, consisting of "New Racing Green" and gold, with black interior.
5) Per Geoff Allen, the factory's "Despatch" office failed to note the color of exactly one rubber-bumper MGB GT V8.
6) The total number of MGB GT V8's is generally reckoned as: "chrome bumper" = 1862 cars, "rubber bumper" = 739 cars.

Enjoying this article? Our magazine is funded through the generous support of readers like you!
To contribute to our operating budget, please click here and follow the instructions.
(Suggested contribution is twenty bucks per year. Feel free to give more!)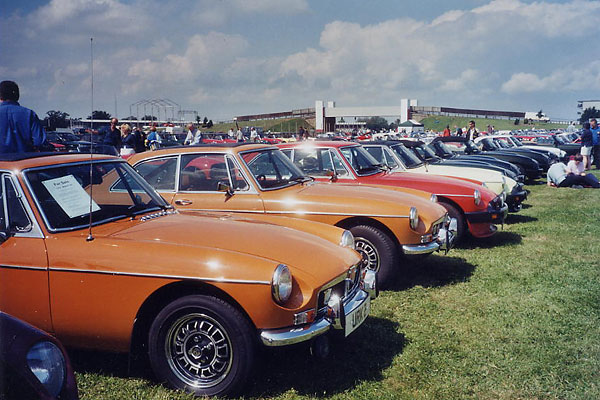 Other MGB GT V8 colors included Blaze (147 cars) and Flamenco Red (146 cars),
but Glacier White was most popular (513 cars).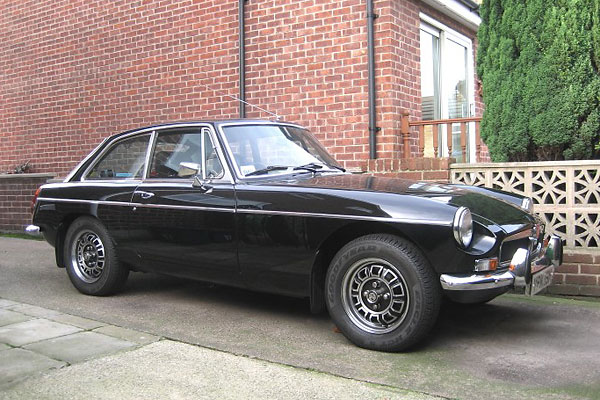 Only about three percent of MGB GT V8's were black.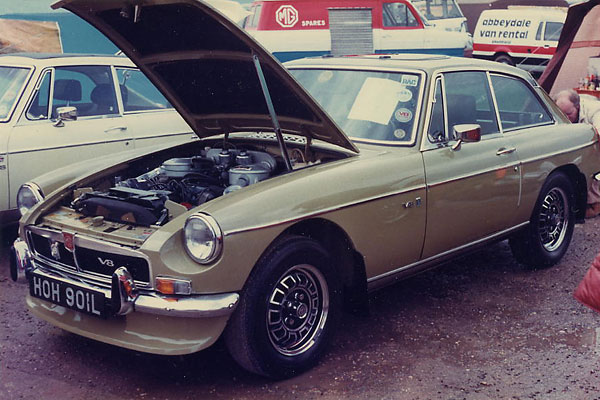 Limeflower wasn't a very popular color (only two sold!) but it photographed well in black-and-white.
This particular car appeared in many of the original black-and-white MGB GT V8 publicity photos.
Variants of "British Racing Green" (Brooklands & Mallard) weren't popular either - just 33 total -
but this number would have been much higher if the MGB GT V8 had been sold in North America!

---
BritishV8 Magazine has assembled the largest, most authoritative collection of MG "MGB GT V8" information you'll find anywhere. Check it out! Access our MGB GT V8 article index by clicking here.