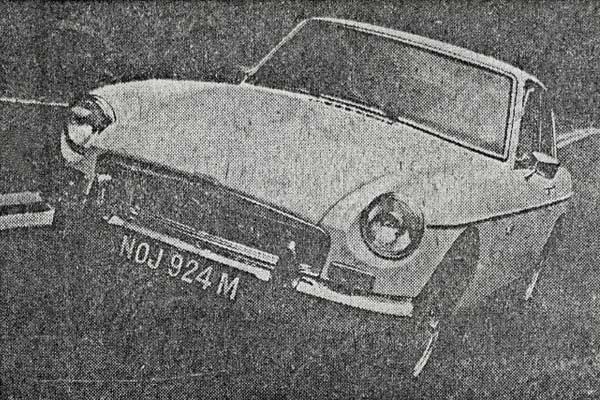 British Newspapers Announce the "MGB GT V8" (circa October 15, 1973)
as collected and republished in British V8 Magazine, Volume XVI Issue 1, May 2008


---
Still there, the old M.G. magic
Note: Despite extensive research, British V8 Magazine has been unable to determine which British newspaper originally published this article. We'd like very much to properly credit the original publisher and author, and to obtain their blessing for re-publication. In the interest of maintaining a historical record of the MG car company we have decided to include the article here complete and unedited, and to request help from our readers in discovering this information.


A CHARMING chap he is, with only one very unusual flaw to his character... a habit of swearing at his family when they are a bit slow with the motor map reading.

But this day he was off bright and early, all by himself and doing his own navigation.

Though really one could hardly call it navigation. "Just go up to the Mx," his prospective host said. "Then on to the My and at the end you'll find signs for the Mz. When you get on to it, turn off again about 16 miles along at Thisslethwaite Bridge and we are only four miles along from there."

Money for old boot laces!

When he reached the Mz he found it ran both ways, south-west and north-east, and a lesser man would have hesitated. But not our fellow. His host's home lay north not south. So the direction was obvious.

About 14 miles along he began to frown. There were distance signs for all manner of places, but not one for Thisslethwaite Bridge.

At 17 miles he came to a filling station and while his tank was being topped up he asked the woman attendant casually how much further he had to go.

She told him. He had to turn right round and head south-west.

But first he had to carry on in the wrong direction another 15 miles before he could turn round.

Our man had discovered the startling and fat-headed feature of motorway garages that has upset many another driver in the past. While there is a perfectly good service road linking the petrol pumps on either side of the motorway, it is only for the use of the staff.
SNEAK
But he looked so put out on that deserted, wet and windy Sunday that she showed him how to sneak across. And in the depths of his gratitude, he forgot to pay her for the petrol.

He registered this fact when he was well down the road in the proper direction and saw the £5 note on the seat next to him.

Luckily this time he had only three miles or so to go before he could turn back north.

Now, there was a police car at the filling station and while our man and the attendant were having a warm reunion, up came the crew.

"Didn't take you long to use up that tankful, sir." said one of them, with that bluff humour that marks a patrol-man whiling away a long wet day.

"We've been wondering about you ever since we spotted you pass these." and he pointed to the "No Entry" signs leading to the service road. "We reckoned you thought they meant 'Welcome.'"

Thirty miles later... fifteen up and fifteen back... he passed the filling station for the last time. The police crew gave him a matey wave.

Which is considerably more than he got from his hungry host. "Why didn't you come up the motorway? It's much quicker."

He could have gone even further and suggested that our man bought himself one of those new fangled M.G.B. G.T.s, with the V-8 engine.

That steeple-hatted Puritan we call logic can always think of ten sound reasons why we should not do what we want, whether it be buying a boat or a Great Dane, kissing the girl next door or living in a grass shack.
BOAST
And one can hardly describe this car as sensible. Even its claim to be an occasional four-seater is not realistic, for the bench seat at the back is merely a perch for a couple of hitch-hiking hedge sparrows.

No! The M.G.B. G.T. has always been a bold survivor of those days when motorists unashameably boasted that they drove just for the fun of it and not the most sour-faced thought any the worse of them.

When I first drove this latest model, I was not at all pleased. The quality that marks an MG is its urchin spirit, its cockiness, its cheerful uproar.

But start up the V-8 engine and all you get is a purr at one end and a whispering exhaust at the other. The terrier has turned into a pussy cat.

The V-8 version costs £2,300 and it seems even more when one can get exactly the same car with a smallish, cheekier engine for £600 less.

An ability to dawdle through traffic in third gear and an engine so silent that one can forgetfully stay in third at 70 miles an hour doesn't seem much of a swop somehow for cheerful tradition.

But then whoosh! And one knows precisely where the money has gone.

From handbrake off to 30 miles an hour in three seconds compared with the smaller M.G.'s four. And a whole five seconds lopped off the time one touches 60 miles an hour.

Keep your foot on the throttle and the smaller-engined M.G.'s breathless 100 miles an hour becomes a roaring 120 plus.

Oh, yes. Our pussy cat has claws. And can blow £600 on worse things than the fun of exercising them.

The bonnet may be full of murmuring power (overkill one is inclined to think at first glance) but the rest of the car is sheer vintage M.G.

The wind noise, for instance. At 100 miles an hour in the earlier model one did not so much talk as hail the crows nest in the face of a gale.

At 120 miles an hour in this version, one runs a very real risk of laryngitis.

The M.G.'s suspension is its happy and taut self. This may be too much on the hard side for those used to the modern swan's-down of most modern cars, but it has not a hint of the accompanying sloppiness.

The steering is traditional too. It is a brute to park but it is crisp and neat in the bends. I would say the gear change was robust rather than elegant.

In this M.G. one has all the character of a vintage car, but with considerably more performance and sparkle, yet none of the expensive handicaps of age and worn-out parts.
SCRAMBLE
Admittedly, this vintage quality shows in the road-holding as well. Although no true M.G. owner is going to admit it even at the end of a plank, this new extra power reveals a certain weakness in stability.

It starts with squeeling tyres which startle pedestrians even going round city corners and it ends with a rather disorganised scramble through very fast bends in the country. This is more untidy than alarming. For let the car have its head and it will always try to find the right line.

I am talking about hard driving. If even when you are abroad, you never do more than 80 miles an hour then I think you would swear that the car was docile and well-mannered.

Inside and in the front there is a lot of leg room and comfort. For a sports car, the visibility is exceptional. I don't know what to say about minor controls and instruments. Old-fashioned, I suppose. They're all there but in something of a clutter and there is too much reflection from the glass faces.
IDIOCY
Yet, I have reservations about my criticisms. One of those stereotyped, up-to-date instrument panels would be as out of place as a decent plot in a television play.

Only the handbrake, tucked away impossibly inaccessibly between the two front seats is an obvious idiocy. [Editor's note: it was obviously placed where it was to suit left-hand-drive export markets.]

Outside it is a most elegant and distinctive car; low and smooth and with the unique lines of a classic British sports car (even if it was designed by an Italian.)

At £2,300, this is a most expensive M.G. And even though it runs on three-star [low octane] fuel, one would have to drive a long way to make up the difference between it and some of its rivals in performance.

That is why people who should know better are calling it the paupers' Aston Martin or the poor man's A.C.

This is silly.

If you are one of those people who treasure the character, the temperament and the individuality of the M.G., then you would not swop it for a fleet of Lamborghinis.
THE FIGURES
Now for performance :-

GEARS : Top (overdrive), 120 m.p.h.; Top, 121 m.p.h.; Third, 97 m.p.h.; Second, 62 m.p.h.

ACCELERATION : 0-30 m.p.h., 3 secs.; 0-60 m.p.h., 8.3 secs.

CONSUMPTION : 21-30 m.p.g.

FOR THE TECHNICAL : Engine capacity 3,528c.c.; B.H.P. 137 at 5,000 r.p.m.; front suspension, independent; rear, semi-elliptic.

PRICE : Base, £1,925; Total with taxes, £2,293.96.

WILL IT FIT IN YOUR GARAGE? : Length, 12ft. 11in.; Height, 4ft. 2in.; Width, 5ft.

[Note: This article originally appeared with the single black-and-white photo shown above of a light-colored MGB GT V8 bearing registration plate NOJ 924M. The photo was captioned simply (and ambiguously): "The M.G.B. G.T." An identical photo appeared in other British newspapers, albeit with registration number YWL 921L airbrushed in instead. Regretably, our copies of these smaller photos aren't suitable for reproduction.]

The new MGB GT V8
Re-printed unedited by exclusive permission of "The Times" (of London).

by: Maxwell Boyd


A car which enthusiasts have been expecting with some impatience over the past couple of years is officially announced today by British Leyland. It is a high performance version of the classic MGB GT coupe powered by the Rover aluminium V8 engine.

Two years ago I drove a prototype of this model, developed as a private venture by the former racing driver Ken Costello, of Bromley, Kent. The report caused considerable interest among readers. British Leyland executives who tried the car were also impressed by its potential. The factory's production version, at £2,294, including taxes, is a promising successor to the ill-starred six-cylinder MG C.

The new car, called MGB GT V8 (at present there is no open two-seat version), has all the sparkle that was so sadly missing in the "C" model with its heavy, sluggish three-litre engine. The 3.5 litre V8 is actually 44lb lighter than the 1.8 litre four-cylinder engine of the standard MG but the addition of ancillary equipment needed to meet the latest noise, emission and safety regulations has pushed up the total weight to just above that of the ordinary "B" model.


===
One of the modifications needed for the new model to be able to run on low-lead fuel is a reduction in the Rover engine's ultra high, 10.5:1 compression ratio. By reducing this to 8.25:1, the designers have ensured that the V8 can operate satisfactorily on 94 octane, three-star petrol instead of needing five-star fuel. Although its output is down to 137 brake horsepower at 5,000 r.p.m., compared with the "S" type Rover's 150 b.h.p., this is still ample to give the latest MG a rousing performance, with outstanding smoothness.
Top speed, in fourth gear, is 124 m.p.h. and 0-60 m.p.h. acceleration is achieved in an impressive 8.25 seconds. As you would expect from a big V8, top gear flexibility is also outstanding - I got a 30 m.p.h. to 70 m.p.h. acceleration time of 13.4 seconds, while 50 m.p.h. to 70 m.p.h. came up in 7.5 seconds.
For the performance given, the fuel consumption is reasonable: MG quotes 27.5 miles a gallon at a steady 70 mph in overdrive top and 20 mpg at a constant 100 mph. Using most of the available performance through the gears on a mixture of motorway and cross-country driving, I finished up with 20.1 mpg.
The engine is also notably quiet but the body-shell reveals its age by the excessive wind noise at high speeds. The MGB has a good reputation for stability and safe handling: uprated suspension, brakes and tyres enable the latest version to handle the V8's extra power with equanamity but have done nothing to lighten the heavy steering, which to me remains the car's most unattractive features. The handbrake is badly placed, so close to the central console that drivers grabbing it in a hurry are likely to bark their knuckles.
===
British Leyland is careful not to describe the car as a "two plus two," though there is a small back seat adequate for small children or extra luggage. The wide opening tail gate gives easy access to the load space.
At first sight, the V8 may look expensive compared with the standard MGB. But in addition to the uprated mechanical specification, including stronger springs and transmission, standard features include overdrive on top gear, cast alloy special wheels, tinted glass, two electric cooling fans for the engine and an oil cooler.
In relation to most of its foreign competitors of comparable performance, it looks a bargain.
There may be some regrets that British Leyland did not go ahead with a more modern design, such as the experimental mid-engine Rover sports coupe or alternatively a rather roomier model on the lines of the Reliant Scimitar GTE. Since the company has never been able to meet the demand for the existing car, however, the decision not to change the design is probably commercially sound.
At least it gives Britain a sports car able to compete with the Datsun 240 Z which has had a runaway success in North America. Is it too much to hope that we may one day see a team of MG V8s competing against the Datsuns in events like the East African Safari Rally?
[Note: This article originally appeared with a single black-and-white photo of a light-colored MGB GT V8 bearing registration plate UOK 935L, with a grassy rural background. Regretably, our copy of the photo isn't suitable for reproduction.]
---

Leyland's new MGB has extra punch
Re-printed unedited by exclusive permission of "The Evening News".

by: Sue Baker


The long-expected MGB GT with a Rover V8 engine from British Leyland is announced today.

Shoehorning the lightweight Rover 3.5 litre V8 engine under the bonnet gives the popular B GT almost double the power compared with the standard 1800cc engined car.

It gives 120-plus mph motoring to boot the MGB GT V8 - to give the car its full name - up into the high performance sports car market.

The price of the new car, including VAT and car tax, is £2,294. A standard B GT, including taxes, is £1,665.

British Leyland have tailored their Rover V8 engine into the car by using twin SU carburettors mounted at the rear of the engine.

HEAVIER

The bigger engine, with use of light alloy, is in fact 40lb lighter than the standard 1800cc engine, but the addition of anti-pollution equipment makes the total weight slightly heavier.

When I drove the B GT V8 recently from London to Goodwood and back, I found that the extra weight made itself felt on cornering the car. It was not excessive, but certainly made long distance driving seem harder work than in a standard MGB GT.

The other problem was wind noise, which at high speed seemed excessive. British Leyland have kept the engine reasonably quiet, but have failed to find a cure for the headachy level of wind noise.

The car handles well, and the exciting punch of the powerful big engine makes it an exhilerating car to drive.

On the road, it is a fast, agreeable car. On the old motor racing track at Goodwood, it showed tremendous sporting potential.

British Leyland claim a top speed of more than 120mph, and that would not seem over ambitious. Their 0 to 60mph claim of 8.2 seconds agrees with my stopwatch.

The car has overdrive on top gear, and the brakes are effectively servo-assisted.

Other standard equipment includes cast alloy special wheels, door mounted mirror and tinted window glass.

The V8 engine develops 137 (DIN) bhp.

[Note: This article originally appeared with a single black-and-white photo of a light-colored MGB GT V8 bearing registration plate YWL 921L, driving towards the photographer on a banked two-lane road with double center lane markings. The photo was captioned: "British Leyland's new MGB GT V8 shows its paces." Identical photos appeared in other newspapers, albeit with different registration numbers airbrushed in. Regretably, our copies of these photos aren't suitable for reproduction.]
Enjoying this article? Our magazine is funded through the generous support of readers like you!
To contribute to our operating budget, please click here and follow the instructions.
(Suggested contribution is twenty bucks per year. Feel free to give more!)

Beast under the bonnet
Re-printed unedited by exclusive permission of "The Daily Mirror".

by: Patrick Mennem


It looks like any other MGB GT. But on the road, with a Rover V8 engine shoe-horned under the bonnet, it's a very different beast.

The new MGB GT V8 is one of the most electrifying cars in production.

With a price tag of £2,294, you have one of the best value-for-money sports cars on the market.

Inside it has cloth covered seats and headrests, and a rather jokey set of seats behind the front ones, which are far better used for luggage.

Whisper

With nothing more than a wistful whisper it will top 60mph in second gear in a fraction over eight seconds.

In third, the car will touch almost 90mph and, although the makers claim a top speed of 124mph, I had 130mph registering on the clock on German autobahns with the rev counter still out of the red.

But finding reverse needed the strength of a front row rugby forward.

To overcome engine emission problems, the compression ratio has been reduced to 8.25:1, which means that power output has gone down to a little over 130 brake horse power. But on the plus side, it means that you can use three star petrol.

Although the V8 aluminum engine is slightly less weighty than the 1.8 four-cylinder unit, all the ancillaries make it a little heavier and despite stronger springing, the new V8 does not have that superb feeling of balance enjoyed by its forerunners.

It is a very safe and exciting car which, with little more refinement, could be superb.

[Note: This article originally appeared with a single black-and-white photo of a light-colored MGB GT V8 bearing registration plate YWL 921L, driving towards the photographer on a banked two-lane road with double center lane markings. The photo was captioned: "Cornering at speed in the new V8." Identical photos appeared in other newspapers, albeit with different registration numbers airbrushed in. Regretably, our copies of these photos aren't suitable for reproduction.]
---

'Borrowed' engine peps up new MG
Re-printed unedited by exclusive permission of "The Daily Express".

by: David Benson


Lord Stokes today unveils a new, more powerful version of the world-famous MG sports car - the first major change in the MG range since the MGB/GT was introduced in 1965.

M.G. engineers have installed the 3.5-litre V8 aluminium engine, that powers the Rover 3500 series, in the M.G. B GT body and chassis.

The current M.G. - with six-month waiting lists for most models - continues in production with the V8 an addition to the range.

The new car, which will top 126 miles an hour, is priced at 2,085 including taxes and is obtainable only in 4-speed manual gear box plus overdrive form.

The power output is almost double the 1.8 litre 4-cylinder "B" series engined version.

To cope with the extra power, servo-assisted disc brakes are fitted as standard and the rear axle and springs are strengthened.

[Note: This article originally appeared with a single black-and-white photo of a light-colored MGB GT V8 bearing registration plate YWL 921L, driving past the photographer on a two-lane road with a guard rail along the opposite lane. The photo was captioned: "The new MG, complete with 3 1/2 litre V8 engine". Identical photos appeared in other newspapers. Regretably, our copies of this photo aren't suitable for reproduction.]

A new sparkle for the MGB
Re-printed unedited by exclusive permission of "The Daily Mail".

by: Michael Kemp


British Leyland today unveil a sparkling 124 mph sportcar which runs on cheap low-grade petrol.

The car bears the world-famous MG name. It is a hybrid, with Rover's 3.5 litre V8 engine married to the long running MGB GT.

It is the most powerful new sports car to bear one of the British Leyland badges since the Austin Healey 3000 was killed off in 1967.

The new engine gives the car a dramatically better performance than its old 1.8 litre power plant.

The MGB V8 will reach 41 m.p.h. in first gear, 64 in second, 99 in third, and 124 in top. A test car has recorded 130 m.p.h.

And its steering, brakes, and body structure have been specially modified to cope with the extra power.

British Leyland say: "The car is intended to compete in the increasingly important sports and luxury coupe markets. It offers classic sports car styling with outstanding performance and handling."

PRICE: £2,293.96 including tax.

The MGB is still available with the less powerful engine.

[Note: This article originally appeared with a single closely cropped black-and-white photo of a light-colored MGB GT V8 bearing registration plate YWL 921L. The photo was captioned: "V8-engined model will run on low-grade petrol". Identical photos appeared in other newspapers. Regretably, our copies of this photo aren't suitable for reproduction.]
---
BritishV8 Magazine has assembled the largest, most authoritative collection of MG "MGB GT V8" information you'll find anywhere. Check it out! Access our MGB GT V8 article index by clicking here.