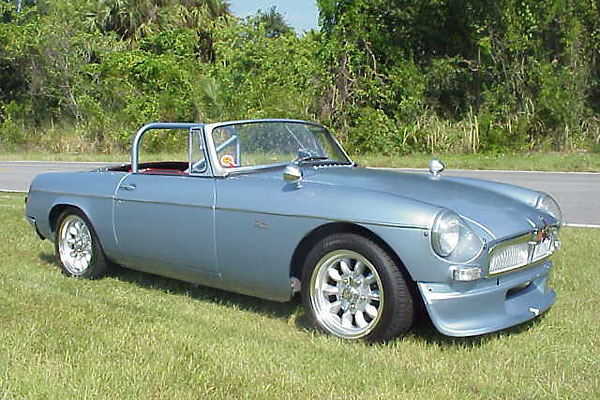 Dr. George Snively's 1965 MGB with Ford 289cid V8
This MGB was professionally-converted to Ford V8 power in 1966!
as published in British V8 Newsletter, Volume XV Issue 3, December 2007
Current Owner: Jens Doessing of Aarhus, Denmark
Original Owners: Dr. George Snively and Dr. Clinton O. Chichester
City: Sacramento, CA
Model: 1965 MGB
Engine: Ford 289 V8
Conversion by: unknown
Executive Overview
| | |
| --- | --- |
| Engine: | Ford 289 Hi-Po V8 - originally sourced as a "crate engine" from Holman and Moody in 1966. |
| Transmission: | Ford "Toploader" 4-speed. |
| Rear Axle: | Ford 9" with a 4.11:1 final drive ratio and limited slip differential. |
| Front Susp.: | stock MGB, with anti-sway bar. |
| Rear Susp.: | fiberglass single-leaf rear springs (a more recent addition), traction bars, and Girling adjustable competition shocks. |
| Wheels/Tires: | Superlite 15" (8-spoke Minilite replica) wheels. |
| Body/Trim: | silver-blue paint and mostly original black leather upholstery. (Notice however that the seats have been narrowed to accomodate the widened driveshaft tunnel.) The body is rust free and original, and it features the original aluminum hood (with a supplemental leather-strap hold-down.) Sebring-style headlight covers. Bumpers removed. Fiberglass air dam and Sebring-style rear valance. Flared rear fenders. Roll hoop. |
| Mileage: | 22,000 miles (almost all of them with V8 power). |
Historical Notes
Sacramento physician Dr. George Snively, whose name appears on the original registration for this car, was well established as a driver in the California sports car racing scene of the late fifties. He was an enthusiastic racer who was winning races in his Austin Healey 100 as early as 1956. He continued racing a variety of interesting sports cars through the mid sixties, including a very rare WSM (a stylish and fast aluminum-bodied British sports car based on Austin-Healey Sprite mechanicals and underlying structure.) However, Dr. Snively's biggest contributions to racing were in the area of testing, evaluation, and certification of helmets.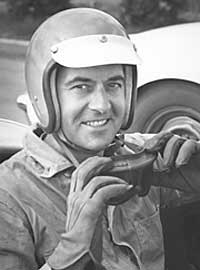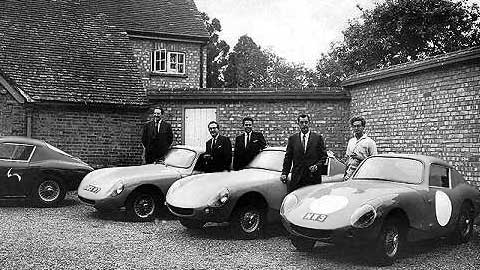 The photo at right shows Dr. Snively, 4th from left, with his WSM race car. This photo appeared in "Safety Fast" magazine's January 1965 issue. The other gentlemen are (l-to-r) the car's principal designer Doug Wilson-Spratt, Healey expert Peter Jackson, business partner and "the M in WSM" Jim McManus, and British racecar driver Mike White.

Dr. Snively, together with lifelong collaborator Dr. C.O. Chichester, were founding members of the Snell Memorial Foundation, which for fifty years has been the leading independent laboratory and certification provider for all sorts of competition and sports protective headwear (including helmets for motorcyclists as well as bicyclists, equestrians, skiers, etc.) Their shared interest in helmet testing started with the death of fellow amateur racer Pete Snell in 1956. Pete Snell's Triumph TR3 rolled over in competition. Although he was wearing a state-of-the-art helmet, he died of brain injuries. Members of the San Francisco Region SCCA started putting together a memorial fund to honor his memory.

Dr. Snively had already started testing helmets on his own, but he quickly realized that the Snell memorial fund (which ultimately reached $713) could be leveraged into great benefit to the sport of racing. Dr. Snively continued as Director and chief researcher at the Snell Memorial Foundation until his death by heart attack in 1983.

We don't know exactly when Dr. Chichester took over ownership of the MGB V8. The answer seems obscured because the two gentlemen worked very closely together. Dr. Chichester had co-managed a sports car racing team with Dr. Snively in the 1950's, and they worked together in their professional life too. Dr. Chichester served as Snell's President into the 1990's.

Before Snell Memorial Foundation helmet testing, most helmet designs featured relatively soft padding. In preliminary testing with human cadavers, Dr. Snively quickly recognized that in accidents the helmet padding would compress quickly and the head would violently contact either the outer helmet shell or some surface beyond. A much thicker layer of more rigid padding (e.g. styrofoam) was needed so that the impact force would be absorbed over a longer time period (as typically measured in milliseconds.)

Getting back to the Snively/Chichester MGB V8... the early history of this car is not especially well documented. It isn't known, for example, who actually completed the engine installation. The famous Holman-Moody shop (in North Carolina) certainly did provide the engine, but the engine was installed in California. There's also no record of what happened to the original MGB engine. It was less than two years old at the time of the engine transplant. There's no indication this car has ever been in a serious collision. Apparently this MGB was never raced either, and interestingly the roll bar seen in photographs below is a recent addition (by Hayes Harris).

For many years this car was owned by Dr. Chicester, and upon his death it was passed to his son along with the special WSM aluminum-bodied Austin Healey Sprite (painted the same silver-blue color) and a Maserati.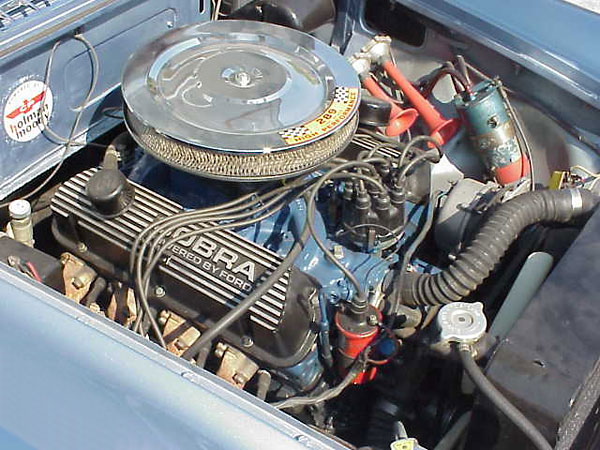 By removing the heater shelf and placing the engine far back, this car demonstrates
that the Ford V8 can be installed without modifying the MGB's front crossmember or
steering geometry. The weight distribution of this car is nearly unchanged from stock.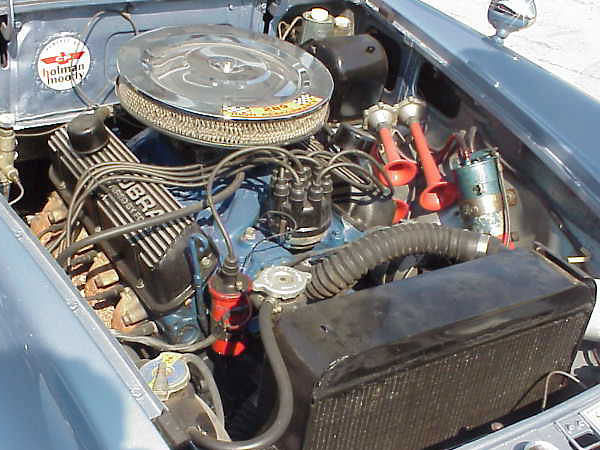 Even with iron cylinder heads and exhaust manifolds, this car is lighter than an MGC
(which wasn't introduced until 1967) - and the V8 engine fits under the stock MGB hood!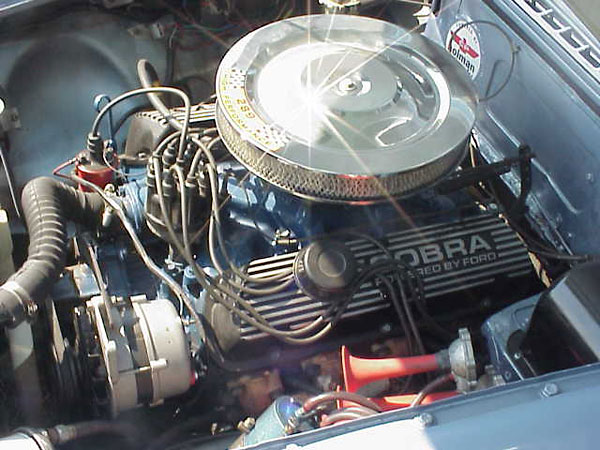 This car would also be quite competitive with a Sunbeam Tiger. Mark I and Mark II Tigers
came with 260cid Ford V8s. Starting in 1967, the Mark III version came with the 289cid
engine. The Tiger is also a little heavier, at 2560 pounds curb weight.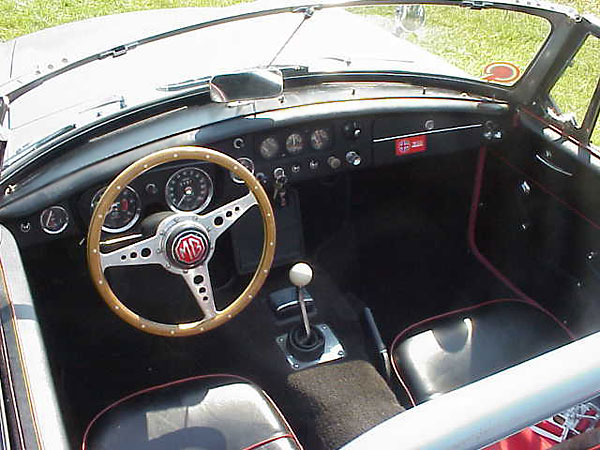 Shifter location is close to stock, but the driveshaft tunnel has been significantly widened.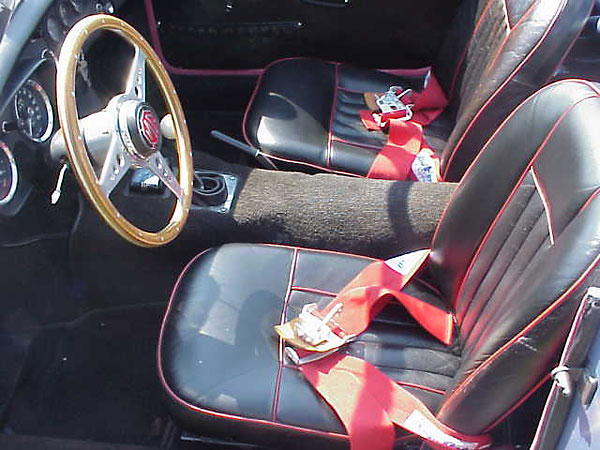 To accomodate the widened driveshaft tunnel, the MGB seats had to be rebuilt narrower.