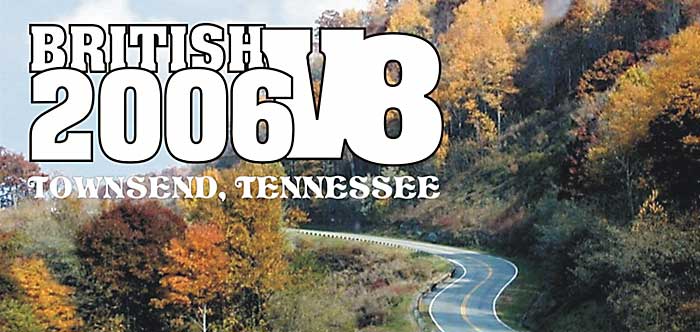 2006 British V8 Meet - Townsend Tennessee - June 18-21
Host Hotel:
The TalleyHo Inn www.talleyhoinn.com
(Just outside Great Smoky Mountain National Park!)
8314 State HW 73
Townsend, TN 37882
phone: 800-448-2465


Meet Schedule:
SUNDAY:
7:00pm: Beer and Burgers - Cookout / welcome party (with hamburgers, hot dogs, barbecue, beer, wine, sodas.)

MONDAY:
8:30am: Drive to Newfound Gap, atop the Smokies, for a spectacular view and a very scenic drive.
12:30pm: Catered picnic at Metcalf Bottoms (fried chicken, potato salad, coleslaw, baked beans, cold cuts, salads, soft drinks.)
2:00pm: Drive to Tuckaleechi Caverns, a very interesting cave, similar to the Lost Sea (minus the sea).
5:00pm: Tech Session 1 - Fast Cars, Inc. presented "Front Suspension Upgrade"
5:30pm: Tech session 2 - Greg Myers presented "Installing an Advance Auto-Wire Wiring Kit"
6:00pm: Tech session 3 - Jim Stuart presented "A/C Installation"
6:30pm: Tech session 4 - Classic Conversion presented "MGB V6 conversions"
7:00pm: Show and Tell, parking lot BS sessions

TUESDAY:
8:15am: Drive through Cades Cove, an 11 mile (one-way) drive through a beautiful restored pioneer settlement.
11:30am: Drive to Fontana dam, the tallest dam east of the Mississippi, for lunch at Fontana Village and resort.
Notice: The Fontana dam drive was via the DRAGON: 318 turns in 11 miles! What else needs to be said?
3:00pm: Tech session 5 - Mantell Motorsports presented "MGB Ford 302 conversion"
3:30pm: Tech session 6 - MG Five Speed Co. presented "Big Brake Upgrades"
5:30pm: Paddle-wheel river boat dinner cruise. (Two hours on the water.)
Notice: Cruise participants left at 5:30 because it's an hour's drive. Boat loads at 6:30 and leaves dock at 7:00.

WEDNESDAY:
9:00am: Breakfast run to "The Top of the World" (with coffee and doughnuts, plus a great view!)
10:00am: We had another go at the mighty DRAGON!
10:00am: (alternate activity) Drive to Pigeon Forge for shopping and/or go-kart racing (in lieu of the canceled autocross)
5:00pm: Auction / swap-meet / door prize drawing.
7:00pm Barbecue (BBQ pork, chicken and ribs...)
8:00pm: Live bluegrass music.

Read about previous meetings (and see lots of photos!): 2005, 2004, 2003, 2002, 2001, 2000, 1999, 1998, 1997.