Not to be published until Wednesday 15th August 1973


MGB GT V8
British Leyland announces today a new version of the MGB GT which will be fitted with the Rover lightweight 3.5 litre V8 engine giving the Corporation's most popular sports car almost twice the power and torque of the existing model.

The new 120 mph-plus MGB GT V8 moves further into the high performance levels of the sports car market. It offers a unique combination of timeless good looks, high geared and effortless long distance travel, superb road-holding and handling. It is a thoroughbred Grand Touring car for the enthusiast who demands performance without having to work for it.
The new V8 is the same dual purpose vehicle as its 1.8 litre four cylinder sister. Its comfortable interior sacrifices nothing to high speed control and the big 'third door' at the back swings high to accommodate a small mountain of luggage.

A study by the Corporation's marketing men of the past five years of the sports car market identified three important facts. Popular sports cars, updated as necessary, usually stay in production a very long time compared with family cars. Sporty coupes with ranges structured to give a wide choice of trims and engines have taken a large slice of the sports car market. There is a trend towards sports cars with engines above 2.5 litres capacity.

It was also seen that there is a sparsely occupied niche between low-price sports cars like the MG Midget and the ultra high performance exotics from small specialist makers. The MGB GT V8 is intended to compete in this increasingly important performance sub-sector of the sports and luxury coupe markets. Its makers believe it exactly fits the market they identified. It offers a winning combination of classic sports car styling, outstanding performance and handling, appealing interior and equipment. None of the sporty coupes can match it.

A big plus for the V8 engine installation is that it was engineered in detail by specialists with an intimate understanding of the basic design. Modifications have been properly planned and carried out. Steering, suspension, brakes, the main body structure, have all received careful attention since the first studies were carried out at Abingdon in the Summer of 1971.

The MGB GT V8 is an exciting installment in the long MG saga which began in a corner of an Oxford garage 50 years ago. Its introduction emphasizes that MG, one of the most successful of all thoroughbreds, has a great performance future.


------------
(a)
---
Enjoying this article? Our magazine is funded through the generous support of readers like you!
To contribute to our operating budget, please click here and follow the instructions.
(Suggested contribution is twenty bucks per year. Feel free to give more!)
Editorial Comments:

For MG enthusiasts, what you see above is an important - almost sacred - historical document! It's the introduction of the original five-part press release for the "MGB GT V8" model. In this edition of the newsletter we're publishing the complete text of the press release along with "Part One" of a large collection of supporting documents and remembrances gathered by MGB GT V8 owner and long-time historian Ken Smith.

Ken is a recording industry marketing executive turned automotive journalist. By making many friends at the Abingdon works, Ken eventually gained excellent access to the factory and was able to document production in photos through the late sixties and into the seventies. These photos were ultimately gathered into the excellent little book "Aspects of Abingdon".

In the early eighties Ken left the recording industry and became Marketing Manager of the MG Owners Club in Cambridge, where he oversaw growth of the club from 19,000 to over 40,000 members in 18 months. At the same time he began contributing articles to MG related magazines including "Safety Fast", "MG Enthusiast", and "Abingdon Classics". For North American enthusiasts he's probably especially well known as the founding editor of "MGB Driver" and of "Classic MG" magazines. He's also the Executive Editor of "British Motoring" magazine (formerly called "Moss Motoring").
With so much horsepower of his own, why would Ken entrust a whole book's worth of irreplaceable notes and photos to The British V8 Newsletter? Well, we share with Ken a strong interest in preserving this sort of information and with making it as easily accessible as possible. This fascinating story should not be kept secret. Ken actually provided far too much MGB GT V8 information for one issue of our Newsletter, so we'll be spreading it out over several issues.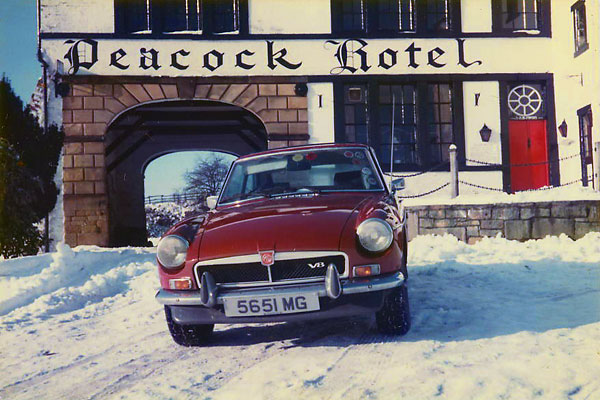 Ken Smith's damask red 1974 MGB GT V8


Disclaimer: The "editorial comments" were written by Curtis Jacobson. Views expressed are those of the author, and are provided without warrantee or guarantee. Apply at your own risk.
This article is part of a set of FIVE! If you enjoyed this article, check out:
MGB GT V8 Press Release - "Description of the Car"
MGB GT V8 Press Release - "Development of the Body and the Engine"
MGB GT V8 Press Release - "Grandest Tourer - Latest of a Line"
MGB GT V8 Press Release - "Technical Specifications"
---
BritishV8 Magazine has assembled the largest, most authoritative collection of MG "MGB GT V8" information you'll find anywhere. Check it out! Access our MGB GT V8 article index by clicking here.