Auto Test: Costello MGB GT V8
Tiger Tamed
as published in British V8 Magazine, Volume XVI Issue 1, May 2008

Re-printed unedited by exclusive written permission of "Autocar".
This article originally appeared in their issue for the week ending May 25, 1972.
AT-A-GLANCE: Rover 3500 engine in MGB transforms performance and imparts delightfully refined character to Abingdon GT. Handling improved by better weight distribution, excellent traction, no tramp. Fuel consumption can be heavy. Ultra-high gearing gives easy cruising.

If ever one of our Autoproject type of proposed designs were to come true, we hope it turns out as well as the Costello MGB V8, which is something in the same vein. Like the Autoprojects, this car is a kind of hybrid, built up from existing British Leyland components. We can think of no reason why BLMC are not producing it themselves, and their product planners ought to be ashamed of themselves at not having spotted this potential market.

Getting down to facts and specifications, the Costello MGB is very simply an MGB powered by a Rover 3.5-litre vee-8 engine. The conversion has been executed by very competent engineers and the standard of finish is far and away better than the norm of this kind of swap. There is nothing under the bonnet to suggest that this is not an authentic BLMC model, only a bulge in the lid and special "egg box" grille giving the game away to an expert eye or a standard MGB owner. On the tail is the neat "Costello V8" badge.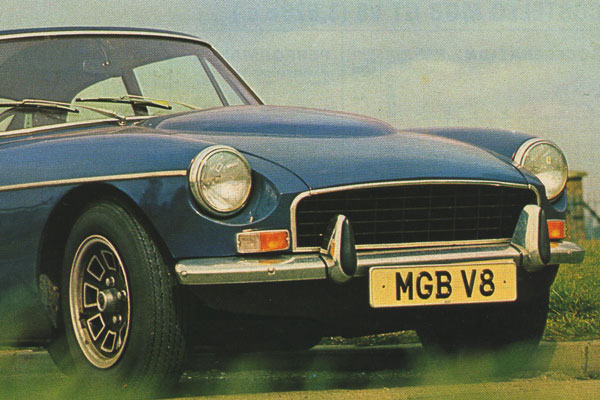 Only the bonnet bulge with a revised front grille and a neat "Costello V8" badge on the boot identify this MG
as anything other than a standard 1.8. The rev counter has a modified red sector, starting at 5000 rpm.
Mated to the Rover engine is a normal MGB gearbox, which is now uprated and rationalized with that which used to be fitted in the MGC, driven through a 9.5 in. dia. clutch (the MGB uses an 8 in. unit). Final-drive ratio is raised from 3.9 to 3.07 to 1, standard MGB 165-14 in. radial tyres being used. This combination gives 22.85mph per 1,000 rpm in direct top, instead of 17.9, and 27.9 mph per 1,000 in overdrive. The test car was fitted with optional alloy road wheels with increased offset which led to slight wheel-arch fouling at speed on the MIRA banking.
Suspension, brakes, and steering remain as on the standard MGB, the new engine actually improving the weight balance of the car. Compared with the MGB GT we tested on 1 July 1971, the Costello V8 is nearly 90lb lighter overall and 109lb lighter on the front end, improving weight distribution from 52.6: 47.4 to exactly 50:50. The optional brake servo forms part of the Costello package and harder anti-fade front pads increase the pedal effort very slightly over a standard MGB set-up. It still took less than 70lb. on the pedal to lock all four wheels from 30 mph in the dry.
Despite the ultra-high gearing which forms such a vital part of the car's character transformation, the MGB V8 is extremely quick off the mark. The test car had covered too few miles for it to be giving the real peak of its performance, but it still scorched off the line to reach 60 mph in only 7.8 sec and 100 mph in 22.0 sec. For comparison, the four-cylinder MGB takes 13.0 sec to reach 60 mph and after 22 sec it is doing only 76 mph. The six-cylinder MGC, when it was in production, took 10 sec to reach 60 mph and 29.3 sec to reach 100 mph. Compared with this latter unhappy and ill-fated car, the Costello machine is a full 11 sec quicker from rest to 110 mph.
Enjoying this article? Our magazine is funded through the generous support of readers like you!
To contribute to our operating budget, please click here and follow the instructions.
(Suggested contribution is twenty bucks per year. Feel free to give more!)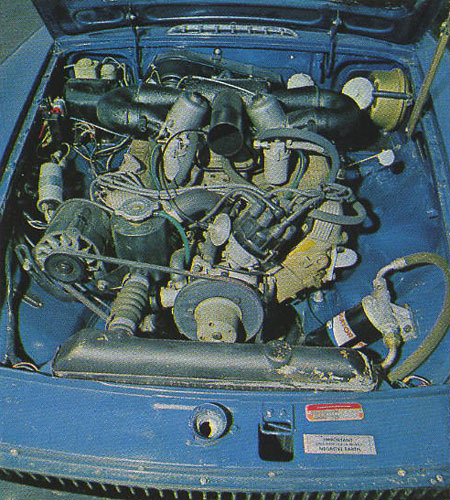 Under the bonnet the Rover the Rover engine is a neat fit with a very professional standard of finish.
As installed in the MGB, the Rover engine develops about 150bhp, which is 58 per cent more than that of the BLMC B-series unit. Extra capacity has always been the easy way to increased torque, and the Rover engine develops over 200 lb.ft. (DIN); this is 82 per cent more than the torque of the MGB and the peak comes at 2,750 instead of 3,000 rpm.

It is no surprise therefore to find the Costello V8 a flexible, easy-to-drive car with deceptively brisk performance and delightfully "long" gears which have real punch down low and plenty at the top end as well. First, for example, will run to almost 40 mph before the hydraulic tappets pump up and limit the revs, while overdrive top can be used smoothly from as low as 20 mph. Engine noise is minimal, the exhaust is quiet and free from characteristic vee-8 beat experienced on most American cars and the whole car much more refined to ride in than any MG built at Abingdon.

In contrast to the silky smoothness of the engine, the standard MG ride feels decidedly firm and around town the taut joggly behaviour can be uncomfortable. Out on the open road at speed, or in a tricky corner taken fast, the virtue of these characteristics is regularly appreciated and the car feels extremely safe, stable and surprisingly integrated as a design. The better weight distribution is easily noticed and despite the absense of rear radius rods, we experienced no axle tramp either during standing start wheelspin getaways in the dry or full-power low-gear cornering in the wet.

Regular readers who can cast their minds back a few years will recall that we ran two Sunbeam Tiger V8s as staff cars successively, first a 4.2 then a 4.7-litre. Comparisons are natural, and although the Costello V8 has much the same tiger-like quality about the way it squirts between corners, it is all much better tamed, much more under control and much less dramatic. With the Tiger you found yourself being spectacular, even if you started out in a docile frame of mind. In the MGB V8 one is much more subtle, more subdued, just as quick and much safer on corners. When it rained, the Tiger driver had to tread very gently (like on a wet pavement in crepe-soled shoes) to avoid excessive wheelspin all over the place and fearsome axle tramp that could, if allowed to persist, break off the rear damper mounts very rapidly indeed. In the MGB V8 we found a surprising amount of traction on wet roads and no suspension problems at all.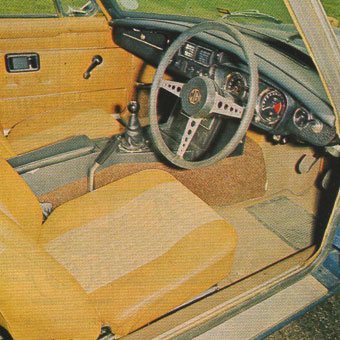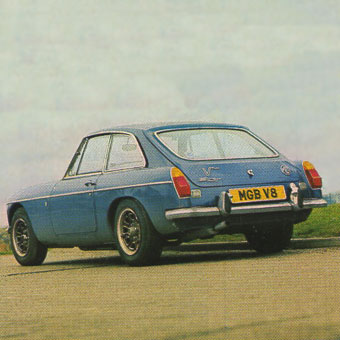 To make room for the Rover induction system on top of the engine, Ken Costello replaces the standard bonnet with a glass-fibre moulding incorporating a large but smoothly blended bulge. The paint was a perfect match on the test car and one could not see that it was made from anything other than steel. The rest of the car is perfectly standard MGB, so one learns to live with an insensitive water-valve heater, poor ventilation, a tin-lidded glove locker that can be shut only with a key and seats set very low in the car. MGB owners will have to come to terms with all this, but anyone expecting this car to be as well planned and equipped as, say, a Datsun 240Z will be dissappointed. That is British Leyland's fault, not Ken Costello's.

From the overall fuel consumption returned of 18.8 mpg, it would appear that the MGB's remarkable thrift (23.7 mpg overall on test last year) has been thrown by the board. If you compare the steady-speed consumption figures though, you find that at high speed the two cars are remarkably similar and that our low overall figure reflected more than usual the amount of town driving we were forced to endure. In more normal circumstances the V8 should return better than 20 mpg without any pussy-footing.
As a final note in this test we should add that at no time did the engine temperature gauge even flicker from the normal position and never did we experience even a trace of plug fouling. As a conversion, we rate this car as perfect and as a model in its own right it deserves the highest praise.
---
MANUFACTURER:
Costello Motor Engineering Ltd.
Farnborough Way, Farnborough, Kent
PRICES:
Basic
£2,181.00
Purchase Tax
£252.81
Seat belts (approx.)
£9.43
Total (in G.B.)
£2,443.24
EXTRAS: (inc. P.T.)
Overdrive
£62.83
Radial Tyres
£9.67
Alloy Wheels
£88.00
Heated Backlight
£12.57
PRICE AS TESTED:
£2616.31
---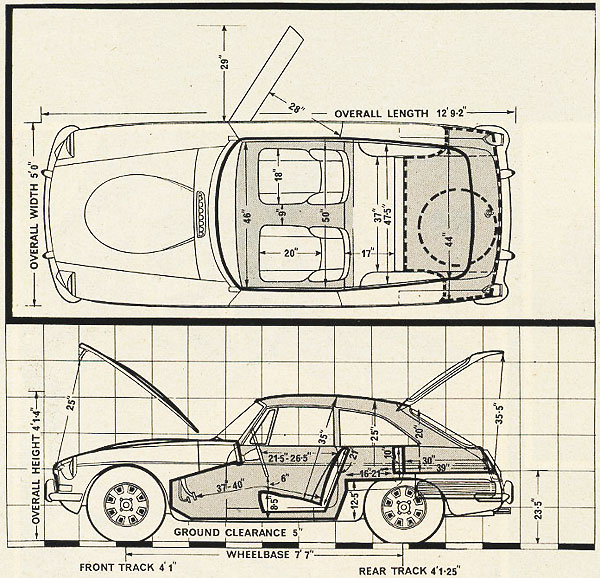 Acceleration
GEAR RATIOS AND TIME IN SECS
mph
OD Top
TOP
3rd
2nd
(2.53)
(3.07)
(4.23)
(6.65)
10-30
-
-
5.2
2.9
20-40
8.9
6.7
4.4
2.7
30-50
8.0
5.8
3.8
2.8
40-60
8.1
5.9
4.0
3.4
50-70
8.5
6.4
4.8
-
60-80
8.9
6.9
5.4
-
70-90
10.5
7.4
6.7
-
80-100
12.6
9.7
-
-
90-110
18.2
14.0
-
-
---
Performance / Gearing
MAXIMUM SPEEDS
SPEED IN GEAR
gear
mph
kph
rpm
(165-14 tyres)
mph/1000rpm
Top (mean)
128
206
5,600
O.D. Top
27.9
Top (best)
130
209
5,700
Top
22.85
O.D. 3rd
118
190
5,900
O.D. 3rd
20.1
3rd
98
158
5,900
3rd
16.6
2nd
63
102
6,000
2nd
10.5
1st
39
63
6,000
1st
6.6
---
Brakes
FADE
RESPONSE
(from 70 mph in neutral)
(from 30 mph in neutral)
Pedal load for 0.5g stops in lb.
Load
g
Distance
1
40-25
6
45-50
20lb
0.18
167ft
2
40-30
7
50-60
40lb
0.55
55ft
3
40-30
8
50-60
60lb
0.94
32ft
4
50-40
9
50-60
65lb
0.96
31.3ft
5
50-55-45
10
50-60
Handbrake
0.32
94ft
Max.Gradient
1 in 3
---
Comparisons
| | | | | | |
| --- | --- | --- | --- | --- | --- |
| Model | Price | MAX MPH | 0-60 MPH, S | 1/4 MILE, S | OVERALL MPG |
| Costello V8 | (£2,392) | 128 | 7.8 | 15.8 | 18.8 |
| Datsun 240 Z | (£2,311) | 125 | 8.0 | 15.8 | 21.4 |
| Morgan +8 | (£1,730) | 124 | 6.7 | 15.1 | 18.3 |
| Ford Capri 3000GT | (£1,538) | 122 | 8.4 | 16.2 | 21.5 |
| Triumph TR6 | (£1,476) | 119 | 8.2 | 16.3 | 19.8 |
| | | | | | |
---
Consumption / Test Conditions
FUEL MILEAGE
WEATHER:
constant speed
mpg
Overall: Fine
Wind: 8-14mph
30 mph
29.3
Temperature
6 deg C (43F)
40 mph
30.3
Baro.: 29.4 in/hg
Humidity: 56 per cent
50 mph
29.3
Surfaces
Dry concrete and asphalt.
60 mph
28.0
70 mph
26.3
WEIGHT:
80 mph
24.9
Kerb weight
2,292 lb (1,041 kg) (1/2 full tank)
90 mph
22.4
Distribution
percent F, 50: R, 50.
100 mph
19.8
Laden as tested
2,672 lb (1,215 kg)
Typical
21 (13.4 litres/100km)
TURNING CIRCLES:
Calculated (DIN)
23.9 (11.8 litres/100km)
Between kerbs
L 32 ft 1 in; R 33 ft 4 in.
Overall
18.8 (15.0 litres/100km)
Between walls
L 33 ft 2 in; R 34 ft 5 in.
Grade of fuel
Super 5-star (min 100RM)
Steering wheel
3 turns, lock to lock
Figures taken at 800 miles by our own staff at the Motor Industry Research Association proving ground at Nuneaton.
---
BritishV8 Magazine has assembled the largest, most authoritative collection of Costello V8 information you'll find anywhere. Access our Costello V8 (and "factory" MGB GT V8) article index by clicking here.