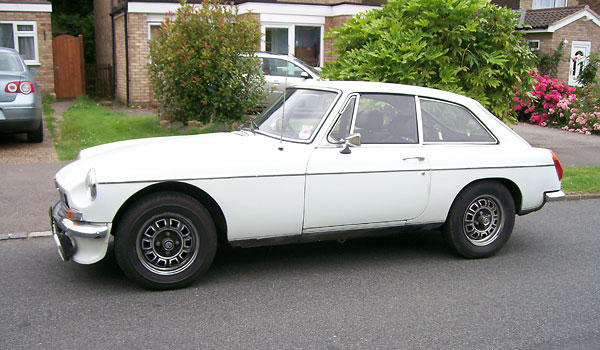 Clive Wagerfield's Original MGB GT V8 Prototype (Number "096")
as published in BritishV8 Magazine, Volume XVII Issue 1, July 2009
Owner: Clive Wagerfield
City: Buckinghamshire, UK
Model: MGB GT V8
Engine: Rover 3.5L V8
The first five MGB GT V8 prototypes were built late in 1972 and started life as standard 1800 GT's. They were removed from the assembly line prior to their four cylinder engines being fitted, and they went to the Development Department shop where they were completed to V8 specification. This included significant modifications to the engine bay including: relocating the radiator forward, recontouring the inner fenders, and modifying the firewall at the front corners of the transmission opening.

My car, number "GD2D1 96 G", was one of these five prototypes. I purchased the car from Norman Ward, who bought the car directly from MG Cars at Abingdon on April 28, 1976. Norman Ward's father, Robert Ward, was Plant Director at the MG assembly plant and he recommended the car to his son when it came up for release. When I purchased the car, I also got the original receipt which reveals that Norman paid the princely sum of £875. This original MGB GT V8 prototype is registered "MMO 229L" - just as it was when Norman purchased it!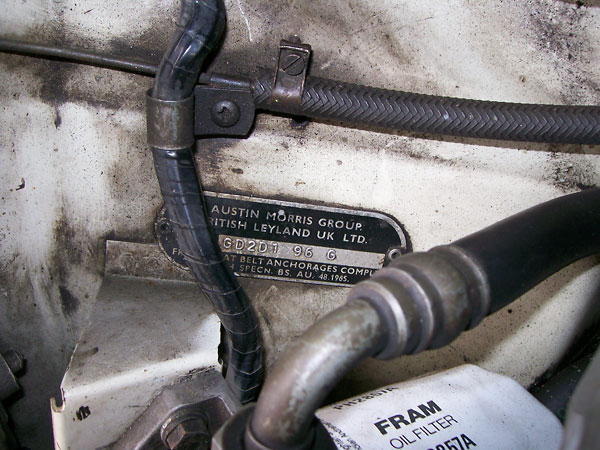 "The Car Number is stamped on a plate secured to the RH wing valance adjacent to the filter."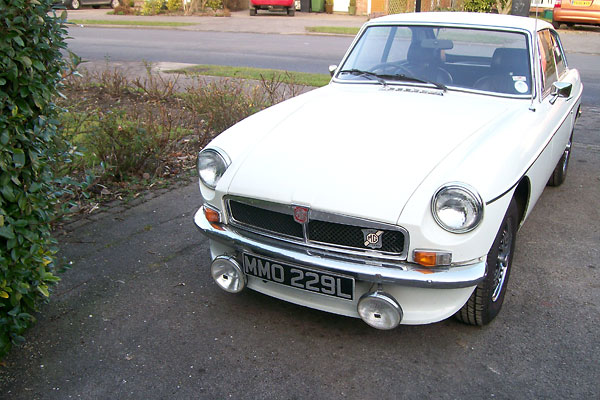 The fiberglass air dam and rally lights were installed by previous owner Norman Ward, although when
Norman picked the car up from the factory, it had extra headlights fitted where the spotlights are now.
Curiously, the switch selected either left or right but not together! The car came with the same
Dunlop composite (aluminum hub / steel rim) wheels that were used on production MGB GT V8's.
Although standard on production MGB GT V8's, this prototype never had SundymTM tinted windows.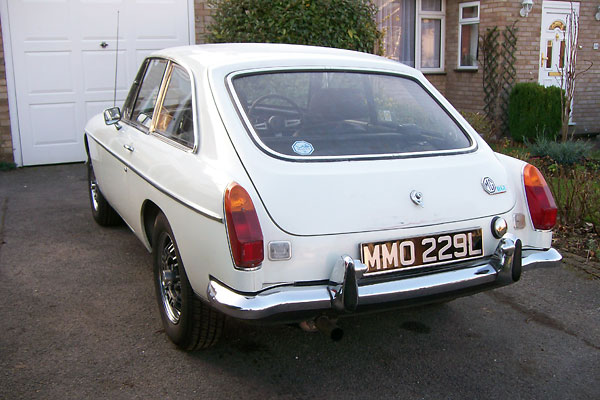 Traveling incognito: MGB GT V8 prototype, viewed from the rear.

Although Norman didn't research or document the car's unique history, I've been able to verify some things about the car and its use by the MG development team. One important fact is that "number 96" was never fitted with V8 badges! Without those badges, of course, it could travel a little more inconspicuously on public roads.

And travel it did! Prototype "096" was used for engine evaluation and speed trials. The first reference I found for this appears in the book "MG" by McComb. Norman Ward tells me the following excerpt was verified by both his father and the late MGOC V8 Registrar's Historian, Geoff Allen:

"Although no figure for maximum speed in overdrive was quoted, a perfectly standard car had been taken to France for tests by Alec Hounslow, foreman of the development department workshop and one-time riding mechanic to Nuvolari. He got a genuine 222 kph maximum, converted from kilometers to miles, and realized with some astonishment that he was traveling at 138 mph. In the words of MG's former chief, John Thornley, 'The V8 was a quite stupendous motor-car. From my own experience, when you were doing 100 mph in overdrive top and put your foot down on the accelerator, you got a push in the back. Now, that is motoring!'"

Subsequently, I've been very fortunate to make personal contact with MGB legend Don Hayter who seems pleased to help fill in more details. Don recalls that due to a lack of suitable roads in England, Alec Hounslow and Mike Hearn took prototype "096" to France for high speed assessment using the then-new "A1" autoroute (a.k.a. "l'autoroute du Nord" or in English "the Northern Motorway"). Don has spoken to Mike and apparently he remembers much of that event, so we'll update this article as details become available.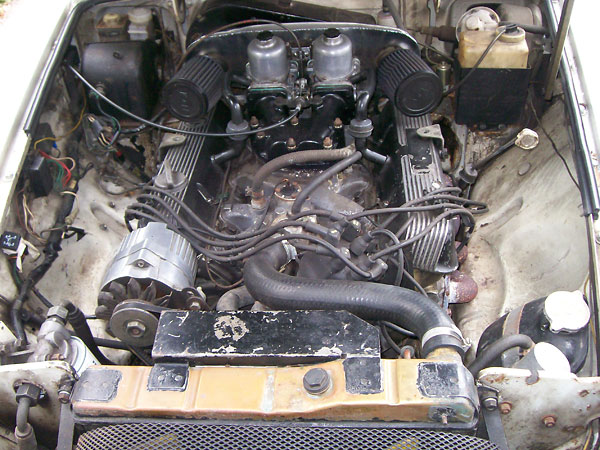 Is this a North American specification engine?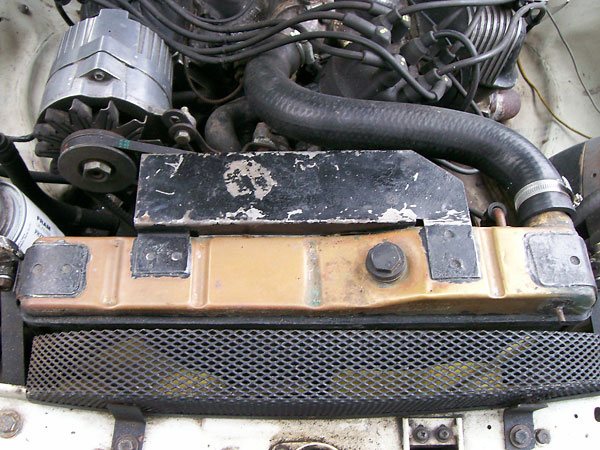 The radiator has a fan guard, although the engine-driven fan was apparently removed by
the Development shop. (It was made redundant by the dual electric fans, also shown.)

The stamped engine serial number plate on this car is "49000004", whereas the production V8 engine serial numbers started with "486" followed by a further five digits. What about the other prototypes? Remember that there were five Development Shop built prototypes, followed by line-built "Pre-Production" cars (which were also "prototypes"). It's been documented elsewhere that shop built left-hand drive prototype "97" was fitted with engine number "48600002". The engines in left-hand drive prototypes "98" and "100" had engines with serial numbers marked "EXP 107" and "EXP 103" respectively. After that, the first four line-built left-hand drive prototypes ("101", "102", "104", and "105") were fitted with engines prefixed (like mine) by "49".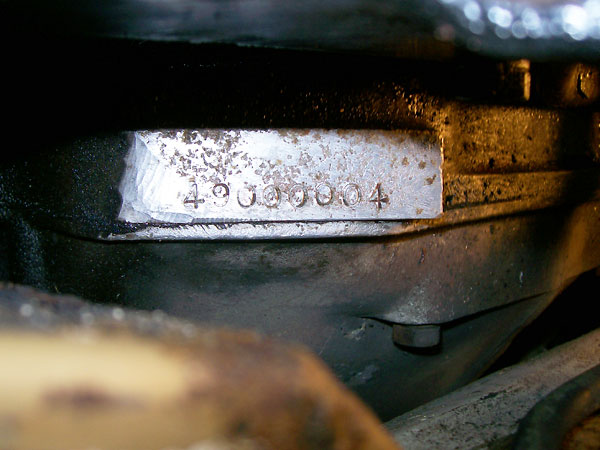 The engine serial number on prototype number 96 is 49000004.
(Note: this surface is adjacent to the transmission's bellhousing. Notice that no adapter
plate is used for mounting the transmission. The bellhousing is integral to the transmission case,
just as on the production MGB GT V8, but quite different from the production 1800cc MGB.)

According to former British Motor Industry Heritage Trust archivist Anders Clausager, the engines for the left-hand drive cars were built to North American specifications and were to be fitted with emission controls. Was Clausager referring to just the "EXP" engines or to the "49" engines as well? This is a particularly intriguing question because a North American spec 1972 Rover 3500S saloon would have received a 10.5:1 compression ratio engine (rated 184hp at 5200 rpm and 226ft.lb. of torque at 3000rpm.) In other words, it seems that MG's original plan may have been to produce a more potent MGB GT V8 for export.
At any rate, there seems to be circumstantial evidence to indicate that the engines for prototypes 96 and 97 were inadvertantly mixed up. Car number 96. as far as I can ascertain, is the only right-hand drive car to be fitted with one of these 'North American' engines. I wonder why?

To provide clearance for the exhaust manifolds, on the prototypes, sheetmetal was literally cut out and replaced with welded-in, formed, patch panels.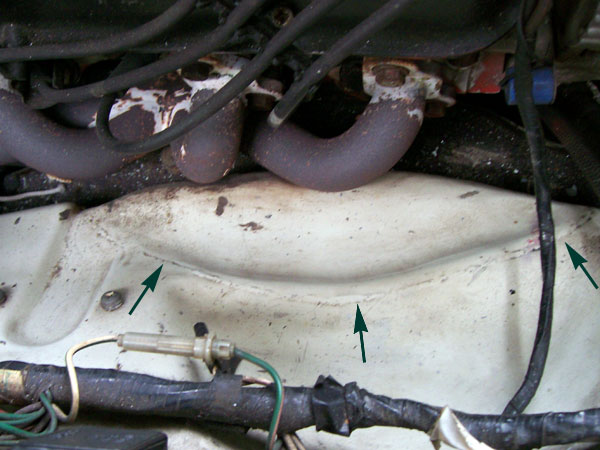 In this photo, you can clearly see some of the weld-line on the inner wing. Interestingly, this prototype
was apparently built with fabricated/tubular headers in lieu of production-style cast iron exhaust manifolds.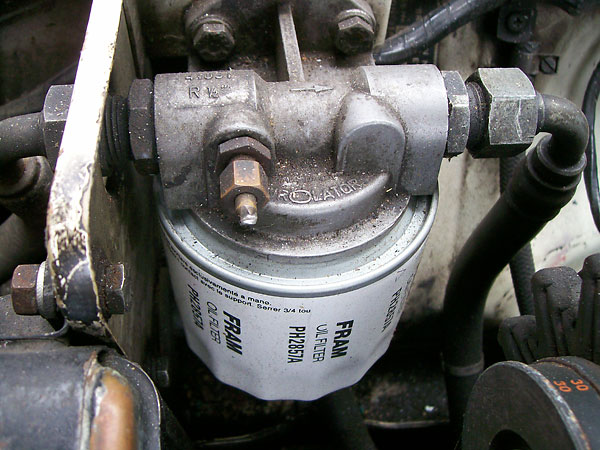 A mounting bracket for the remote oil filter was welded-in too. Note: early MGB GT V8's had the
take-off for the oil pressure gauge here. Later, it was relocated to the oil pump body for a
faster reading. On this prototype, the take-off has been crimped shut.

How else was the bodywork modified to accommodate the V8 engine? Firstly, the bonnet was re-tooled to give greater curvature. This became standard on all MGB's. The mouth of the gearbox tunnel was also enlarged to allow for the new bell-housing arrangement.

Once MG began testing the MGB GT V8 prototypes, it quickly became apparent that significant torque reversals could occur when switching in and out of 3rd overdrive. It would be easy for these reversals to damage an already fragile gearbox. Both Don Hayter and separately, the late Geoff Allen recall that my car suffered catastrophic gearbox failure during testing. Over the Easter holiday of 1973, an "inhibitor" was fitted to prevent entering overdrive from third gears. The gearbox was also modified on first gear. There are many early MGB GT V8's that still have overdrive on both 3rd and 4th. The factory's policy was "if it isn't broke, don't fix it", but overdrive was blocked from 3rd gear fairly early in production.

On this prototype, MG installed the rare 'tapered slot' steering wheel which was used on all MGB's
from August 1972 through June 1973. When the V8 went into serial production, they instead used a
special wheel with solid spokes that featured "indented slots".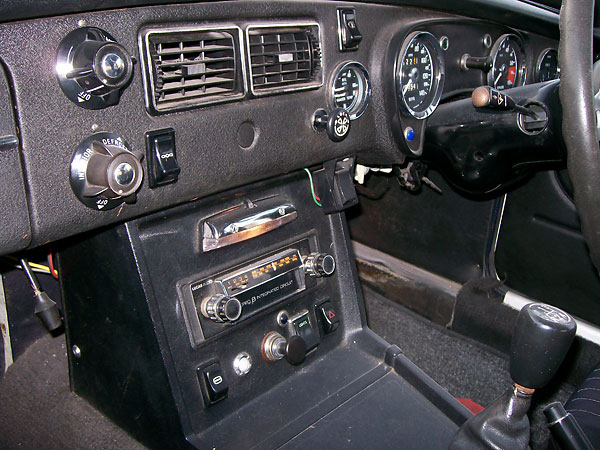 Like all production MGB GT V8s, this car has a collapsible steering column.
(Home market 1800cc MGB's didn't get collapsible columns until September 1974.)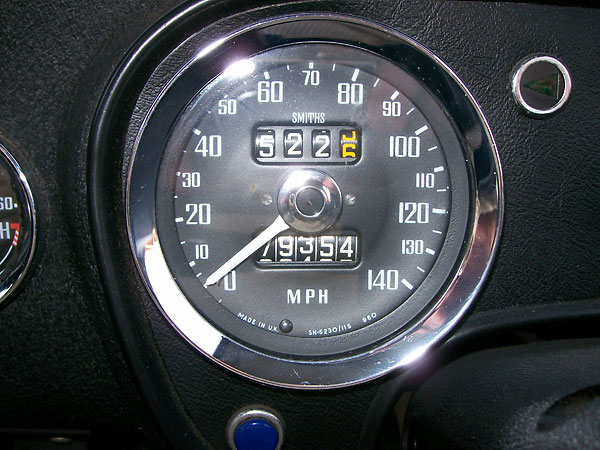 The speedometer and rev counter (aka tachometer) on this prototype are identical to production MGB GT V8's.
Their 80mm diameter is smaller than regular home-market MGB's to accomodates a collapsible steering column.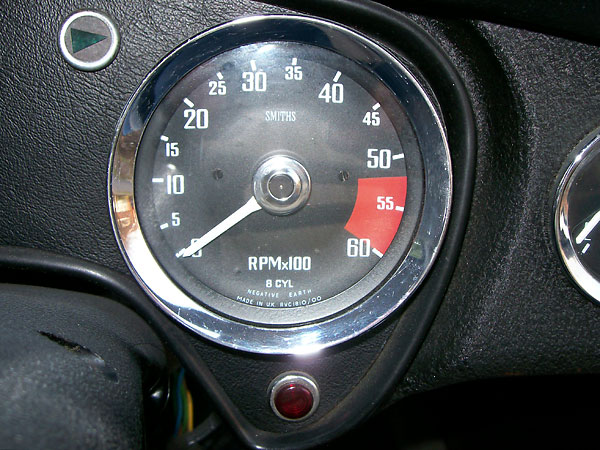 The speedometer reads to 140mph and the rev counter indicates a "redline" of 5250rpm.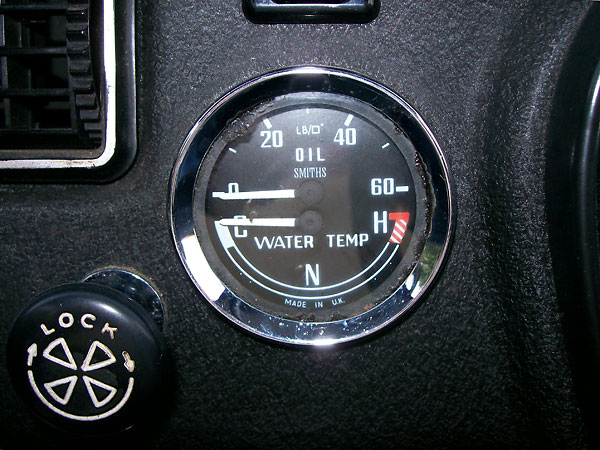 The oil pressure gauge reads to 60psi. Later MGB GT V8 gauges read to 80psi, and then to 100psi.
To its left is the choke control. Later MGB GT V8's had a T-handled knob, labeled "Choke" and "Lock".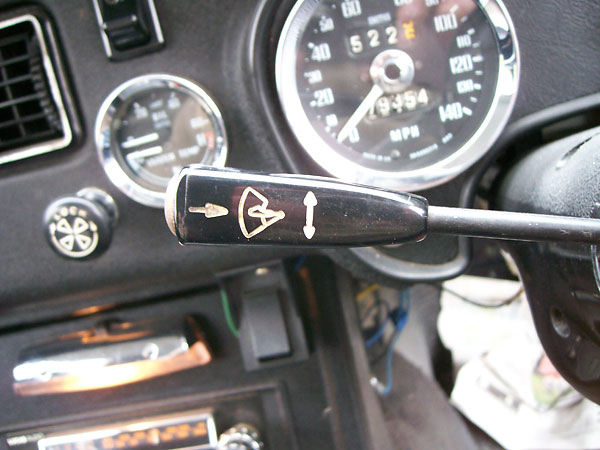 The OD switch is on the left-hand stalk that also incorporates the windscreen wipers.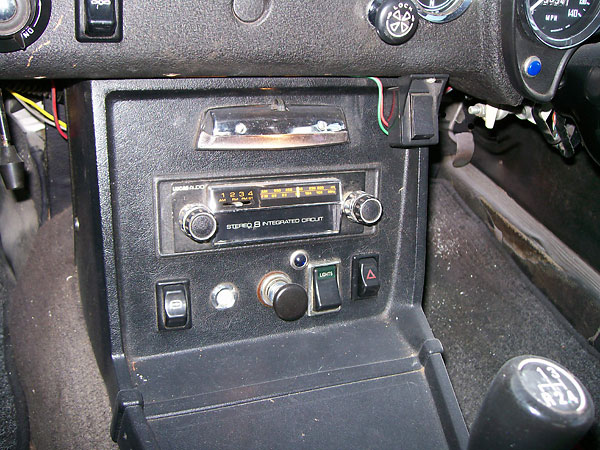 Vintage 8-track "integrated circuit" stereo radio.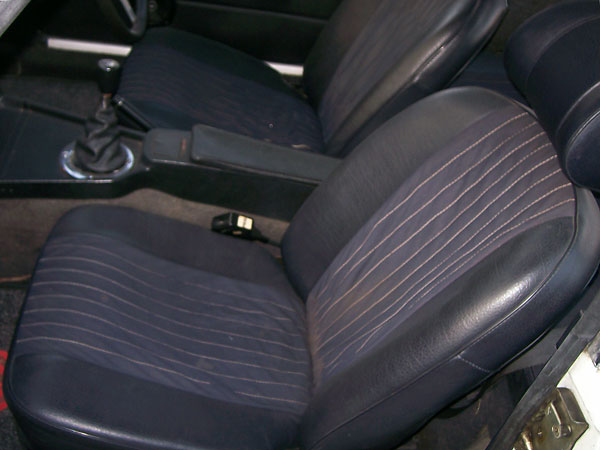 The upholstery is standard 1972 (1800cc) GT spec. As the car is Glacier White, the seats
are in Navy. They have a brushed nylon centre panel with vinyl sides. This configuration
was only used in 1972, and its different from production MGB GT V8's.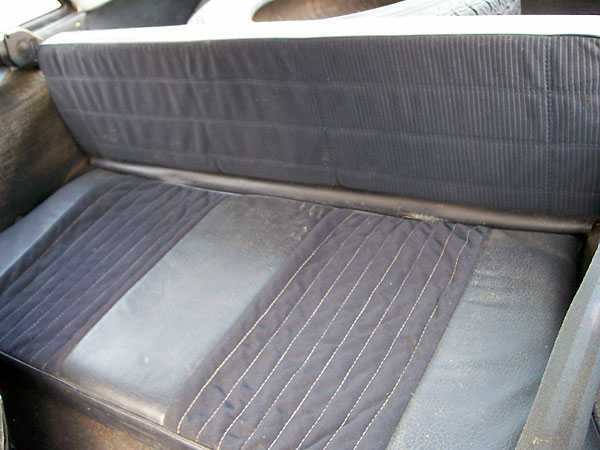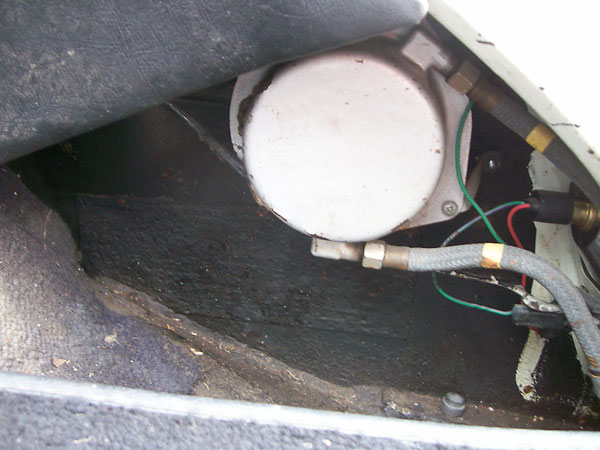 (Note: This is just an evaporative system canister... it collects gasoline vapor, which is
then routed back to the carbs. An S.U. fuel pump is mounted down by the batteries.)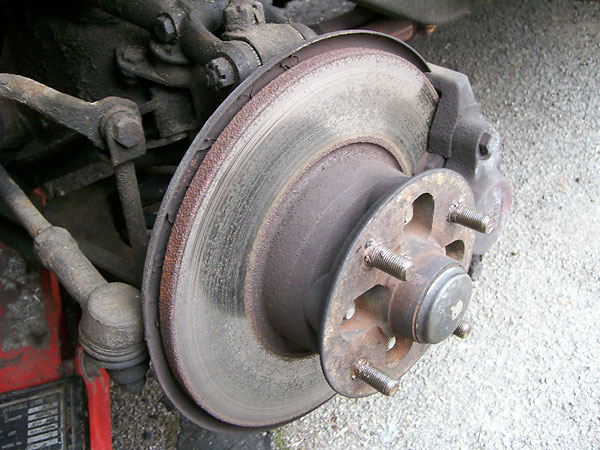 The disc brake rotors are 10.7" diameter x 1/2" thick, which may indicate that
MG decided to install uprated disc brakes early in the development program.
---
BritishV8 Magazine has assembled the largest, most authoritative collection of MG "MGB GT V8" information you'll find anywhere. Check it out! Access our MGB GT V8 article index by clicking here.