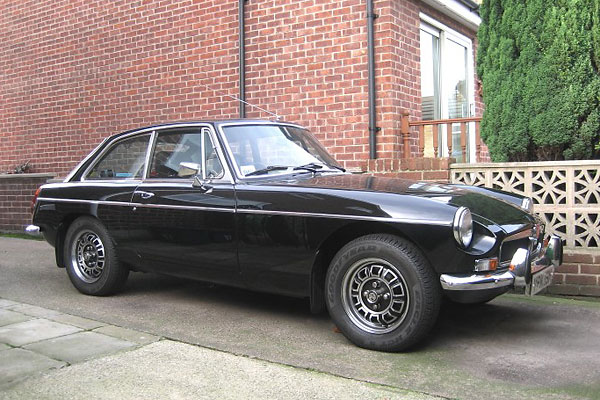 Dave Wellings' black MGB GT V8 (number 0974 in the production series) was completed November 5, 1973.

Dave Wellings' Factory-Original 1974 MGB GT V8
as published in British V8 Newsletter, Volume XV Issue 3, December 2007
Owner: Dave Wellings
City: Yorkshire, UK
Model: 1974 MGB GT V8 (factory)
Engine: Rover 3.5L V8
Restoration performed by: Owner
Dave wrote:

I bought 0974 in April 1986 from Mike Beales at the MGOC at Swavesey. It had one owner for the first ten years, an accountant from London. It was bought from University Motors in Epson, and if you look carefully at the dashboard, you'll see there is a U.M. Medallion which I sourced at Silverstone - way back. There's also a U.M. road tax disc holder on the screen and a U.M. dealer strip in the rear window which I'll photograph if I can remember.

When the second owner bought it he decided to turn the mileage back, reducing it from 60,000 to 40,000 miles. This was a stupid thing to do since it was such a good car. This only came out when I contacted the first owner for any history and got all the old bills and MOT certificates. Mike bought it next without knowing this, and didn't keep it long because he was into MGA's. The rest is history. I stripped the car to a bare shell in 1990 and spent two years restoring it... a labour of love.

Apart from uprated lever arms, 3/4" front sway bar, Lumenition ignition, and an electronic SU fuel pump it's standard. Most of the interior is original except for the centre console and the light switch.

I have the full history from 1974 except for that one MOT Certificate.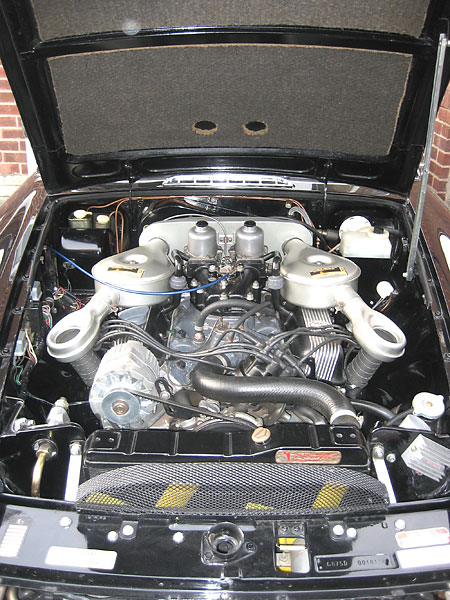 Although this engine looks very original overall, several non-standard features are visible in this view.
Note the replacement cunifer (copper alloy) brake lines and the armored fuel hose. In the lower right,
note the Lumenition ignition module which is sited in front of the radiator bulkhead to keep it cool.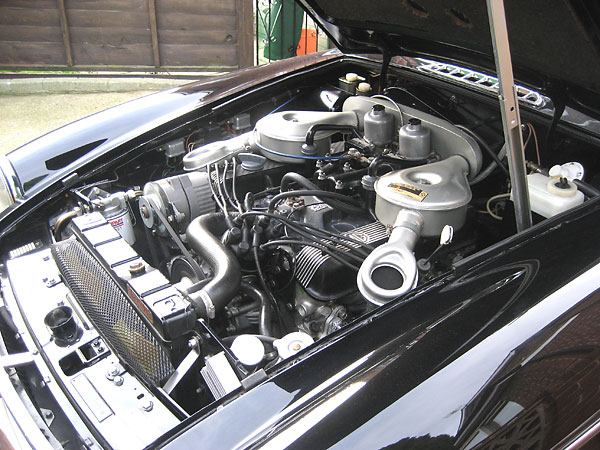 The MGB GT V8 radiator core measures 14.25" from tank to tank. Thus, it provides a 36 percent larger
surface area compared to the 10.5" tall radiator core MGB installed on chrome-bumper 1.8L cars.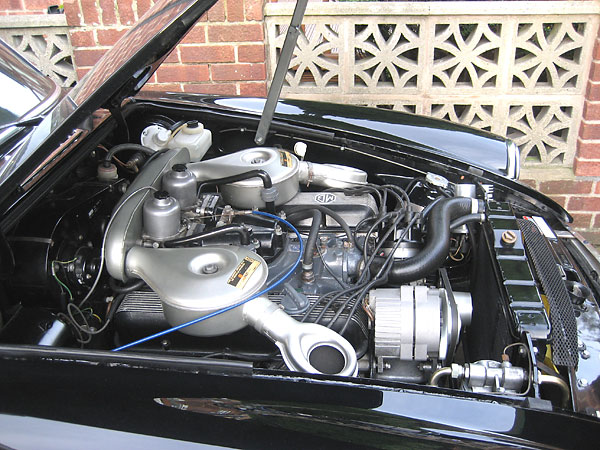 Most if not all factory-original throttle cables were turquoise colored, but for years only blue cables were
available as service parts. Notice the mechanical oil pressure gauge take-off from the remote filter mount.
Later in production, the factory moved this to the oil pump housing due to customer concern about delayed
measurement from owners who were used to the MGB's flicking oil gauge. At the changeover point
(somewhere around chassis 1200) the factory built V8s with a blanking plug, until stock was used up.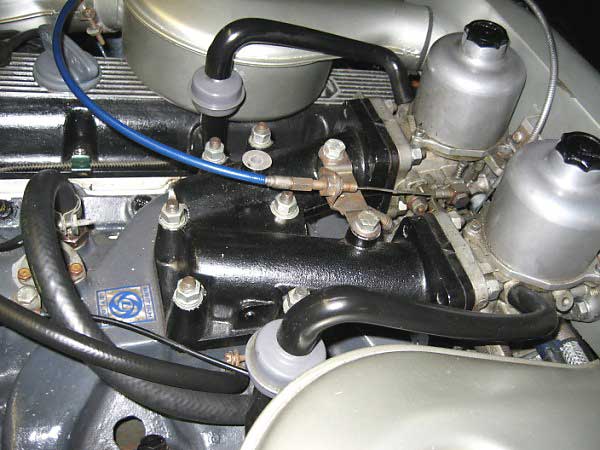 The factory painted intake manifolds and carburetor adapters, even though they were aluminum.
Note: the gray cylinders (between valve covers and carbs) are flame arrestors, not PCV valves.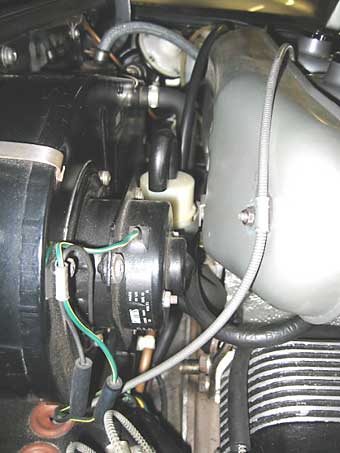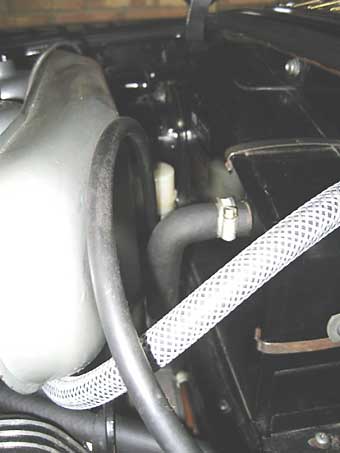 At the bottom of the lefthand photo, a coolant temperature capillary tube in a black protective sleeve.
Just above it, another black tube carries overflow from the carb. It joins the other carb's overflow at
a "T", then drops vertically into a metal drain tube. The crankcase breather (white, with u-tube on top)
is visible behind the heater motor. The spiral-sleeved choke cable can be seen attached to the airbox.
In the righthand photo, the black looped tube is a protective sleeve for the heater valve cable. The
brake servo vacuum hose is visible at lower left, passing through the engine lift eye.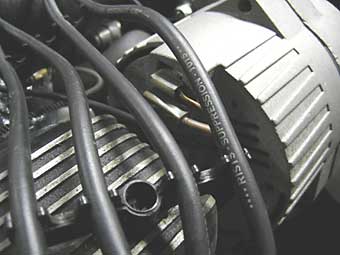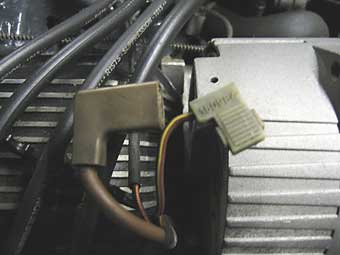 These photos show the early-style alternator connections. (Apparently production changed from this style
to a single multi-cavity connector during production. The smaller terminal shown here, marked "180984",
snaps open and closed.)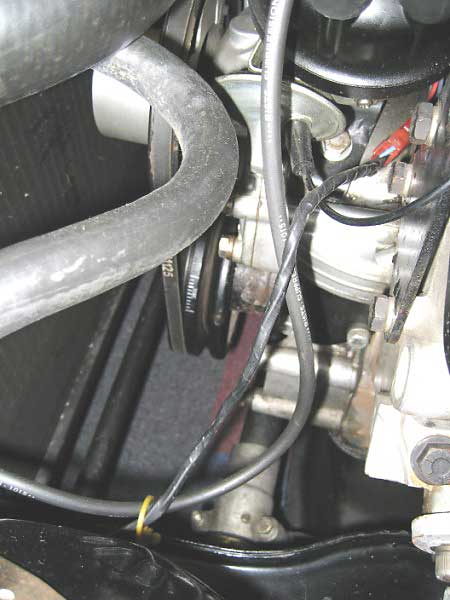 Front pulleys and harmonic balancer (with timing marks). A blanking plate is found on the timing cover
where Rover (and Buick) saloons would have a cam-driven mechanical fuel pump. The yellow plastic clip on
the wiring is an authentic detail. It holds the ignition leads loosely together. (These clips were originally
creamy white, but they yellow with age.)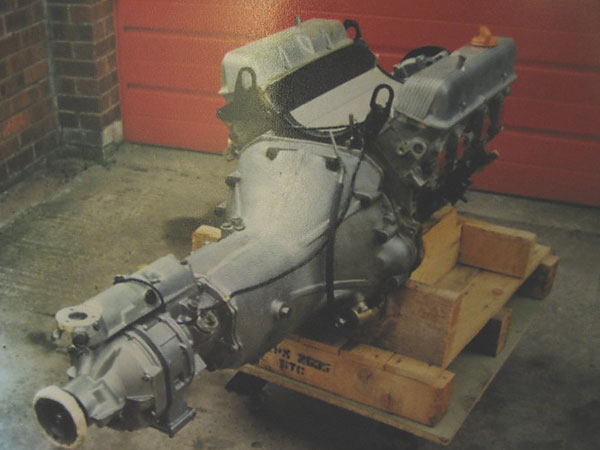 British Leyland sold their last remaining 3.5L engines into the LandRover specialist trade in 1990.
A brand new "crated" engine was £1,100 - a great value which as a Yorkshireman I couldn't ignore!
Also shown: the Laycock Type LH overdrive and how MG's integral bellhousing mated to the Rover engine.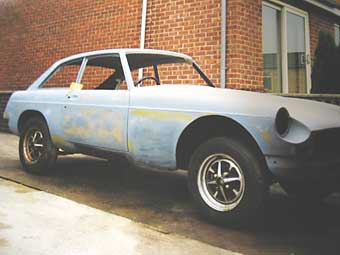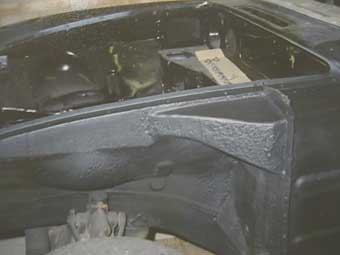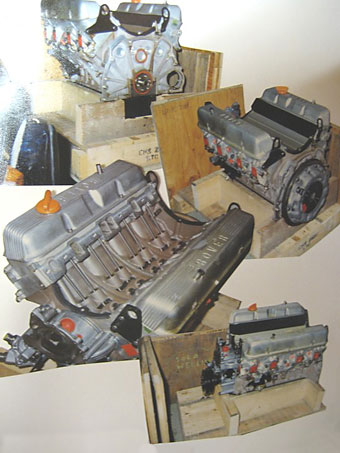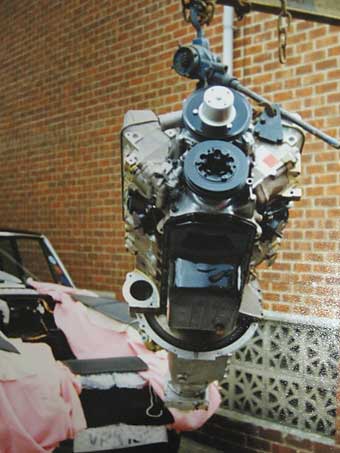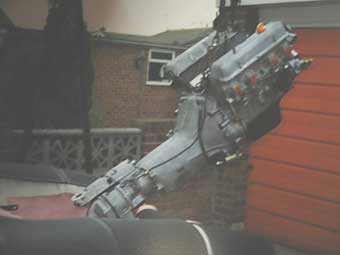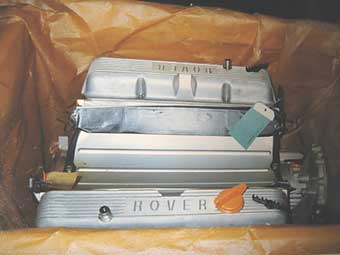 Rover valve covers and front cover were later sold off. The orange filler cap was kept,
but spray-painted grey with VinylKote.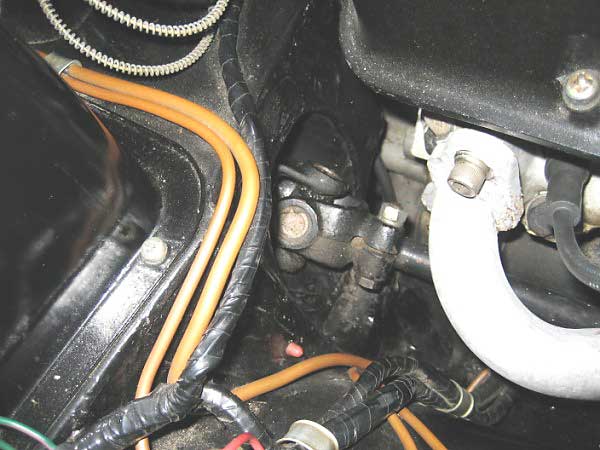 Steering universal joint and firewall pass-thru.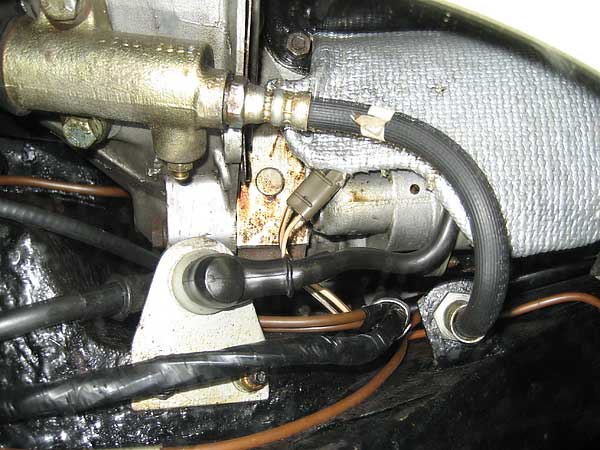 Close up of clutch slave cylinder and main power feed junction. (The heat shield isn't original.)
At the time I was restoring the power feed junction, I was stripping an old shower unit.
This provided a valuable source of insulated bushes which were perfect for the application.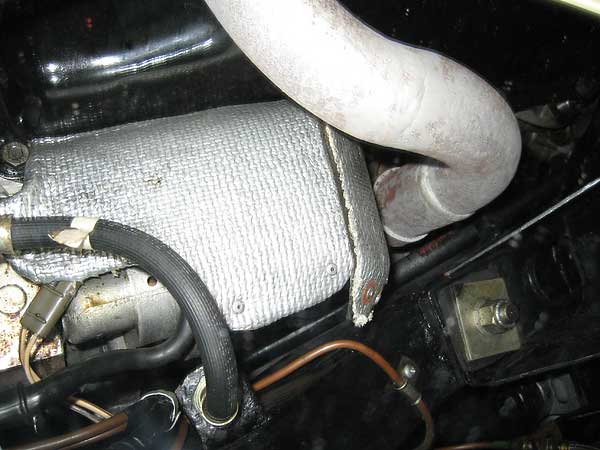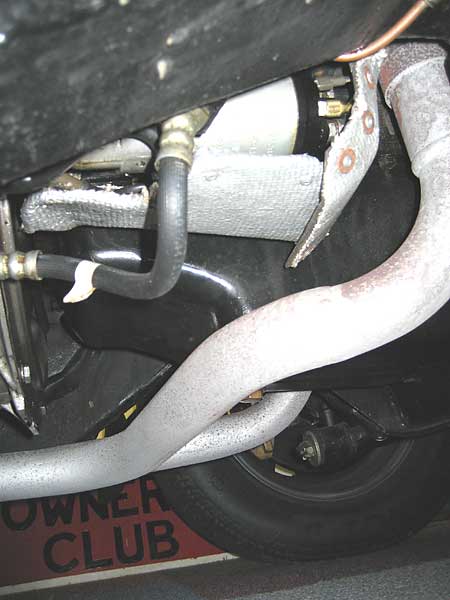 Janspeed exhaust system (with block hugger tubular headers, in lieu of original manifolds.)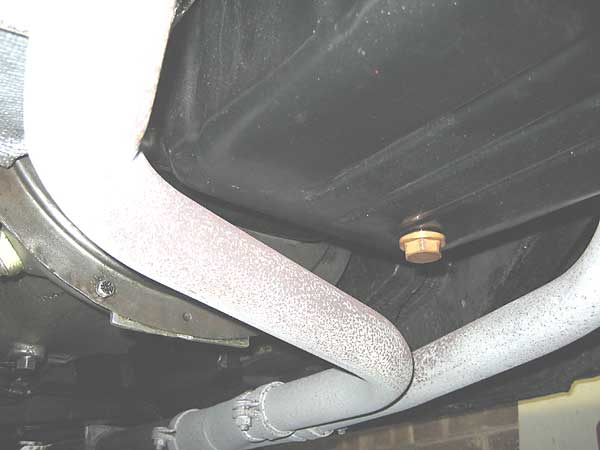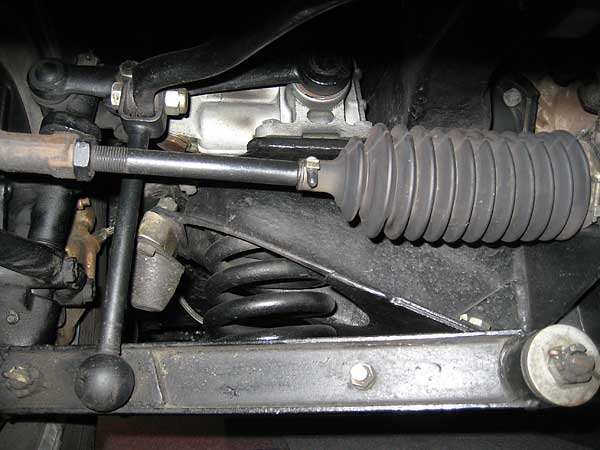 Because they came with slightly longer (and stiffer) springs, V8s tend to stand a little taller than
stock MGB GTs. This photo does a nice job of showing the factory's geometry for front suspension and
steering. Notice that the lower control arm is very close to level, and the steering trackrod is only
slightly inclined. So arranged, the car exhibits very little bump-steer in hard cornering. As the body
rolls relative to the suspension, the inner trackrod drops and effectively increases toe-out. At the
same time, the outer trackrod rises and effectively increases toe-in. The two effects largely offset
each other. Keep bump steer in mind if you alter your ride height!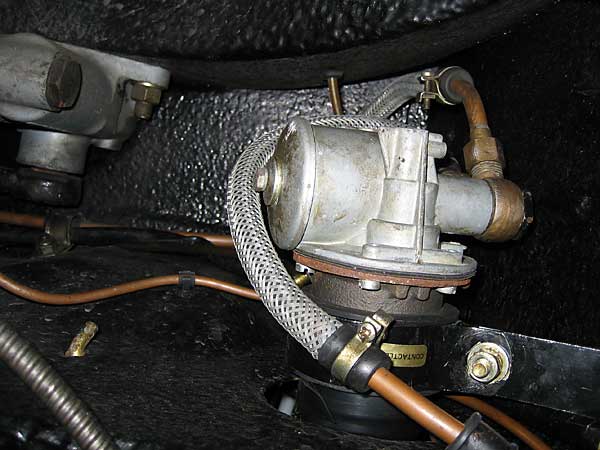 MGB GT V8's came with the same S.U. fuel pump as standard MGBs. The replacement fuel pump is standard
except solid-state. (Original pumps had breaker points.) So far this has been a big improvement,
but I still carry a spare.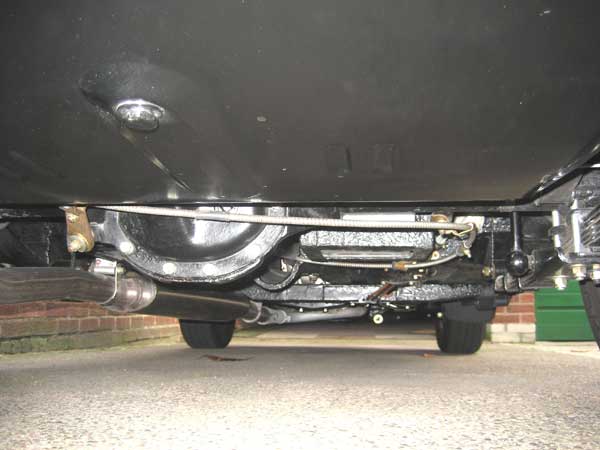 Note the drain plug which replacement tanks don't have. Neither does this one! The plug was hacksawed
from the original tank and araldited in place. It fooled concours judges for a few years. Thank goodness
they didn't put a spanner on it! I no longer "concours" it, but I'm keen on keeping it clean. After a
400-mile Norwich Union MSA Classic Run this autumn, with a wet start in York (and finishing on the
circuit at Silverstone) it took me a week to clean the underneath.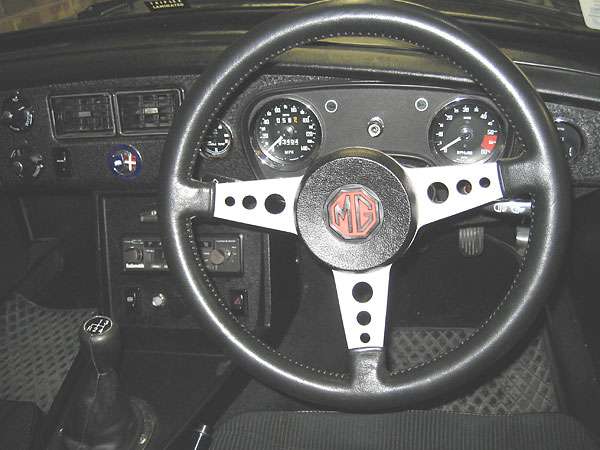 By driver preference, a US-spec MGB LE steering wheel has been installed with replacement V8-spec center
horn-push. Note the University Motors badge (under the dash vents). The car was originally purchased there,
although the badges weren't offered by 1973. The Radiomobile radio/cassette isn't original, but it's a nice
"period mod". Everything else looks like it did from the factory. The dashboard only needed light restoration.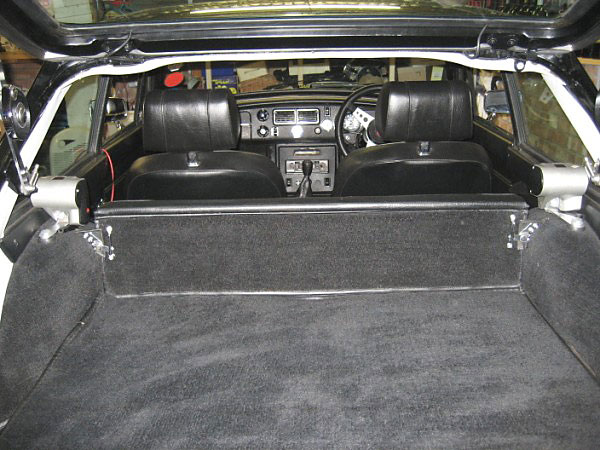 These retracting shoulder belts are original-spec replacements.
All the visible carpet is original - and unfaded even after all these years.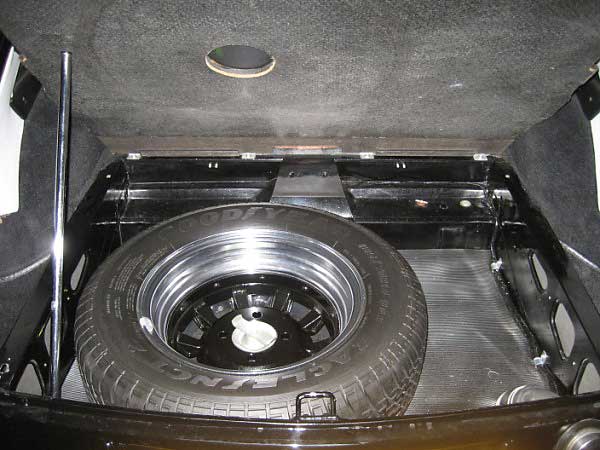 Ribbed rubber mat has been installed over soundproofing felt.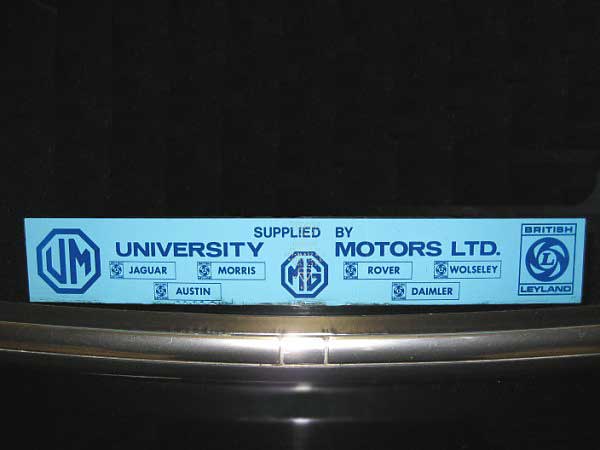 A genuine University Motors dealership decal.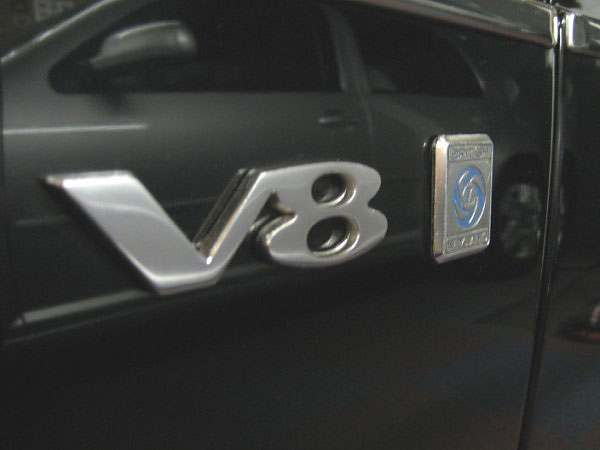 The genuine V8 fender badge and embossed-style British Leyland badge.
(Later replacement badges were flat, with printed foil applied to a similarly shaped base.)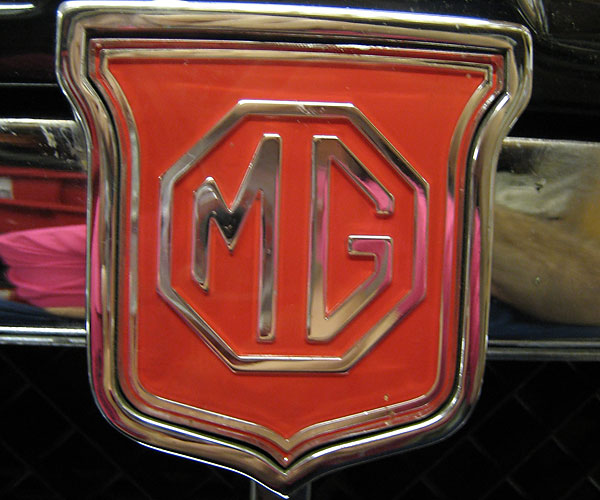 The MG Red Shield: for me this sums up the spirit of MG.
---
BritishV8 Magazine has assembled the largest, most authoritative collection of MG "MGB GT V8" information you'll find anywhere. Check it out! Access our MGB GT V8 article index by clicking here.