An MGB that Bites
The Costello MGB - Ferrari look Outside, Rover V8 Inside
as published in BritishV8 Magazine, Volume XVI Issue 2, October 2008

Re-printed unedited by exclusive written permission of The Sunday Observer (of London).
This article originally appeared in their issue for 3 February 1972.

by: Gordon Wilkins


Take an MGB, lift out the cast-iron four-cylinder and drop in the light alloy three-and-a-half litre Rover V8. It weighs no more, so you don't have the handling and steering problems that dogged the six-cylinder MGC. The result is a smooth and quiet surge of power that transforms the car so that it can compete with sports models costing thousands more, writes Gordon Wilkins.

Standing start tests through the gears had to be done on a damp track with a light powdering of snow and I had to hold off to avoid wheel spin right up to 50 m.p.h. but I did see 0 to 60 in 7.3 sec., 0 to 70 in 9.7 sec., and 0 to 100 in 20 sec. - so in the dry the car should be sensational.

It is more economical than other cars of similar performance (over all consumption of 20-22 m.p.g.) because the engine is having an easy time. Cruising at 70 m.p.h. in top is achieved at a little over 3,000 r.p.m., while Continental motorway travel at 100 in overdrive represents little over 3,500 r.p.m.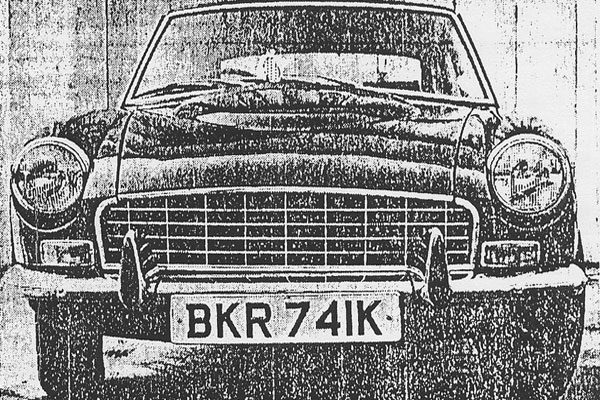 (photo by Gordon Wilkins)
Ken Costello of Costello Engineering is Farnborough Kent has now converted nearly 40 MGBs. The engine goes in neatly with minor modifications to engine mountings and scuttle. The oil filter is moved to the wheel valance. The conversion, costing £975, includes a new glass fibre bonnet with bulge to clear the engine, plus new grille and badges.
Enjoying this article? Our magazine is funded through the generous support of readers like you!
To contribute to our operating budget, please click here and follow the instructions.
(Suggested contribution is twenty bucks per year. Feel free to give more!)
Radiator, clutch, propeller shaft and differential are from the MGC. The gearbox of the MGB has a heavy, jerky action but the converted car's V8 helps by cutting the need for gear changing. In top gear it will go from 20 to 80 m.p.h. faster than a V12 E-type and from 20 to 100 m.p.h. it will leave behind a Porsche 911E running in the fourth of its five gears.

The MGB suspension handles the performance very well without much tendency to axle tramp when accelerating hard on rough roads. The brakes, with special hard pads, cope well though they did smell hot after hard driving on winding roads.