MGB V8 Goes Like a Shot From a Gun
by Clive Birtwistle

as published in British V8 Newsletter, Volume XV Issue 3, December 2007

Re-printed complete and unedited from the "Midweek Observer and Gazette" of Tuesday, January 14, 1975.


Details at a Glance
| | |
| --- | --- |
| Engine: | Aluminum 3528cc V8, 137 bhp (net) |
| Brakes: | Disc front, drum rear with servo |
| Suspension: | Independent coil and wishbone front, semi-elliptic rear. |
| Gears: | Four speed all-synchromesh remote floor change with overdrive. |
| Maintenance: | 4 grease points, oil change and service every 6,000 miles. |
| Performance: | Speed in gears - 1st 40, 2nd 62, 3rd 96, 4th 127. 0-60 7.8 seconds. |
| Consumption: | 24 mpg. |
| Special features: | Abundant performance, taut handling. |
| Price: | £2,537.73. |
Midweek Car Test
Putting the Rover V8 engine in the MGB GT gives new zest without loss of stability and produces a car that calls for the open road. Flexibility is not lost, although the gearing is fairly high, but the high power-to-weight ratio means jerkier progress if the car is not driven with finesse. The power shows to full advantage at the top end of the range, with effortless cruising at 70mph plus.

It is an exciting car, particularly for those who favour the deceptive performer, for although it looks like an MGB GT the shot-out-of-a-gun acceleration reveals the difference. From standstill, 60mph is reached in 7.8 seconds and 100 mph in 24 seconds.

The firm ride is an MG tradition. A little skittishness at the rear is compensated by direct steering, allowing a quick twitch to straighten up and produce the sort of handling MGs are noted for.
Confidence
Driving position too is right, set on a recline with good support and correctly shaped seat. The MG has always been acclaimed for the confidence it instils and this is no exception. Besides the handling, including good directional stability that goes with a high steering ratio, there is powerful servo braking. Mechanically the car is quiet, but wind noise interferes with radio reception above 50 mph.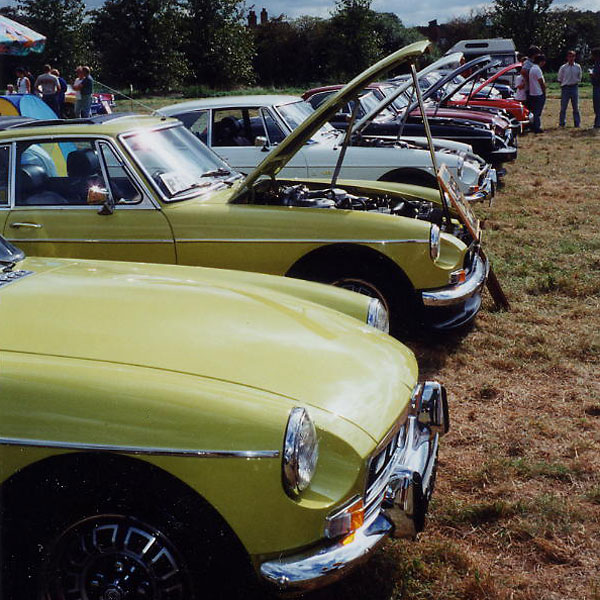 Proud owners compare cars at an "MGB GT V8 Register" meet.

Gear changes are short and crisp and can be taken as fast as the driver likes but first and second gear is a little too close to third/fourth, causing some wrong slotting and first gear is rather high, calling for attention to the revolutions to avoid stalling.

The over-drive is a delightful feature, contributing to good fuel consumption on the longer journey and effortless cruising. It is engaged by flicking a stalk on the column which also controls screen wash and wipe. A second stalk operates the usual indicators, horn and headlight dip and flash. Not so convenient is a light switch lost amoung the array of items behind the leather-bound alloy steering wheel.
Enjoying this article? Our magazine is funded through the generous support of readers like you!
To contribute to our operating budget, please click here and follow the instructions.
(Suggested contribution is twenty bucks per year. Feel free to give more!)
Instruments include two large dials for speedometer and revolution counter, clearly seen through the wheel, with smaller dials indiscriminately scattered for fuel, temperature and oil pressure. Heating and venting controls too are higgledly-piggledy.

There could be more ventilation than is provided through the centre fascia slots, although there are quarter lights - but this means more wind noise.

Besides good seating, with rake adjustment and detachable head restraints, the driving position is well arranged, with adequate room and a satisfactory field of vision aided by well positioned exterior mirrors. Arm rests are provided on the doors and in the centre, where there is also a narrow oddments receptacle. There is a small lockable cubbyhole and a bin by the passenger's legs. Trim is pleasing with additional padding on the doors.

Although the GT style offers a rear bench, this could only take two very small children. But it does provide a very useful extension of the boot with the seat back folded. Access is through a large tailgate incorporating the back screen. The boot is fully carpeted and trimmed.

Although the V8 engine fills the underbonnet compartment, there is good access to the distributor, twin carburettors and alternator. Plugs are hidden but the oil filter is to hand. You have to lift the rear seat and remove a panel to get at the batteries. An oil cooler is standard.

Next week: Austin Maxi 1750.
---
Note: When the Midweek Observer and Gazette originally published this article, they included a nice black-and-white photo of a dark-colored, chrome-bumpered MGB GT V8, registration plate "HUD 411M", parked at the edge of a field under a tree.

The pricing quoted above appears to reflect a 10.6 percent increase from model launch, just sixteen months earlier.
---
BritishV8 Magazine has assembled the largest, most authoritative collection of MG "MGB GT V8" information you'll find anywhere. Check it out! Access our MGB GT V8 article index by clicking here.