New Targets for the Old Firm
Philip Turner talks to MG's Chief, Leslie Lambourne
as published in British V8 Newsletter, Volume XV Issue 3, December 2007

Re-printed unedited by exclusive written permission of "Motor".
This article originally appeared in their issue for the week ending August 18, 1973.


Just to survive is no mean feat for any car company, for the dead outnumber the living by several hundred to one. When British Leyland was formed in January 1968, MG were in a vulnerable position. For their parent company, BMC, had in effect been taken over by their chief rivals in the sports car field, Triumph. Moreover, the new American safety regulations were playing havoc with their production and costs, and in consequence with profitability as a whole.

So when Leslie Lambourne took over the management of the Abingdon factory in 1969, he instituted a prolonged drive for efficiency and effectiveness. He argued that MG would not be judged on sentiment, but on a strict economic basis and it had to become too efficient to close.
This philosophy was supported by everybody who worked at MG, from the shop floor to a carefully selected management and supervisory team, and today, five years later, MG are building and selling more cars than ever before. Survival has been assured by a present reputation as well as a past history.

It has not been easy. Many of the great names at Abingdon who had given their lives and very considerable expertise to the company withdrew somewhat thankfully from this new struggle, and with them went the personality cult which had added so much colour to the Abingdon scene ever since the early days of Cecil Kimber. The closing of the competition department also emphasized the down-to-earth nature of the struggle that now faced the company. Fortunately, Leslie Lambourne was no newcomer to MG, for he had joined the company some ten years previously. He had completed his production engineering apprenticeship at Cowley and had then graduated from the job of process planning engineer to that of assistant to the works manager. After three years of involvement in production problems at the vast Cowley plant, his posting to MG came as something of a shock. Before actually taking up his new appointment as supplies manager, he paid a visit to Abingdon to see what went on there. Lambourne admits now that he had a quiet chuckle when he saw this rural factory with the cars being assembled on wheeled trollies instead of on a proper assembly line. It was such a contrast to anything he had seen before, but in his own words: "I came to scoff but remained to wonder, and the place has fascinated me ever since."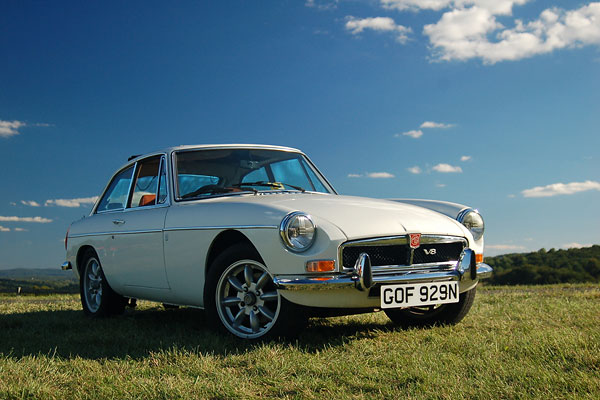 Kevin Richards' 1974 MGB GT V8 (photo by Kevin Richards, 2007)

He is now firmly of the opinion that the Abingdon way of building sports cars is ideally suited to their sort of specialized production. The jobs are inevitably repetitive but long time cycles and static work stations help to provide a higher degree of job satisfaction than is possible in larger plants. Everyone has a bigger part to play in making each car and the compact size of the plant makes it all a very personal set-up.

Careful planning has resulted in a staggeringly high weekly production from what at first sight hardly seems like a factory capable of building cars in fair quantity. In one record-breaking week before the war when all those concerned packed over 80 working hours into the week they built 57 cars, and thought the limit of human endeavor had been attained. By the end of the 1950's, Abingdon were building 1,000 cars a week. Today they build 1,500 a week, around 1,000 MGBs and 500 Midgets, and they don't often stop unless somebody else stops them.
Enjoying this article? Our magazine is funded through the generous support of readers like you!
To contribute to our operating budget, please click here and follow the instructions.
(Suggested contribution is twenty bucks per year. Feel free to give more!)
What of the future? The MGB first went into production in 1962, but is in greater demand than ever in MG's chief market, the United States, where some owners now have their eighth successive B. The main problem at Abingdon is building enough cars to meet the insatiable demands of their American dealers. There is, therefore, no great pressure to embark on the vast expense of tooling up for a new car, for even the advent of the very successful Japanese Datsun 240Z in the U.S. market does not appear to have hit MG sales. Moreover, says Lambourne, suppose we do decide to do a new car. If you start with a clean sheet of paper and design a two-seater front-engined open sports car it will end up looking very like a B.

Of course, everyone expects MG to go to a mid-engined sports car but although they have built a very successful prototype, MG chief designer Roy Brocklehurst is by no means convinced that this is the right layout. Most of the pressure for a mid-engined sports car comes from the fact that all racing cars are mid-engined these days. It makes sense to put the engine behind the driver in a single seater racing car for the width of the driver's body decides the width of the car. The engine can therefore be tucked in behind him leaving room in the nose for his legs and feet. But a mid-engined sports car offers no corresponding advantages and has many drawbacks, such as noise in the cockpit, the fact that in crash tests the weight of the engine is at the back behind the driver, and the difficulty of providing adequate luggage space. All these problems can be solved in exotic sports cars built in relatively small numbers, but are far more difficult to solve in a sports car produced in a fair quantity.

So it seems probable that the MGB in various forms will be with us for some time yet. Thanks to the originally very strong design, it has met all the American safety requirements with very few modifications. The most pressing problem now facing the Abingdon design office is the regulation stating that passive restraint must be provided in all 1975 model cars shipped to America. Intensive development and testing has shown that air bags can be made to work in an open car, and in fact in this type of car are easier to achieve than any passive restraints in the form of seat belts applied automatically when the doors close. Not that they like the idea of air bags. Experience has shown that air bags are not immune from failure to inflate, and when driving with one fitted there is always the nagging thought that it might suddenly go off and inflate of its own accord. What they desperately hope at MG is that opinion in the USA will swing around to making the wearing of seat belts compulsory, for this, they feel, is by far the best answer to the passive restraint problems.
With the MGB GT V8 the MG range acquires a potentially very successful new model. It will, however, be sold only on the home market, for the supply of Rover V8 engines is not sufficient to enable the new model to be exported in large numbers. The fear is that if only a small quantity is shipped to the United States, then the result could well be many cancelled orders for the B by potential owners hoping to obtain one of the scarce V8s. The upshot would be a fall in total MG sales. If, however, the reception in Britain for the new V8 is so favorable that the production of V8 engines has in any case to be expanded to meet demand, then eventually the new car may be sold overseas as well.

It is finding the correct solution to these and other problems that occupy most of the waking hours of the people of Abingdon, but they so obviously enjoy what they are doing that one is left with the impression that they will find the answers.
---
When Motor originally published this article, they illustrated it with one photograph of a light-colored MGB GT V8 taking a left hand turn at speed. The car's registration plate number read: "HOH 933L". We've substituted a newer, clearer photo because our copy of the original (a black-and-white photocopy) wasn't suitable. If you can help us locate the original photo, please contact us!
---
BritishV8 Magazine has assembled the largest, most authoritative collection of MG "MGB GT V8" information you'll find anywhere. Check it out! Access our MGB GT V8 article index by clicking here.