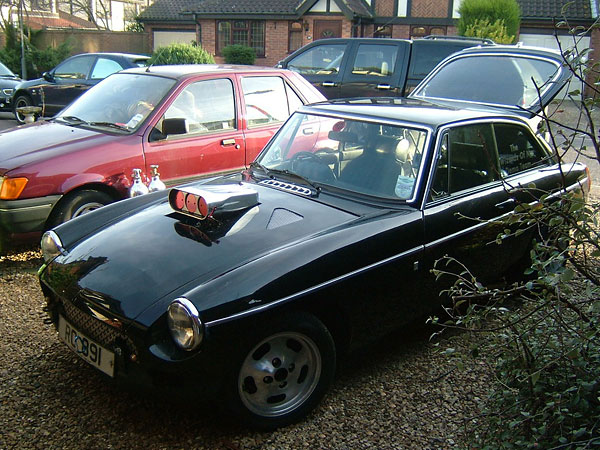 Perry Stephenson's Modified "Factory" 1975 MGB GT V8
as published in BritishV8 Magazine, Volume XVI Issue 2, October 2008
Owner: Perry Stephenson
BritishV8 UserID:
perrymgbv8
City: Buckingham town, England
Model: 1975 MGB GT V8 (factory)
Engine: Rover 4.6L V8 (in lieu of original 3.5L engine)
Conversion performed by: owner
Engine:
Rover 4.6L aluminum V8 with cross-bolted mains. Chrome-moly rods. Real Steel "blower" cam and bleed-down lifters. Double valve springs to suit cam. Edelbrock Performer 3.51 manifold. Weber 500cfm carburetor. Wizards of NOS ("WON") nitrous system/controller with 100hp of gas. Mallory HyFire capacitive discharge ignition system, with (boost proportional) remote ignition retardation module.

Cooling:
all new, but to original specification.

Exhaust:
RV8 headers (through the inner wings), but with the collectors opened out to 2.5 inches. Home-made stainless steel pipes. Chevy mufflers.

Transmission:
TH350 Streetfighter automatic transmission. B&M ratchet shifter. Custom propshaft.

Rear Axle:
factory V8 axle (Salisbury, with 3.07:1 gears). Phantom Grip diff locker.

Front Susp.:
standard wishbone and dampers, plus 500lb springs and blue bushes. Lowered by 2 inches.

Rear Susp.:
standard V8 cart springs and uprated lever arms dampers, plus blue bushes.

Brakes:
standard V8 except with Greenstuff pads and rear brake line lock.

Wheels/Tires:
(front) 6" Cosmic alloys with Toyo Proxis tires.
(rear) 8" Wolfrace alloys with Mickey Thompson ET Street tires.

Electrical:
all standard, but with a few additional gauges (including specifically: nitrous pressure, transmission temperature, fuel pressure, improved tachometer, and shift light.)

Weight:
1100kg.

Other:
removed bumpers and fitted roll over bar.

Performance:
0-60mph in 3.5 seconds. Quarter mile in 11.56 seconds at 117.81 mph. 233bhp & 310 ft/lbs torque off gas. 322bhp & 383 ft/lbs torque with a 100 shot of nitrous.

Completed:
engine/transmission swap was completed in June 2007. Approximately 3500 miles have been driven since, as of August 2008.


Comments:
The MG gearbox cross-member had to be custom made, but that was very simple to do with only a few welds required. I also had to fit an adjustable vacuum modulator to the gearbox to increase upshift RPM due to the light weight of the car. It's still not ideal, but it's okay for road use. Only very minor tunnel mods were required to fit the TH350. When fitting the B&M ratchet shifter, the TH350 leaves plenty of room in the tunnel to drop the shifter down 4" into the tunnel so that it sits nice and low on the console. I simply made a stainless steel box with a flange around the top, fitted the shifter into the box, and then cut the tunnel so the box dropped into place. I just cut down the plastic surround to suit.

The aim of this project has always been to see how much I can get out of the Rover V8 with all stock internals. This build runs a 90,000 mile crank, rods, heads/valves, and stock Rover pistons. I have had all the rotating parts professionally balanced and I've used a harmonic damper / crank pulley. A lot of folk say the Rover isn't good for high power in stock form, but with some attention to detail it will make good power. I'm hoping to hit 400ft/lbs of torque before the year is out. I have melted several pistons in R&D, but I'm satisfied that with piston ring gaps set to suit, I should be able to increase the nitrous charge to a 200hp hit.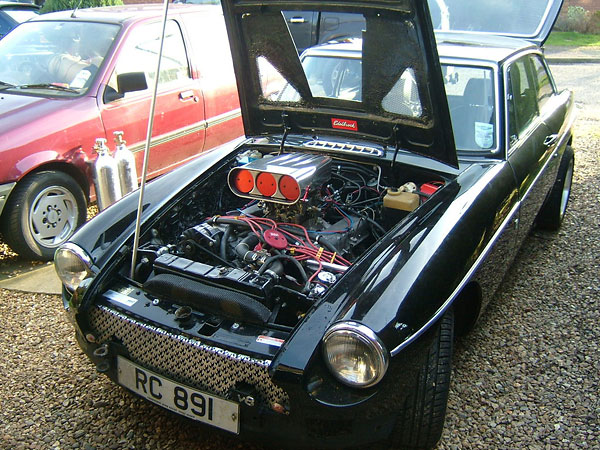 Enderle-style carburetor scoop.


Enjoying this article? Our magazine is funded through the generous support of readers like you!
To contribute to our operating budget, please click here and follow the instructions.
(Suggested contribution is twenty bucks per year. Feel free to give more!)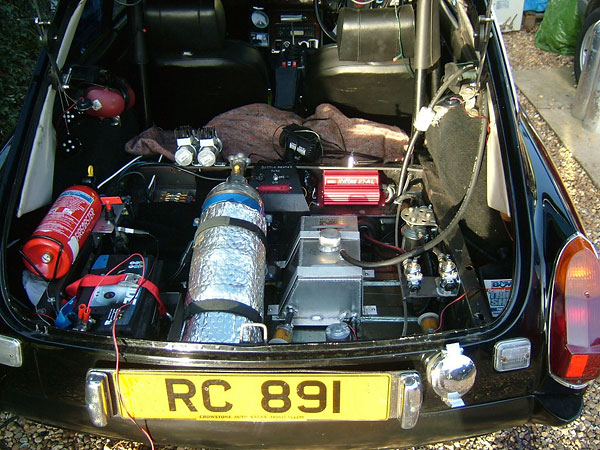 NOS bottle and fuel cell.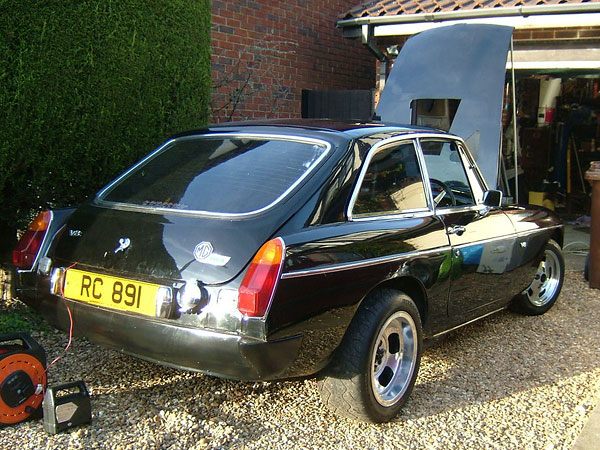 8" Wolfrace alloys with Mickey Thompson ET Street tires.
---
BritishV8 Magazine has assembled the largest, most authoritative collection of MG "MGB GT V8" information you'll find anywhere. Check it out! Access our MGB GT V8 article index by clicking here.