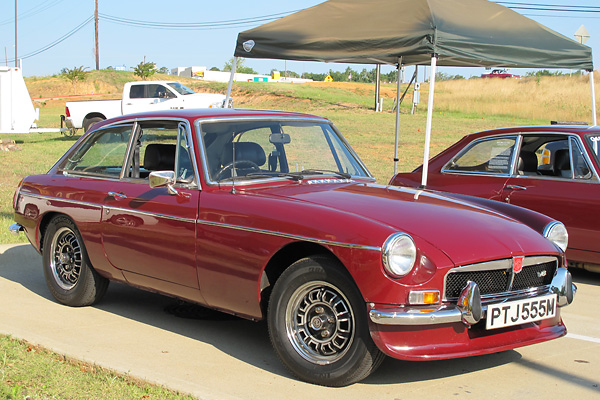 Phil Marcell's Factory-Original 1973 MGB GT V8 (car# 316)
as published in BritishV8 Magazine, Volume XX Issue 1, July 2012
Phil Marcell and his friend Gary Sandusky of Plano Texas brought this spectacular factory MGB GT V8 to the BritishV8 2012 meet in Palestine Texas.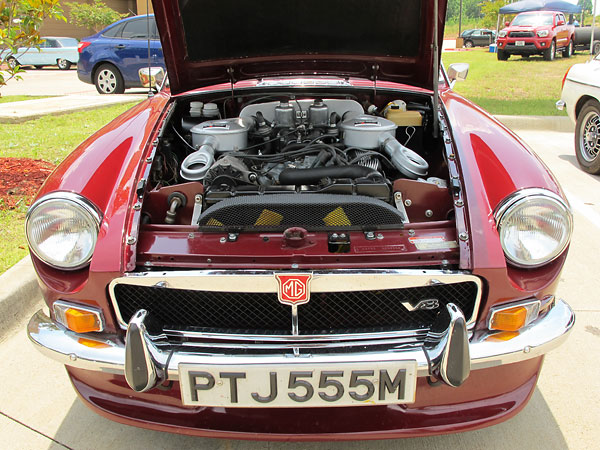 PTJ555M: "TJ" indicates Lancashire, "M" indicates initial registration between August 1973 & July 1974.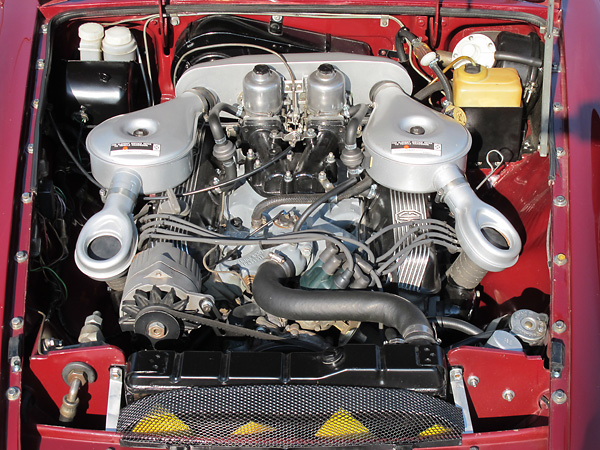 Rover 3528cc V-8 engine.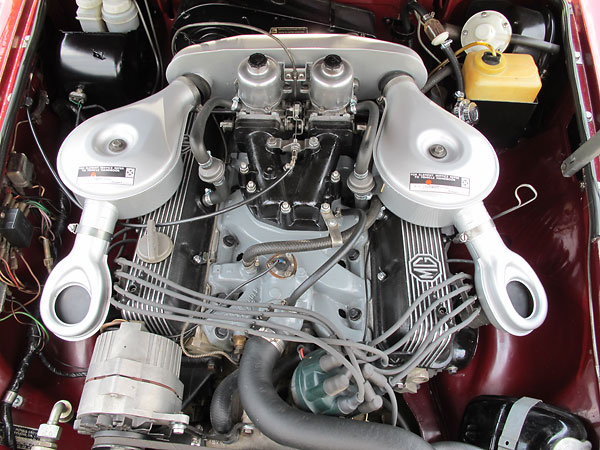 Dual S.U. HIF6 carburetors.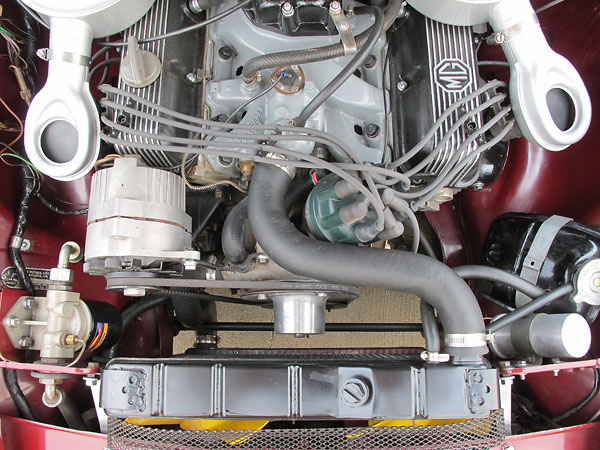 Sixteen pint cooling system, featuring an extended length radiator core.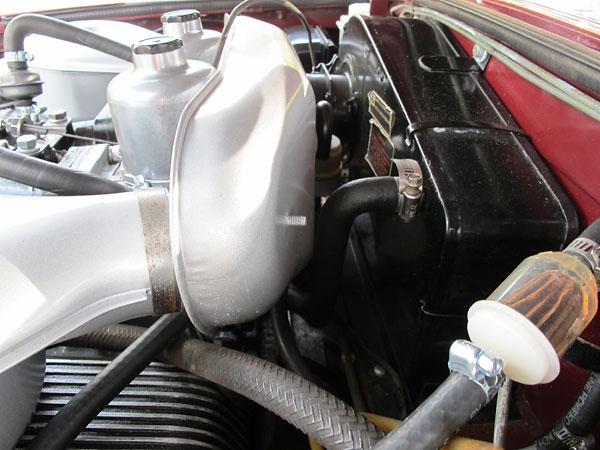 Close packaging between the induction system and the cabin heater.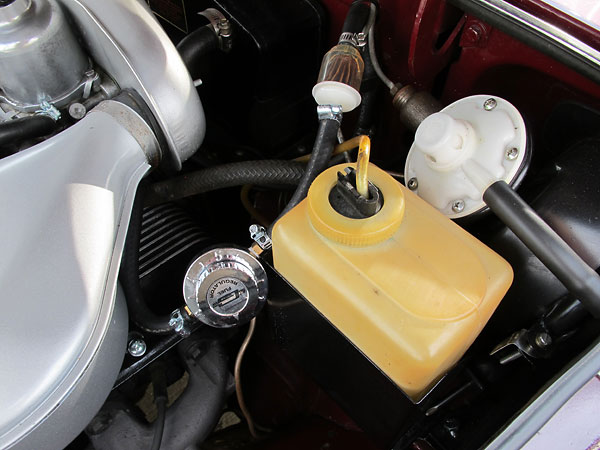 Aftermarket Mr. Gasket brand fuel pressure regulator.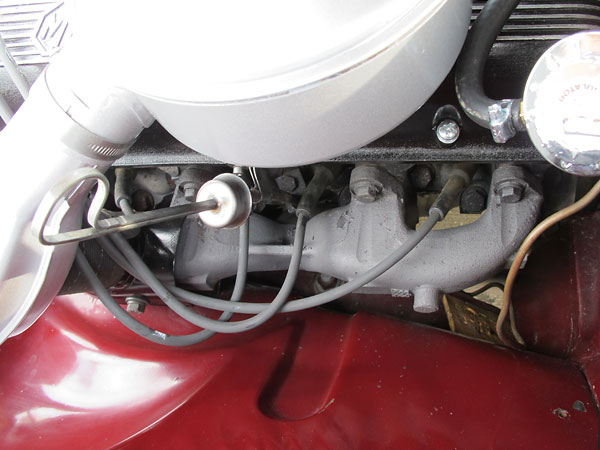 OEM cast iron exhaust manifolds.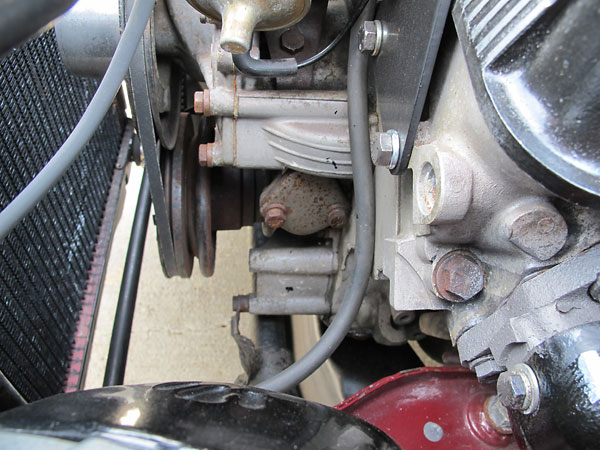 A steel plate bolted to the cylinder head can be used when lifting the engine.
Note also a supplemental, woven ground strap between timing cover and chassis.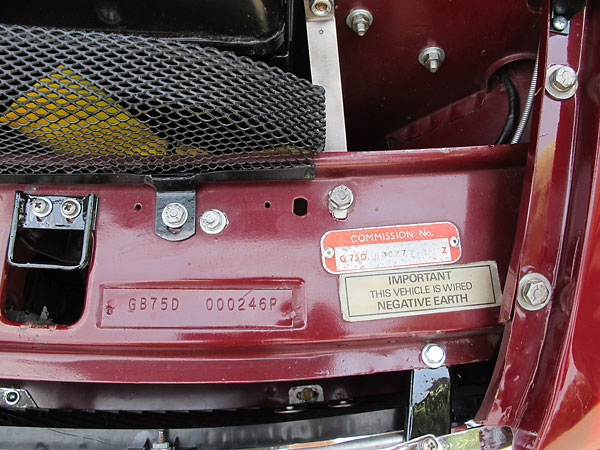 The Body and Commission numbers are stamped into plates secured to the bonnet lock platform.
Don't confuse either of these with the Car number, stamped into a plate by the oil filter.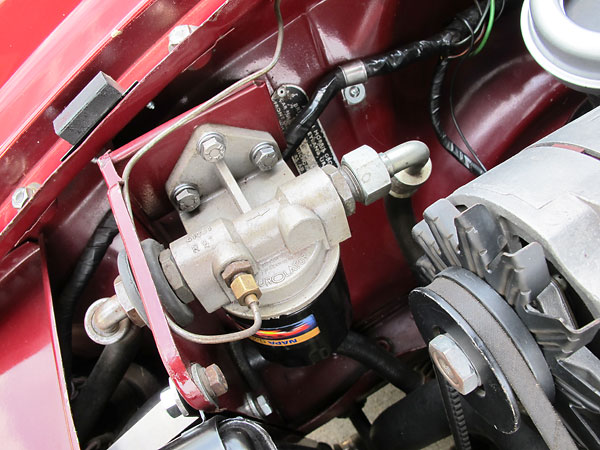 Purolater branded remote oil filter mount.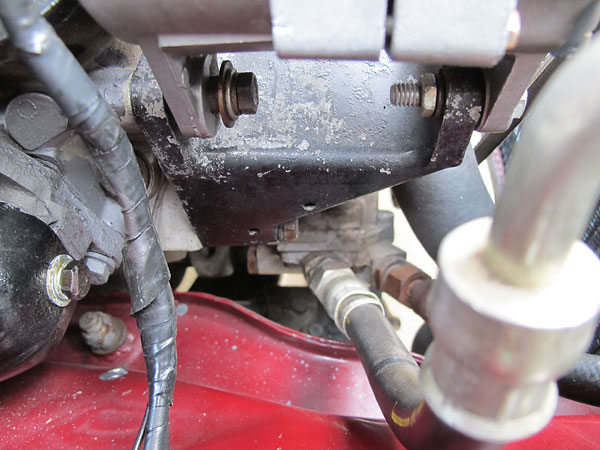 Engine oil plumbing details.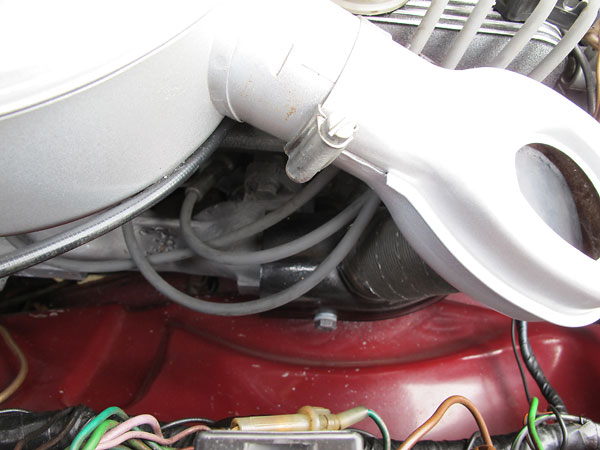 To quicken engine warm-up in cold weather, flapper valves in the air cleaner
assembly open to draw heated air from off the surface of the exhaust system.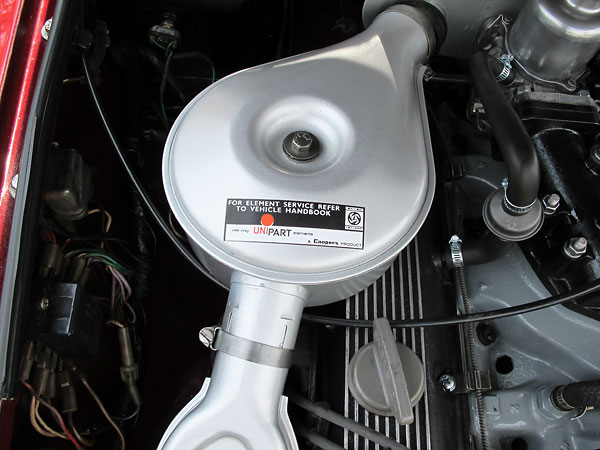 These air filters make us wonder how concerned MG really was about cost or weight.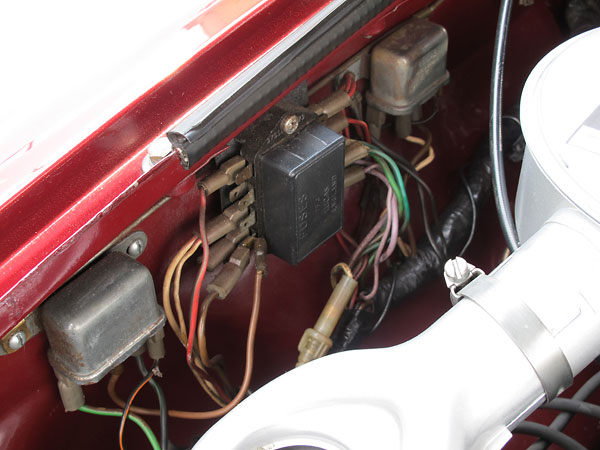 Four fuses in a fuse block, plus one in an inline fuseholder.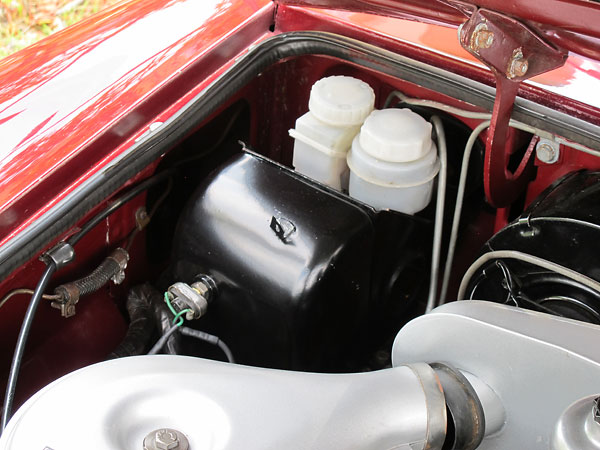 Brake and clutch master cylinder reservoirs.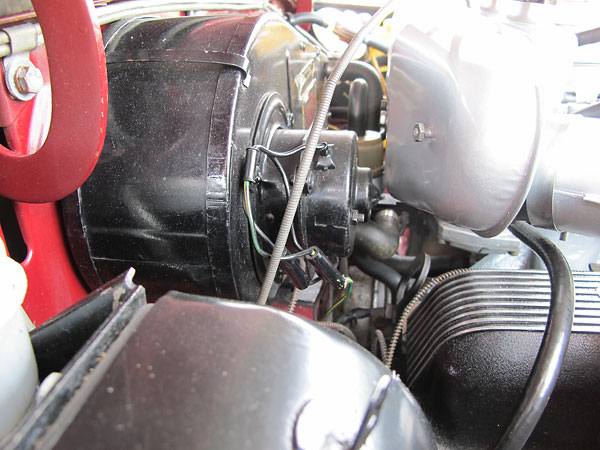 Heater motor.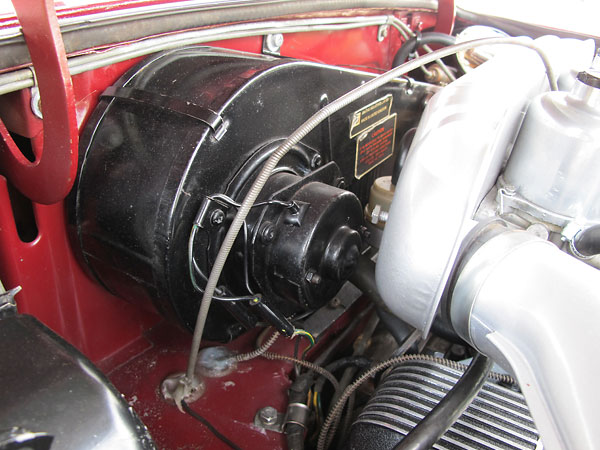 Another view of the heater motor.


Enjoying this article? Our newsletter is funded through the generous support of readers like you!
To contribute to our operating budget, please click here and follow the instructions.
(Suggested contribution is twenty bucks per year. Feel free to give more!)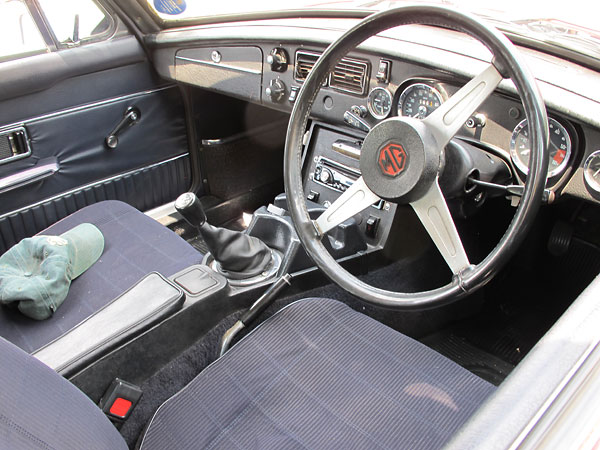 Very original, except the cupholders are obviously a more recent addition.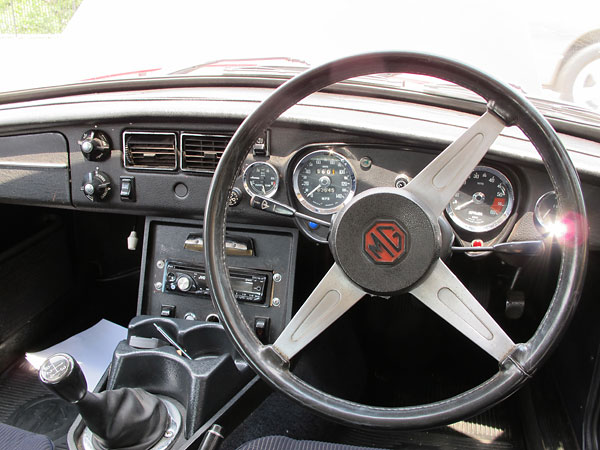 MGB GT V8 steering wheel.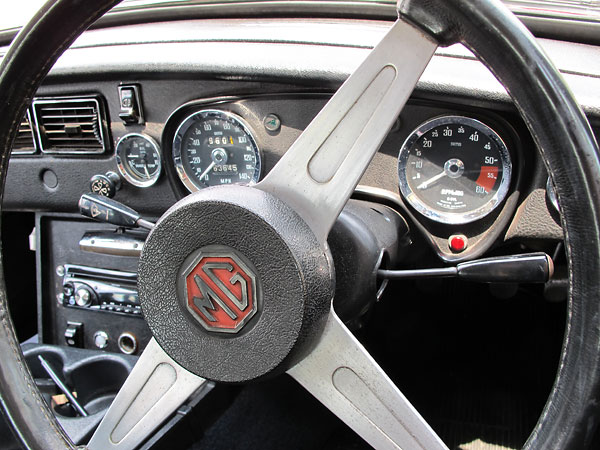 The odometer reads just 63645 miles.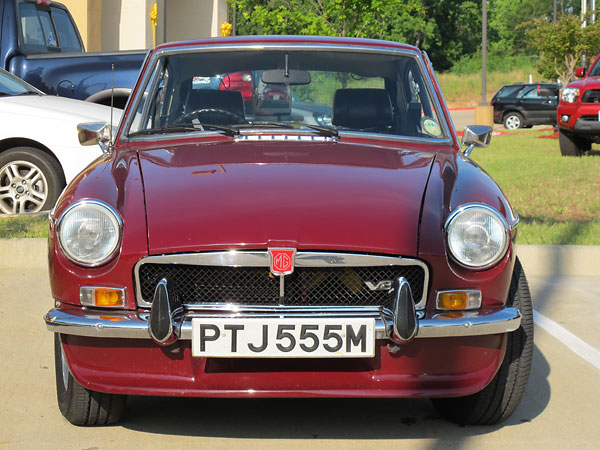 Damask red was the second most popular color for MGB GT V8: 472 of the 2601 built.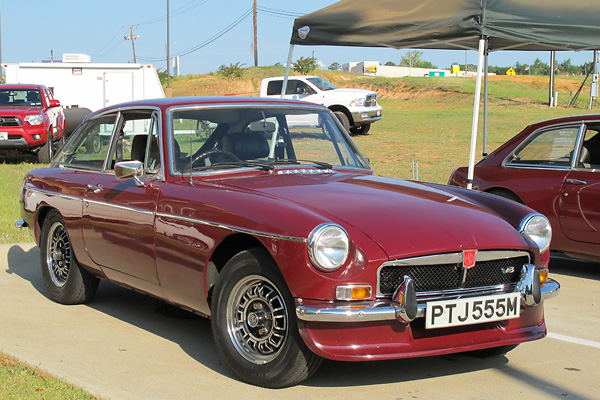 (The most popular color was Glaciar White: 513 built.)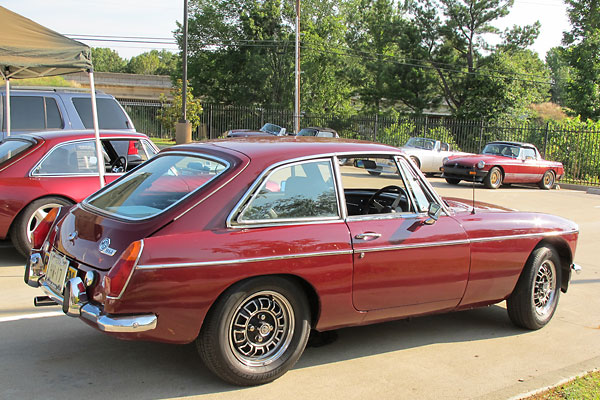 Single, small diameter tailpipe: MG wasn't aiming for a youthful demographic.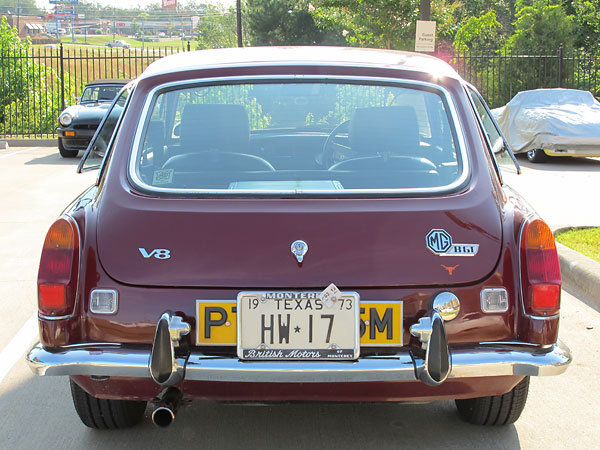 Texas Longhorn decal.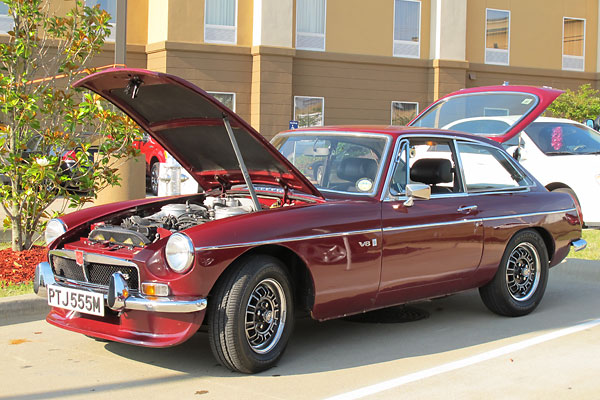 Ventilation.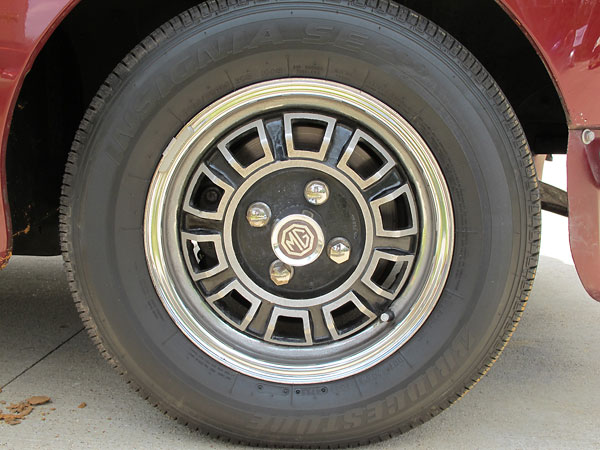 Conservative choice: original MGB GT V8 composite wheels, as created by Dunlop.
MG just wasn't quite ready to fit a lighter-weight one piece aluminum wheel.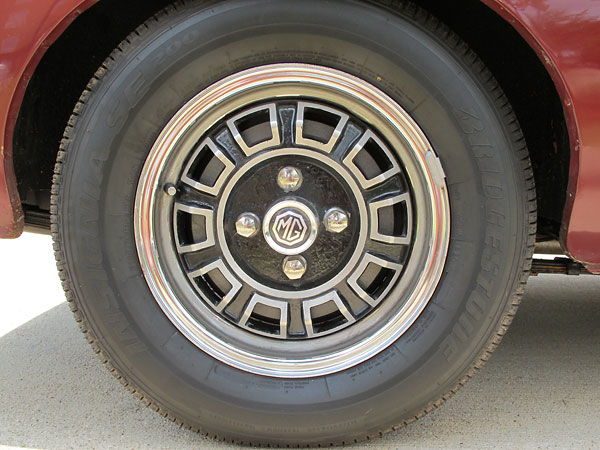 Bridgestone Insignia SE 200 tires.


---
BritishV8 Magazine has assembled the largest, most authoritative collection of MG "MGB GT V8" information you'll find anywhere. Check it out! Access our MGB GT V8 article index by clicking here.