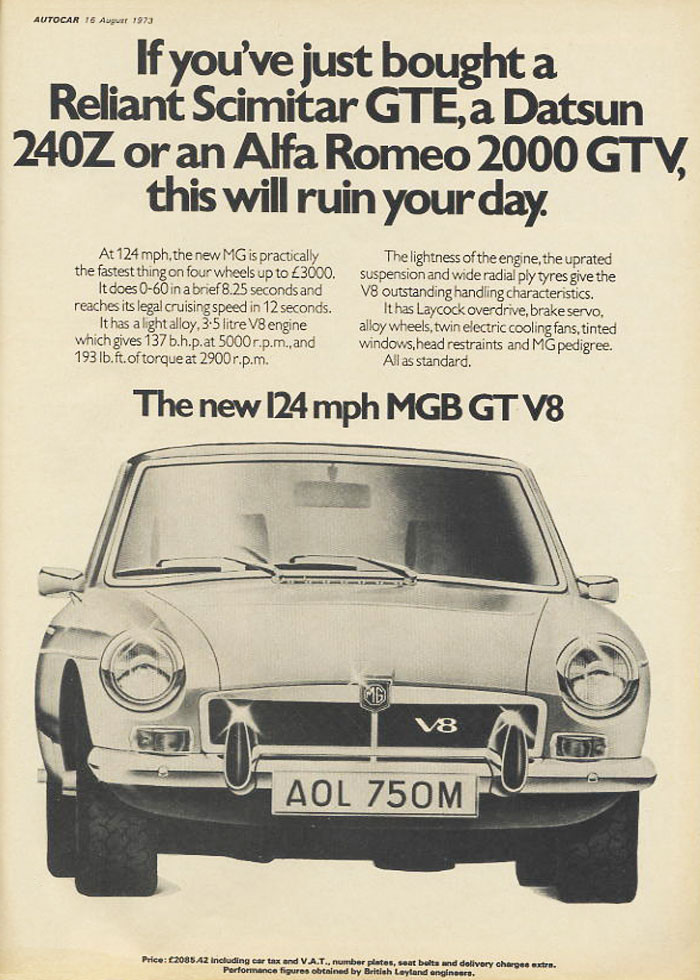 MGB GT V8 Original Magazine Ad
as published in British V8 Newsletter, Volume XV Issue 3, December 2007
This advertisement appeared in "Autocar" magazine, in the issue dated August 16, 1973.
If you've just bought a Reliant Scimitar GTE, a Datsun 240Z
or an Alfa Romeo 2000 GTV, this will ruin your day.
At 124 mph, the new MG is practically the fastest thing on four wheels up to £3000.
It does 0-60 in a brief 8.25 seconds and reaches its legal cruising speed in 12 seconds
It has a light alloy 3.5 litre V8 engine which gives 137 b.h.p. at 5000 r.p.m., and 193 lb. ft. of torque at 2900 r.p.m.
The lightness of the engine, the uprated suspension and wide radial ply tyres give the V8 outstanding handling characteristics.
It has a Laycock overdrive, brake servo, alloy wheels, twin electric cooling fans, tinted windows, head restraints and MG pedigree.
All as standard.
The new 124 mph MGB GT V8
Price: £2085.42 including car tax and V.A.T., number plates, seat belts and delivery charges extra.
Performance figures obtained by British Leyland engineers.
---
Enjoying this article? Our magazine is funded through the generous support of readers like you!
To contribute to our operating budget, please click here and follow the instructions.
(Suggested contribution is twenty bucks per year. Feel free to give more!)