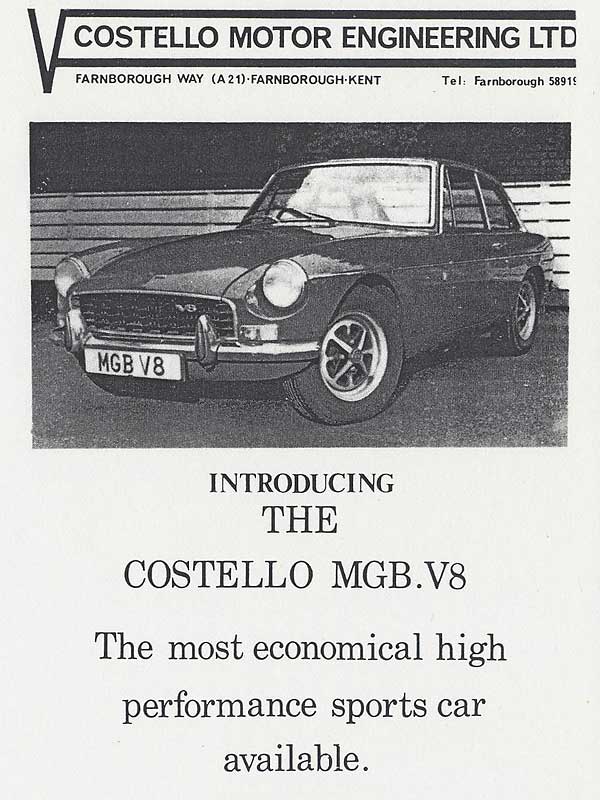 Introducing the Costello MGB.V8
The most economical high performance sports car available.
as published in British V8 Magazine, Volume XVI Issue 1, May 2008

This is a facsimile of the original Costello Motor Engineering brochure, circa September 1972.


---
WHAT THE EXPERTS SAY (page 2 of the brochure)
"As a conversion, we rate this car as perfect and as a
model in its own right it deserves the highest praise."
"...and the whole car much more refined to ride in than
any MG built at Abingdon."
AUTOCAR ROAD TEST (25.2.72).

"a smooth and quiet surge of power that transforms the
car so that it can compete with cars costing thousands
more."
GORDON WILKINS (Sunday Observer 3.2.72).

"One of the nicest cars I have driven."
JOHN LANGLEY (Daily Telegraph).

"The result is an MG which, as I discovered last week
contains all the tigerish acceleration power and speed
you would ever need, with kitten-like docility and
mechanical silence.
MAXWELL BOYD (Sunday Times 25.7.71).

"Everything is so quiet, we even started to criticise
the quality of reproduction from the radio and, quite
truthfully, in top gear at about 30 MPH, not
accelerating, there is not a sound to be heard."
AUTO ENTHUSIAST (August 1971).


THE COSTELLO MGB.V8 MKII (page 3 of the flyer)
The MGB.V8 makes the finest marque yet, offering superb,
silent and effortless motoring.

Already much praised by motoring correspondents, in is a
sports car without equal in its class, with easy inexpensive
maintenance, and the petrol consumption of a family saloon.
The combination of this fine chasis and engine is almost
unbelievable:-

175 BHP (gross) at 5,200 RPM compared with a
conventional MGB which produces 95 BHP at 5,400 RPM,
this extra power with an engine 50 lbs lighter!

0-60 mph in less than seven seconds.

Even weight distribution, perfectly balanced, with
light yet positive steering, giving improved road
holding.

Servo-assisted competition brakes for longer life and
increased security.

Economical maintenance never before associated with
a car of this performance; all major parts are
standard and readily accessible. Servicing can
easily be undertaken by any reputable garage. No
specialist maintenance required.

British Leyland warranties maintained by us, with
an unrivalled 15,000 or 15 month engine warranty.

Petrol consumption - 25 mpg at cruising speeds.

The MGB.V8 has already developed in over 100,000 miles
of severe road testing and even before production commenced
it was the subject of enthusiastic press and radio reports.

September '72 MKII Model now introduced with single
carburetter giving increased performance and improved
economy and retaining original MGB bonnet. Automatic
electric fan now fitted as standard.

Complete car subject to Manufacturer's Price List. Plus
£975 conversion. Offered in Manual and Automatic form,
R.H.D. or L.H.D.


(page 4 of the flyer was left blank except the following footnote)

"PRINTED BY FENWAYS 144 LOWFIELD STREET DARTFORD KENT"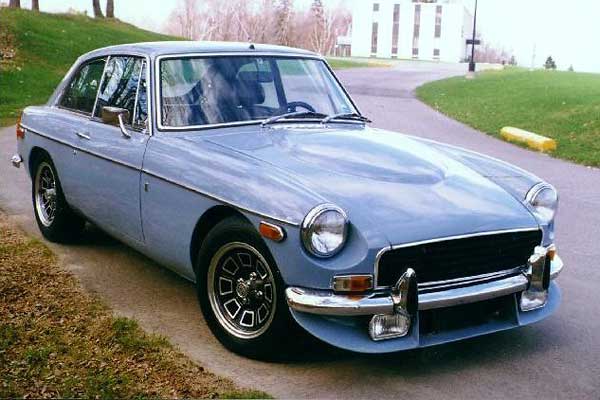 Enjoying this article? Our magazine is funded through the generous support of readers like you!
To contribute to our operating budget, please click here and follow the instructions.
(Suggested contribution is twenty bucks per year. Feel free to give more!)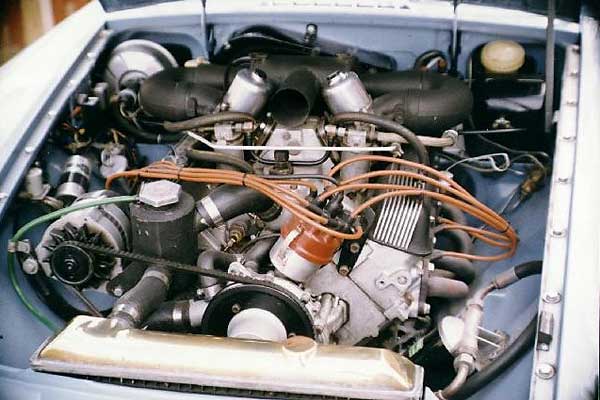 Note: between 1972 and 1974, Ken Costello converted approximately 200 MGB's (mostly GT's) to Rover aluminum V8 power. His production rate declined after that, but he continued to develop design improvements and features, and to convert more cars to V8 power over the next twenty or so years. The two photos above, from Jake Voelckers' collection, shows an early Costello MGB.V8 with dual SU carburetors and the accompanying large hood bulge they necessitated.

---
BritishV8 Magazine has assembled the largest, most authoritative collection of Costello V8 information you'll find anywhere. Access our Costello V8 (and "factory" MGB GT V8) article index by clicking here.