Classic Choice
MGB GT V8
Scarcely a sales success, nonetheless the Rover V8-powered MGB GT V8 was and is a pleasant performance package. Graham Robson unfolds its development history and tells you what to look out for when buying one.
as published in BritishV8 Magazine, Volume XVII Issue 1, July 2009

Re-printed unedited by exclusive written permission of "Thoroughbred and Classic Cars".
This article originally appeared in their December 1982 issue.


The MGB GT V8 was a fine car - fast, elegant, long-legged, and mechanically simple - but there was always one abiding problem. It didn't sell. British Leyland launched it with high hopes in 1973, and dropped it without fanfare in the autumn of 1976. Hailed as an instant classic when it was new, the V8 then took time actually to earn that reputation all over again.

Even so, this smart fastback coupe had almost everything a lover of classic cars would want, including the fact that it was relatively rare (only 2591 were ever built) and that parts, interchangeability, and the existence of service expertise were all available. Many of these cars still exist, there is a thriving MG club to look after their interests - and they don't make them like that anymore. So, how does the car stand up to inspection today?
The Solihull connection
The real start of this story dates from 1962, when the MGB was announced or, more accurately, from 1965, when the sleek fastback hatchback coupe version, the MGB GT, was put on the market. No-one surely, needs to be told that the MGB family was built continuously until 1980, and that more than half a million of all types were built. Nor, I am afraid, will they need to be reminded that Abingdon production closed down with the last of the MGBs, that the site was then sold off, and that the buildings have now been demolished.

Right from the start, MG management detected a demand for more powerful versions of the MGB. The basic chassis, and the handling, were so good, that much more power and performance could be absorbed without ruining the balance. Their first solution, and one which was also intended to displace the ageing Big Healey as well, was to produce the six-cylinder MGC in roadster and GT forms. Between 1967 and 1969, 8999 MGCs were built; at the time, such sales and the behavior of the car were maligned, but calm analysis of its success in a small market sector shows that it sold remarkably well. However, it was never profitable to BMC/British Leyland, because it had a unique type of torsion bar front suspension and a very different front structure from that of the MGB. We can thank the MGC, however, for the development of the stronger all-synchromesh gearbox and the Salisbury axle, which were so valuable to later derivatives.

Following the limited success of Ken Costello in selling converted MGBs with Rover V8 power, MG tried again. By mid-1973 they were ready to launch a new super-fast MGB derivative with more power than ever the MGC had (in spite of the figures that were published!), and with many fewer different and unique parts. In effect, therefore, the MGB GT V8 was an MGB GT with an engine transplant - the old BMC B-series unit had been discarded, and it its place was the splendid light-alloy Rover 3.5-litre V8 unit. 95bhp gave way to 137bhp, and the performance of the car was transformed.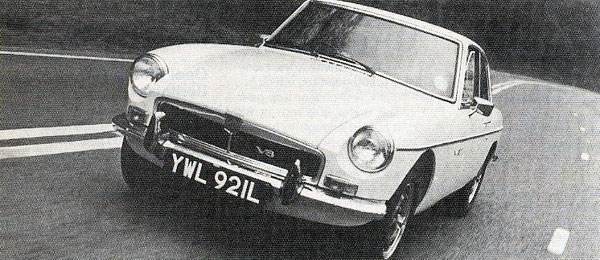 Mechanical layout
The car was amazingly like the original Mk II MGB GT in all important respects, except for the different engine. Whereas with the MGC at least 30 to 50 percent of the body structure had been changed to accommodate the new engine and front suspension, for the MGB GT V8 changes were positively minimal.

For a start, I must make one thing clear - MG never sold an open version of the car. I know that a handful of cars have been "created" - either by the successors to the Costello business or by private owners - but each and every factory-produced MGB V8 was a GT, with the coupe body style. The reasons for this were several and various - I discount the suggestion that the open body was not strong enough to withstand V8 torque and power, but I do believe the theory that very fast open cars do not sell in economically large numbers anymore.

The basic bodyshell and chassis therefore was the same as that of the MGB GT. Sheet metal differences were confined to different panels in or near the engine bay - notably the inner wheel arches, toeboards, chassis side members, and oil cooler support platform - while the whole shell was lifted further off the ground to satisfy impending USA regulations (though the car never went on sale in the USA!) The overall styling, seating arrangements (including +0 rear seats!), lift-up hatchback, instrument layout (but not the instruments) and the fittings were the same as the MGB GT which is a help when it comes to spares interchangeability.

The engine was basically that of the Rover P5B saloon/coupe, which special inlet and exhaust manifolding by MG, and with twin SU carbs mounted at the rear of the manifold, close to the passenger bulkhead. However, for space reasons, there were two thermostatically-controlled electric fans mounted ahead of the radiator block.

Apart from the special casing, to mate up with the V8 engine, and the use of different constant-mesh (input) gears, the gearbox was mainly that of the existing MGB, while the back axle was also the same except for the use of a high (3.07:1) final drive ratio which had already been used on some derivatives of the obsolete MGC. Overdrive was standard, but it only operated on top gear, and there were no other transmission options - no V8 car was ever sold with automatic transmission.

The basic suspension layout, except for different front and rear springs was exactly the same as that of the MGB, as was the Lockheed braking system. The wheels were very decorative Dunlop items, with cast alloy centres riveted to steel rims. They were similar to, but not the same, as those fitted to the Costello V8s, and to some Reliant Scimitar GTEs.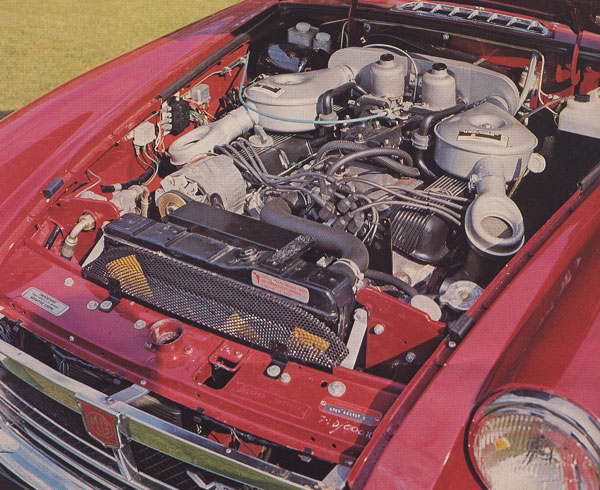 Above, a fairly tight squeeze to shoehorn Rover's V8 into the MGB bay - but it fits!
MGB GT V8 evolution
Sales began in August 1973, from Chassis Number 101, and carried on in original form to Chassis Number 1956. From October 1974, at Chassis Number 2101, cars began to be built with the massive crash-test black bumpers, a change which also meant the use of different front and rear body sheet metal behind those bumpers. The last 1975 model year car was Chassis Number 2632, but the first 1976 model-year car was Chassis Number 2701. The last car of all, built in September 1976, was Chassis Number 2903.

It is important to realise, therefore, that Chassis Numbers 1957 to 2100, and 2633 to 2700 do not exist - so if you are tempted to buy a car with one of those numbers, it a certainly a fake!

Just one car, we understand, was built as an Anniversary Special in 1975 (green with gold striping)l but there were no 'Special editions' of any type and the last car of all is owned by BL Heritage.
Maintenance and restoration
Apart from one well-known problem (the longevity of the hard-worked gearbox) there is little to stop an enthusiast from buying and enjoying an MGB GT V8 except finding one. When I researched these cars in detail n 1981, I was told that an estimated 1700 still exist, but I was also told that their worth is now recognised and that the market is very thin. Be prepared therefore, to have to look around for some time to find the car you need - at least your choice will not be too confusing for all have the coupe body, and all have manual plus overdrive transmission.

There are around 1500 ex-MGB dealers in the UK, but all current BL dealers of whatever persuasion can plug in spares requests to Unipart. This organisation still has a large stock of MGB GT V8 parts, though special items like engine castings and road wheels are already out of stock, while some soft trim items (seats, carpets, trim panels) may also be difficult to find.

There is a massive Parts List for all MGBs which, if you can wade through it, contains everything you need to know about the GT V8. If you don't inherit literature with your car when bought, then one of the MG clubs (of which you surely ought to be a member) can certainly help. Unfortunately there is no Haynes Workshop Manual to cover these cars.

However, there are good V8s and bad V8s. Like most cars, they are by no means perfect, so if you are shopping around for one of these fast and refined machines, here s what to look for.
Enjoying this article? Our magazine is funded through the generous support of readers like you!
To contribute to our operating budget, please click here and follow the instructions.
(Suggested contribution is twenty bucks per year. Feel free to give more!)
Bodyshell
Fortunately, the MGB was very rugged right from the start, and the GT body handles V8 power with aplomb. After all, a car that can approach 125mph and rush up to 100mph in about 20 seconds needs a stable platform which will not deteriorate with age. V8 cars however are no better or worse than the mass-produced MGBs.

The structural problems may eventually appear to the silI and outer sill areas inside the front wheel arches at the mud traps near the junction with the front toe-boards and along the top of the front wings. Rust will also tend to appear where the rear wheel arch meets the rear wing itself, and along the edge of the wheel arch cut outs. Doors, too, tend to get rusty edges particularly at the bottom and there may now be corrosion at panel joints around the massive black plastic bumpers. The worst possible problem however is that water leaks or sheer bad luck may have affected the floor of the car itself. MoT failure points are of course, the sills and any structural defects around the main chassis.

Incidentally, there should be no question of water leaking around the aperture of the hatchback - if there is water ingress, this is almost certainly due to faulty seals or (bad news, this) that the car has at one time been inverted, and badly repaired or renovated afterwards. I don't have to tell you, I hope, to look for any signs of accident repairs in terms of different colour paint patches, or anything untoward about the underside of the car, particularly near the "corners".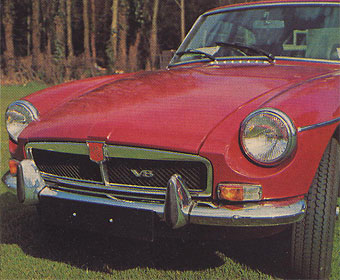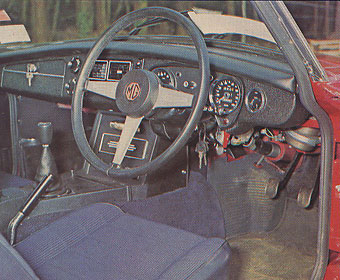 (left) We think the pre-plastic front bumper models look best.
(right) Instruments differ from MGB but arrangement the same.
Suspension and steering
It's a very ordinary front suspension set-up, I'm afraid, which means that bushes and trunnions all tend to wear out. Look at the trunnions and king-pins in particular (apart from being an MoT failure area, these may accelerate tyre wear if worn), but check all wishbone bushes as well. Fortunately replacements are cheap and not too difficult to change over. The lever-arm dampers, incidentally, also make up the upper wishbone linkage, so check not only that they are not worn full and not leaking oil, but that their mounting to the crossmember is secure, for this is another possible corrosion point.

The steering should be light, and should not feel "gritty". The V8 engine is virtually no heavier than the B-series four cylinder it displaced, so the steering should not require strong muscles. Be sure that it is not rattlely as well - stresses on the teeth are quite high in such an installation - and that there are has been no accident damage to the mountings. Ball joints wear, too, but you should be able to spot these in a ramp inspection.

Be sure that those expensive and rather exclusive wheels are in good condition. A special tip is to insist on seeing a spare wheel - we have heard of cases where it was not of the same type as the other four! These wheels are no longer available as new spares, so you can't afford to buy a V8 with one faulty wheel, can you?
Engines, transmissions, brakes
The V8 Rover-built engine is a large under-stressed unit, which therefore has an easy time in the MG. However, I hope the engine oil has always been changed regularly because the hydraulic tappets will suffer if not. Signs of wear come in the valve gear and rocker shafts, which you should also look for signs of timing chain stretch. Because the carbs are parallel, and close together, it is easy enough to make sure they are in tune and stay in tune. There should be no excuse for slack fan belts, or for distributor settings being neglected, for both are easily accessible under the well filled bonnet unlike many comparable large-engined cars.

The significant transmission problem is the gearbox, which is only just up to its job. You can't get complete new transmissions any more, thought I believe overdrives are available. If a V8 has been used hard, the input or constant-mesh gears eventually suffer, and it's not unknown for teeth to be stripped - so beware noisy or rough gearboxes - there may be a potential expensive problem. Sluggish overdrive operation, however, is likely to be due to faulty solenoid electrics, rather than an internal problem. The back axle is fine, which is probably just as well (the only other MG to use 3.07:1 was the 1968 non-overdrive MGC) - but it may be a bit loose and clonky, for which there is no easy solution.

Even though the brakes are pure MGB four cylinder, they are well up to the job. After all, the V8's no heavier than the four cylinder car - it is merely that it often has to be stopped from rather higher speeds. Compared with similar fast cars (3.0-litre Capri or Reliant Scimitar, for instance) the V8 is certainly not under braked.
Interiors and decoration
One of the reasons that the MGB GT V8 didn't sell all that well was that it looked almost exactly Ike the same four-cylinder MGB, and many other MGBs that had gone before. But that makes easier to find parts when you need them for restoration. Externally the only V8 differences are that there are the special road wheels, and V8 badges on the grille and the passenger-side front wing. We've seen some ordinary MGBs, incidentally with V8 badges fitted!

Parts for the interior are becoming difficult to find, particularly on the earlier examples, and I'm afraid that the carpet and seat cover standards were only those of the 1.8-Iitre four-cylinder car. Quite a proportion of the remaining V8s were casually mistreated by their second or third owners, so don't expect miracles when shopping around.

However, if Unipart cannot supply trim and decoration, suppliers approved by the MG Owners Club usually can, as re-manufactures for the four cylinder cars is now a thriving and expanding business.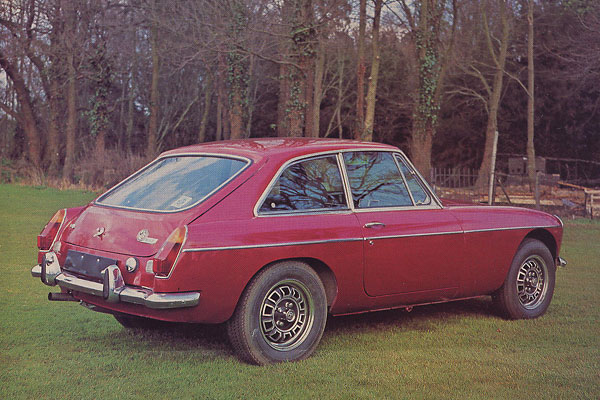 Smart wheels are a MGB GT V8 distinquishing feature.
Experts
I'm sure Peter Laidler will not mind being named as the MGB GT V8 expert, as he owns such a car, and regularly writes on V8 technical matters for MG club magazines. You find him at:

Peter Laidler,
Howard Cornish Road,
Marcham, OXON.
Interchangeability
Although the MGB GT V8 has been out ot production for more than six years, most parts are still available from Unipart. However, the following hints may help you fill the gaps.

Bodyshells are almost identical with four cylinder MGB GTs except where noted in the text.

Front and rear suspensions, apart from spring settings, were the same as four cylinder MGB GT.

Wheels were unique, but their centres were the same as those used on Reliant Scimitars of the period (but not the rims).

Engines were broadly the same as Rover V8s fitted to other cars - with low compression Range Rover pistons, and P5B saloon coupe details in some other respects.

Gearboxes had a unique casing, but some internals were the same a four cylinder MGBs in some respects.

Axles were the same as fitted to MGBs of the period, except for the final drive ratio, which is shared with some MGCs.
Spares, Clubs, Values
Many parts common to four-cylinder MGBs and MGB GTs are of course still available, but supplies of special-to-V8 items, whether engine castings, body sheet metal, or soft trim - are running down fast. Our advice is that you should first look for parts at your nearest reliable MG/BL dealer, but to ask for parts by a known part number, rather than by the name of the MGB GT V8. (Some dealers, we regret to say, are more helpful than others!)

There are, however two excellent clubs - the MG Owners Club and the MG Car Club, both of which are large organisations with good networks of approved dealers and specialist suppliers. Your contacts therefore should be:
| | | | |
| --- | --- | --- | --- |
| | MG Owners Club | | MG Car Club |
| | 13 Church End. | | 67 Wide Bargate |
| | Over. | | Boston, |
| | Cambridgeshire, | | Lincs, PE21 6LE |
| | Tel: 0954 31125 | | Tel: 0205 64301 |
| | | | |
The value of MGB GT V8s has been somewhat depressed by the stigma of the large-capacity engine, but raised by scarcity value. Many of the cars survive, and a most all of them are still in the UK. We think you may have to pay about 1500 for a scruffy 1973 example which is, after all, nearly ten years old and may be rust-bitten), but for a really good late-model car (preferably without black bumpers) you might have to pay up to 4000. We doubt if any MG MGB GT V8 is worth more than that, unless it is concours and intended for showing.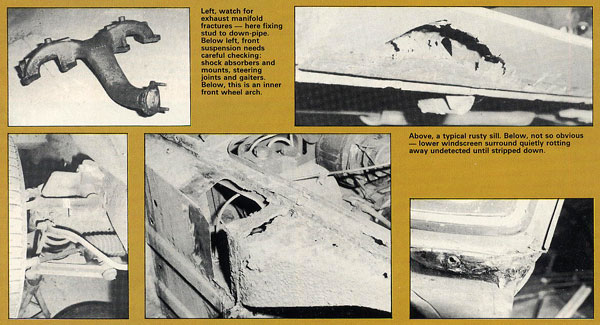 Buying an MGB GT V8: potential problems to look out for.
Specification
Engine: Overhead valve 90 degree V8 cylinder, with five bearing crankshaft, in light-alloy cylinder block. Valves operated by pushrods and rockers from camshaft mounted in vee of cylinder block; hydraulic tappets. Light alloy cylinder heads, two valve per cylinder, and two SU carburetors. Bore and stroke 88.9 x 71.1 mm, 3528cc. 137bhp (DIN) at 5000rpm. Peak torque 193lb.ft. at 2900 rpm.

Transmission: Four speed all-synchromesh manual gearbox, with remote control change. Plus Laycock overdrive operating on top gear only. No transmission options. Hypoid bevel final drive 3.07:1 final drive ratio.

Suspension: Independent front coil springs, wishbones, anti-roll bar, lever arm dampers, live rear axle, suspension by half-elliptic leaf springs, and lever arm dampers.

Steering: Rack and pinion, no power assistance.

Brakes: Lockheed hydraulic, disc front and drum rear, with vacuum servo assistance.

Wheels: Cast light/alloy centres with steel rims, four stud fixing, and 5.0in rims. 175HR14in radial ply tyres.

Bodywork: Unit construction pressed steel body / chassis unit, in two door fastback coupe style, with large upward opening hatchback, all right-hand drive except seven pre-production cars. No alternative styles. No open derivative available. Length (to chassis no. 1956) 12ft 10.7in. (from chassis no 2101) 13ft 2.25in. Unladen weight 2442 lb.

Performance: Maximum speed 124mph (in overdrive top); 0-60mph 8.6sec, 30-50mph in direct top 6.5sec, 50-70mph in direct top 6.8sec; 70-90mph in direct top 8.3sec; fuel consumption 23.4mpg.

Production: 2584 with right-hand-drive, seven with left-hand-drive.
Annual production:
1972
3
1973
1069
1974
854
1975
489
1976
176
From 1973 to October 1974, 1856 cars were built to "chrome bumper" specification. From October 1974 to September 1976, 735 cars were built to "black bumper" specification.
---
BritishV8 Magazine has assembled the largest, most authoritative collection of MG "MGB GT V8" information you'll find anywhere. Check it out! Access our MGB GT V8 article index by clicking here.