(photo by Calvin Grannis)


BritishV8 Annual Meetings
BritishV8 annual meets are for all enthusiasts of performance-modified British sports cars. We're informal. There's no Club here, and there's no Car Show either. There certainly aren't any Judges. Just come prepared to have fun and to share ideas about improving some of the world's most wonderful automobiles. Bring a friend and bring your camera!


| | | |
| --- | --- | --- |
| BritishV8 2017 | June 7 - 10 | Lewisburg, West Virginia |
The twenty-first annual British V8 meet will be held in and around Lewisburg, West Virginia from June 7th through 10th. (Plan your departure for Sunday the 11th.) Specific meeting details will be posted here soon.

This meet's hosts are brothers Dan and Jim Blackwood. (On our message board they're known as "Dan B" and "BlownMGB-V8" respectively.)

Dan reports: "We are working on some fun drives, interesting and fun things to do and some more fun drives, tech sessions, and maybe some fun drives. More information to come!!!"



---
Host Hotel
Quality Inn
540 North Jefferson Street
Lewisburg, WV 24901
Desk phone: (304)645-7722
www.choicehotels.com
Ask for our group rate: $85/night, breakfast included!

Note: the Motel is an open room entrance type Quality Inn with a very nice bar and separate breakfast nook. A car washing spot will be provided.



---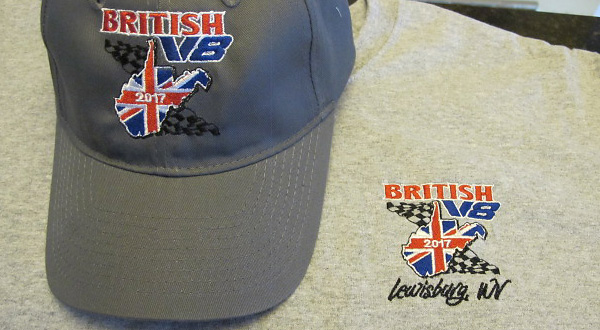 (actual shirt color will be a bit darker)


Registration and Regalia
Please fill out the online registration form below, click "submit", and make your fee payment via PayPal. Alternatively, you're welcome to print the form and send it with a personal check written to "2017 BritishV8". (Address your envelope to "Jim Blackwood, 9406 Gunpowder Rd., Florence, KY 41042"). Don't procrastinate! Timely submissions help our meet organizers plan and act decisively.


Notes:
Your registration fee covers the cost of the Welcome Party (with pizza and beverages), one adult banquet ticket including 6% tax and 15% gratuity plus rental of the hotel banquet room, one catered picnic meal at Hawks Nest plus rental of the picnic shelter, bottled water throughout the meet, and various other meet expenses.

1 A $35/person price for tickets to Whittaker Station has been negotiated for BritishV8 meet participants. We can only guarantee seat availability for registrations received by May 1. Efforts will be made to accommodate later registrants, but space on the train cannot be guaranteed

2 The $10/car fee is for reserving dyno time. Your total cost will be $100. (In other words, the $90 balance will be payable at the shop.) Participants who don't reserve dyno time in advance are welcome on a first-come/first-served, and as time permits basis.

3 Regalia ordered after May 1 not be deliverable until after the meet.


---
Preliminary Schedule
Wednesday - we'll have a participant check-in / registration desk set up, and the Chamber of Commerce has volunteered to set up a table with flyers about local attractions. As evening approaches, enjoy our traditional BritishV8 Meet pizza party in the parking lot.

Thursday - a two hour drive on the loop to Cass where you may, if you wish, ride the historic Cass Scenic Railway. Members of our group who elect to ride the train - which we highly recommend! - will enjoy the half-day trip to Whitaker and back. Some may even continue to Bald Knob, the 3rd highest point in West Virginia. The spectacular view from Bald Knob features three mountain ranges. There is also a railroad shop tour which takes about an hour. Alternatively, visit the Green Bank Radio-Astronomy Observatory. It's only about 5 minutes away by car, and they offer a one hour tour for $6.

There are three ways to get to Cass: (1) Route 92 is the quickest and straightest. It runs through bottom land between two ridges. That isn't to say it's straight by any means. You'd find it interesting. (2) Route 219 is a more sports oriented alternative. It's the road our host hotel is on and also the main road into and out of Lewisburg. This popular scenic drive is slightly wider and more developed road with nicely cambered curves and passing opportunities. Close to Lewisburg it can be busy during "rush hour", but otherwise traffic is generally light. (3) Cross the Virginia border and take Route 220. Signage and surface conditions may be inferior, but a very nice section of mountain road about halfway down really makes this alternative worth recommending. There's also a nice but too short tight and twisty section at the far end, down to the valley floor. This route passes a few towns and the famous Greenbrier resort in White Sulphur Springs and the Homestead Hotel in Hot Springs. So overall, we recommend Route 219 going up, the Va. loop coming back, and if you want something a bit more sedate or quicker, then Route 92 is your best choice.

Friday - A tour and dyno sessions at K2 Motorsports! This is a brand spanking new facility and a "Destination" shop rather than a local garage. It has state of the art facilities and equipment. Their rolling road dynamometer supports two and four wheel drive vehicles. An engine dyno and motorcycle dyno are being installed as well. And each of these has its own dedicated soundproofed room. K2 Motorsports is just five miles from Lewisburg, and it has a large parking lot for our group.

Alternatively, we suggest the Greenbrier Hotel Bunker Tour (built to house Congress in the event of an atomic war), Organ Cave, or the Swinging Bridge run down to Paint Bank on Route 311 which shares part of the Route 220 loop. For those not so interested in driving, Lewisburg offers a great number and range of attractions. Choose to visit small local distillery, a microbrewery, or a hard cider production facility - Lewisburg has one of each. Two local caves offer tours. There are numerous state parks and civil war battlefields. Hike along the Greenbrier River trail. Enjoy local theatre, shops and restaurants. Explore the Cranberry Glades or even Pearl S. Buck's birthplace.

Saturday - The WVBCC is hosting a picnic lunch under the shelter at the Hawks Nest Overlook at the top of Gauley Mountain!

Getting there will be fun too. The Hawks Nest run is considered a "Must Drive" for motorsports enthusiasts. Part of the old Midland Trail, U.S. Route 60 was the only way across the middle of the state from pioneer times up into the 1970s and 80s when the last of the Interstate system was finally completed. It still remains a fine, well maintained, Federal Highway winding through several mountain ranges. The run will take about an hour and a quarter, depending on driving style and traffic. Although the primary destination is Hawks Nest Overlook, the run is not complete without the drive down the western side of Gauley Mountain into Glen Ferris where you can view Kanawha Falls either from the park below the falls or from the Glen Ferris Inn above.

The Sewell and Gauley Mountain sections are the two most interesting parts of the drive. You'll also pass through numerous small towns, mostly starting with the letter "A" and there's a roller coaster section approaching Route 19 from the east. Three lane sections on the more mountainous parts provide good passing opportunities, but don't be surprised to see a pass at in any area giving adequate sight distance. The curves on this road can be very entertaining for their variety, condition of banking, quality of pavement, and width of surface. The stretch between the ridges is less exciting, but the drive at the end makes it worthwhile.

On the return you have many options. The southern routes will take you through either Fayetteville or Beckley. You'll have plenty of options to bail out to I-64 or back to Route 60. One route veers off to the right at Chimney Corners on the way back up the mountains and will take you over "The Drys" and back to Fayetteville. (The Drys are a stretch of the New River below Hawks Nest Dam. During the summer months, they're bony due to flow being diverted through the Gauley Mountain tunnel to a power station below. During Hurricane season this is a true class-six whitewater run! The infamous Multi-Ender-Bender Bowl Hole is a massive bowl in the river formed by gigantic standing waves. You won't see any rapids in June though, just a great rocky riverbed.) The road winds up the other side of the gorge and joins Route 19 just below the New River Gorge Bridge. From there you can drive down under the bridge to a sandy beach. Take a small detour out to the "Ram's Horn Cliffs" on the rim over the Keeney Brothers Rapids, return north to Route 60, or proceed south to alternate routes back to Lewisburg including I-64 and Route 3 up the Greenbrier River. There is also an alternate very twisty road down to Terry and back up Route 41 towards Sewell Mountain.

Our traditional banquet and BritishV8 Meet fundraising auction will conclude the meet on Saturday evening.


---
Warm Up Event
Extend your fun!

As has become a wonderful tradition, Kelly Stevenson has organized an informal warm-up event. Meet up at The La Quinta Inn in Wytheville, Virginia on the night of Tuesday, June 6. Socialize, and then continue the last one hundred carefree miles to Lewisburg on the following beautiful day.

There's no need to register, but you should call now to make a hotel reservation. Our special-discount room rate is just $74.16/night (including taxes). Phone 276-228-7400 and ask for the BritishV8 club rate agreed to by Cindy. Free Wi-Fi and full breakfast! Please book early. The cut-off for our discount is in early May.

See you in Wytheville!



---
Read About Previous Meetings and Enjoy a Whole Lot of Photos:
| | | | | |
| --- | --- | --- | --- | --- |
| 97 Kansas City, MO | 98 Annapolis, MD | 99 Champagne, IL | 00 Westlake, OH | 01 Sebring, FL |
| 02 Grand Rapids, MI | 03 Townsend, TN | 04 Grand Rapids, MI | 05 Terra Haute, IN | 06 Townsend, TN |
| 07 Willoughby, OH | 08 Port Washington, WI | 09 Durham, NC | 10 Indianapolis, IN | 11 Townsend, TN |
| 12 Palestine, TX | 13 Omaha, NE | 14 Colorado Springs, CO | 15 Indianapolis, IN | 16 Townsend, TN |