A Tiger in MG's Clothing
Maxwell Boyd takes a look at the fast, new "Costello MGB V8"
as published in British V8 Magazine, Volume XVI Issue 1, May 2008

Re-printed unedited by exclusive written permission of "The Sunday Times".
This article originally appeared in their issue for July 25, 1971.


Ever since its introduction in 1962, the MGB two-seater roadster and later, the hardtop coupe have been our most popular and best-selling sports cars. They are well-built and finished, and they have a substantial, reassuring feel on the road. But you could never pretend that their 1.8-litre four-cylinder engine gives enough power to move the car's one-ton weight in the manner in which it should be moved.

BMC also realised this, and in late 1967 brought out the MGC witha six-cylinder engine and rather more horsepower. But the motor was far too heavy, the weight distribution went all wrong and though the car was fast in a straight line, it was an appalling handful to put it mildly, on corners. The makers appreciated this, as well and in August 1969 the MGC was quietly buried after a life of less than two years.

The problem of the under-engined MGB remained but British Leyland have been too busy lately revamping their more popular lines to do anything about it. Now the problem has been taken out of their hands and a solution found - albeit at a price - by a free-lance engineer and well-known former saloon car racing driver called Ken Costello. After 2.5 years work in the garage of his bungalow in Bromley, Kent, Costello has developed an MGB which can out-drag a Jaguar E-type up to 100 mph, which has a theoretical top speed of 140 mph, and which is actually lighter than the original car.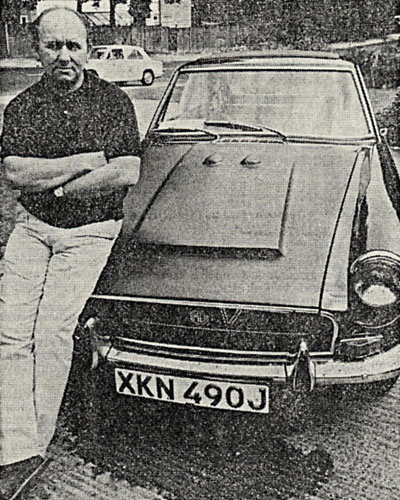 Costello and the MG that's faster than an E-type Jag
(photo by Kelvin Brodie)
The new car is called the Costello MGB V8, and its secret is the 3.5-litre V8 Rover engine, which fits snugly under the bonnet with hardly any modification at all. Made wholly of aluminium, this weighes 60 pounds less than the MG engine, yet it has nearly twice the cubic capacity, 50 percent more power (150 bhp compared to 95 bhp) and double the torque.

The result is an MG which, as I discovered last week, combines all the tigerish acceleration, power, and speed you would ever need, with kitten-like docility and mechanical silence. Moreover, since the weight distribution is now 50-50 front and rear, the handling and roadworthiness of the car are of a very high order.
There is a 60 mph in second gearm and 90 mph in third, while 60 mph from a standstill takes under seven seconds. On the other hand, the car will pull steadily from 20 mph in top and in most road conditions you seldom need to drop below third. Cruising at 70 mph in overdrive top, the engine is hardly more than turning over at a lazy 2300 2300 rpm. With equal ease you can trickle gently through heavy traffic, hurl yourself past a slow-moving queue, or cruise on the Continent at more than the "ton."
Enjoying this article? Our magazine is funded through the generous support of readers like you!
To contribute to our operating budget, please click here and follow the instructions.
(Suggested contribution is twenty bucks per year. Feel free to give more!)
Under the MG skin (only a slight bulge on the bonnet betrays the V8 engine), Costello has used a standard MGB gearbox, with a modified flywheel and a stronger yet very light clutch. The rest of the transmission is mixed MGB and MGC, with modified MGB brakes. The standard MGB cart-spring rear suspension has proved more than adequate while, at the other end, the larger engine has caused no overheating problems.

The V8's finish is well up to factory standards. There is nothing of the slightly tatty, one-off, cardboard look one normally associates with this kind of car, and the whole project has been received with enthusiastic approval (though not officially endorsed) by the top brass of British Leyland. They are cooperating over the supply of Rover engines and as Ken Costello points out about servicing: "Every spare you might ever need is made by British Leyland - either MG or Rover."
Production of the MGB V8 is limited to one car a week at present. This will climb to five a week in a month's time when Costello moves into his new factory at Sidcup, then a further five a week for export to Europe a month later. Conversion of a standard MGB (open or hardtop, new or nearly new) to V8 specification costs £900. A complete car, direct from Costello, costs £2152 (open) or £2289 (hardtop). Expensive for an MG, perhaps, but still appreciably cheaper than a Jaguar which its performance so closely equals.
---
BritishV8 Magazine has assembled the largest, most authoritative collection of Costello V8 information you'll find anywhere. Access our Costello V8 (and "factory" MGB GT V8) article index by clicking here.