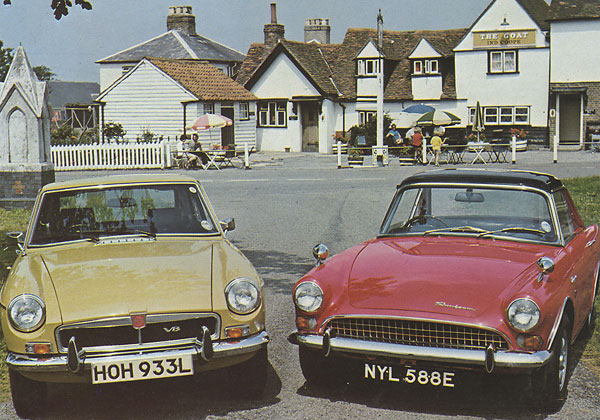 A Tale of Two Vees
1973 MGB GT (plus Rover) versus 1967 Sunbeam (plus Ford)
as published in BritishV8 Magazine, Volume XVII Issue 1, July 2009

Re-printed unedited by exclusive written permission of "Classic Car".
This article originally appeared in their inaugural October 1973 issue.


"To accept depreciation or not, that is the question. Whether 'tis nobler in the mind to suffer the slings and arrows of outrageous production. Or to take up arms against a sea of troubles and by opposing, end them."

We are not too concerned with your mental nobility but more with that of your bank manager in this series. Not all second hand cars are likely to be a sea of troubles any more than current production cars are likely to pepper the mind with slings and arrows, but you get the picture and Shakespeare put it more succinctly.
No excuse is needed for comparing these two. They are both professional shoehorn jobs the with the intention of converting mundane sports tourers into classic he-men sports cars. As a new car the MGB GT V8 costs £2,294; "our" Tiger, a rare 4.7-litre right hand drive version with hardtop, Minilites and Konis is priced at £1,500. The graphs of appreciation and depreciation will cross during the next year or two at some £1,750. Which do you buy?

We'll start by considering them as cars on the road today. They are both fast; in fact the 0-60 mph time recorded by Motor for the MGB was 7.7 sec, while Autocar recorded 7.8 sec on the 4.7 Tiger that our Publishing Director Maurice Smith used to run. Maximum speeds too are very similar with the Tiger getting into the red at 5,500 rpm with 125 mph and the MGB hitting the same speed at 5,400 rpm in direct top - overdrive, giving 28.5 mph per 1,000 rpm, is ideal for effortless cruising but no help to more performance. The Tiger certainly felt as though it was still capable of the same sort of figures.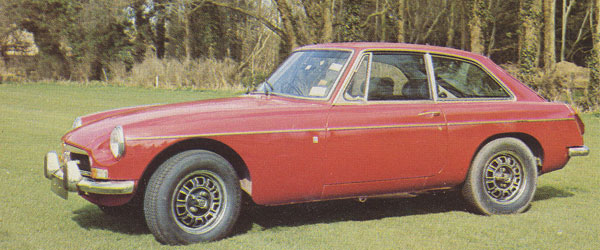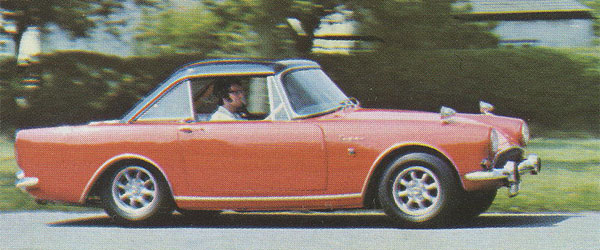 Both are lazy cars too with Tiger torque at 282 lb/ft (gross) at 2,200 rpm and the MG 193 lb/ft (net) at 2,900 rpm; the MG at 211 cwt is ten per cent lighter than the Tigerís 231 cwt so the feel is much the same. Both can pull easily from under 1,500 rpm; the Tigerís surge of power is just a steady rush all the way up while the MG gets into its stride from 2,600 rpm onwards.

The Tiger II gearbox had lower intermediate ratios than the original Tiger but it still had a higher first than the MG. Both boxes are nice to use with close ratios if you want the ultimate performance for overtaking but most of the time you stick to third gear for roundabouts. The Borg-Warner in the Tiger has a long travel but is no heavier to use.

Bigger engines tend to be thirstier engines and the Tiger returned 15-20 mpg for town and country use while a 600-mile mixture with the MG gave 23.2 mpg which could make quite a saving over a large annual mileage.
Enjoying this article? Our magazine is funded through the generous support of readers like you!
To contribute to our operating budget, please click here and follow the instructions.
(Suggested contribution is twenty bucks per year. Feel free to give more!)
As both cars have their origins from over ten years ago - Alpine 1959 and MGB 1962 - there isn't a lot to choose between them on styling. Certainly the Tiger doesn't look dated against the MGB GT although the latter is still current. Both cars are 2+vestigial 2 with the MG having the advantage of the lift-up rear door for easy loading, but losing to the Tiger if you want to conceal your luggage from the public gaze. One might have expected the MGB interior to look modern and more aware of safety padding than the Tiger, but it still uses the same old crackle black tin fascia with a padded top while the Tiger's wooden facia still looks attractive. The MG has a padded steering wheel though, which is much better looking than the stock mock-wood of the other, as well as safer.
It's in suspension that the difference is more obvious; although both employ the same basic layout with a leaf sprung rear axle, the Tiger is much more jiggly on bumpy surfaces and could be really quite tiring on a long secondary road run. One would like to be able to say that the MG is a lot better, but whereas the ride is quieter it isn't a lot smoother over the same surfaces. Once on fast main roads though, the MGB is much more effortless with its long-legged overdrive and engine virtually inaudible up to 3,500 rpm beyond the note changes to a gentle thrum. The Tiger engine is as effortless but audible and the ride always firm, and there are one or two rattles. Steering on both is fairly similar, heavy but reasonably direct and both are responsive on their big radials.

There wasn't much difference in wind noise either but the Tiger hardtop is inherently noisy while BGTs vary and the noise is thus theoretically curable.

The Tiger we chose came from Nostalgia at 27 London Road, Hertford Heath, Hertsfordshire and was certainly in very good condition; it had 25,000 miles on the clock which looked genuine from the condition of the interior and under the bonnet. The first Tigers with the 4.2-litre Ford were shown as Alpine 260s in October 1964; Tiger II in 1967 came as a 4.7-litre version for export only. However a handful of the 4.7s were made with right hand drive, about 20 out of over 600; some came from George Hartwell, some went to the police and a few, like the one Maurice Smith ran, came out of the Rootes development department. This car was a 1967 one. Against the 4.2 Tiger the 4.7-litre engine gave 174 against 141 bhp, a greater increase than that due to mere litres, so it is a little more stressed but by European standards it is hardly working which breeds longevity.





Just as graphs of appreciation/depreciation will cross so we need a graph of viability against annual mileage. The Tiger is a practical toy while the B is well set to give satisfaction over a long period; we would reckon that around 10,000 miles a year is reasonable for the Tiger to conserve both car and enthusiasm for it. For anything greater you need the B with its easier serviceability and parts availability. In fact you can still get Tiger parts and Ford engine bits but they are getting fewer. Of course the Tiger was almost not a Rootes product with a trimmed body from Pressed Steel, engine from Ford with a Borg Warner manual box, Salisbury back axle and the whole lot assembled by Jensen, so you may need to go to the original manufacturers for parts. Some 6,500 Tiger I's were built so it may pay to get a worn out one to keep your Tiger II going; at the moment though, there seemed to be no suggestion that this car wouldnít keep running reliably for some time yet. Take your pick.
---
BritishV8 Magazine has assembled the largest, most authoritative collection of MG "MGB GT V8" information you'll find anywhere. Check it out! Access our MGB GT V8 article index by clicking here.