MGB improves with V8's increased torque
Road Test: MGB GT V8
as published in British V8 Magazine, Volume XVI Issue 1, May 2008

Re-printed unedited by exclusive written permission of "Autosport".
This article originally appeared in their issue for the week ending December 27, 1973.

by John Bolster


The MGB has been with us for many years and is typical of traditional British sports cars. In its GT form, it has a practical coupé body with a tailgate for luggage, which greatly widens its appeal. However, the basic design is still of vintage simplicity and refinement is not its strong point.

Now, British Leyland are offering an additional model, with a very refined V8 engine that almost doubles the torque and power output of the usual 1.8-litre 4-cylinder unit. This is the light-alloy engine of the Rover 3500, but modified for the MG installation, particularly in the induction department where the penthouse manifold is replaced by a low-level one, with the carburettors to the rear of the block. This completely avoids an unsightly bulge in the bonnet, which would restrict the driver's view.

The V8 is actually lighter than the four, but USA and other foreign regulations call for anti-pollution and silencing equipment which adds appreciably to the weight and slightly restricts the power output. A larger radiator with two electric fans is used and an oil cooler is also fitted. A bigger clutch handles the torque and the MGC gearbox has been beefed up and furnished with closer ratios. The rear axle has also been strengthened and the ratio has gone from 3.91 to 3.07 to 1. Some stiffening of the springs has also taken place. A Laycock overdrive is fitted as standard.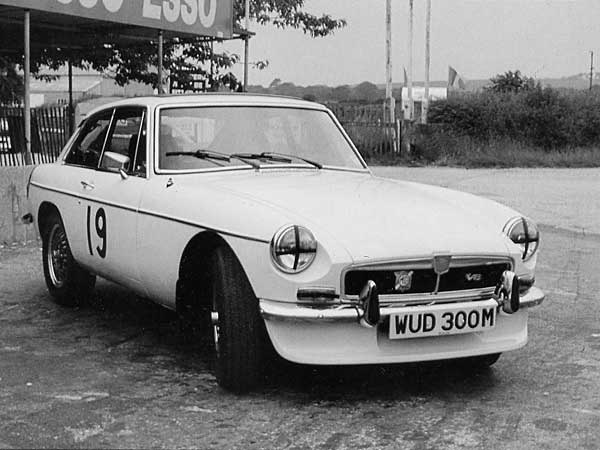 The road holding is very safe indeed and entirely predictable this being an easy car to drive fast on winding roads.
If one does not notice the V8 motif, the more powerful version of the MGB is indistinguishable from its four-cylinder sister. Even in the driving seat, the only clue is the smaller speedometer and rev-counter dials, necessitated by the collapsible safety steering column. As soon as the quiet engine is started, however, it is obvious that this is a very different machine.

Because the engine is so unobtrusive, the car does not feel as fast as it is. Yet, it has a performance in the upper speed ranges which the 1.8-litre model, rather naturally, cannot approach. About 124 mph is possible in direct top gear, with the rev-counter just going into the red, or the same speed may be achieved on overdrive with the engine well within its range. Overdrive will give an extra 1 mph or so on the level and a bit more under favourable conditions, well below the red part of the dial. The engine is never noisy but it is even quieter when the overdrive is engaged for high-speed cruising.
The overdrive also permits fuel economies, which is certainly its greatest virtue nowadays. At a steady 50 mph, the car gives 30 mpg in direct drive and 32 mpg in overdrive. At 70 mph, the respective figures are 25.6 and 27.5, while at 100 mph they are 16.9 and 20 mpg. On winding roads and in traffic, the eight-cylinder model may be just about as economical as the four since less gear-changing is required.

Because the engine is so smooth and quiet, the rest of the car perhaps shows up less well. The gearbox is audible when on the indirects and there is road noise on some surfaces. The wind noise is rather obtrusive at high cruising speeds, once again because it is not drowned by engine roar. The former tendency of the windows to bulge under high wind pressure has been overcome, but at the expense of making slamming essential when the doors are closed.

The suspension is definitely hard and the ride choppy, especially at moderate speeds. On the other hand, the roadholding is very safe indeed and entirely predictable, this being an easy car to drive fast on winding roads. There is really no difference in handling between this and the ordinary MGB, except that the tail can come round fairly smartly if one over-accelerates out of a sharp bend. The offside rear wheel spins very easily, due to propshaft torque tending to lift one end of the axle and depress the other, so a limited-slip differential might be a worthwhile extra.
Enjoying this article? Our magazine is funded through the generous support of readers like you!
To contribute to our operating budget, please click here and follow the instructions.
(Suggested contribution is twenty bucks per year. Feel free to give more!)
The brakes are powerful with a light pedal action, giving plenty of instant bite for emergency stops. The gearchange, though, tends to be heavy and first gear can be difficult to engage at rest. This effect seems to be more noticeable when the box gets really hot during prolonged traffic driving. While I am being critical, I should mention that the heater is not very powerful and the spoke of the steering wheel can obscure the blue light indicating that the headlights are on main beam.

Quite wide doors make entry easy and the seats are comfortable. Behind the seats is a padded compartment, suitable for a dog or a baby. The main luggage space is approached by lifting the tailgate, which gives excellent accessibility but not much privacy for one's suitcases. Regarded purely as a 2-seater, the MG can carry enough impedimenta for the most prolonged continental tour.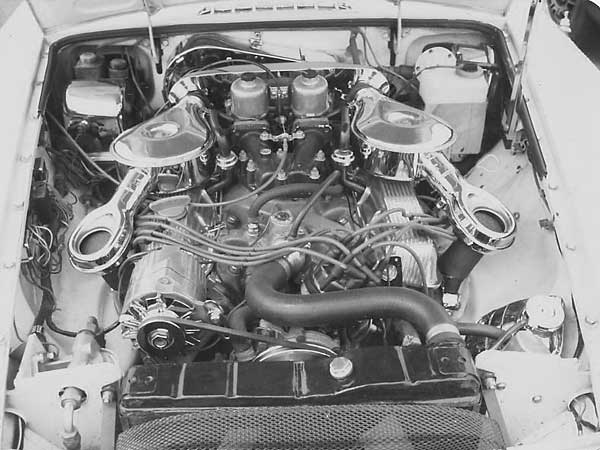 The Rover 3.5-litre V8, surely the most versatile engine that has yet been built.
The bonnet could scarcely be fuller of engine and ancillaries. Nevertheless, the main items which are likely to need attention are quite get-atable. The electric radiator fans never come into action on the open road, but when they start while the quiet engine is idling they produce a surprisingly loud hum. Though the body shape stems from 1965, it has a pleasantly functional look which has not really dated and the new Dunlop wheels, with ventilated light-alloy centres, enhance its appearance.

Technically, the MGB GT V8 is perhaps new wine in an old bottle. It gives a harder ride than one would get with the latest suspension systems, but its vintage handling characteristics are beloved of -many enthusiasts. It's small enough to be nippy in traffic and it is not burdened with a long bonnet, that curse of the traditional British sports car.

Surely the Rover 3.5-litre V8 is the most versatile engine that has yet been built. It works marvels in the Range Rover and it turns the staid old MGB into a 125 mph flyer. To substitute a modern piece of light-alloy engineering for an olde tyme cast-iron lump must be progress, and the resulting sports car is no hybrid but an excellent performer with moderate fuel consumption.
SPECIFICATION AND PERF0RMANCE DATA
Car tested: MGB GT V8 2-door coupe, price £2293.96 including car tax and VAT.

Engine: Eight-cylinder 88.9 mm x 71.12 mm (3528 cc). Compression ratio 8.25 to 1. 137 bhp (net) at 5000 rpm. Pushrod-operated overhead valves with hydraulic lifters. Twin SU carburetors.

Transmission: Single dry plate clutch. 4-speed all synchromesh gearbox with Laycock overdrive, ratios: 0.820, 1.0, 1.259. 1.974, and 3.138 to 1. Hypoid rear axle, ratio: 3.071 to 1.

Chassis: Combined steel body and chassis. Independent front suspension with wishbones, coil springs, anti-roll bar, and lever-type dampers combined with top links. Rack and pinion steering. Live rear axle on semi-elliptic springs with lever-type dampers. Servo-assisted disc front and drum rear brakes. Bolt-on cast aluminum wheels with chromed steel rims, fitted 175 HR 14 radial tyres.

Equipment: 12-volt lighting and starting. Speedometer. Rev-counter. Oil pressure, water temperature, and fuel level gauges. Heating, demisting, and ventilation system, with heated rear window. 2-speed windscreen wipers and washers. Flashing direction indicators. Reversing lights. Cigar lighter. Radio (extra).

Dimensions: Wheelbase 7 ft 7.125 ins. Track (front) 4 ft 1in (rear) 4ft 1.25 in. Overall length 12 ft 10.75 in. Width 4 ft 11.94 ins. Weight 1 ton 1 cwt.

Performance: Maximum speed (overdrive) 125 mph, (direct top) 124 mph. Speed in gears: Third 99 mph, second 64 mph, first 41 mph. Standing quarter-mile 16.5 s. Acceleration: 0-30 mph 3.0 s. 0-50 mph 6.5 s. 0-60 mph 8.3 s. 0-80 mph 15.2 s. 0-100 mph 26.6 s.

Fuel consumption: 20 to 28 mpg.
---
When Autosport originally published this article, they illustrated it with five black-and-white photos of a dark colored MGB GT V8 bearing registration plate "HOH 932L". Our copies of these photos aren't in suitable condition for reproduction. We've substituted two photos from Ken Smith's personal collection, displayed above with two of the five original captions. The following captions were also included in the original lay-out:

(side view of the car, in motion)
"If one does not notice the V8 motif, the more powerful version of the MGB is indistinquishable from its four-cylinder sister."

(steering wheel and instrument panel)
"The only mark distinquishable from its four-cylinder sister is the smaller speedometer and rev-counter dials, necessitated by the collapsible safety steering column."

(exterior rear with woodland background)
"The offside rear wheel spins very easily due to propshaft torque tending to lift one end of the axle, and depress the other."
---
BritishV8 Magazine has assembled the largest, most authoritative collection of MG "MGB GT V8" information you'll find anywhere. Check it out! Access our MGB GT V8 article index by clicking here.