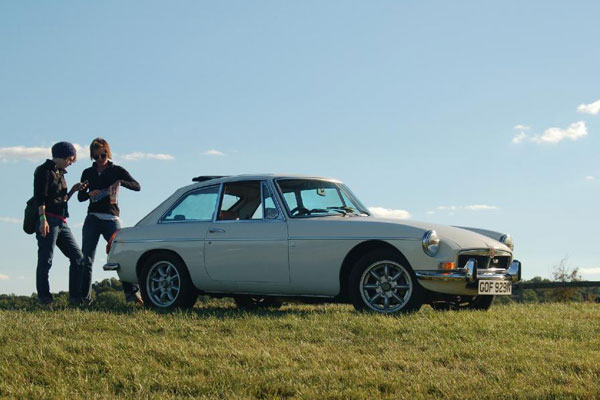 Kevin Richards' Factory-Original 1974 MGB GT V8
as published in British V8 Newsletter, Volume XV Issue 3, December 2007
Kevin is beginning restoration of an MGA Sebring racecar, so he's obliged to free up some garage space and raise a little cash by selling this well-loved MGB GT V8. When we spotted the "Craig's List" ad and got in touch, Kevin generously invited us to come over and photograph the V8. The "glamour" (exterior) shots seen here were provided by Kevin, whereas the detail (mechanical and interior) photos were taken by Don Moyer, British V8 Staff Photographer.

At the time of Don's visit, the radiator had been removed to be re-cored. It's conspicuously missing from some of the photos, but with the radiator out of the way we can see construction details that are usually hidden.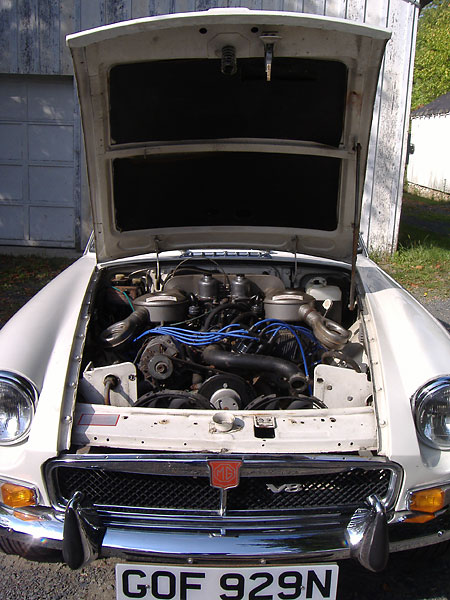 Plate "GOF 929N" tells us this car was first registered in Birmingham, between August 74 & July 75.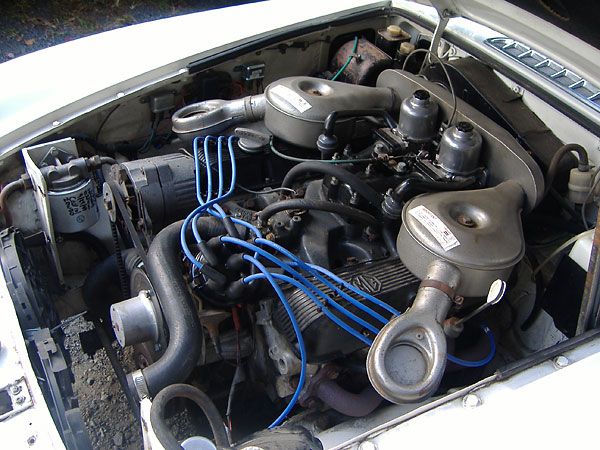 The original twin electric fans (with yellow blades) have been replaced with more modern fans.
Also, the original iron exhaust manifolds have been replaced with tubular "block hugger" headers.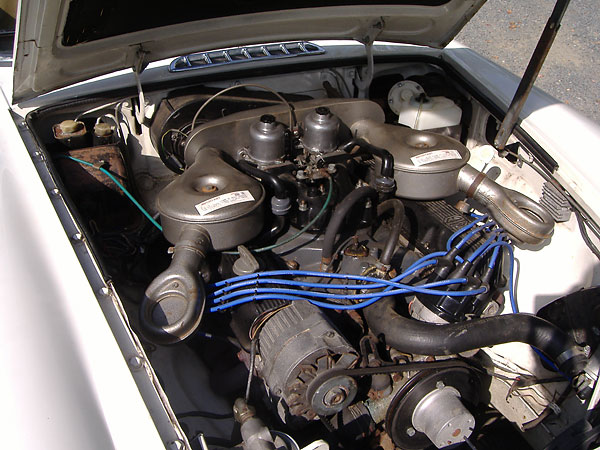 The finned-aluminum electronic module visible here on the far-side fender-well is part of a "Lumenition"
ignition system. It's "aftermarket", but can probably be fairly called a "period modification". An English
gentleman named E.H. Ford invented the Lumenition (infrared) optical-trigger ignition system in 1968.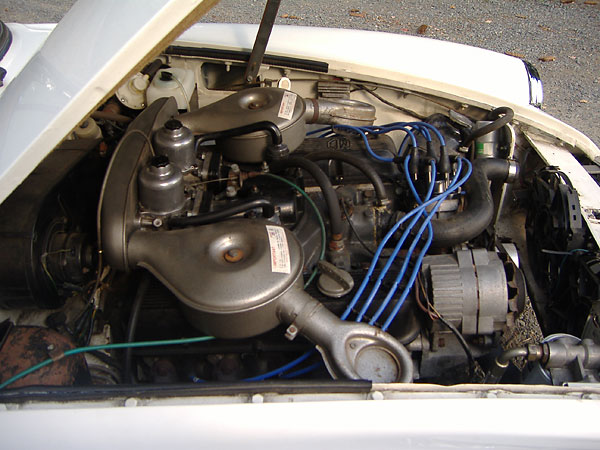 When Rover installed these engines in their saloons and utility vehicles, they centered the SU
carburetors over the intake manifold. Keen to keep the carbs under an un-modified MGB hood,
MG engineers designed an adapter that shifted carburetor placement rearward as shown here.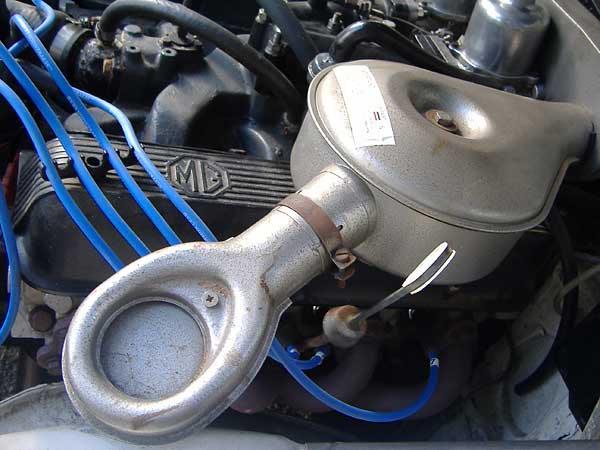 MG developed the engine installation to comply with both European and U.S. anti-pollution
regulations. The thermostatic air cleaners draw warmed air from near the exhaust manifolds
to help the engine warm-up quickly. A bi-metallic valve allows the warmed-up engine to
breathe cooler air. (The phillips screw head seen here isn't original.)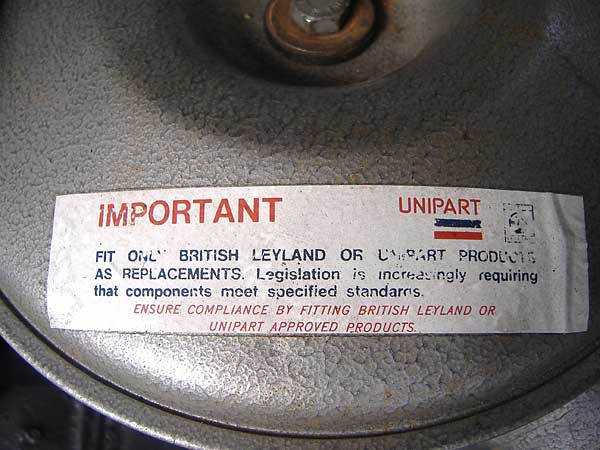 "Fit Only British Leyland or Unipart Products as Replacements"
Kevin told us a previous owner had the engine rebuilt, and selected a performance camshaft
(of unknown spec.) There's also a pretty good chance the rebuilder may have chosen
higher-compression pistons. In stock form, MGB and Range Rover versions of this engine
came with only 8.25:1 compression-ratio pistons. When these engines are being rebuilt,
it doesn't cost extra to select higher-compression pistons. Rover "3500" sedans, came
with 10.5:1 pistons. Buick versions of the engine started at 8.8:1 compression.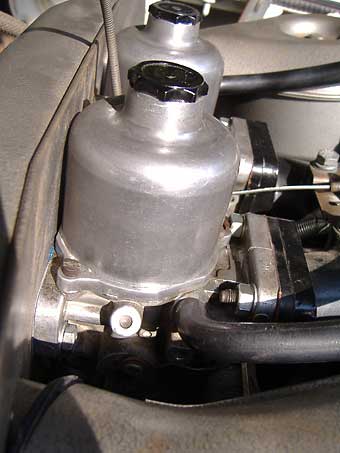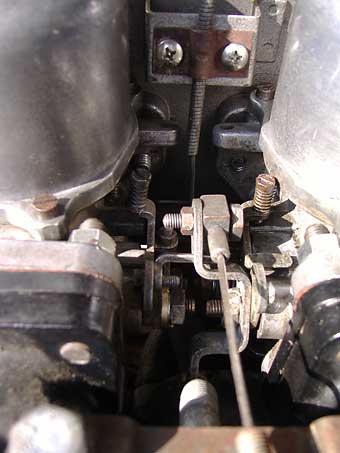 Dual this and dual that... right down to dual throttle and choke adjustments.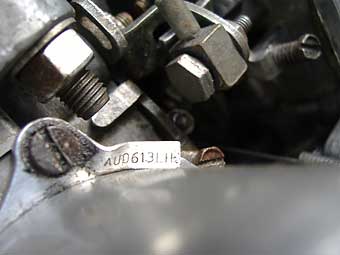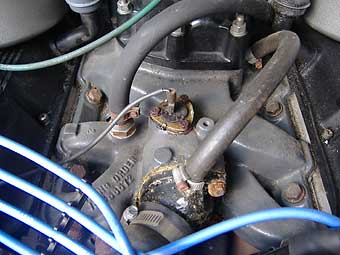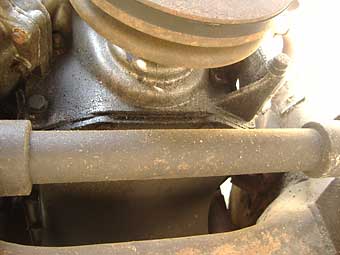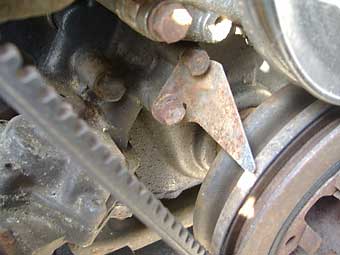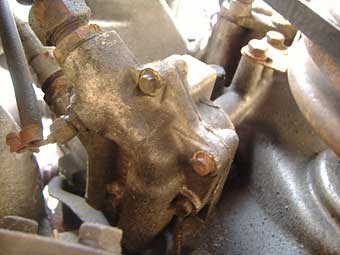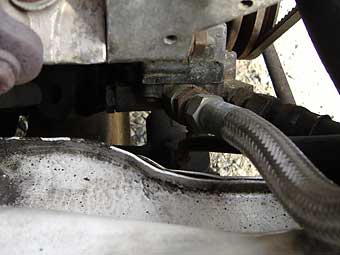 These two photos show how the original MG oil-pump valve-body accomodated their remote oil filter.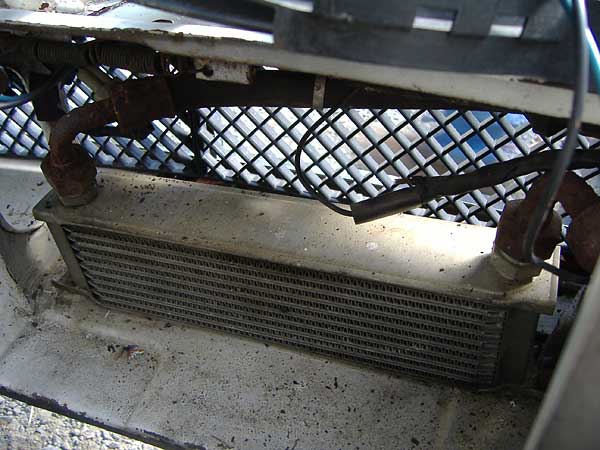 Very few MGB V8 conversions have oil coolers, but the factory installed them (at significant expense).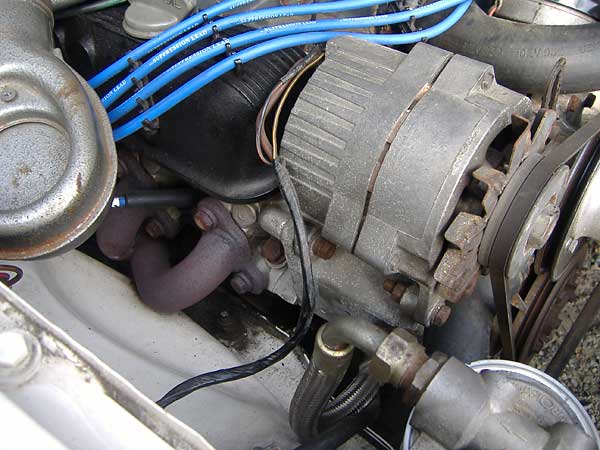 MGB GT V8 came with Delco alternators. (This one is stamped: "7982707 19 HO4 NEG DN460 12V 45A".)
The choice of Delco is interesting because Lucas alternators were used on all other MGBs, and also
on Rover (3500 & Range Rover) V8 vehicles.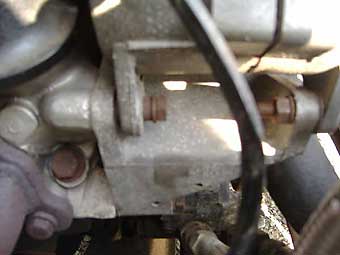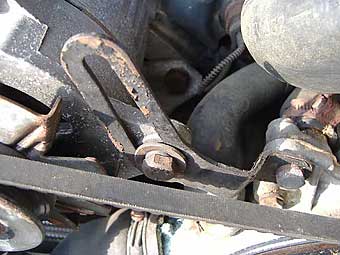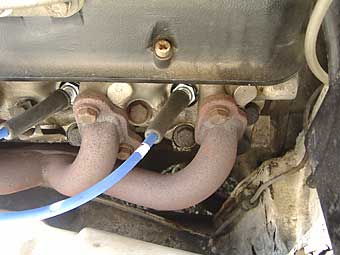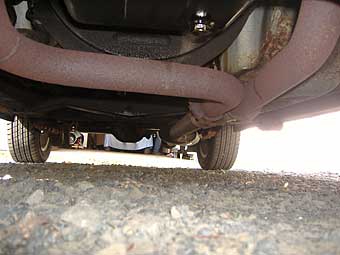 Believe it or not, the original cast iron exhaust manifolds were fragile (and replacements
are scarce). A wide range of replacement headers are available. The style shown here allows
otherwise standard piping.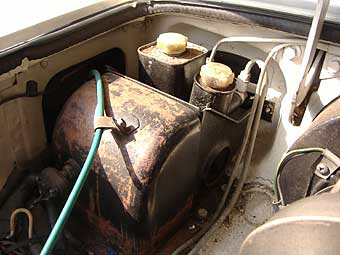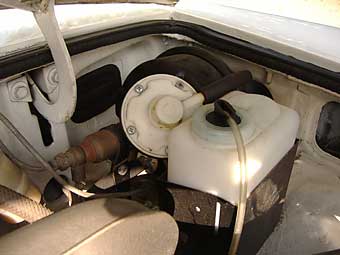 A remote power brake servo and oversized rotors for the front disc brakes were standard equipment
on MGB GT V8. Although by all accounts the MGB GT V8 brakes worked quite well, North American
readers may be surprised to learn that, for the English market, MG was very late to equip their
cars with tandem master cylinders. Shame on them!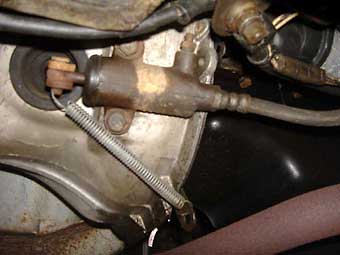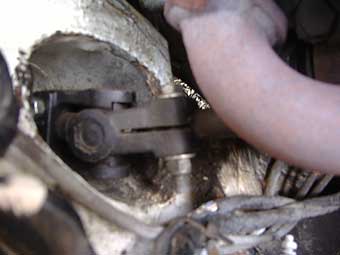 Clutch slave cylinder (the spring isn't original)... and steering u-joint, which MG moved rearward
compared to previous MGBs.

Enjoying this article? Our newsletter is funded through the generous support of readers like you!
To contribute to our operating budget, please click here and follow the instructions.
(Suggested contribution is twenty bucks per year. Feel free to give more!)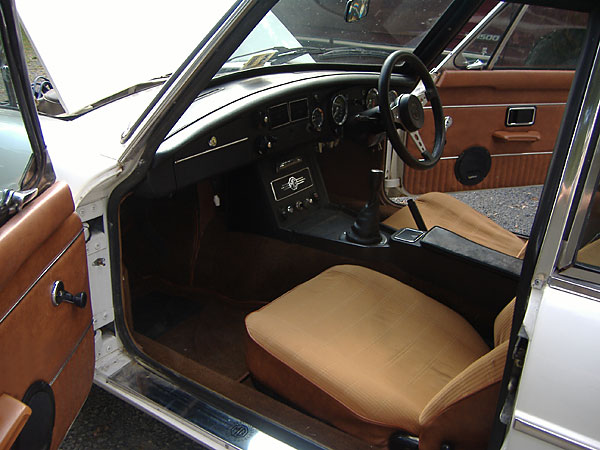 Magazine reviewers raved about the comfortable seats MGB installed in the MGB GT V8 model.
They reported that the nylon upholstery helped keep aggressive drivers from sliding around.
The seat upholstery shown here is probably original. Speaker grilles, chrome window cranks,
and bright door sills aren't original.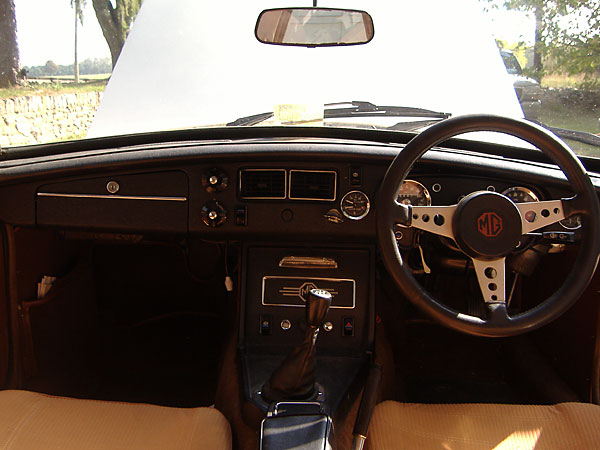 MG made collapsible steering columns standard on the MGB GT V8, although they didn't upgrade
to an impact absorbing dashboard. (Both of these highly-effective safety features had been
mandated by the Federal "Safety Act of 1966" so North American MGBs were ahead of the game.)
To accomodate the larger steering column, MGB GT V8s featured smaller-diameter speedometers
and tachometers than regular home-market MGBs.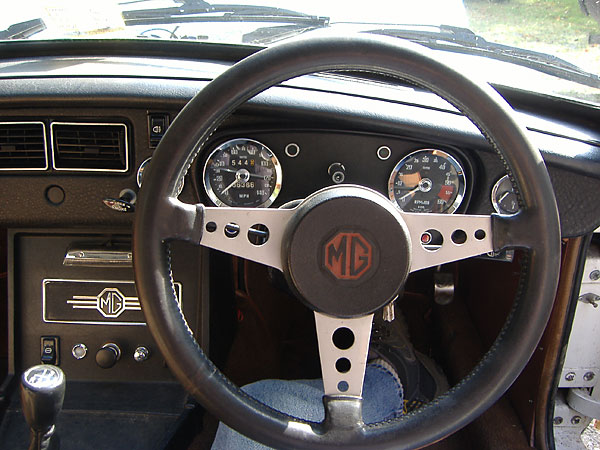 This steering wheel is from a 1979/80 "MGB LE". The original V8 wheel would've been larger diameter,
and it would've had "filled in slots" in the three spokes (where this steering wheel has round holes.)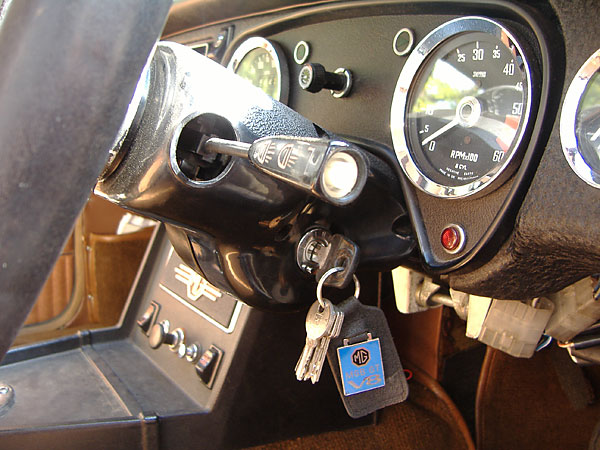 The righthand-side stalk switch controls lighting functions: turn signals, beam dip, and hi-beam flash.
(The end cap appears to be missing.) The key switch has a peculiar little button for releasing the key.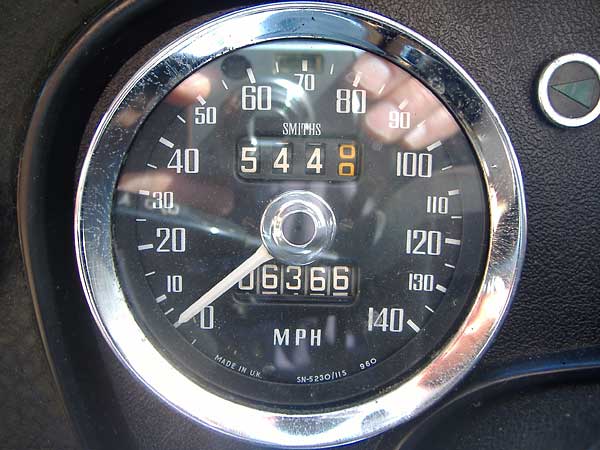 Since GT stands for "Grand Touring", you might expect kilometer markings for touring in Europe or Canada.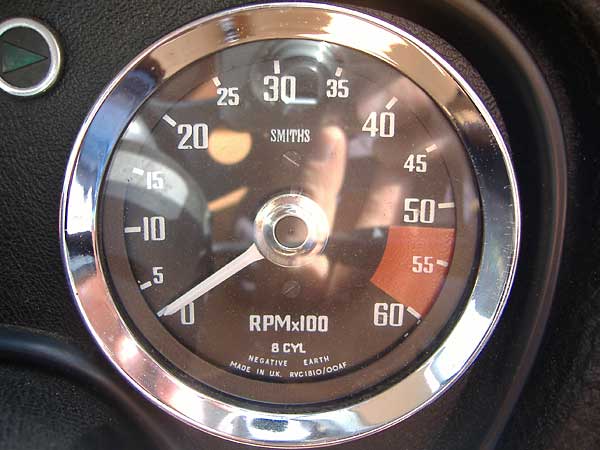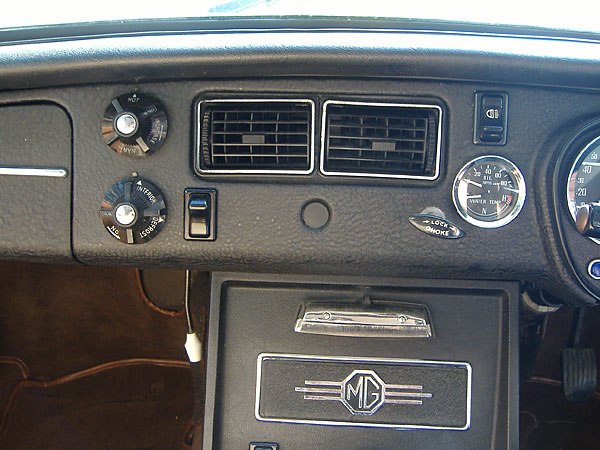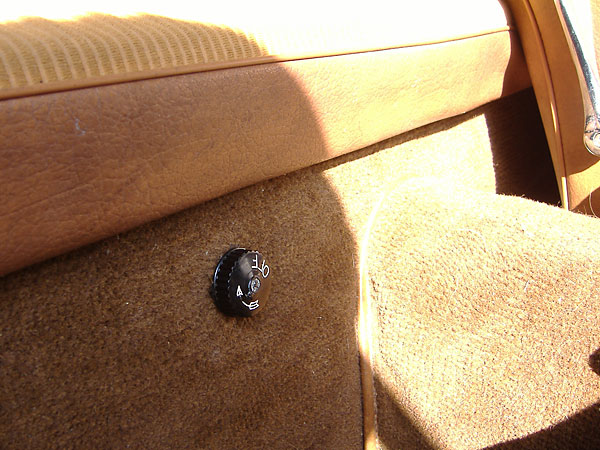 This Lucas battery disconnect switch is a smart "period modification".
Above it... the "vestigial" rear seat that complicates access to the batteries.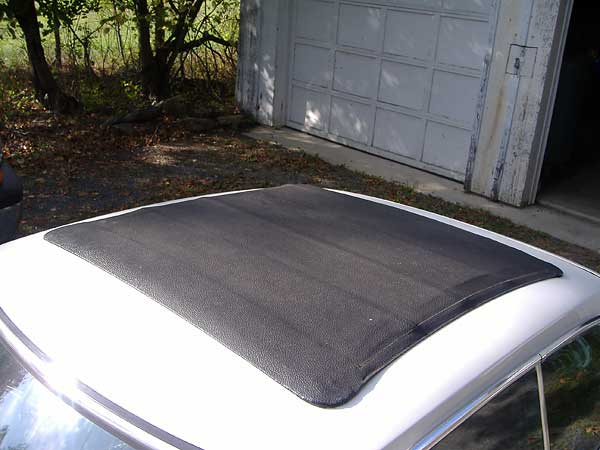 Sunroofs were a very popular dealer-installed option on MGB GT's, apparently especially on the V8s.
There were several popular manufacturers... this specimen is a "Sunway" model sunroof, manufactured
by Weathershields Ltd. of Birmingham. That company has changed ownership several times now (from
Britax, to Hollandia, and now to Webasto GMBH). How does this folding sunroof work? We'll show you!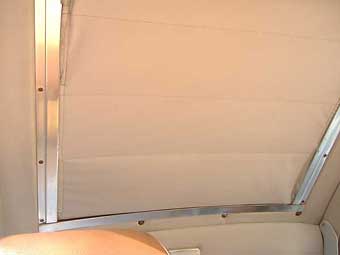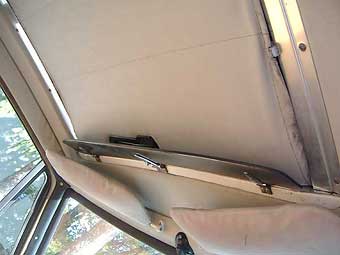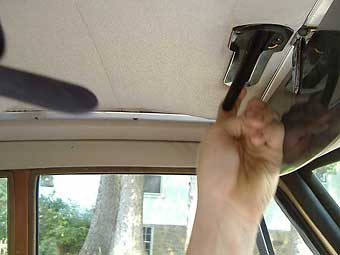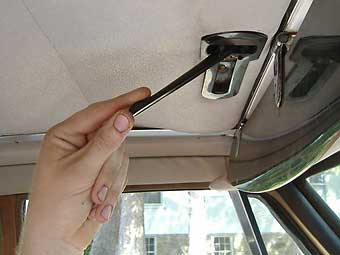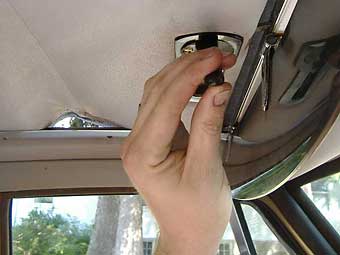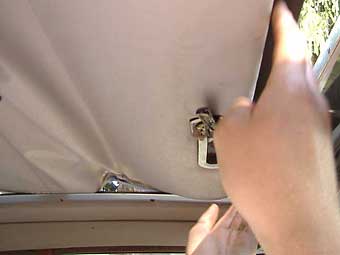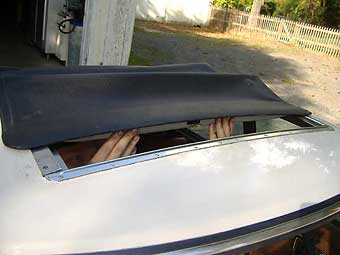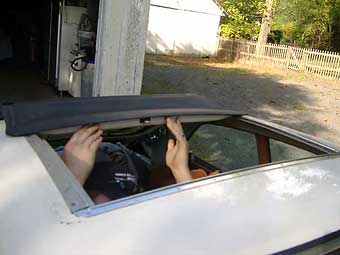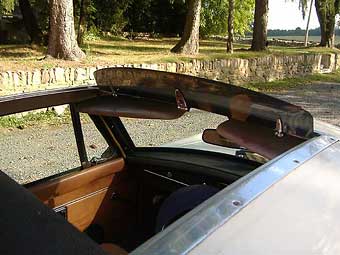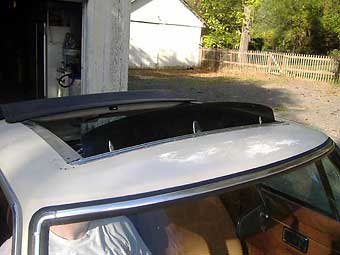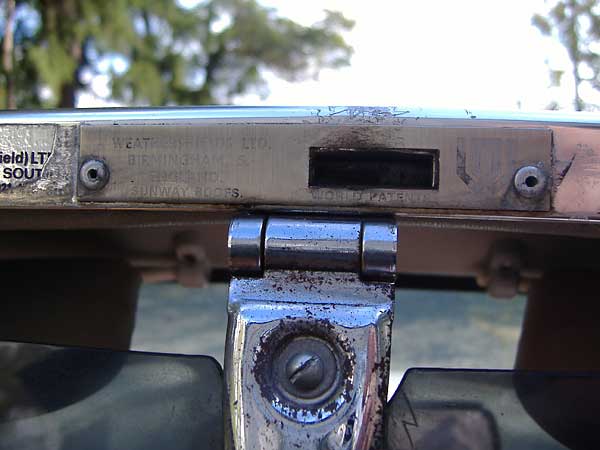 The plate says: "Weathershields Ltd., Birmingham S., England, Sunway Roofs. World Patents"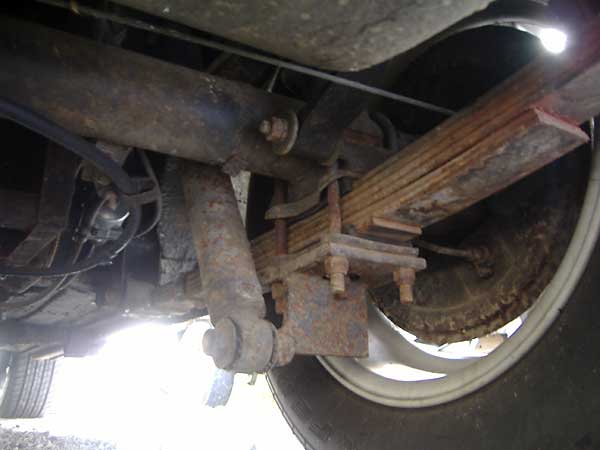 The MGB GT V8 model came with stiffer leaf springs (550 lb vs. 510 lb) to combat axle tramp.
This spring pack appears to have been modified, with one leaf cut short (possibly to lower
ride height.) The telescoping shock absorbers aren't original though; MG installed regular
knee-action shocks on the MGB GT V8s.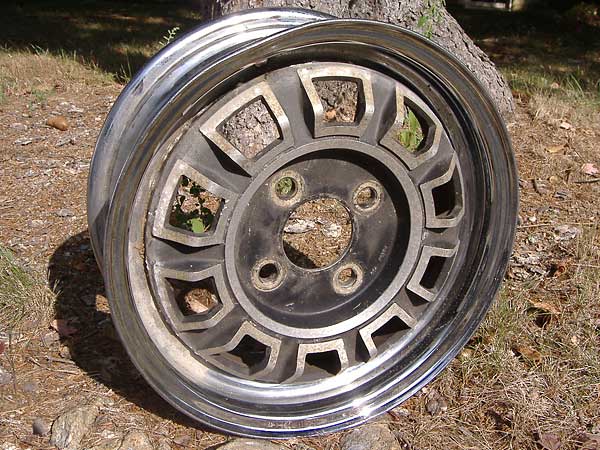 The distinctive MGB GT V8 wheels had cast aluminum centers riveted to chromed steel rims.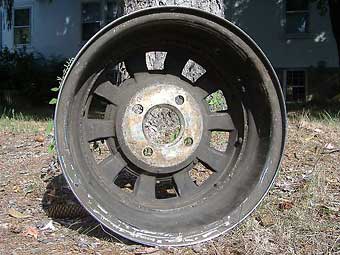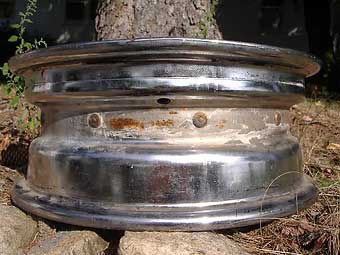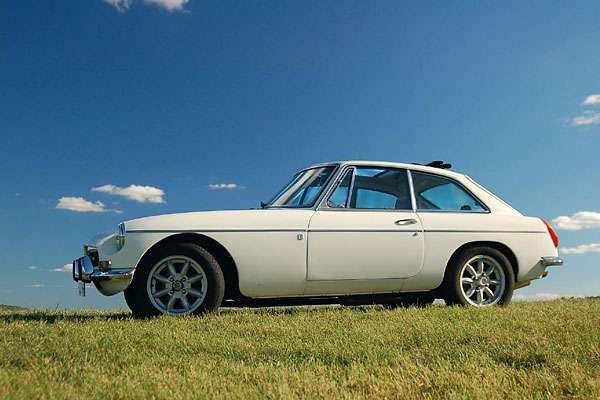 This car is missing its "V8" fender badge. (One would normally be mounted left of the British Leyland badge.)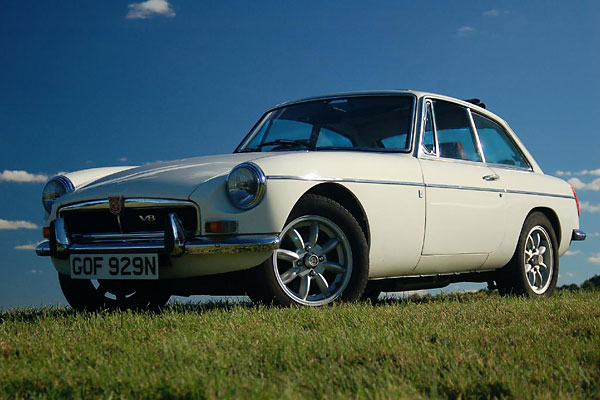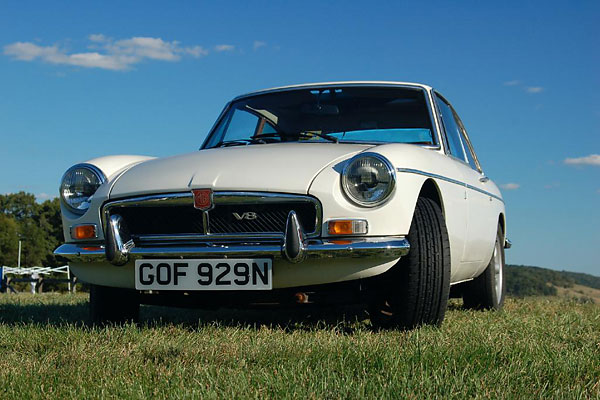 The factory's mounting of the "V8" grille badge apparently varied from car to car, even in
original press photos. This is the closest to center we've seen it. Usually it's about halfway
between bumper overrider and centerline.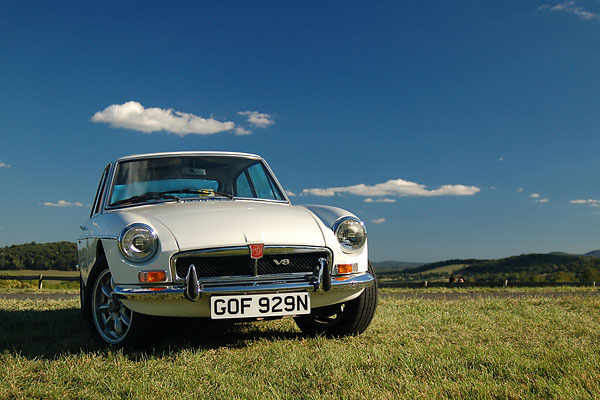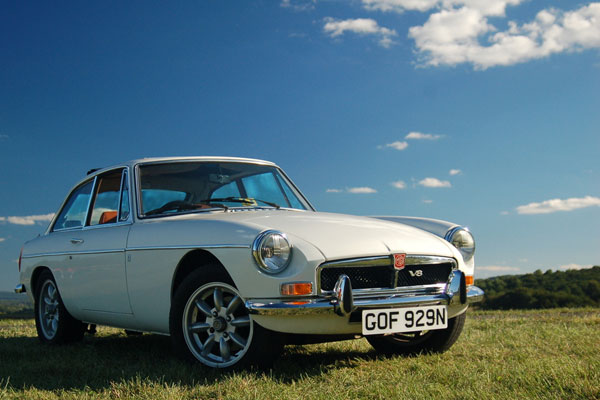 Curiously, this car has a British Leyland badge on the righthand fender (where we don't usually find one).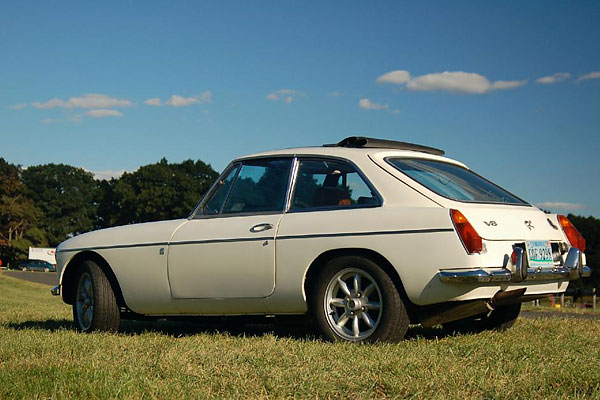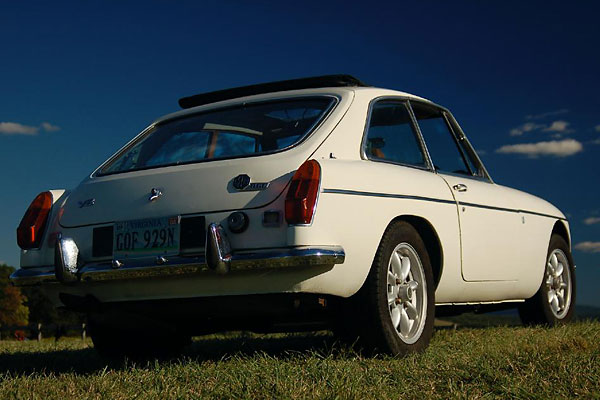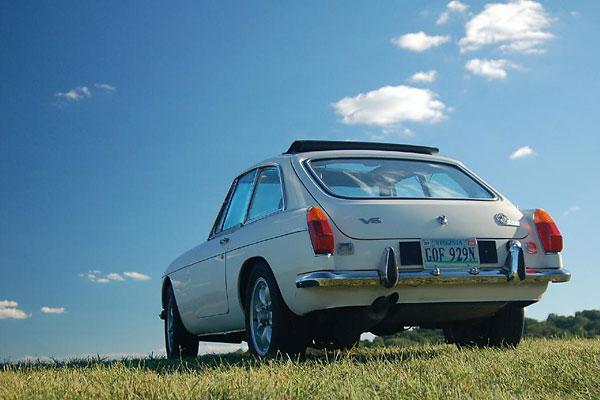 ---
BritishV8 Magazine has assembled the largest, most authoritative collection of MG "MGB GT V8" information you'll find anywhere. Check it out! Access our MGB GT V8 article index by clicking here.