British V8 2008 Autocross and Weigh-In Results
as published in BritishV8 Magazine, Volume XVI Issue 2, October 2008
compiled by: Curtis Jacobson
DRIVER
FROM
CAR
ENGINE
AUTO-X (personal best in bold)
LBS
(FL, FR, RL, RR, fuel)
Carl Floyd
TN
79 MGB
Buick 215
DNF
54.56
54.06
(56.43)
(not weighed)
Brian McCullough
MN
80 MGB
GM 3.4 V6
1.10.43+1
57.10
55.13+3
55.45
2250
(574, 593, 547, 537, full)
Martyn Harvey
ONT
80 MGB
Rover 3.5
1.01.08
58.60
56.60
56.15
2326
(555, 613, 598, 560, full)
Max Fulton
NC
74.5 MGB
MG I4
59.20
56.54+2
(56.39)
56.47
2339
(569, 599, 602, 569, 1/4)
Joe Schafer
MI
71 MGB
Ford 302
1.05.37
1.00.25
DNF
57.63
(not weighed)
Pete Mantell
IL
69 MGB
Ford 302
1.02.40
58.05+1
2305
(552, 583, 581, 589, 7/8)
Tony Andrews
MD
75 MGB
Rover 3.9
DNF
1.05.15
1.02.55
1.00.31
2195
(567, 586, 526, 517, 3/4)
Scott Costanzo
OH
68 MGB
GM 3.4 V6
1.06.08
1.00.81
2019
(549, 549, 464, 458, half)
Artie Clark
OH
68 MGB
GM 3.4 V6
(1.06.19)
(1.01.57)
2019
(549, 549, 464, 458, half)
Merv Hagen
IL
80 MGB
Buick 215
1.28.12
1.14.26
1.04.84
2253
(549, 588, 590, 526, half)
Peter Smith
ONT
76 MGB
Rover 3.5
1.09.10
1.06.49
(not weighed)
David Tetlow
UK
75 MGB
Rover 3.5
2473
(592, 657, 630, 594, half)
Dave Kirkman
IL
80 MGB
Ford 302
2364
(589, 612, 594, 569, full)
Graham Creswick
ONT
76 MGB
Ford 302
2278
(592, 614, 546, 526, half)
Curtis Jacobson
CO
71 MGB-GT
Buick 215
DNF
1.00.25
58.27
2180
(538, 529, 566, 547, full)
Larry Shimp
NJ
68 MGB-GT
Ford 302
DNF
1.10.29
59.60
2568
(650, 620, 643, 654, full)
Jim Ohnstad
ND
74 MGB-GT
GM 3.4 V6
1.06.82
1.02.93
2428
(586, 577, 628, 638, full)
Steve DeGroat
GA
70 MGB-GT
GM 3.1 V6
DNF
1.08.61
1.05.42+1
(not weighed)
Mike Maloney
OH
71 MGB-GT
Rover 3.9
1.14.25
(not weighed)
Terry Schulte
SD
74 MGB-GT
Ford 302
2392
(639, 621, 561, 571, ?)
Roadmaster
KY
69 MGB-GT
Buick 455
1957
(552, 547, 427, 437, none)
Bob Kaul
WI
59 TR3A
Triumph I4
2096
(566, 559, 493, 479, full)
Ken Hiebert
ONT
72 TR6
GM LT1 V8
1.04.97
1.03.21
DNF
1.00.02
2769
(697, 655, 683, 735, 3/4)
Katie Ermakovich
ONT
72 TR6
GM LT1 V8
(1.14.80)
(1.11.12)
2769
(697, 655, 683, 735, 3/4)
Mike Budde
WI
79 TVR 3000M
Ford 302
1.06.20
1.01.53
58.42
57.62
2349
(594, 552, 568, 635, 7/8)
Richard Moor
IN
69 Avenger
GM 3.8 V6
2330
(367, 458, 791, 715, ?)
Jon McCullough
MN
78 924
GM LS1 V8
1.05.52
56.65
55.72
2516
(628, 686, 620, 582, full)
Jim Blackwood
KY
Lincoln
Ford V8
1.07.15+4
107.59
(not weighed)
Steve Carrick
MI
Blazer
GM V6
1.03.10
(59.37)
(not weighed)
Notes:
1) The list doesn't include all meet attendees or cars! It's does list cars which were either weighed or autocrossed.
2) One second penalties were assessed for each traffic cone knocked over or pushed out of position.
3) "DNF" indicates that the car left the designated course before completing its run.
Times marked in parenthesis indicate that a borrowed car was driven, as follows:
1) Carl Floyd drove Curtis Jacobson's MGB-GT
2) Max Fulton drove Martyn Harvey's MGB
3) Artie Clark drove Scott Costanzo's MGB
4) Katie Ermakovich drove Ken Hiebert's TR6
5) Steve Carrick drove Curtis Jacobson's MGB-GT
Enjoying this article? Our magazine is funded through the generous support of readers like you!
To contribute to our operating budget, please click here and follow the instructions.
(Suggested contribution is twenty bucks per year. Feel free to give more!)
Pete Mantell Weighed BritishV8 Participant Cars (photos by Curtis Jacobson)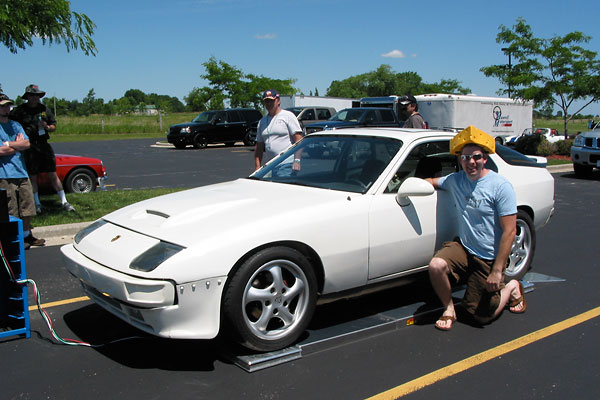 Jon McCullough and his 78 Porsche 924 V8 (2516#)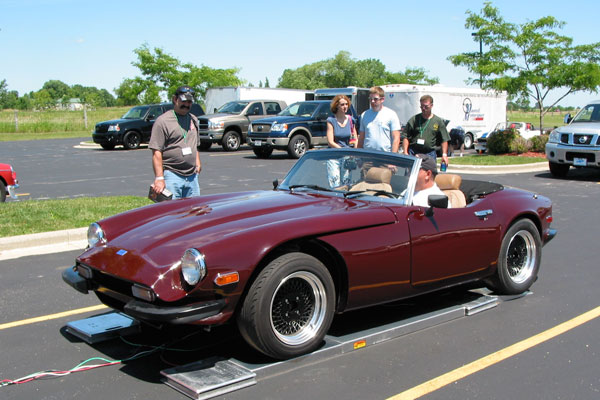 Mike Budde and his 79 TVR 3000M V8 (2349#)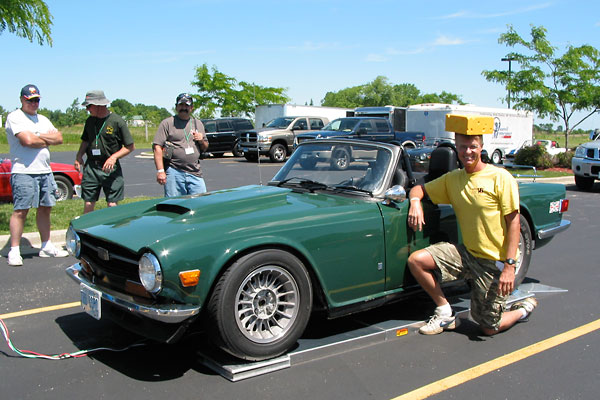 Ken Hiebert and his 72 TR6 V8 (2769#)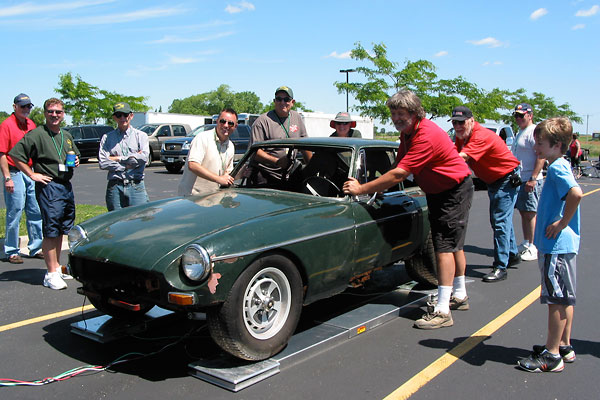 The Roadmaster Project Team's 69 MGB GT (1957#, sans engine)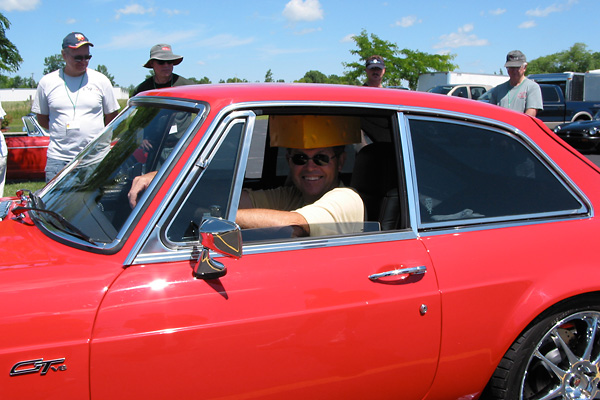 Terry Schulte and his 74 MGB GT V8 (2392#)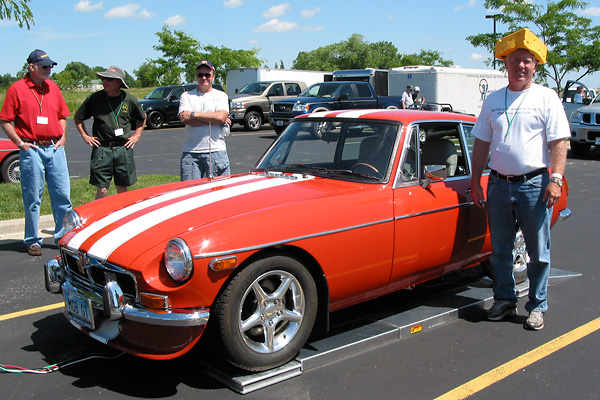 Jim Ohnstad and his 74 MGB GT V6 (2428#)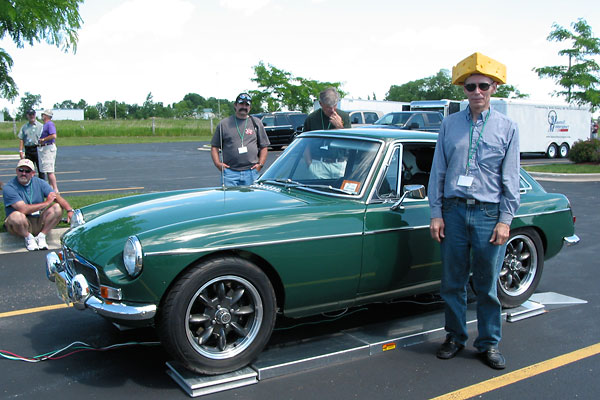 Larry Shimp and his 68 MGB GT V8 (2568#)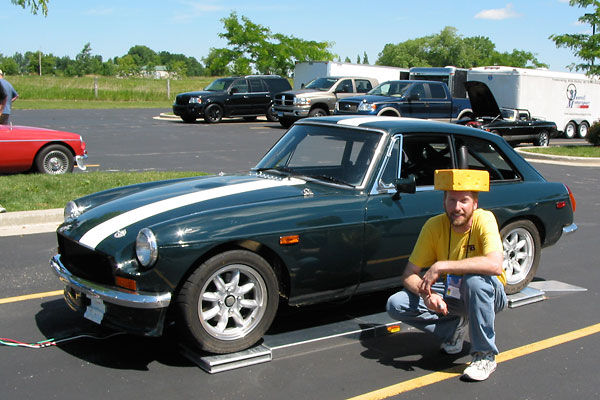 Curtis Jacobson and his 71 MGB GT V8 (2180#)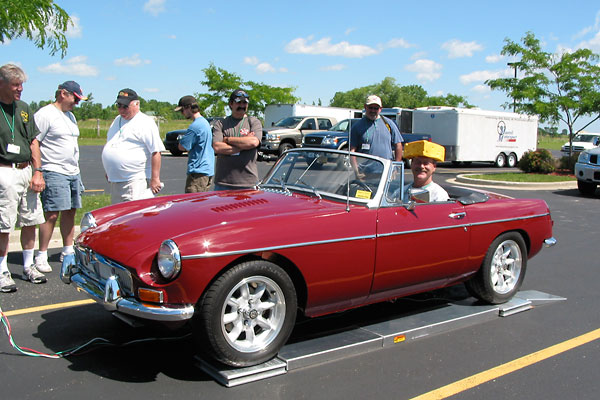 Graham Creswick and his 76 MGB V8 (2278#)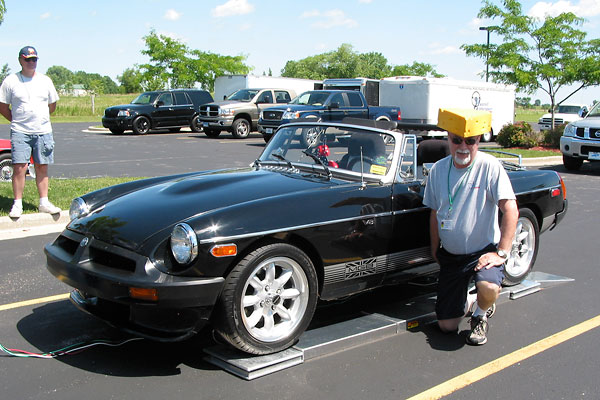 Dave Kirkman and his 80 MGB V8 (2364#)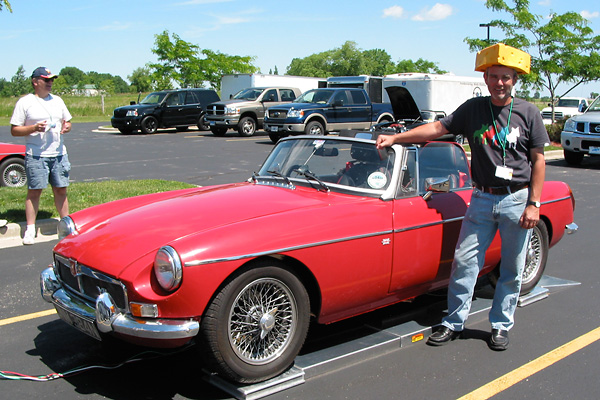 David Tetlow and his 75 MGB V8 (2473#)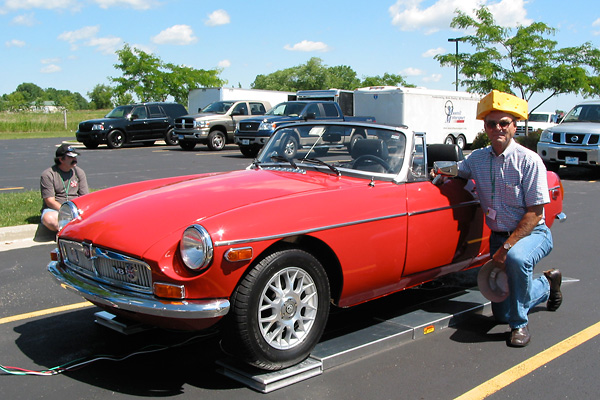 Merv Hagen and his 80 MGB V8 (2253#)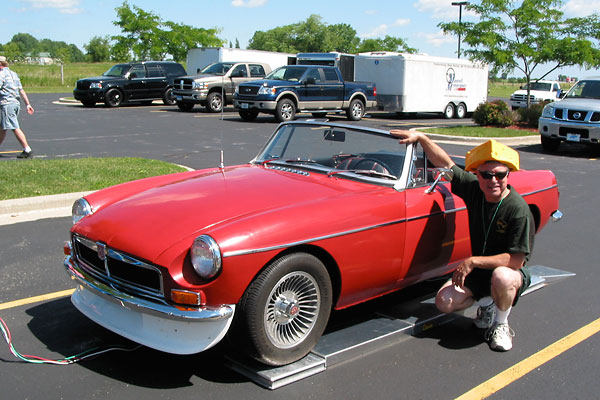 Scott Costanzo and his 68 MGB V6 (2019#)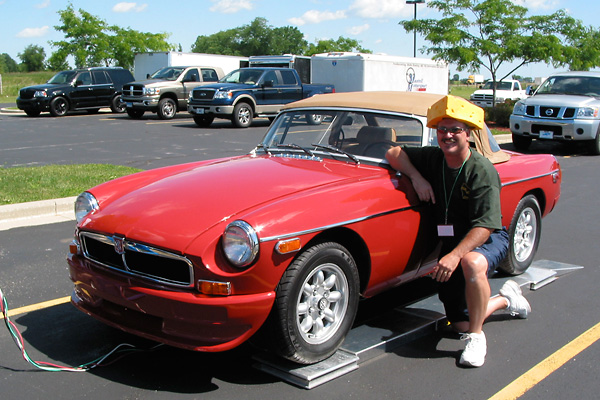 Tony Andrews and his 75 MGB V8 (2195#)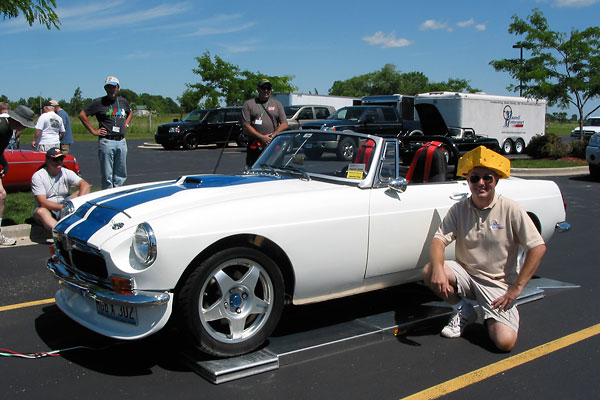 Pete Mantell and his 69 MGB V8 (2305#)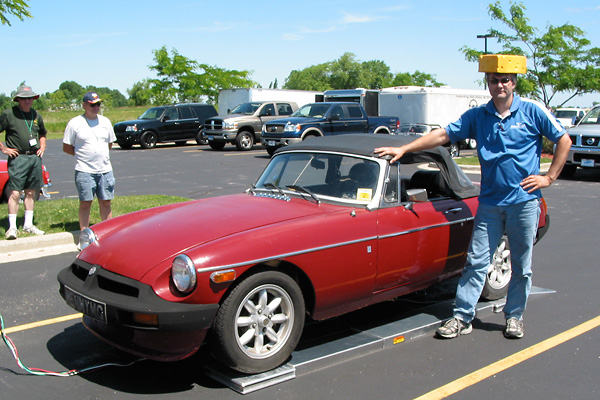 Max Fulton and his 74.5 MGB I4 (2339#)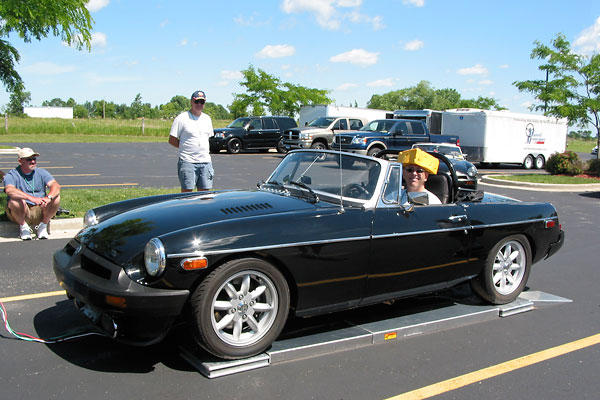 Martyn Harvey and his 80 MGB V8 (2326#)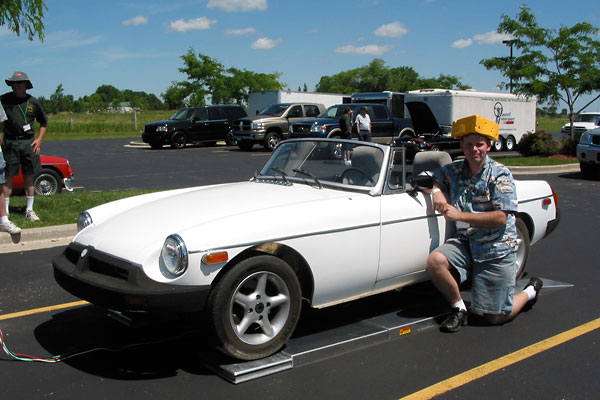 Brian McCullough and his 80 MGB V6 (2250#)


Cars that Autocrossed But Weren't Weighed (photos by Graham Creswick)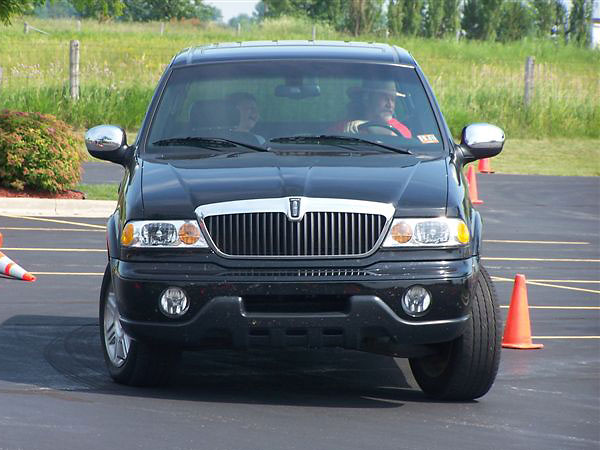 Jim Blackwood and his bigass Lincoln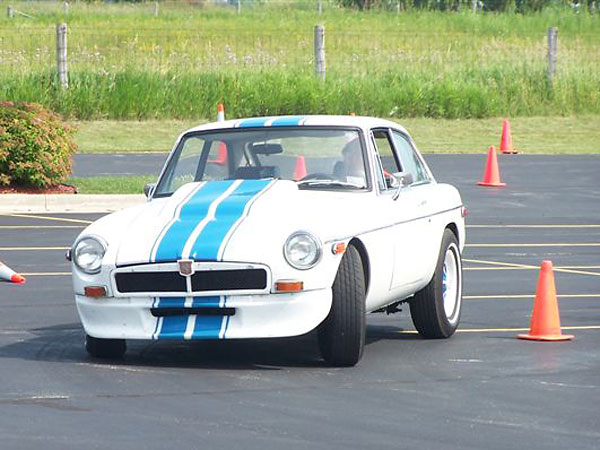 Steve DeGroat and his 70 MGB-GT V6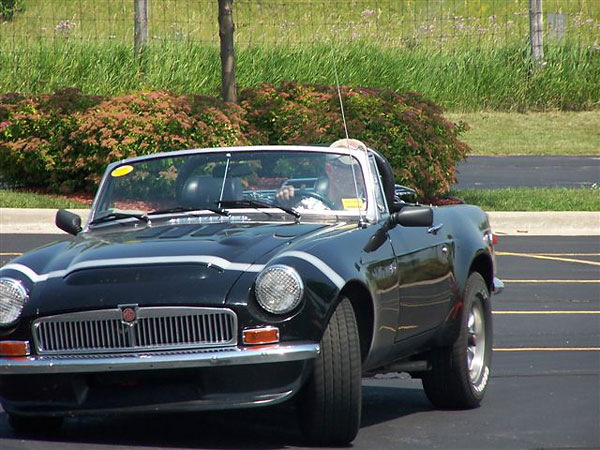 Peter Smith and his 76 MGB V8



Joe Schafer and his 71 MGB V8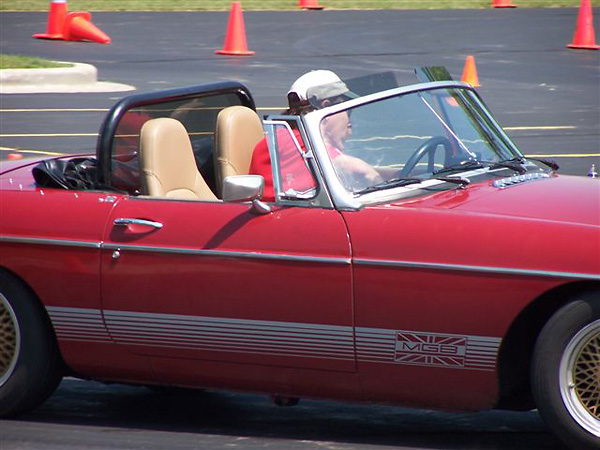 Carl Floyd and his 80 MGB V8