MGB Roadmaster (aka "Project BADASS")
as published in British V8 Newsletter, Volume XV Issue 3, December 2007
by: Jim Blackwood
Project Overview
This is the first of a series of progress reports on the Roadmaster project, so a little background is in order. As a group project by long-term British V8 participants and others, the Roadmaster project was conceived as a means of "educating the public about the synergies between American and British technology, particularly as they related to sports cars..."

Well, not exactly! What really happened is that I was on the "V8Buick" internet message board, participating in a discussion about how small and light the big block Buick engine is and was tongue-in-cheek trying to persuade some guy to put one in his friend's MGB. The more we talked about it, the more it began to look like it really could be done, and end up with a perfectly streetable car.
From that small beginning last spring, the project just snowballed. Almost immediately we had embarked on a group project and people began donating components to make it happen. Pretty soon I could see that this was developing into an organization and the car should rightfully belong to the people involved, and the only way to do that was through incorporation, but it struck me that making individual donations deductible as charitable contributions might help us finance the project, so the BADASS, NLC (Non-profit Limited liability Company) was formed.
There is one possible misconception that I'd like to clear up here. Because it is a non-profit, all assets of the company belong to the public, including the car. This means that if at some future date the company is dissolved, we need to provide for how the public is to have the benefit of the car and other assets, such as perhaps by donation to a car museum for example. In the meantime, our plans for use and display of the car do not change. It's a pleasant little place in automotive history that we're carving out for ourselves with this project, and the first time that a non-profit has sponsored a group project for the development of a special automobile.
With so many MGB V8s having been built using the smallest V8 engine ever produced by Buick, we decided to go full circle and build one using the largest Buick V8, the 455. This was anything but a whim. The Buick 455 is perhaps the lightest and most compact big block engine, and has the same general layout as the 215 or Rover V8.
Measurements and test fitting showed that the engine will indeed fit, and weighing indicates that the change in vehicle weight with the conversion should be in the range of -10 to +200 lbs at the front of the car, depending on optional lightweight components used. That's well within a safe margin for the MGB chassis. Naturally we would prefer to stay toward the lighter end of the range. Even greater weight reductions would be possible in the near future but were not deemed necessary for this car.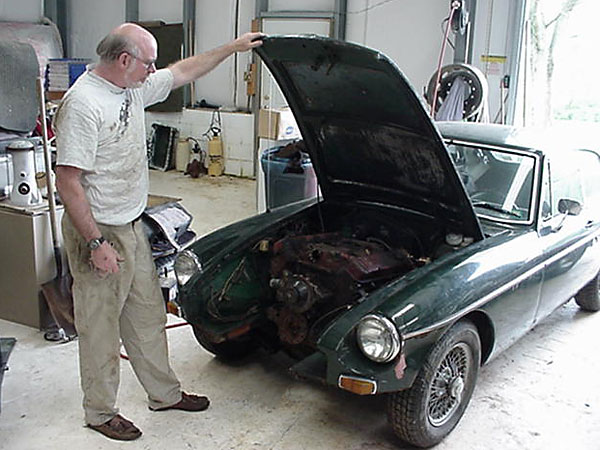 Steve DeGroat reviews a trial installation of the big block Buick engine.
The GT body was chosen to give an added safety margin for body rigidity since this is the first swap of this type. Contributors donated major components and work began in the summer of 2007, as well as incorporation of a non-profit entity to take ownership of the project. At this point the stripped down body shell is mounted on a rotisserie and has the engine and transmission mounting brackets in place, the steering modifications largely completed, much of the rusted panels removed as well as the undercoating, and is close to being ready for replacement sills and other panels.

We have two engines, one of which is on a stand and used for test fitting and the other in the process of being transported for teardown and rebuild. A Jaguar IRS has been donated and fitting it to the body has begun.

The timeline calls for completion of a rolling chassis for display at the 2008 British V8 meet in Michigan, and completion of the car for the 2009 meet. Upon completion, a rotation schedule will be set up among the contributors who wish to participate and the car will pass from one member to the next for a stated time period, during which the member will take custody, drive the car, take it to local, regional and national shows and in general display it to the public, thereby fulfilling the goals of the organization. But most importantly, we'll bring it to the British V8 meets and give everyone a chance to see how it feels to ride in it and if possible to drive it as well.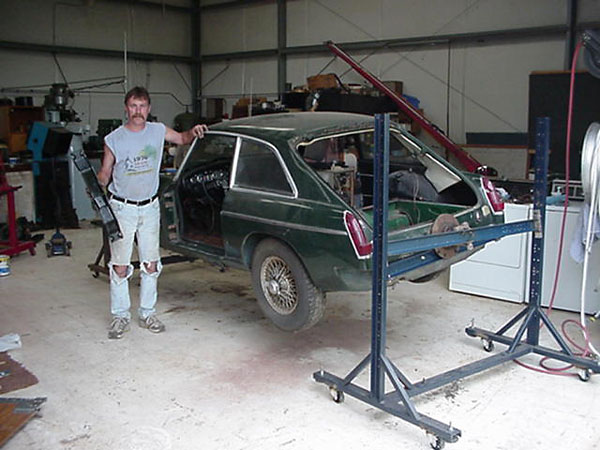 Carl Floyd begins disassembly of the MGB GT
We are just now at the cusp of asking sponsors to step up to the plate. And we think we have an almost irresistible package for them which we are doing everything we can think of to make even more attractive. A vendor presentation package is in the works which demonstrates the power of this program to bring enthusiasts together with vendors, and to entice new enthusiasts.

There can be no doubt that there is a fairly large group of guys out there who always have been and ever will be Big Block enthusiasts. Very few in that group have ever considered the MGB to be a suitable vehicle for one of these massive engines, even though they have gone to great trouble to reduce the weight. Even as we speak, TA Performance is developing an aluminum block for the 455 Buick and already has heads and intake available.

The Roadmaster is scheduled for completion before the new block will be available however so we'll have to be satisfied with about a 420 lb engine. Still the point is, that these big block enthusiasts will see how well that engine nestles into the MGB engine bay and how well mannered the car is and they will want one. They'll lust for it the way we all lusted for a Hemi-Cuda, or a 427 SS Camaro, or a Shelby GT-500. The difference is, they can have one. This is certain to swell the ranks of our sport, bringing with it increased growth, more parts and accessories, and greater prosperity for all of our vendors. In turn we will see better products at more favorable prices than ever before. I've been in this sport for three decades and we are better off now than at any time in the history of the MG that I know of.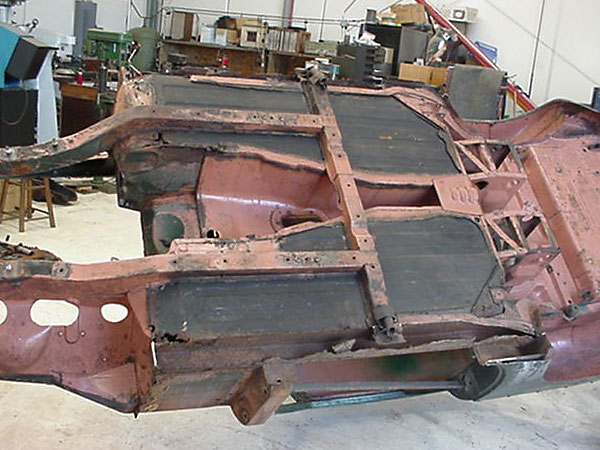 The MGB GT bodyshell - in the early stages of preparation.
The other thing this will do is to renew interest in the Buick engine line when considering a conversion. It's no secret that Ford 302 and GM "sixty-degree" V6 engines have made considerable inroads into what was once strictly Buick and Rover territory - and for good reasons. The Ford conversion makes an excellent high-powered machine and the narrow V6 (in displacements from 2.8 to 3.4 liters) provides bang-for-the-buck and a no-cutting, no-welding installation.

There's room for other excellent Buick engines in this paradigm. We have Small Block Buicks (SBB) and Big Block Buicks (BBB) and even a special case of SBB, the ninety-degree Buick V6. (Think "Buick Grand National"!) All of these engines have excellent performance histories. In the SBB line, starting with the 215/3.5L we have the basic conversion choice, a lightweight alloy engine with excellent power output and the mainstay of the conversion industry.

The next step up is the 1964 Buick 300, with its cast-iron block and aluminum heads. This engine is in many respects similar to the 215, but it does have a 5/8" taller deck and weighs an extra 80 pounds. It has been used in several MGB engine conversions. With some machine work, the 1964 Buick 300 heads and crank can even be fitted to a 215 block (to produce a lightweight mid-size option.) This has also been used in several MGB conversions. The Buick 300 block and all later SBB's use a "BOP" bellhousing bolt-pattern rather than the BOP/R 215 bolt pattern, making transmission choices simpler.
Enjoying this article? Our magazine is funded through the generous support of readers like you!
To contribute to our operating budget, please click here and follow the instructions.
(Suggested contribution is twenty bucks per year. Feel free to give more!)
The post-1964 Buick 300 with iron heads and intake manifold adds yet another 80 pounds, but the heads flow better. To my knowledge, nobody has swapped one into an MG. Next is the Buick 340. This somewhat odd engine, built for only one year, is the same as the cast iron 300 but has a still taller deck and longer stroke. There is only one person planning to use this engine (me) and that one will be supercharged and fitted with 1964 aluminum heads. The only real advantage this engine has, other than displacement, is that the same headers that fit the 215 will fit the 340.

At this point we transition to the most popular and well known SBB of them all, the 350. Cranked out in incredible numbers over a long production run, the 350 was the mainstay of the Buick line for well over a decade. Dimensionally it was identical to the 340, but it had a 0.050" larger diameter bore. It also had redesigned heads. It can't use Buick 215 (or Rover) headers, plus it uses a different cam. A couple of years from now TA Performance is planning to offer aluminum heads and intake for the 350, bringing it down to about 80 lbs heavier than the 215. Consider that the 215 is 30 lbs lighter than the stock MG B-Series engine. That means a 350 swap with only a 50 lb weight penalty, and the availability of many desirable performance parts.
I believe that could give it a technical edge over the Ford swap, although the Ford swap is unlikely to diminish much in popularity. It has earned a place, and there will always be Ford fans who would like to have one.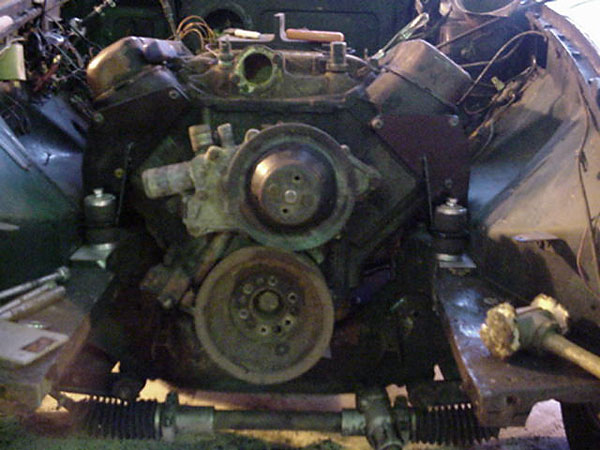 Trial installation of a big block Buick engine and newly fabricated motor mounts.
That brings us to the BBB. The amazing thing about this engine is that it weighs only some 40 lbs more than a Buick 350. Not only that, but the stroke is only 0.050" longer as well. Where the 350 is a relatively long stroke small block, the BBB is a short stroke big block and gets its displacement increase from a half inch larger bore. Naturally the engine is wider and longer, but it's not really much taller. In fact, we have considered one configuration where we could close a stock hood on it, and that could still happen. Aluminum heads and intake are available from several sources. The TA aluminum block is in the works and there may be another aluminum block already on the market. When you consider that the Fast Cars front suspension is 80 lbs lighter than the stock front suspension, it is pretty plain that a car that weighs 80-120 lbs less than stock in the front is a very real possibility. Couple that with a lightweight 8" rear axle and you're suddenly down in the realm of a sub 2000 lb car with excessive power! Now, take your Hemi-Cuda, SS Camaro or Shelby 500 and shed 1200 lbs from it and that's about what you've got. Except that it handles like an MGB. What's not to like?

But we aren't going to build that car; we're just here to point the way. What we need to do, and do well, is to build a car that is pleasant to drive as well as having outrageous power. The car is destined to be an icon. The first of it's kind! All that come afterwards can point back in their lineage and say that they are descended from the BADASS MGB "Roadmaster".
---
Progress Report
As of December 2007, the drivetrain had been fitted to the car, motor and transmission mounts fabricated, steering relocated, header openings cut and the Jag IRS fit into position and prepped for narrowing. The GT body had been mounted on a rotisserie, pressure blasted, and stripped down for bodywork and paint. The 1970 Buick 455 engine was broken down and sent out for machine work and some primary sponsors had been approached for help on the big ticket items.

Our immediate goal is to have a rolling chassis to display at the annual 2008 British V8 meet on July 13th in Port Washington, Wisconsin. That will leave us one year to finish paint, interior trim, and tuning prior to the 2009 meet. From that point the car will go on tour on a rotational basis between the contributors who choose to participate. Those participants will in turn take custody of the car, attend shows and meets within their region, display the car and promote the objectives of BADASS, NLC. In this way, passing from on participant to the next the car will make its way around the country, returning each summer to the annual V8 meet where its condition and need for maintenance will be assessed.
---
Officers
President
Jim Blackwood: Prototype developer, patent attorney, machinist and fabricator, business owner and founding member of Idea Soup. The driving force behind the project, Jim is a long time MGB owner and converter, creating one of the earliest US conversions and certainly the most instantly recognizable car of them all. Never resting, Jim's roadster is slated for an upgrade to a supercharged 340 Buick with alloy 300 heads, a 2004r transmission and a custom built IRS conversion in the near future.

Vice-President
Carl Floyd: The quintessential fighter pilot of the back roads, Carl is renowned for his skills behind the wheel, be it on the "Tail of the Dragon", the autocross course or the race track. Having honed his skills to a fine edge Carl is a formidable foe. Yet a more affable fellow or a better friend was never found. Taking subtle refinements to an exact science, Carl's understated mount has surpassed the best of the best under his experienced hand.

Secretary/Treasurer
Steve DeGroat: An individualist of the highest order, Steve's approach can be seen to take unexpected turns that yield unusually satisfying results. With his wife beside him and matching trailer in tow, Steve's air conditioned, V-6 powered GT can be expected to turn up almost anywhere. Contributor of the MGB-GT that the car is based on, Steve has proven a stalwart supporter of the project.
---
Contributors
Our contributors are too numerous to give detailed accounts of their involvement. Those listed below are the Founders of the British American Deviant Automotive Sports-car Society (BADASS, NLC), parent organization of the MGB Roadmaster project and a Non-Profit Limited Liability Company.


John Ayers
Michael B. (Woodie)
Dan Blackwood
Jim Blackwood


Steve Carrick
Brad Carson
Kelly Combes
Tom Craddock


Graham Creswick
Steve DeGroat
Michael Domanowski
Eric Enneking


Rob Ficalora
Carl Floyd
Bill Guzman
(Classic Conversions)
Rick Ingram
(Pieces of Eight)


Curtis Jacobson
(BritishV8)
Dan Jones
Ted Lathrop
(Fast Cars Inc.)
Jimmy Litterell


Allen Mandeen
Pete Mantell
(Mantell Motorsport)
Dan Masters
(Advance Auto Wire)
Dennis McIntyre


Peter Melborne
Ted Nagel
Dale Spooner
(Motion Machine)
Spring Grove
Sheet Metal Co.


Dave Tetlow
Edd Weninger
Denny Williams
Bill Young
(Service Garage)
Disclaimer: This page was researched and written by Jim Blackwood. Views expressed are those of the author, and are provided without warrantee or guarantee. Apply at your own risk.