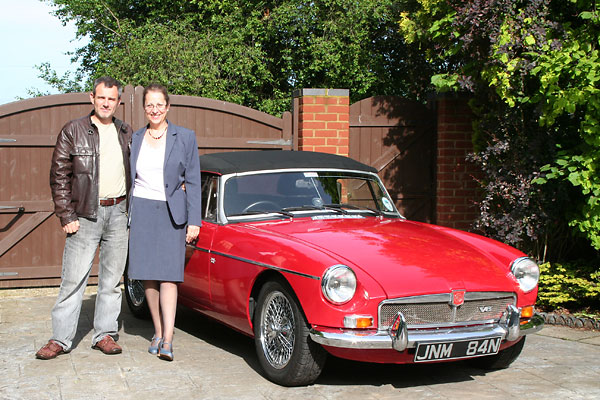 David Tetlow's 1975 MGB Tourer with Rover 3.5 V8
as published in British V8 Magazine, Volume XVI Issue 1, May 2008

Owner: David Tetlow
City: Milton Keynes, England
Model: 1975 MGB
Engine: Rover 3.5L V8
Conversion by: owner (rebuilt from a previous V8 conversion)
| | |
| --- | --- |
| Engine: | Rover 3.5L aluminum V8 engine with Edelbrock JWR dual-port intake manifold, Edelbrock/Weber 1404 500cfm carb, and Mallory distributor with Pertronix Ignitor II ignition system. 65A alternator. Approximately 170bhp. |
| Cooling: | standard MGB GT V8 radiator with silicon hoses. Twin electric fans, one pushing and one pulling. (One fan is thermostatically controlled and the other is manually switched.) Stock MGB oil cooler with thermostatic bypass valve. |
| Exhaust: | block hugger style exhaust manifolds in stainless steel, ceramic-coated inside and out. Stainless steel twin exhaust all the way back, with crossover pipe. |
| Transmission: | LT77 5-speed manual. Borg & Beck MG RV8 clutch. 3" driveshaft. |
| Rear Axle: | MG (Salisbury) axle with 3.07:1 final drive ratio and Quaife limited slip differential. |
| Front Susp.: | uprated lever arm dampers with lowered springs. MGOC power steering. |
| Rear Susp.: | reverse-eye lowered leaf springs with uprated lever arm dampers. |
| Brakes: | MGB GT V8 calipers with dimpled-and-slotted solid rotors and EBC Green Stuff pads. |
| Wheels/Tires: | 15" MGC 70-spoke wire wheels with Pirelli 185-65 tires. |
| Body: | body resprayed in MG Tartan Red (RD9). Hella's New Zealand division made the "Cabrio" cast-aluminum, high-mounted center brake light that's mounted on the boot lid. (It came with a polished aluminum finish.) Three windshield wiper system, per U.S. specification. Interior, boot, and bonnet insulated with Dynamat Extreme. Stainless fuel tank, centrally positioned to accomodate dual tailpipes. |
| Interior: | insulated and lined Happich soft top with zip down window. Heated leather seats. LED gauge lights. CD radio with internal aerial. Electric windows, central electric door locks, and a remotely controlled alarm system. |
| Completed: | May 10, 2008 - just in time to ship to U.S.A. to attend British V8 2008! |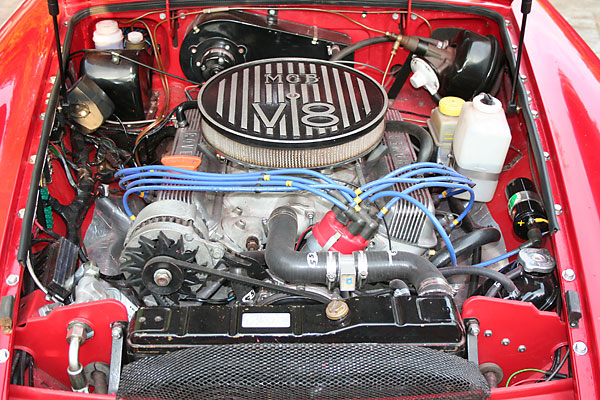 The cast aluminum "MGB V8" air filter cover is one of only 35 made.
The alarm system siren sits just this side of the master cylinders.
Relays & fuses for the headlights are mounted by the remote oil filter.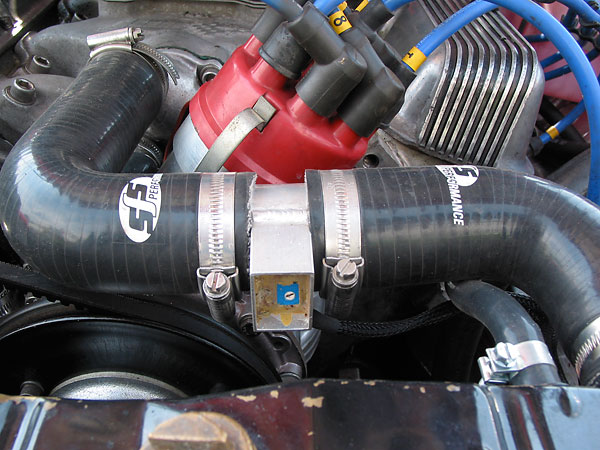 Adjustable thermostatic fan control.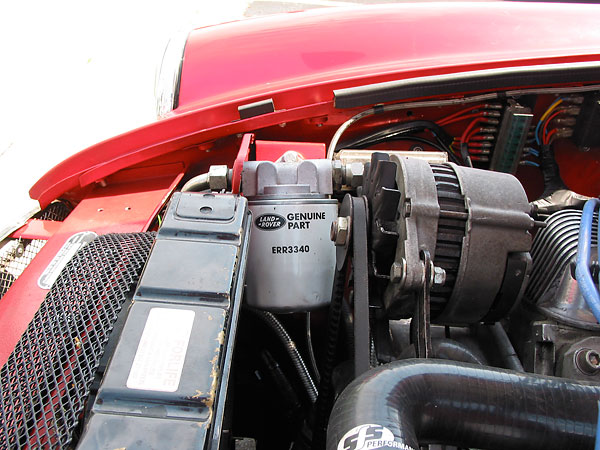 The remote oil filter is traditionally mounted here on British conversions.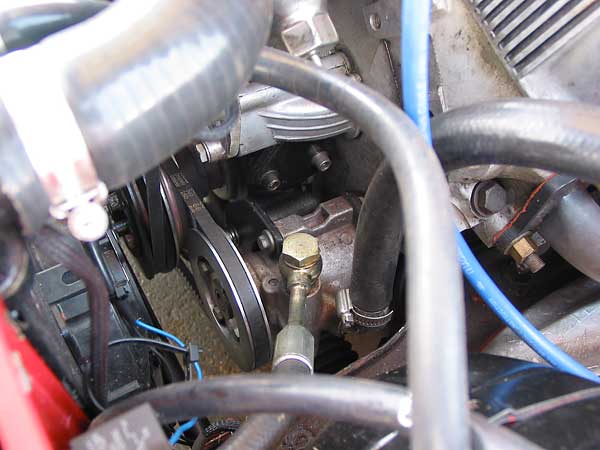 Power steering pump.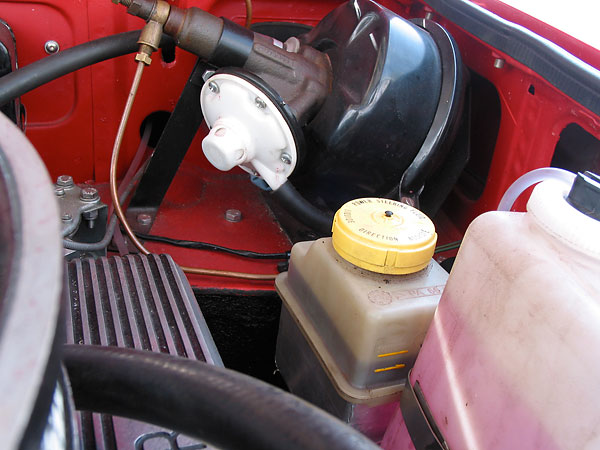 Power steering reservoir (and remote power brake servo).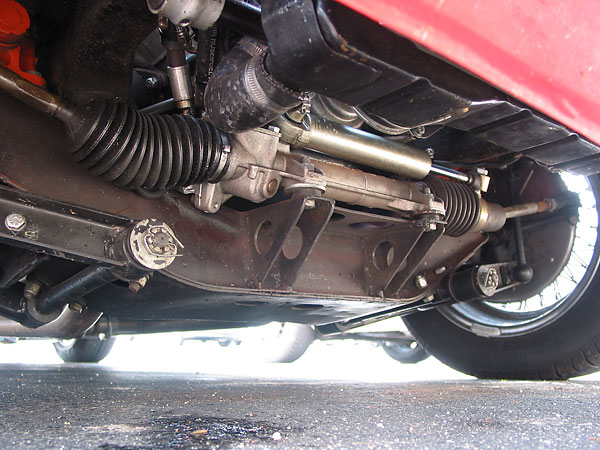 Hydraulically-assisted ("power") steering rack.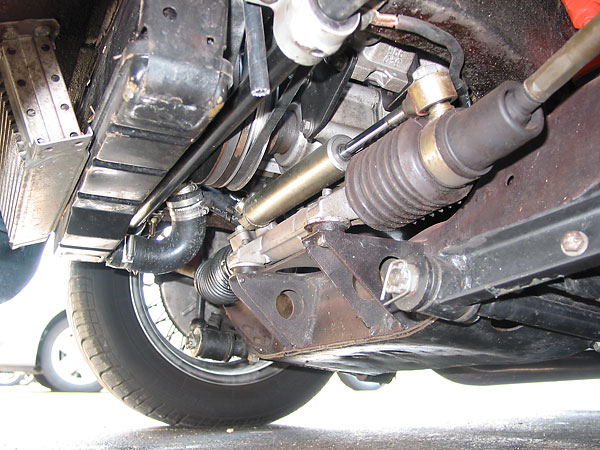 Notice that a modified front crossmember with different rack mounts is used.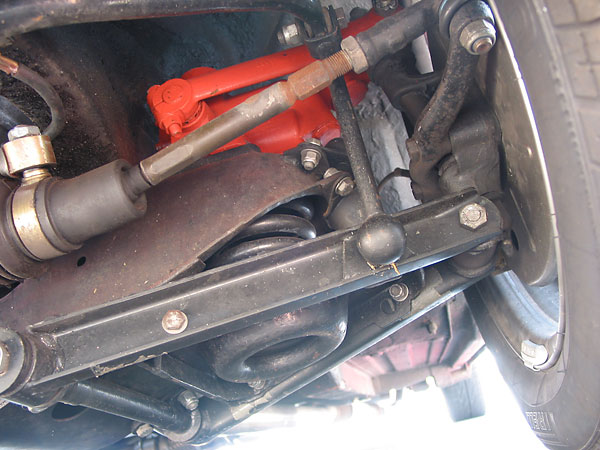 David reports that the MGOC power steering system somewhat increases minimum turning radius.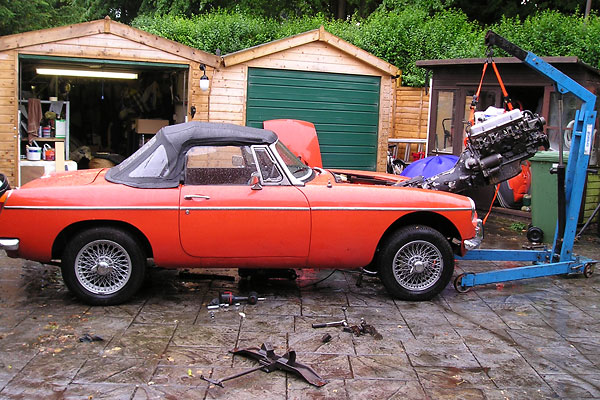 This in-process photo shows an earlier V8 installation being taken apart.
The earlier conversion featured an MGB 4-speed gearbox with adapter plate.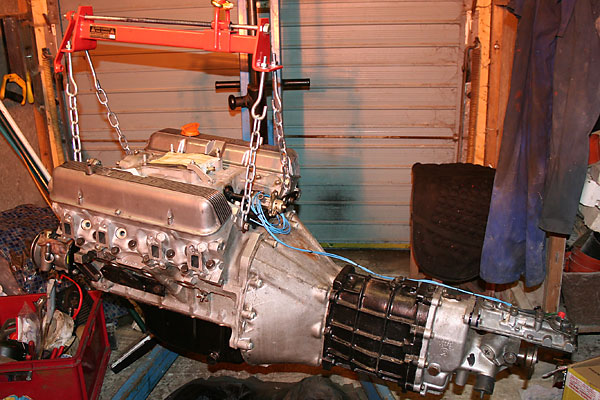 This photo shows the rebuilt Rover engine and the newer, stronger Rover LT77 5-speed.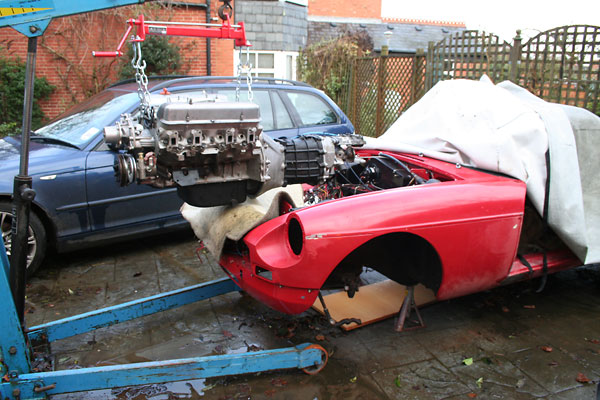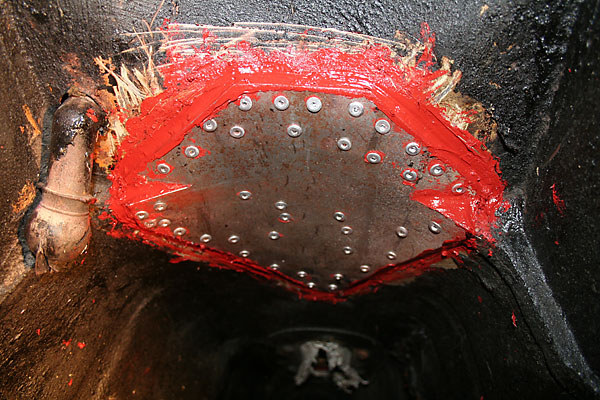 This transmission tunnel modification accomodates the height of the LT77 gearbox.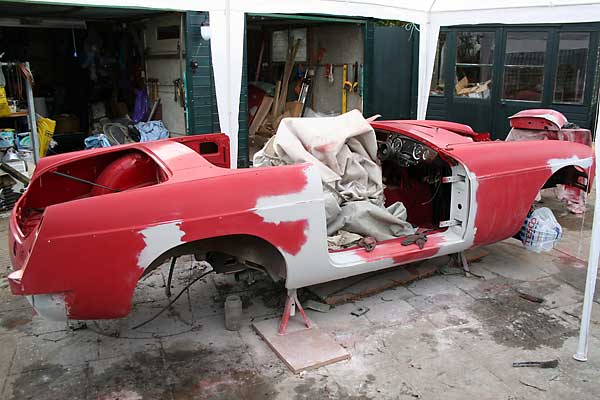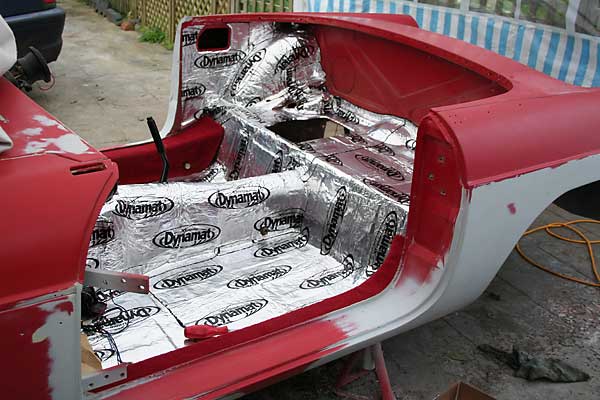 Dynamat Xtreme is a noise deadening material (elastomeric butyl) covered with a
protective layer of aluminum foil for protection and heat shielding properties.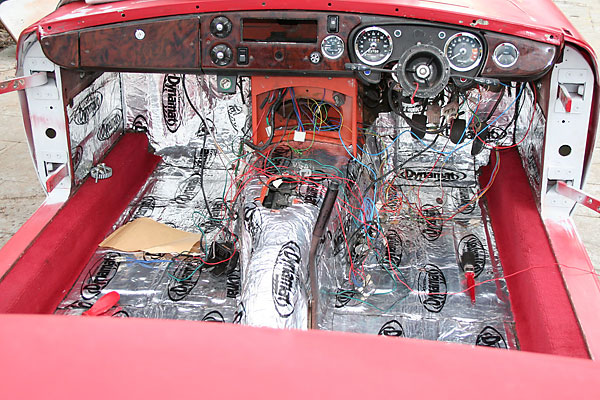 Enjoying this article? Our magazine is funded through the generous support of readers like you!
To contribute to our operating budget, please click here and follow the instructions.
(Suggested contribution is twenty bucks per year. Feel free to give more!)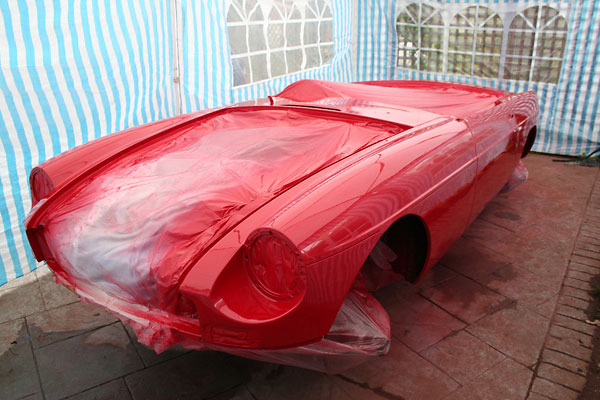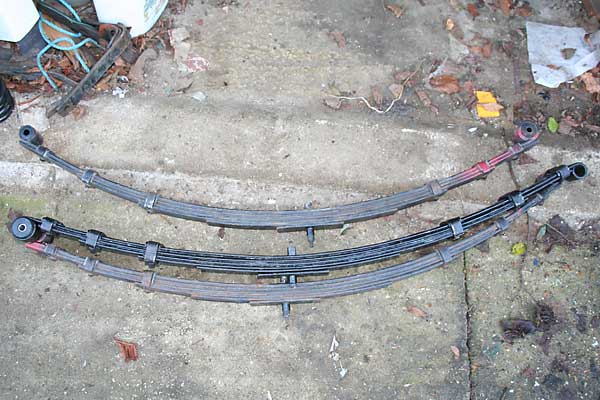 "Reverse-eye" leaf springs have been used to lower the car's ride height.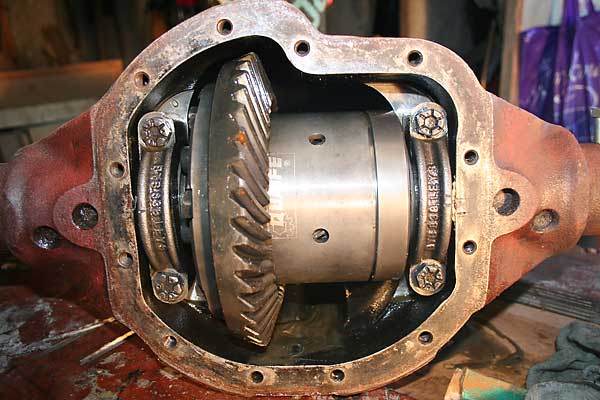 MG (Salisbury) axle, with 3.07:1 gears and Quaife limited slip differential substituted.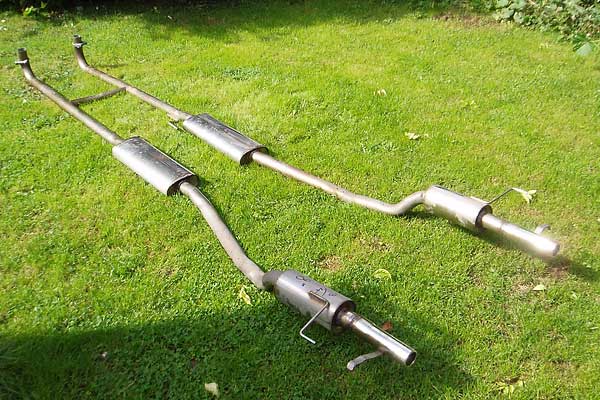 Stainless steel twin exhaust system, all the way back, with crossover pipe.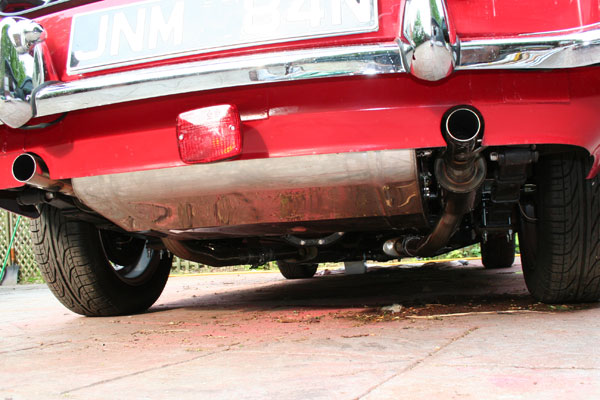 Stainless fuel tank, centrally positioned to accomodate dual tailpipes.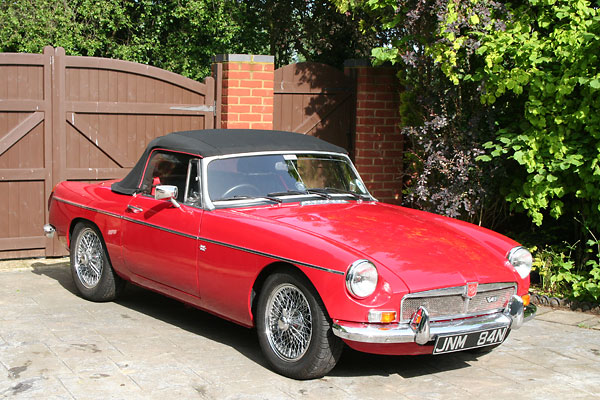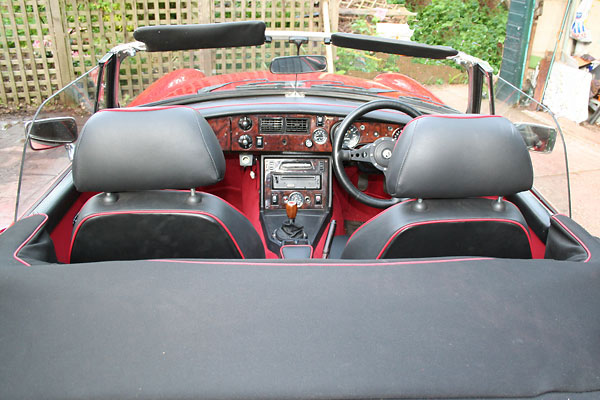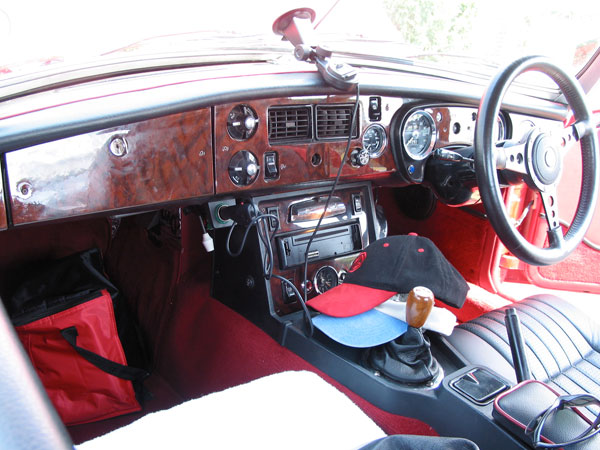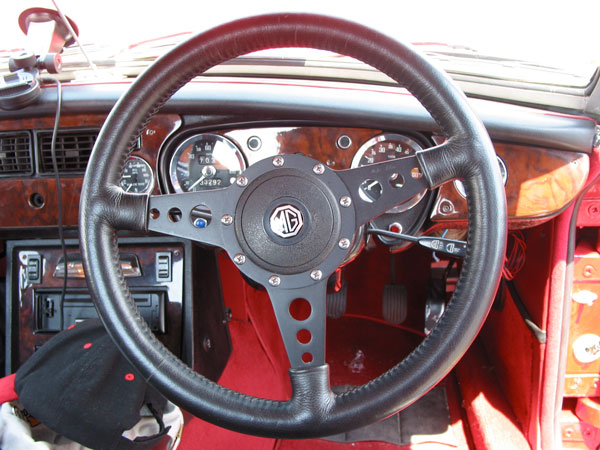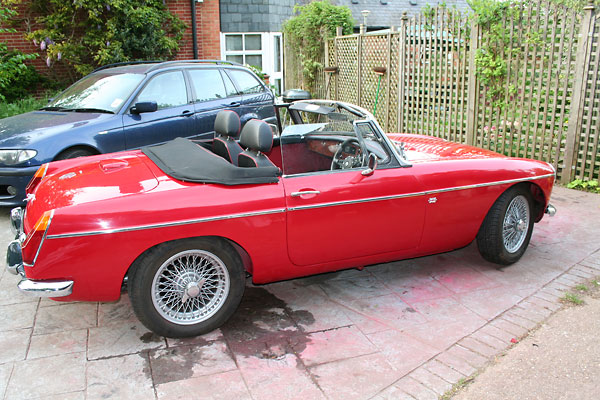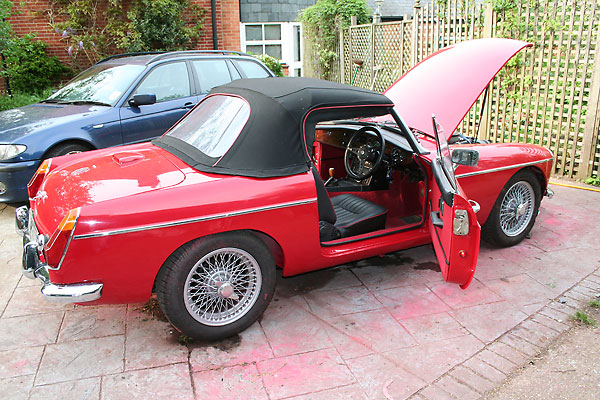 Insulated and lined Happich soft top with zip down rear window.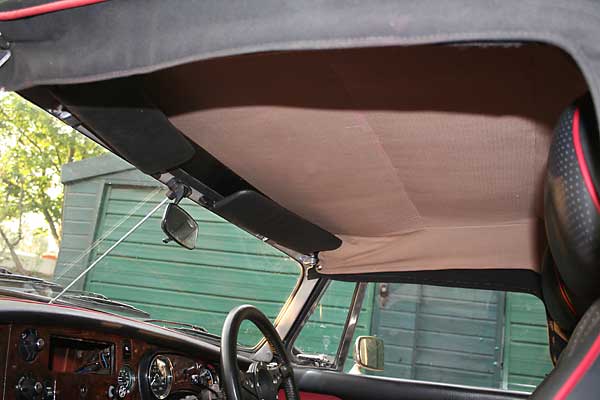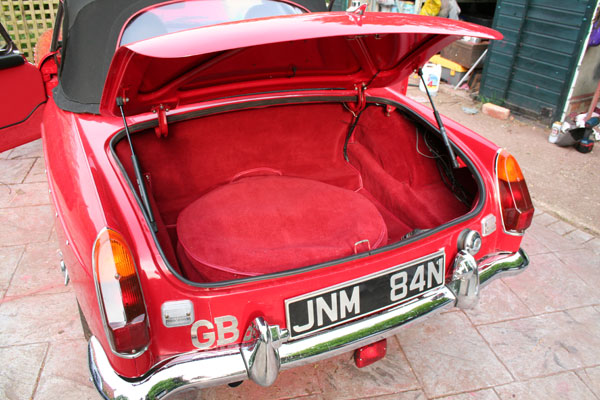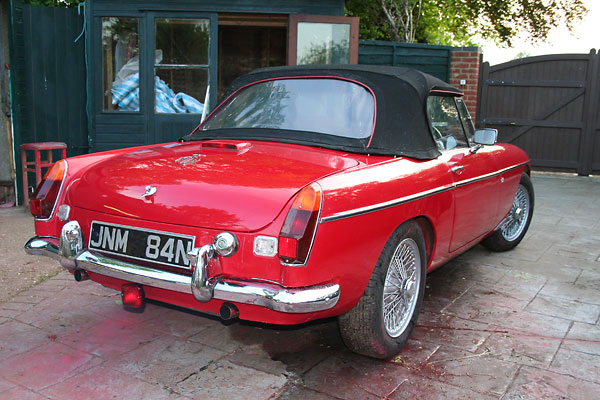 Hella's New Zealand division made the "Cabrio" cast-aluminum, high-mounted center brake light.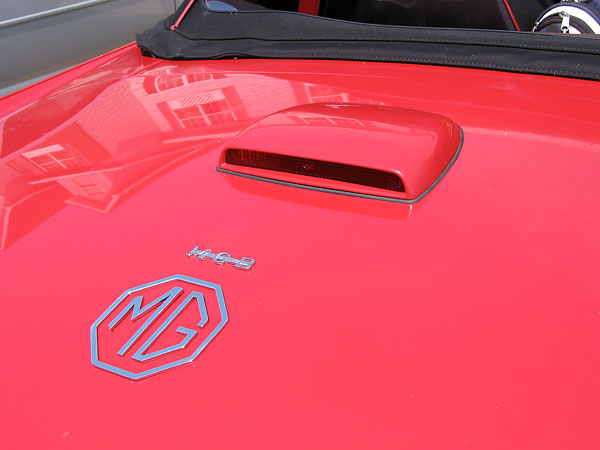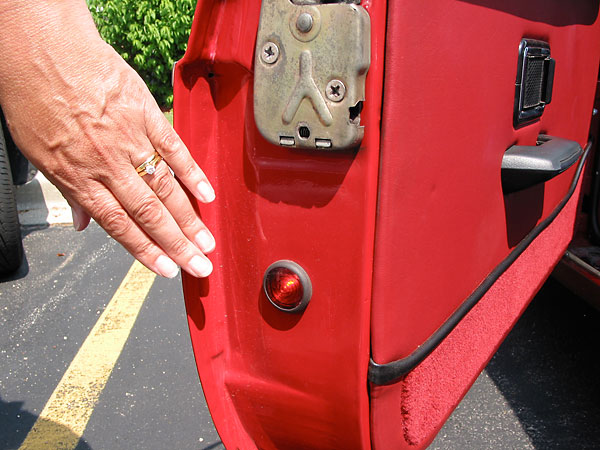 Terry shows us a nice additional safety feature - and her brand new wedding ring!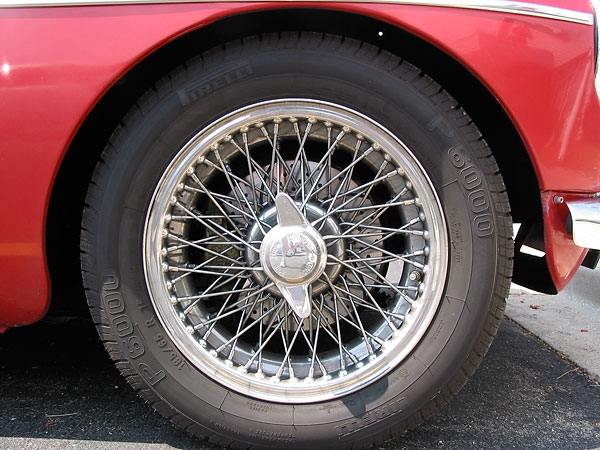 MGC (15") 70-spoke wire wheels with Pirelli 185-65 tires.