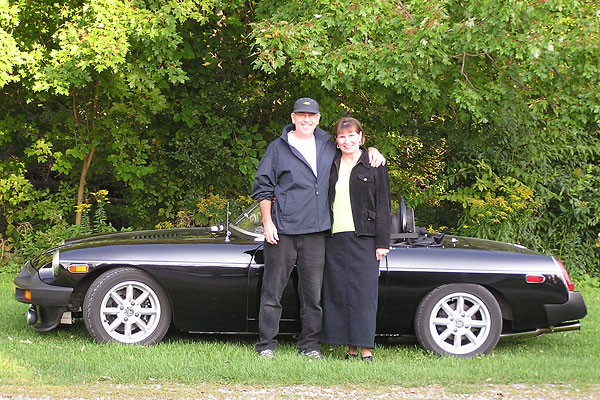 Martyn Harvey's 1980 MGB with Rover 3.5L V8
as published in British V8 Newsletter, Volume XIV Issue 2, August 2006

Owner: Martyn Harvey
City: Waterloo, Ontario CA
Model: MGB
Engine: Rover 3.5L
Conversion performed by: Larry Ellis (circa. 1992)
| | |
| --- | --- |
| Intake: | Offenhauser Dual Plane / Holley 390cfm 4bbl carb. |
| Cam: | Isky 262. |
| Engine Electrical: | Lucas original. |
| Cooling: | MGB V8 radiator. |
| Exhaust: | Clive Wheatley stainless. |
| Transmission: | Rover 5-speed. |
| F. Suspension: | uprated shocks, lowered springs. |
| R. Suspension: | custom 4-link with adjustable coil-over shocks and Panhard rod. |
| Brakes: | (Front) Toyota vented rotors and 4-pot calipers / (Rear) Nissan disc brakes. |
| Wheels/Tires: | MWS Minilights. |
| Interior: | Pontiac Fiero seats with Mr. Mikes leather covers, louvered hood, RV8 style top. |
| Performance: | 184HP at the rear wheels (dyno). |
| Completed: | 1996. |
| Miles Driven: | 40,000 (as of the British V8 2006 meet). |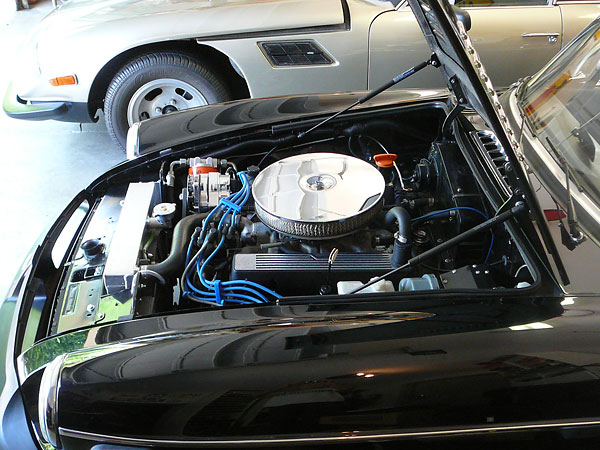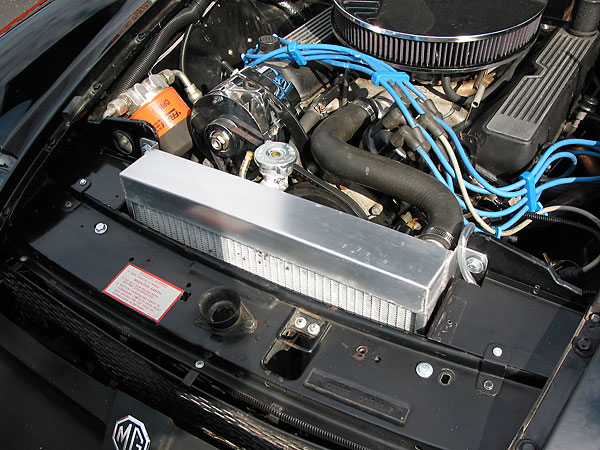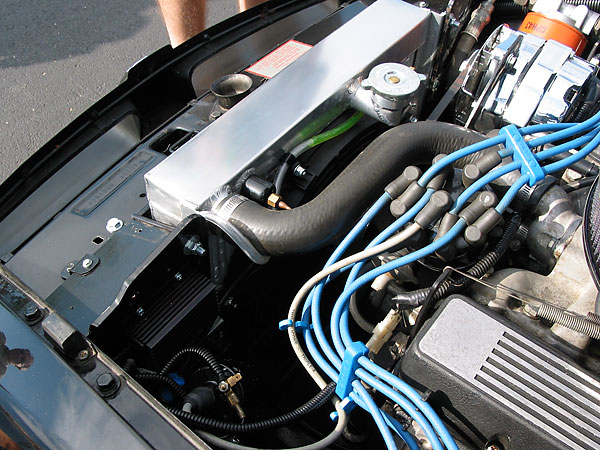 Notice the unique sheetmetal ducting added between the slam panel (where the hood latch is) and the radiator.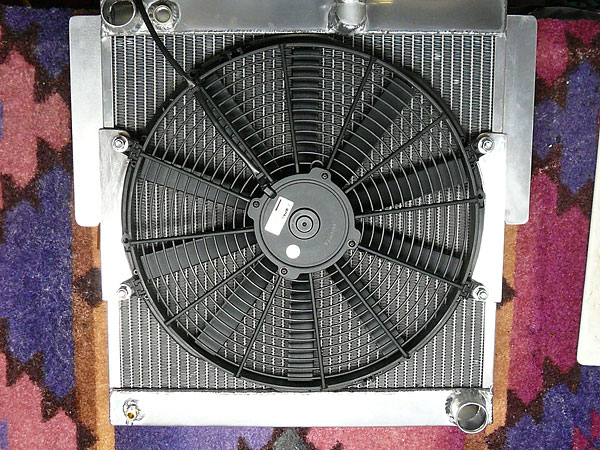 New aluminum radiator.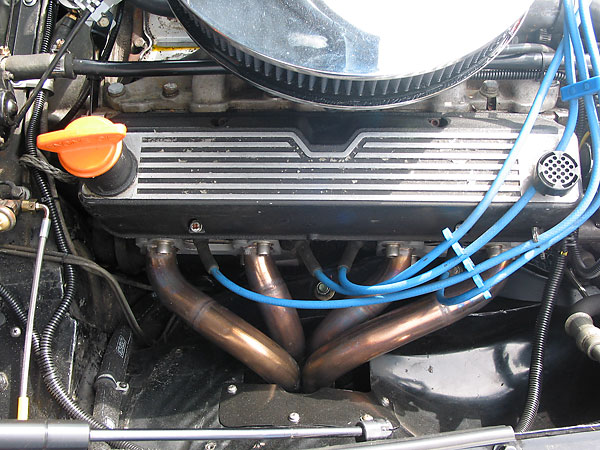 Stainless steel "RV8 style" through-the-inner-fender headers.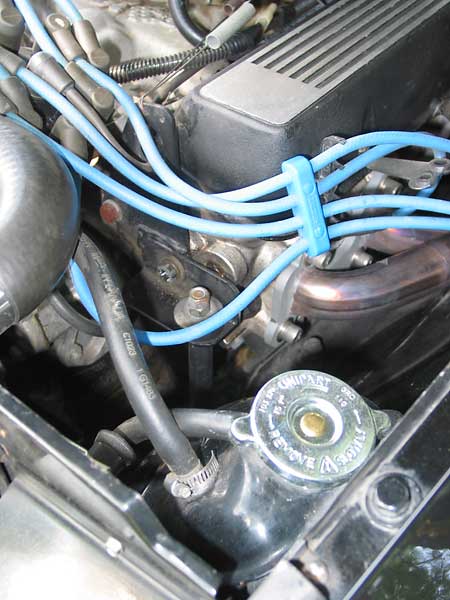 A supplemental torque rod limits rotation of the engine on its mounts.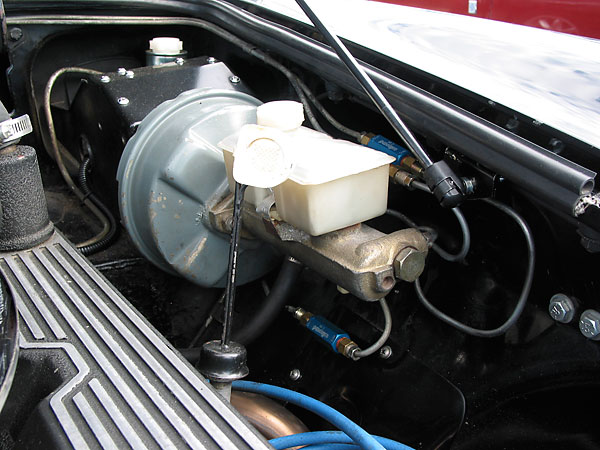 Wilwood residual pressure valves improve brake pedal feel.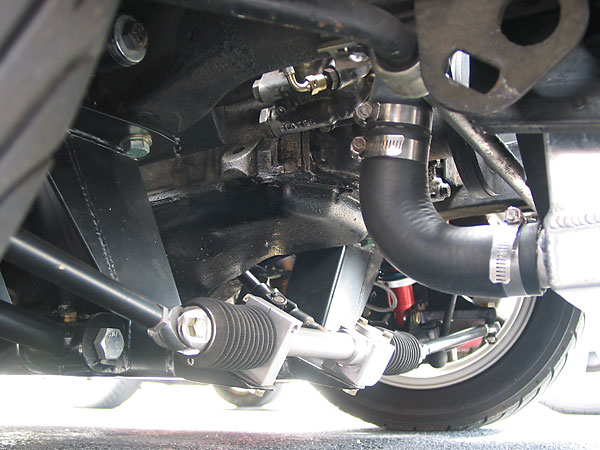 Fast Cars front suspension.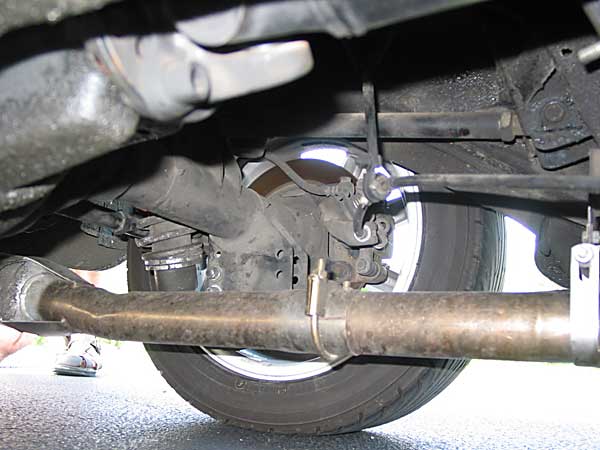 So much in one photo! Stainless steel exhaust... four-link suspension... disc brakes... Panhard rod...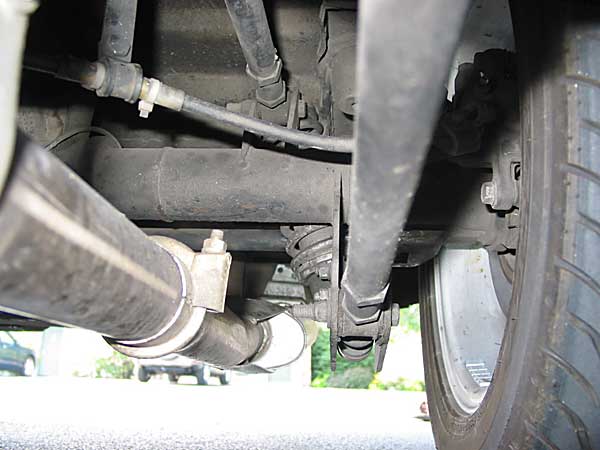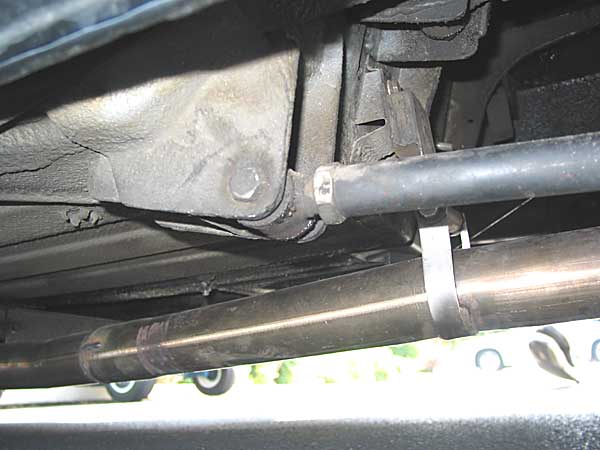 Battery boxes have been removed to make room for upper suspension links.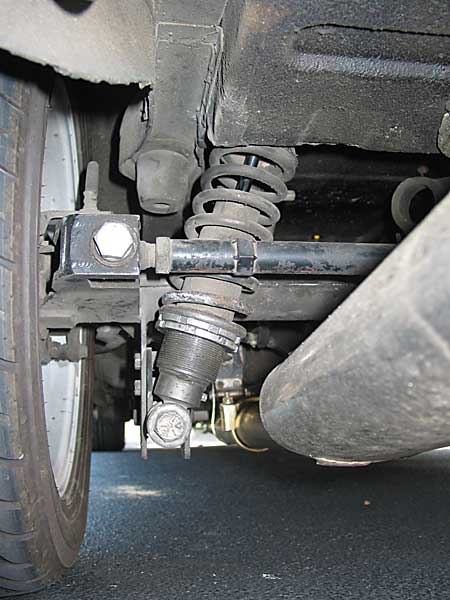 Threaded spring perchs facilitate fine adjustment of ride height, and balancing of "corner weights" side-to-side.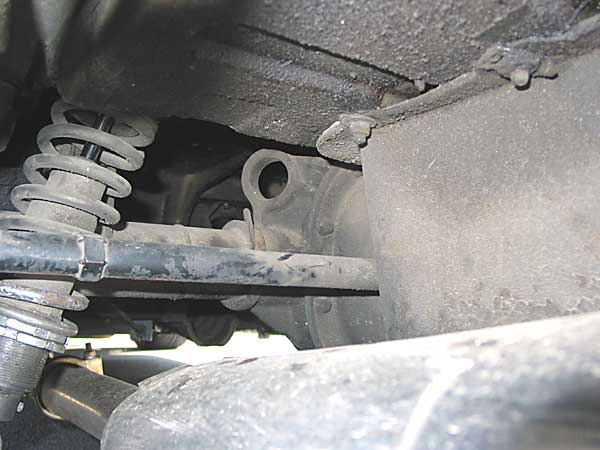 Ford 8.8 axle (you can tell by the pierced ears on its cast iron center section)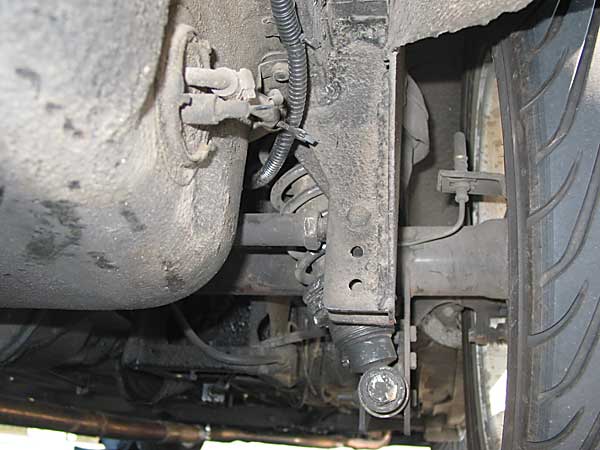 Pre-drilled holes facilitate re-setting the Panhard rod to level after ride height adjustment.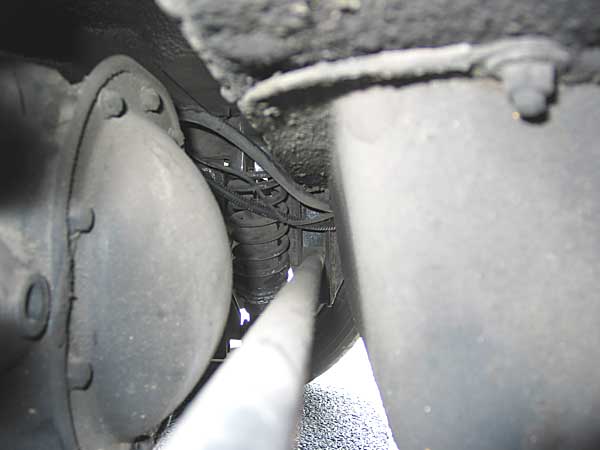 Panhard rod centered between axle and fuel tank; coil-overs centered between Panhard rod and axle.
With the Panhard rod mounted REARWARD of the axle it can be placed LOWER, which is generally very
desireable because Panhard rod location defines the rear roll-center of the suspension.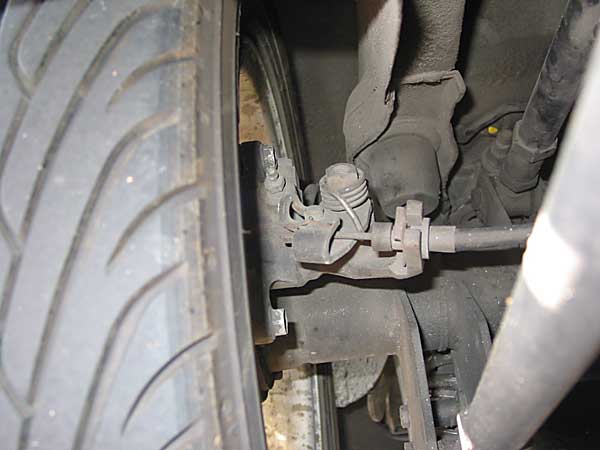 Early 90's Nissan 240SX calipers feature a cable-operated parking brake.
The Nissan 240SX rotors have MGB compatible (4x4.5) lug spacing.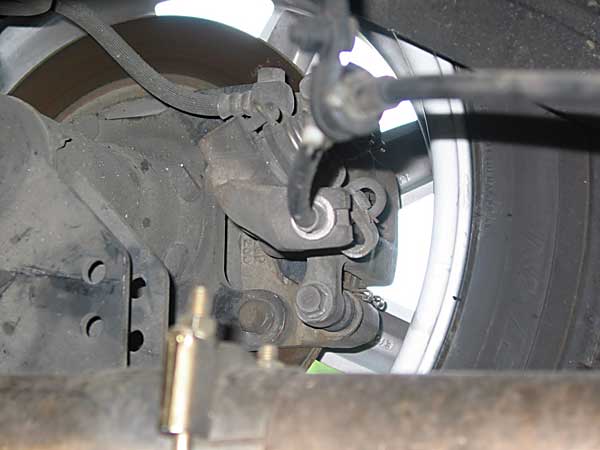 Installing an Advance Auto-Wire wiring system...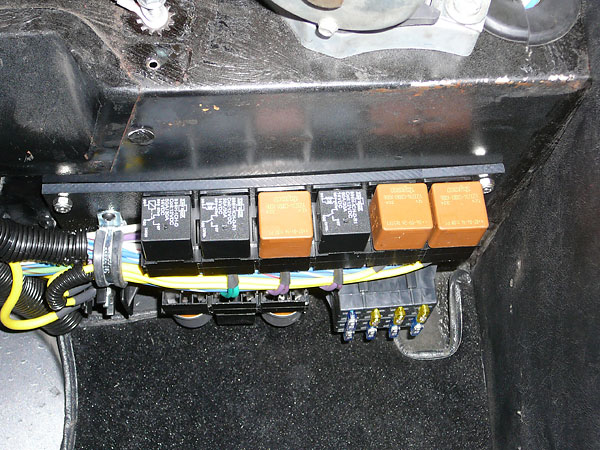 ...which includes more relays (7) and fuses (8).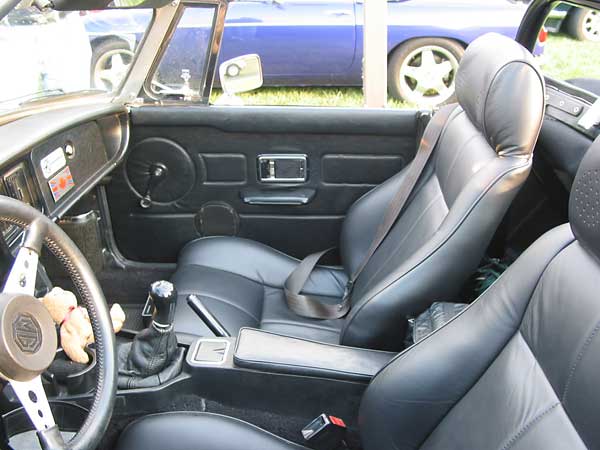 Pontiac Fiero seats with Mr. Mike's leather covers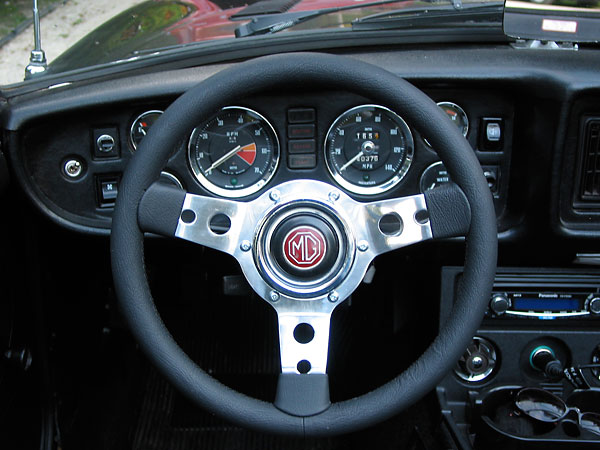 New steering wheel.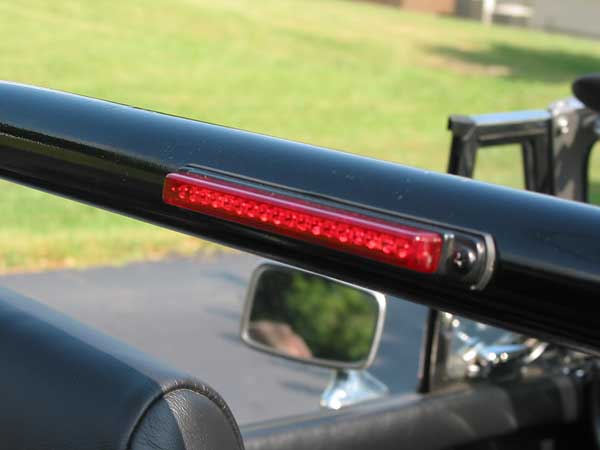 LED "third" brake light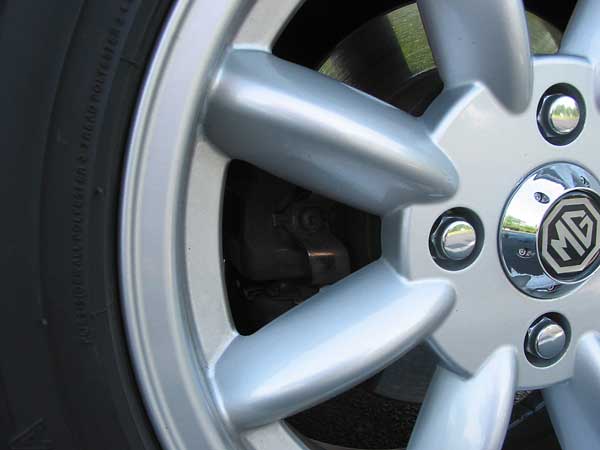 Nissan 240SX rear disc brakes, seen through 8-spoke wheels