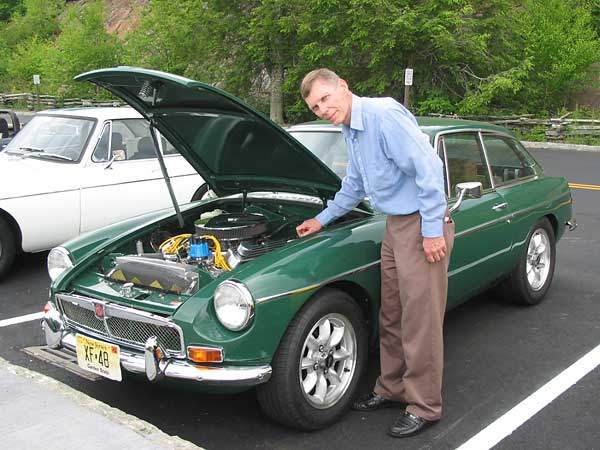 Larry Shimp's 1968 MGB-GT with Ford 302 V8
Owner: Larry Shimp
City: Morganville, NJ
Model: 1968 MGB-GT
Engine: Ford 302 V8 (crate motor)
Conversion performed by: Owner
| | |
| --- | --- |
| Intake: | Edelbrock Performer / Holley 650. |
| Cam: | XE268HR. |
| Engine Electrical: | Crane distributor, MSD ignition. |
| Cooling: | D&D aluminum radiator. |
| Exhaust: | stainless, 2.25" pipes, Edelbrock mufflers. |
| Transmission: | Borg Warner T5 5-speed (2.95:1 first gear / 0.63:1 fifth gear), Centerforce clutch. |
| Rear Axle: | Ford Scorpio axle (3.43:1 / LSD). |
| Suspension: | Hoyle Engineering front and rear suspension. |
| Wheels/Tires: | Panasport 15 x 6, 205/60/R15 Michelin tires. |
| Interior: | 1977 dashboard with VDO gauges. MGOC leather seats (which provide superior support, compared to the reupholstered original seats that Larry had previously.) |
| Performance data: | 26mpg highway. (Editor's note: Is that a tongue-in-cheek answer or what!) |
| Completed: | 2005. |
| Miles Driven: | 15,000 (as of the British V8 2006 meet). |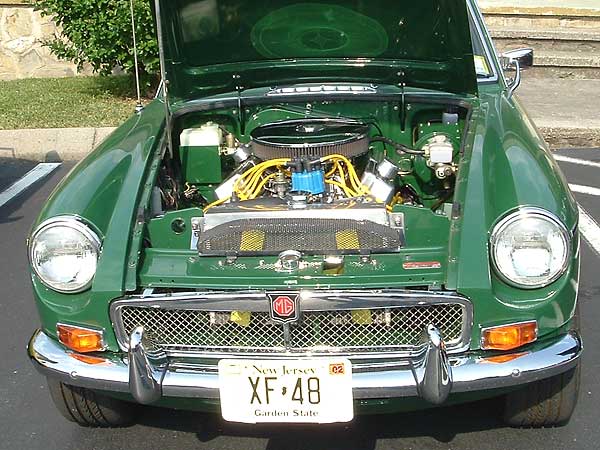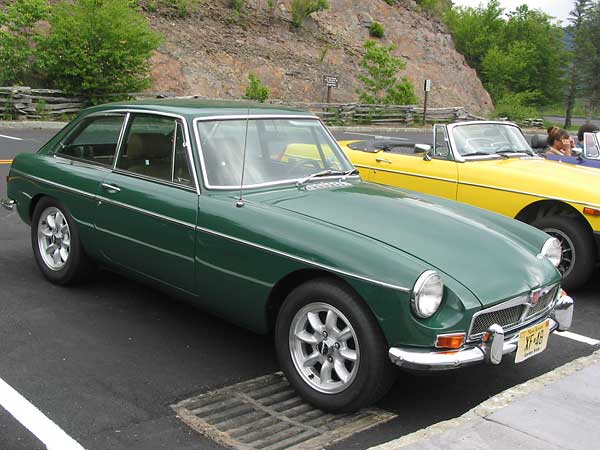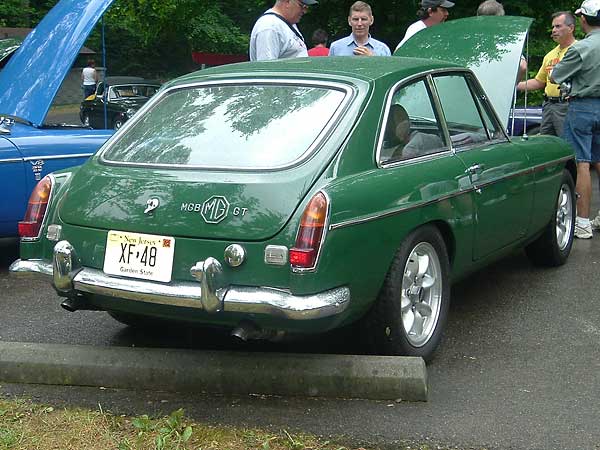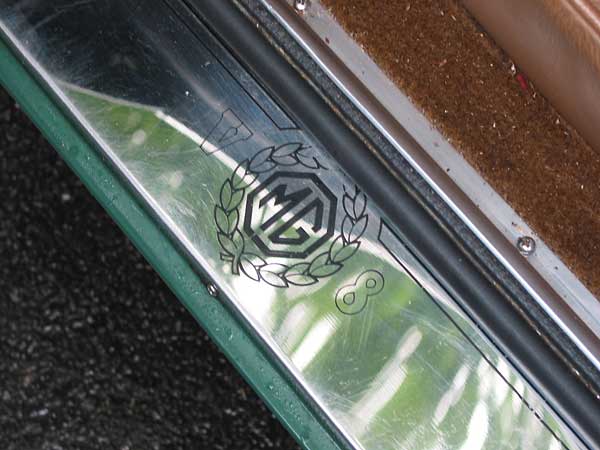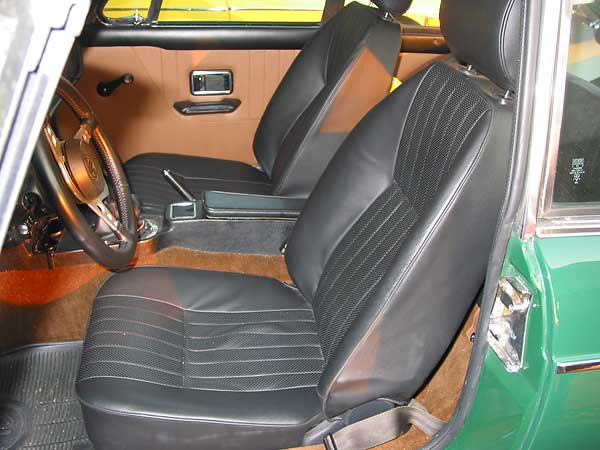 How It Was Done
(originally published in British V8 Newsletter, Volume 12 Issue 3)
Engine:
Ford 302 (New crate engine), w/ GT40 heads and B303 camshaft.

Induction:
Edelbrock 2121 manifold, Carter 9504 carburetor.

Exhaust:
home-made headers w/1.5" primary and 2.25" secondaries into a single Edelbrock muffler. (Editor's note: from the photos, it looks like he's already upgraded to a dual exhaust system.)

Ignition:
Mallory distributor and a MSD AL6 ignition controller.

Miscellaneous:
Explorer front timing cover and water pump. Serpentine-belt drive also powers a GM alternator and uses a Corvette tensioner. Brackets are home-made.

Transmission:
Borg-Warner "World Class" T-5, Ford-style (2.95/1.94/1.34/1/00/0.63) bought off eBay. Ford clutch (M7560-A301), bell-housing and flywheel. Tilton 7/8 Master Cylinder and CNC 5/8 Slave Cylinder.

Cooling:
D&D aluminum cross-flow radiator and stock MGB dual electric fans. TR-6 heater valve with MGB control head.

Front suspension:
John Hoyle IFS kit with coil-over adjustable shocks and tubular A-arms mounted on a modified rubber-bumper front cross-member.

Rear suspension:
John Hoyle IRS kit with a 3.38 Limited Slip Sierra/Scorpio differential. Shortened Sierra half-shafts, Sierra brakes and custom hubs. Adjustable coil-over tube shocks.

Brakes:
Stock in the front w/Sierra in the back. 1977 MGB power-assist system added.

Wheels:
Panasport 15x6 with Michelin Pilot 15x195/60.

Exterior:
Not painted yet. Engine compartment bulkheads from a 1974.5 donor car. Radiator supports and front suspension cross-member from a 1977 donor car.

Interior:
Seats from a 1974.5 B covered w/Moss Motors leather upholstery. VDO gauges in a 1977 dash.

Overview:
Original V8 conversion in June 2004 used Olds 215. Driven 2000 miles. Ford 302 installed in July 2004 and subsequently driven 1000 miles. Owner performed all work, and cost estimate runs in the $10K range.

Recommendations:
Consider using a Ford engine. I had both an Olds 215 and a Ford in this car. There was no difference in handling, steering or front-end height between the two, but the Ford engine was more fun! With proper carburetor and exhaust it will be even better. The only additional work required to install the Ford over the Olds was the need to make my own headers for the Ford.

Never get a car painted in NJ - it took 4 years and 5 shops to get a stripped body-shell interior painted. I've been waiting one year to get the exterior painted. The last shop I took it to started the car in gear and smashed it into the paint booth, crushing the front end and the left fender! The exterior is still not painted, and there are no good prospects in sight. When I lived in Colorado, I restored 2 cars, and both body-shells were painted in 6-8 weeks.

I'll install a dual exhaust, as the single-exhaust is too restrictive for the Ford engine. I'll also try a different cam with a lower, broader power range. I may upgrade the front brakes as well as the carburetor, but I haven't decided on what model carburetor to install.

I found it very difficult to get through NJ state inspection. Ultimately, I found an inspection shop that knew that the law allows engine conversions.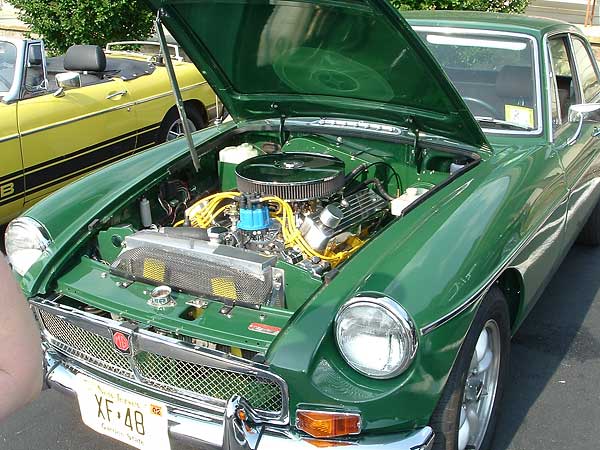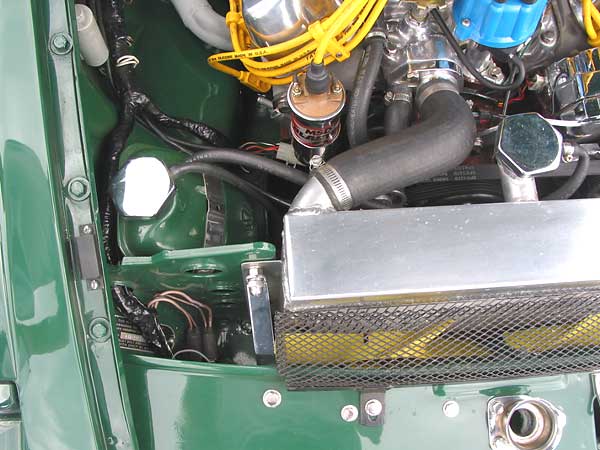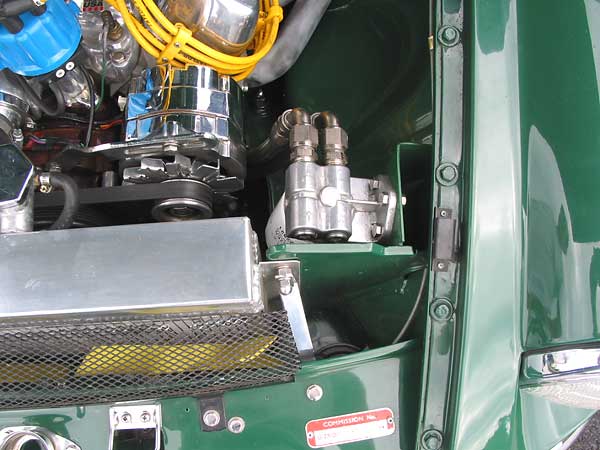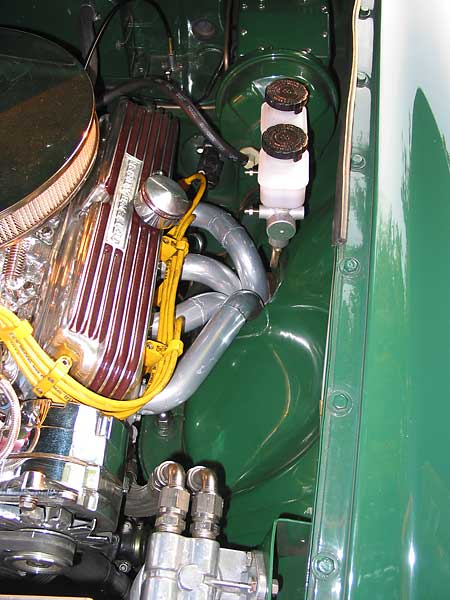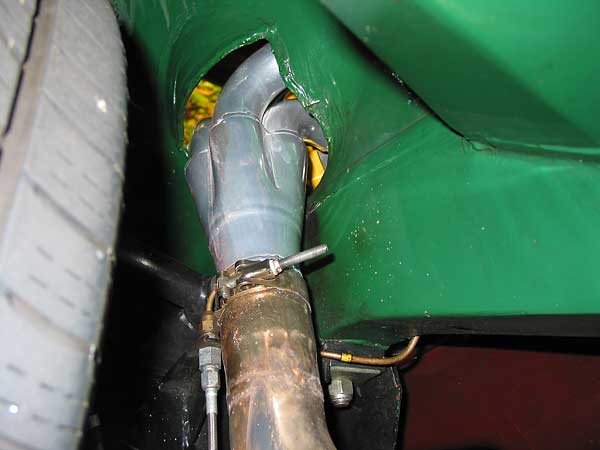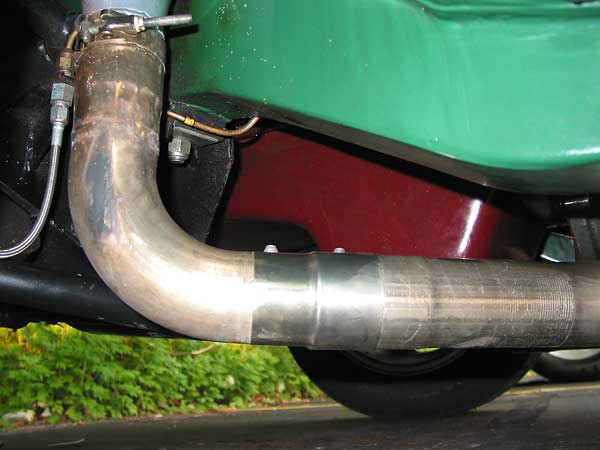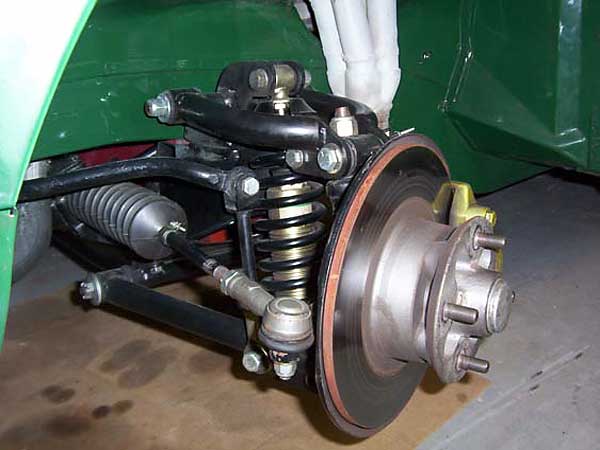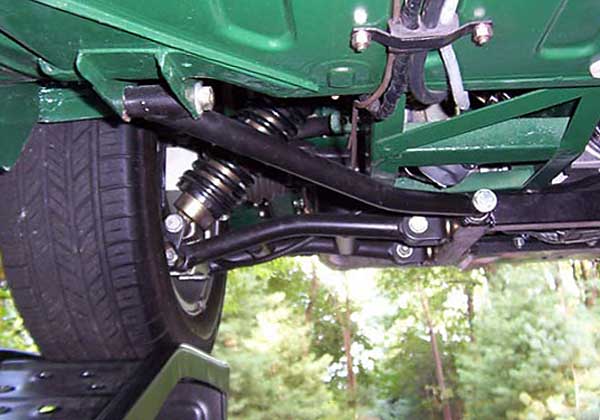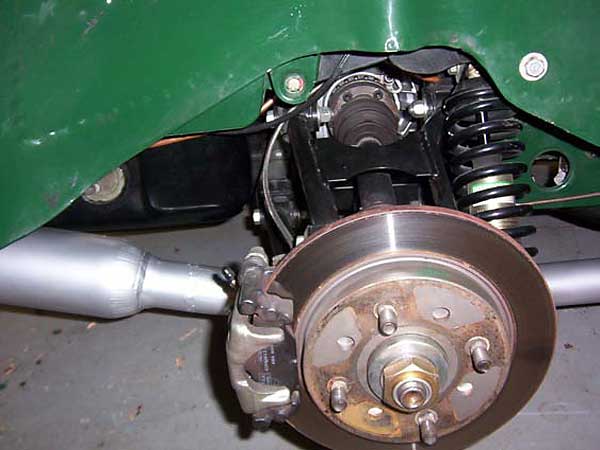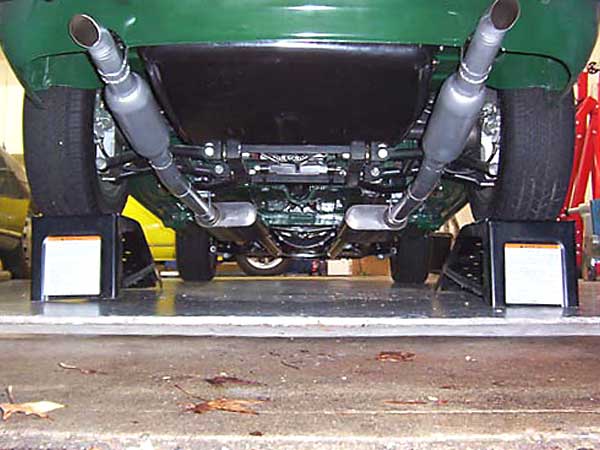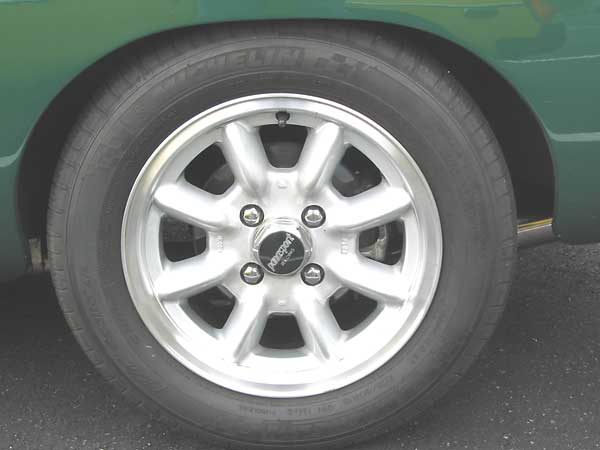 Update on The Conversion (1)
(originally published in British V8 Newsletter, Volume 13 Issue 1)

In the last issue I reported on the conversion of my MGB from an Oldsmobile 215 V8 to a Ford 5.0 V8. Since then I have made several improvements which are of interest because they reflect my experience with the car, and corrections of these minor issues greatly contribute to driving enjoyment. Any major conversion involves essentially re-engineering the car so it is unlikely that an amateur conversion will be optimal the first time around. Even a total restoration of a car back to original specifications usually requires some sorting out before the end result meets expectations.

My first upgrade was to replace the Carter 500 cfm carburetor with a Road Demon 625. All Road Demons have electric chokes and vacuum secondaries as well as 4 corner idle adjustments, accelerator pumps for the secondaries, adjustable secondary idle throttle stops, and most importantly, center hung floats. A real annoying problem with the Carter was that it cut out on hard cornering making it impossible to enjoy the full potential of the suspension capabilities. The Demon is unaffected by corners, and is also much better matched to the engine. I have not had the car dyno tuned, but I did find that a change to #73 main jets from the standard #70 jets was beneficial. Otherwise the carburetor is as it came out of the box.

A Holley carburetor could also be used as well as the Demon, but I do not think that a Carter/Edelbrock would ever work as well. In spite of the better carburetion, there was still a fuel problem. I noticed that accelerating fast in one gear went well, but performance was bad when shifting to the next gear and continuing to accelerate. For example, accelerating fast just in second went well, but accelerating fast in second after accelerating fast in first generated a huge flat spot. I suspected that the fuel pump could not keep up, and the fuel level in the carburetor was dropping. Therefore, I replaced the Carter electric pump (72 gph at 4-6 psi) with a Holley "red" pump (97 gph at 7 psi) and this solved the problem.

I replaced the Mallory distributor with a Crane small cap electronic distributor. The Crane distributor has 3 vacuum advance curves and 9 mechanical advance curves selectable by two micro rotary switches. The Mallory worked fine, but changing the advance curves is not nearly as easy as on the Crane. Because I plan on getting the engine dyno tuned some time I figured the easy adjustability of the Crane would save a considerable amount of expensive dyno time and therefore pay for itself. In any case, by trying most of the advance programs I feel I learned a lot about the timing needs of the engine.

Another benefit of the Crane distributor is that it is shorter than the Mallory distributor. The hood cross brace passes directly over the distributor and I had to move the cross brace forward to clear the Mallory distributor. With the Crane in place, I tried an unmodified hood and this did fit over the Crane distributor (with maybe 1/16 inch clearance over the coil wire terminal).

I replaced the B303 cam that came in the engine with a CompCams XE264HR grind. The new cam has a lower duration and a much wider lobe center separation than the B303. Being so much milder than the B303 the XE264HR cam would be expected to make less power. However, the XE cam has a higher lift and, because the aluminum heads can make full use of the lift, power is the same as or greater than with the B303 cam (according to published dyno reports). The big advantages are much more low-end power with the XE cam and far less exhaust emissions at idle. Emissions are important because I want to drive my car and so did not get antique registration for it. This means the car must pass emissions inspection and it would certainly have failed with the B303 cam.

Another major change I made was to the exhaust. As first installed it was a single pipe, 2 1/4 inch system. To replace it, I centered the gas tank and put in dual 2 1/4 inch pipes with an equalizer just behind the bell housing. Silencing is taken care of by a pair of Edelbrock mufflers backed up by Summit short bullet style glass packs. I highly recommend a dual, equalized system to anyone using an engine much beyond a mild 215 V8.

In a failed experiment I tried blocking off the intake manifold exhaust heat passages. The theory is that a cooler intake charge increases power because it of its higher density and less potential for detonation. This seemed ok as long as the weather was warm, but as soon as the temperatures dropped into the 40s it was a disaster. I opened up the passages and everything has been fine since.

The last change I made was to replace the polyurethane bushings in the rear suspension (it is a Hoyle independent system) with MGB V8 rubber bushings. To do so I had to fabricate sleeves for the bolts to compensate for the small bolt diameter relative to the bushing ID. The end result is a decrease in both road noise and harshness over small bumps. I really like the results, but they may be more significant for me because I have a GT. In a roadster, the improvement may not be as noticeable. One upgrade left is to do something about the front brakes. They are original MGB and are not up to the performance level of the rest of the car. I am still looking into the best solution for this.

All of these refinements have made the car very easy to live with on a daily basis. I can just drive it and not be annoyed by quirks in the throttle response, excessive vibration at idle and other minor things that conspire to make the car tedious over the long haul. I have not done any formal performance testing but the car seems to be effortlessly fast. I typically take freeway entrance ramps in 4th gear in what seems a relaxed pace only to find that I have to brake at the end to match the 70 mph traffic flow.
Updates To The Conversion (2)
(information added 12/15/2006 and 4/15/2007...)

Since June, I've replaced the axle shafts with stronger, custom made items. This was required because I broke one of the original shafts and twisted the other... I also found a way to install an MG Midget rear sway bar to the Hoyle suspension. (See photos below.) I've discovered I can fit 16 x 7 wheels with 215 width tires, with no fender flares. This is one advantage of setting 2 degrees of negative rear camber! However, the wheels and tires will have to wait until later.

Other changes include polishing the timing cover and having it chromed. Also, I've found that a high-performance Rattler damper can be adapted to replace the Ford Explorer damper that normally has to be used with the short timing cover and water pump, and I got my headers silver ceramic coated while the car was out of service waiting for the new axles.

Editor's note: detailed coverage of Larry's upgrades to the Hoyle IRS can be found in "Hoyle IRS Suspension Mods: New Anti-Sway Bar and Stronger Axles" which appears in British V8 Newsletter, Volume 14 Issue 3, December 2006. Larry also contributed "MGB Power Brake Upgrade: Fitting a Wilwood Master Cylinder" to that issue, and "Performance Carburetor Selection and Set Up" to Volume 15 Issue 1, April 2007.
| | |
| --- | --- |
| | |
| New, stronger axle shafts. | Sway bar connection to lower control arm (shown at full droop). 1" aluminum pillow blocks are mounted under the battery boxes. New axle shaft is also visible. |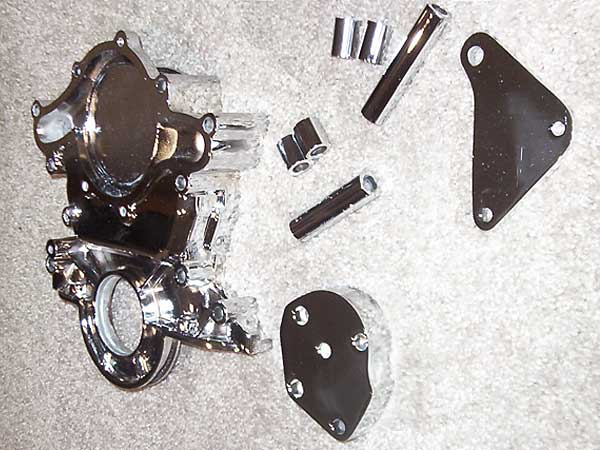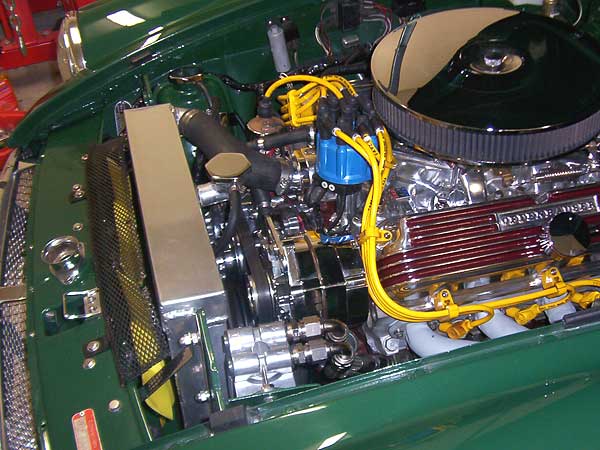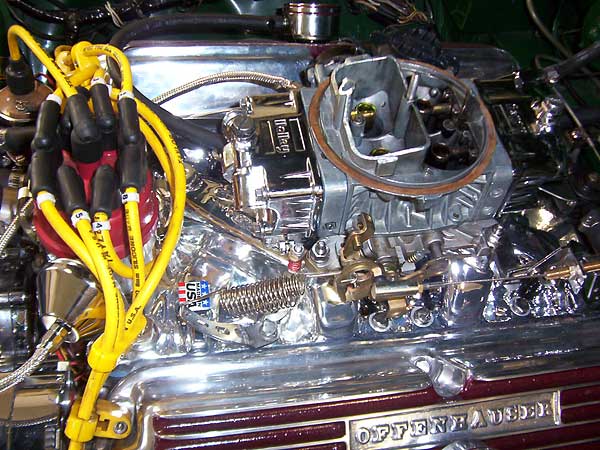 Updates To The Conversion (3)
(British V8 2008 photos, featuring: new wheels/tires, exhaust system improvements, new sound insulation, etc.)