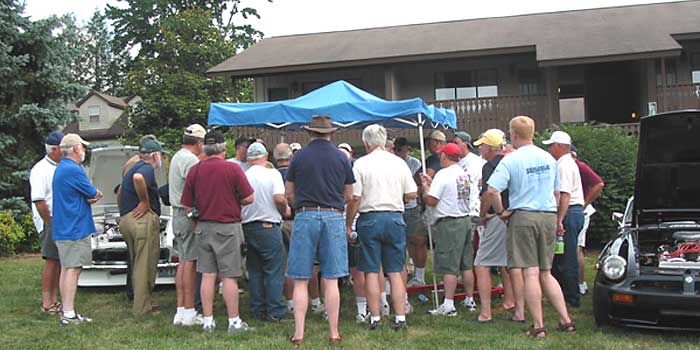 Pete Mantell's tech session on MGB Ford 302 engine conversions was very well-attended!
British V8 2006 Tech Session: MGB Ford 302 Engine Conversions
as published in British V8 Newsletter, Volume XIV Issue 2, August 2006
presented by: Pete Mantell of Mantell Motorsport
coverage by: Curtis Jacobson with assistance by Pete Mantell
The purpose of Pete Mantell's tech session was to introduce and discuss a few Ford 302 V8 related components that will make MGB engine conversions easier. Many of these parts aren't widely known, or are hard to really appreciate if not seen in person.
Before the session even started, Pete arranged with the owners of eight Ford 302 conversions to line up their cars on the grass to aid with the tech session and provide a great back drop. It was probably the largest collection of Ford 302 V8 powered MGB cars ever assembled! I'm sure it was also a great aid to meet attendees who are still planning their projects.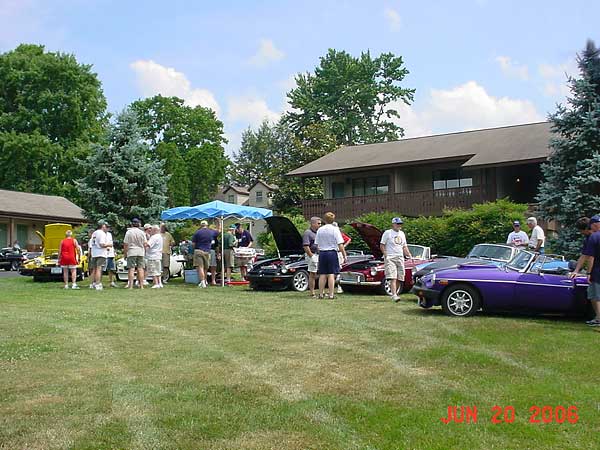 MGB's owned by (L to R) Gil Price, Pete Mantell, Dave Kirkman, Graham Creswick, Kelly Stevenson,
& Dale Spooner. Not shown in photo: Steve Carrick's & Larry Shimp's cars.
(Note: all eight of these cars are featured individually in our "Photo Gallery"!)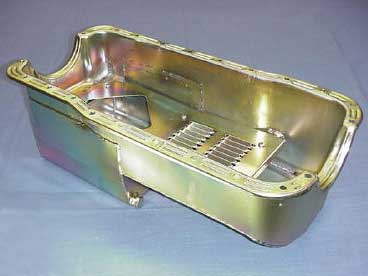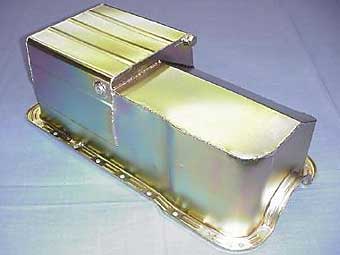 Quality Roadsters rear sump oil pan for Ford 302
Pete started the discussion unconventionally from the bottom of the engine and worked his way up. This Quality Roadsters brand oil pan (made by Canton) is interesting: with its rear sump, baffles, and windage tray it almost looks like it was built for MGB 302 conversions. A quality piece and a work of art in its own right, it can be procured from Mantell Motorsport or Breeze Automotive.
Next Pete showed a real gem of an engine block from Ford Motorsport (M-6010-F302). This all-aluminum block weighs in at 100 lbs as opposed to 160 lbs for the cast iron block. It also has 4 bolt main caps for added strength, 8.200" deck height and can be stroked to 380 cubic inches. With a forged stroker crank your MGB would really scream, and saving 60lbs off of the nose of your conversion wouldn't hurt either.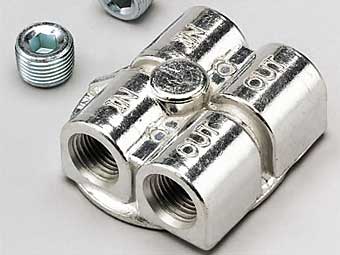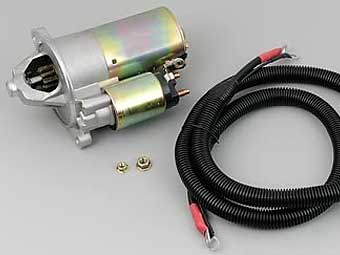 Trans Dapt Oil Filter Adapter and Ford Motorsport gear reduction starter
The next part we looked at was the Trans Dapt Performance (part number 1413) oil filter bypass adapter. An adapter like this is usually absolutely required because the Ford engine's filter mounting boss is just forward of the driver's side motor mount, projecting horizontally staight into structural steel.
Another item Pete showed was a high torque gear reduction mini-starter from Ford Motorsport (M-11000-A50). Not only does this starter save 5 lbs compared to a stock 302 starter, but it provides easier starting, especially for higher compression installations. Pete recommends gear reduction starters for compression rations over 9.5:1. Even for lower compression installations, this starter provides more torque per amp so it may help you get by with a little bit weaker or lower capacity battery. (Why carry around more lead and acid than you need?)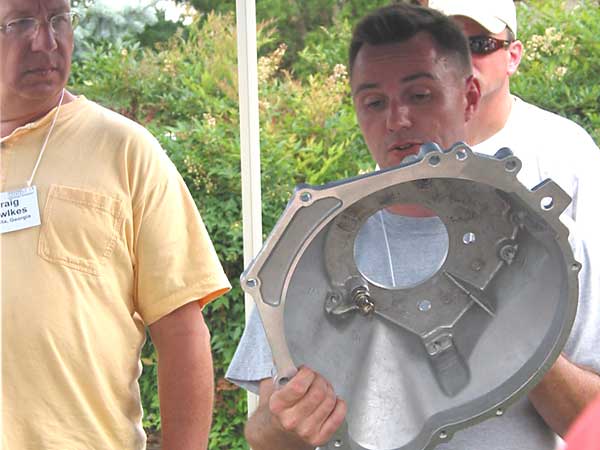 Pete holds up a Ford Motorsport bellhousing.
Pete showed two different bellhousings that have been used successfully for MGB conversions: one from Ford Motorsport and the other from Fortes Parts Connection. In the photo above, Pete shows a cast aluminum bellhouseing from Ford Motorsport. This is a stock replacement for the 87-93 5.0 Mustang and it's very lightweight. It makes an ideal bellhousing for our application.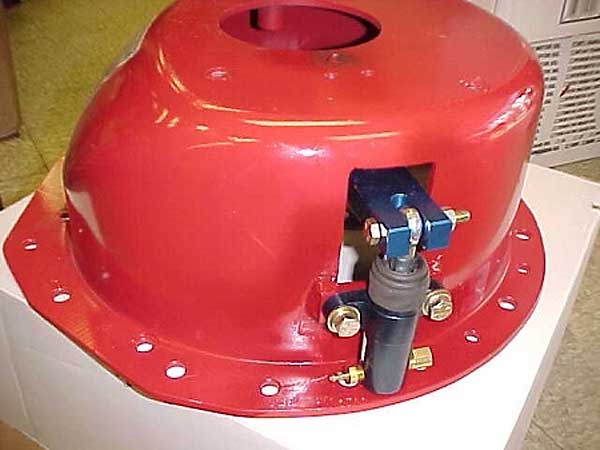 Modified McLoed bellhousing with external slave cylinder.
This next one is a modified Mcleod bellhousing by Mike Fortes of Fortes Parts Connection. Compared to a typical hydraulic throw out bearing installations, Pete explained that this installation requires less clutch pedal effort. Ideally suited for drag racing, this bellhousing is designed to be "scatterproof". In other words, its heavy gauge steel walls will safely contain catastrophic failure of a pressure plate or flywheel.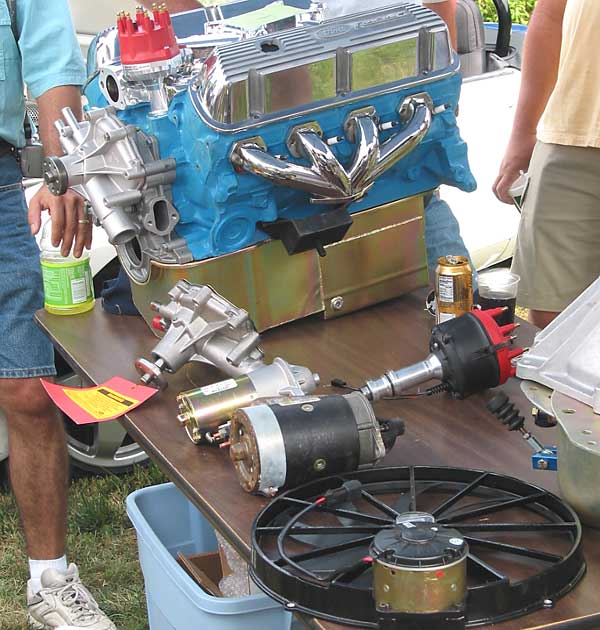 Plastic 302 long block with various ancilliary parts installed.
On the table in front of him, Pete had layed out a wide variety of parts. The blue engine block you see near the top of the frame is actually plastic! This mock-up engine is made by PAYR products and is extremely useful in any 302 conversion. Pete says it has paid for itself over and over and is worth every penny to him in time saved. Notice that the engine comes as a "long block" (in this case everything's actually molded together as a unit,) but that it has all the mounting bosses you'll need to try out different ancilliary and accessory components.
The motor mounts shown attached to the engine are from an early 60's Mercury Comet. They're very compact and can be easily used in an MGB conversion. They're also easy to find and purchase locally.
One way to save space in front of the engine is to use a "shorty style" water pump. The pump installed on the mock-up engine assembly is a Ford Motorsport part number M-8501-E351S shorty aluminum pump with clockwise (regular rotation). Pete reported that he's used this pump and has been very happy with it. For comparison purposes he also displayed a stock pump, as shown on the table.
Another way to save a little space in front of the engine is to use a nifty new kind of electric fan with an offset, belt-driven motor, as shown on the table. This new product is called a "Sidewinder Fan" and it's available from The Fan Man. (You can also see one of these Sidewinder Fans as installed on Robert Milner's MGB-GT in our website's photo gallery.)
What about hood clearance? You can save a little room on by using a low profile distributor. The one shown installed is an MSD (part number 8579), which shaves off about an inch compared to the tall MSD "Pro Billet" distributor on the table.
Enjoying this article? Our magazine is funded through the generous support of readers like you!
To contribute to our operating budget, please click here and follow the instructions.
(Suggested contribution is twenty bucks per year. Feel free to give more!)
Pete displayed and discussed two sets of headers. The headers shown above (bolted to the mock-up engine) are the new stainless-steel block hugger type just introduced by Fast Cars Inc. These headers are beautifully crafted. One interesting small detail is that they're slightly assymetrical to provide clearance to the Ford motor mounts.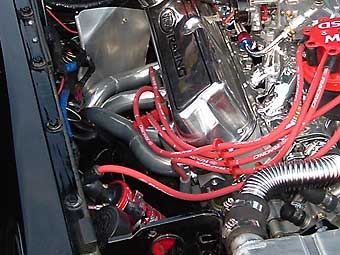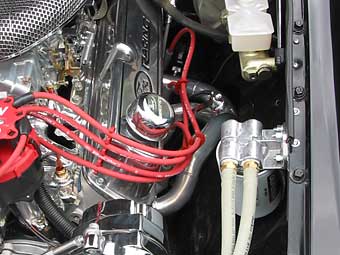 Coyote Conversions "RV8 style" headers (shown on Dave Kirkman's MGB) exit through the inner fender.
Pete also showed a set of "RV8 style" through-the-fender-well headers by Coyote Conversions. These are specially tailored for MGB engine conversions. They require you cut a little MGB sheet metal, but one benefit of that is hot air can then more easily escape from the (high pressure) MGB engine compartment into the (comparitively low pressure when moving) wheel wells. This can be a really important benefit for MGB engine conversions! Obviously the primaries are significantly longer too.
Pete Mantell's tech session was hugely informative. It was great to see so many conversion parts assembled together where we could pick them up, look at them, and discuss their various features. Of course one reason people like to use Ford engines in the first place is that there's a wide variety of high performance parts available for them. Pete's session helped us sort through the choices. The completed cars (including two converted by Pete himself) also helped us see how they apply to our own engine conversion applications!
Disclaimer: This page was researched and written by Curtis Jacobson and Pete Mantell. Views expressed are those of the authors, and are provided without warrantee or guarantee. Apply at your own risk.