1994 MG RV8 Right-Hand to Left-Hand-Drive Conversion, plus! (owner: Scott Miller)
Rare: Scott Miller's Unique Left-Hand Drive MG RV8
as published in British V8 Newsletter, Volume XIV Issue 2, August 2006

by: Greg Myer

"What is so rare as a day in June?" asked poet James Russell Lowell.

Boy, do I have an answer for him! The fact is I saw it on that perfect day in June at the British V8 Meet in Townsend TN. It is an MG RV8 that belongs to Scott Miller of Bexley, Ohio.

MG RV8's are rare in the world to begin with. There were only about 2000 built in a short production run. They were hand assembled by Rover at Cowley; starting with bodyshells produced by British Motor Heritage, the same group that produced replacement MGB bodyshells starting in 1988. In fact, it was on these "Heritage" MGB shells that the MG RV8 was based.


Compared, for example, to the MGF (and MGTF) built from 1995 through 2005 of which 117,149 were built, the MG RV8 is quite rare indeed. Of the 1,982 MG RV8's built, only 307 stayed in Jolly Old England. 92 went to Germany and Holland, and the remaining 1,583 went to Japan! Since that time a number of Japanese-market RV8's have made their way to Australia, New Zealand, and even back to the UK....but not the US. Why? Well one reason is that every original-production MG RV8 was built with right-hand-drive steering. Scott's wasn't.
Looking at Scott's MG RV8 you might think it was all factory-built, but it wasn't! Scott began his project in 2001 when he got in touch with an individual in the UK who was selling a set of OEM RV8 body panels. This individual had also commissioned Heritage to build a "one off" body-shell for use with these panels. Scott bought the entire package, and had it crated-up and shipped here in pieces.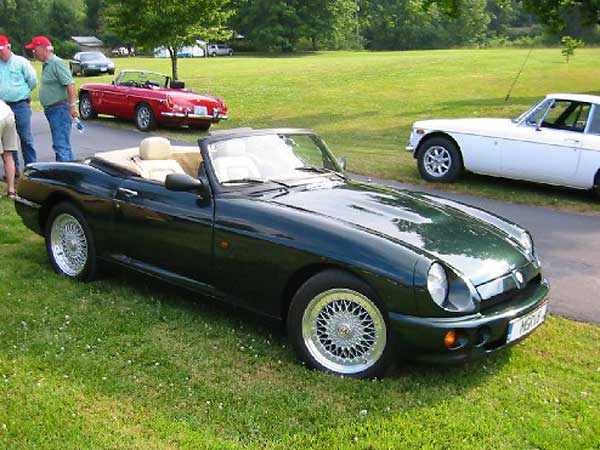 Scott's RV8 at the BritishV8 2006 meet in Townsend TN

Very good, you might be thinking: "Just bolt everything together, right?" Wrong! In fact the project tested Scott's patience, abilities, and commitment. For example: aligning the rear quarter panels was a significant challenge. They used a jig to do this at Cowley. This is a very tedious process when done by hand.

There were other challenges. The majority of the wiring harness was scratch-built. The interior fabrication was farmed out and had to be done entirely from pictures.

And how about left-hand drive? The majority of the car was assembled from OEM RV8 parts purchased and shipped from the UK. Scott's steering, however, is based on an MGB rack. The easy part was getting the rack. The hard part was integrating it with the steering column and dashboard trim.


Enjoying this article? Our magazine is funded through the generous support of readers like you!
To contribute to our operating budget, please click here and follow the instructions.
(Suggested contribution is twenty bucks per year. Feel free to give more!)
Think about what had to be done to make this conversion work. The dash had to be built in a mirror image. Glove box on the right, gauges on the left. (Scott procured OEM RV8 gauges, produced by VDO.) After much research, Scott was able to locate someone in England who had created fiberglass molds of the crash-pads in LHD form. The wood trim insert was custom made for Scott by the company who supplied the originals to British Motor Heritage. The metal backing plate was a RHD unit that Scott reworked into LHD form. The dash itself was custom made from burled elm, and is a thing of beauty. The leather work (crash pads, center console, and interior panels) was done by a Columbus OH based trim company. Pedals? Gas, brake, and clutch pedals, with respective master cylinders and linkages, presented more challenges. Scott estimates that all of these changes added at least one year and $10K to the project.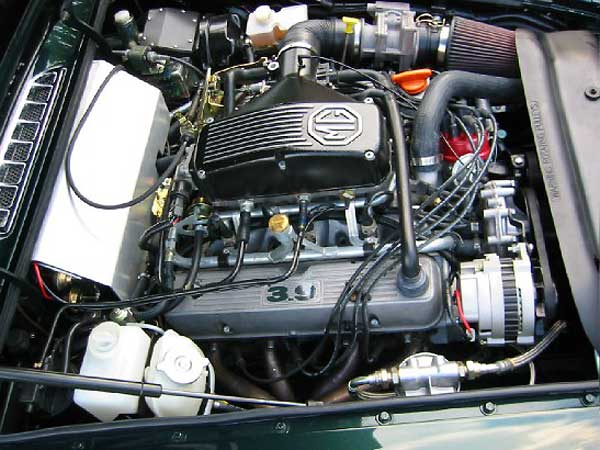 Scott's carefully detailed engine compartment

There are other specification differences between Scott's car and standard MG RV8's. One difference is the engine. The stock RV8 used the Rover 3.9 liter V8, whereas Scott's engine is a "4.0". What's the difference? The 4.0 is an upgraded 3.9 that includes cross-bolt mains and improved block webbing, plus stronger connecting rods, etc.

Notice the MG logo on the plenum of Scott's fuel injection system, just like the factory RV8's. The gasoline is supplied by a Bosch GPH fuel pump. All of the power is transmitted through a Rover LT77 five-speed gearbox, which is the exact model used in the stock RV8 (with ratios of 3.32, 2.09, 1.40, 1.00 and 0.79:1 respectively.) The gearbox was purchased through Victoria British.


Scott used an MGB rear with an MGC 3.07:1 ring and pinion fitted. The factory-built RV8's had 3.31:1 rear axle ratios and were rated at 135 MPH top speed. Factory cars used 205/65/VR15 tires, whereas Scott was able to squeeze 205/55/VR16 tires under the front and 225/50/VR16 tires under the rear. They're mounted on Compomotive CXN 3-piece modular wheels. All of this is controlled by an MGR V8 front suspension with up-rated Koni coil-over shocks. In back Scott chose to fit a composite leaf spring, with damping from Koni shocks. Anti tramp bars, a Panhard bar, and a front anti-roll bar complete the suspension. The brake system features 4-pot vented rotors up front and drums in the rear, actuated by an MGB master cylinder and servo.
So far, Scott has driven his RV8 approximately 2300 miles since its completion - but of course "completion" is a relative word. Scott has many plans for enhancements, so the car may never be truly completed.
When one thinks about the MG RV8, it seems natural to compare it to its predecessor: the classic MGB GT V8. Even by that standard, RV8's are comparatively rare. There were 2591 MGB GT V8's built, and a good handful have made their way to the US. Virtual replicas of them have been assembled in garages and back-yards all around the world. Still, any MGB V8 is a fairly rare car. With less than 2000 MG RV8's built, and with every single one except Scott's featuring right-hand drive, it's easy to see that he's got a very rare car - both rare and well done!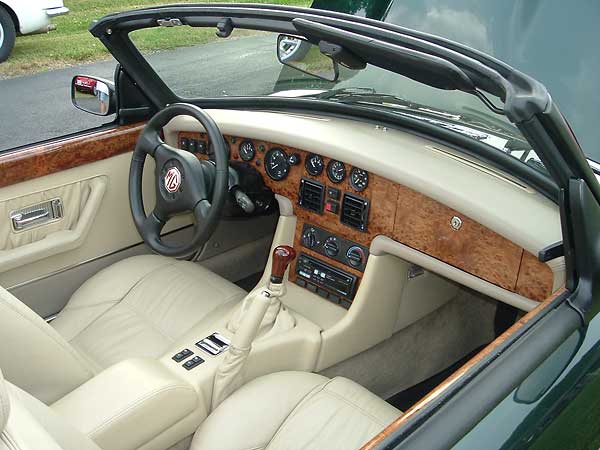 Scott Miller's One of a Kind Left-Hand-Drive RV8 Interior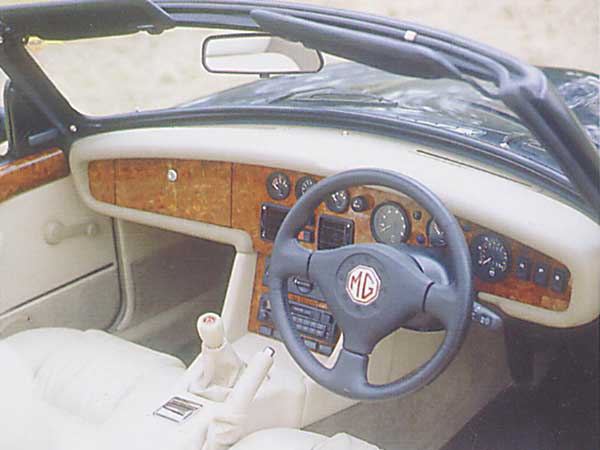 Reference: Standard (RHD) RV8 Dashboard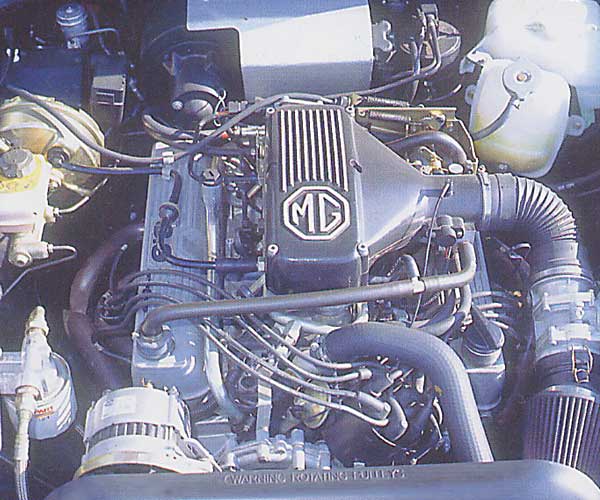 Reference: Standard (RHD) RV8 Engine Compartment

Disclaimer: This page was researched and written by Greg Myer. Views expressed are those of the author, and are provided without warrantee or guarantee. Apply at your own risk.

All rights reserved.

---
See more picture's of Scott's RV8 here:
www.britishv8.org/MG/ScottMiller.htm