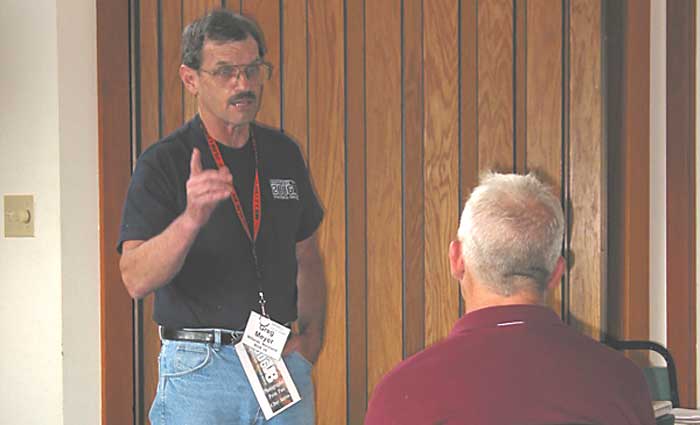 Greg Myer Explained How to Install an Advance Auto-Wire Wiring Kit
British V8 2006 Tech Session: Installing a Wiring Kit
as published in British V8 Newsletter, Volume XIV Issue 2, August 2006
presented by: Greg Myer for Advance Auto-Wire
coverage by: Curtis Jacobson
Greg Myer accepted the prestigious honor of getting to present his tech session first at this year's British V8 meet. Having recently completed installation of an Advance Auto-Wire wiring kit in an MGB V8 project car, he was certainly well qualified to present the installation from a user's perspective, and to provide lots of practical advice for other potential customers.
The one piece of advice Greg most emphasized was to read and re-read the installation manual. Wiring installation requires new skills that are foreign to most of us. It's one part of the engine conversion process that particularly requires thoughtful planning, careful attention to detail, and good craftsmanship... Greg explained that the job is easily "do-able", and that the Advance Auto-Wire kit makes some aspects of the job easy, but this still isn't something that one should plunge right into.
Wiring diagrams and electrical schematics are important aids. Greg suggested taking the wiring diagrams to a photocopier ("Kinko's", "Copy-Max", public library...) and blowing them up onto 11 x 17 paper. It's a great idea for these reasons: you can make plenty of extra copies, and you can write notes right on the copies to your heart's content. Pick up a highlighter pin or three while you're there, and also consider laminating a copy of the schematic for long term preservation.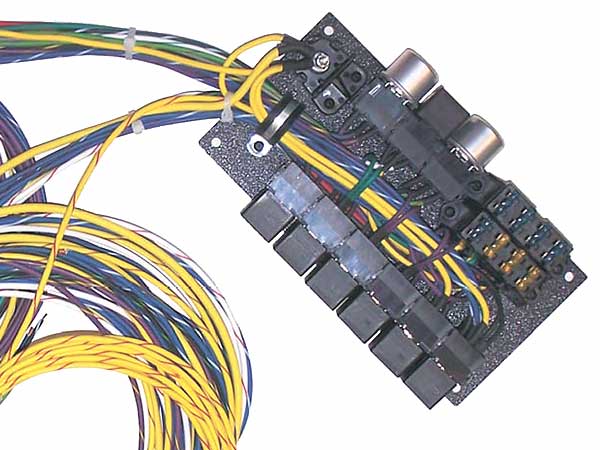 Relays switch high current loads with grace, so more power is available for work. (One result: brighter headlights!)
The Advance Auto-Wire wiring kit has a centralized circuit protection and relay block mounted on a sheet metal panel. The first decision an installer should make is where to mount this "electrical center". It should be someplace well-protected and isolated from excessive heat, and it should be accessible for future service. A typical place would be upside-down under the passenger-side of the dash.
Enjoying this article? Our magazine is funded through the generous support of readers like you!
To contribute to our operating budget, please click here and follow the instructions.
(Suggested contribution is twenty bucks per year. Feel free to give more!)
Greg outlined the basic steps:
Disconnect the battery...
Carefully remove the old harness, noting where the factory ran the original wires to the engine compartment, etc...
Mount the electrical center...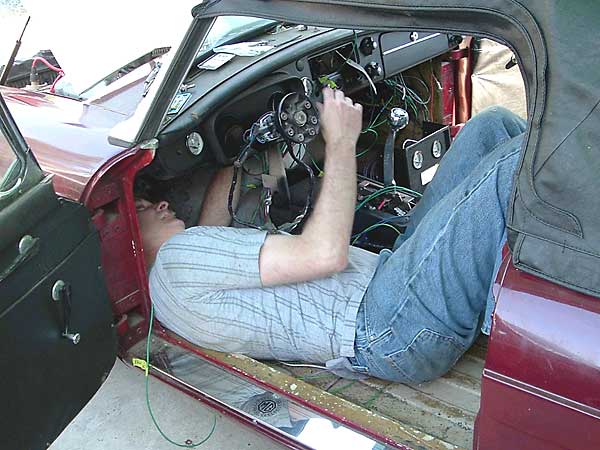 Greg and his friend Larry Nicholas (shown here) recently re-wired this MGB V8 project car.
Pull the color-coded wires to their respective locations, and leave them longer than needed at first. Greg paused here, and suggested that this point in the process would be an excellent time to take a break and re-read the manual. Good advice!
Now, before everything is carefully buttoned up, is the time to make sure wires haven't been crossed along the way. One by one, individual components are connected and checked to see if they're functioning... but while checking wires with live power it's important to make sure other wires are safely isolated from ground so that they won't short circuit and burn-up. Go slowly, starting in one area and completing as much as possible there before moving on to the next.
Greg confessed that the engine compartment is easier to wire than the dashboard: "Shoot, the whole engine swap is easier than wiring the dash!" But when you finish you'll have a lot of satisfaction with a job well done, and you'll know that the electrical system is safe and up to handling the more strenuous needs of your higher power, more modern British sports car. Your headlights are going to illuminate a lot farther down the road with lower resistance wiring!
Disclaimer: This page was researched and written by Curtis Jacobson. Views expressed are those of the author, and are provided without warrantee or guarantee. Apply at your own risk.
Note:
If you like this article, you'll probably also like "
Rewiring the MGB
" by Jeff Howell, which appeared in Volume XIII Issue 2 of the British V8 Newsletter.