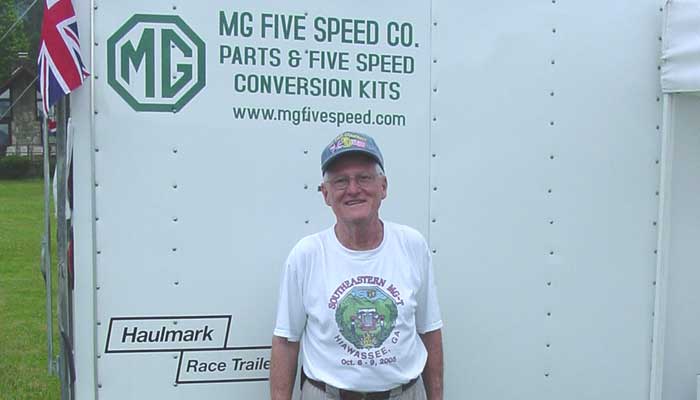 Jim Hall presented the MG Five Speed Company's front disc brake upgrade kit for MGB
British V8 2006 Tech Session: MGB Big Brake Upgrades
as published in British V8 Newsletter, Volume XIV Issue 2, August 2006
presented by: Jim Hall of the MG Five Speed Co.
coverage by: Curtis Jacobson
Their are numerous kits available now for upgrading the front brakes of an MGB to a four piston caliper and to large, vented brake rotors. Jim Hall of The MG Five Speed Company presented a tech session on his company's offering, which is probably the lowest price kit currently available.
The main thing that differentiates the competitive kits is what brake rotor is selected. The MG Five Speed Company provides a rotor that is 10.86" (276mm) in diameter, an even 1.0" (25.4mm) thick, and which is zinc-plated to prevent rust on its non-friction surfaces. The rotor bolts to the stock MGB front hub.
Like competitive solutions, the MG Five Speed Company's "big brake kit" utilizes Wilwood four-piston aluminum calipers. They feature stainless steel pistons, high temp seals, and an internal fluid crossover. They weigh 2.5 pounds per caliper and come with a black anodized finish.
Jim indicated that the pads provided with the kit are Hawk brand (not Wilwood.)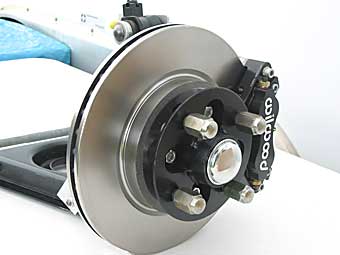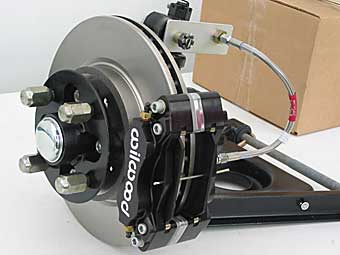 Fitment of the kit should be very straightforward. Of course, it does require disassembly of the stock brakes. The stock MGB inside dust cover is left off. The kit includes all required re-installation parts, including new lock tabs. A new stainless steel braided brake hose set is provided. Brake fluid is not.
Like other vented-rotor MGB big brake kits, the MG Five Speed Company's kit requires that the stock 14" MGB wheels be replaced with larger diameter (15" or larger) wheels.
Enjoying this article? Our magazine is funded through the generous support of readers like you!
To contribute to our operating budget, please click here and follow the instructions.
(Suggested contribution is twenty bucks per year. Feel free to give more!)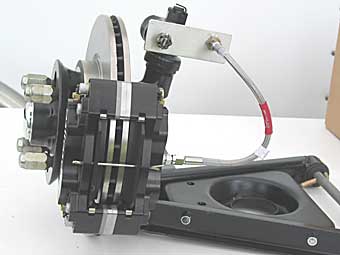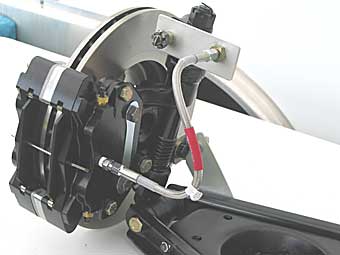 The MGB Five Speed Company mainly specializes in offering five speed transmission conversion kits for many different models of MG cars, assuming of course that their owners want to keep their original MG engines but upgrade to a fully synchronized box and an integral, overdrive fifth gear. Although a tech session was scheduled for five speed transmission conversions, it was cancelled.
Disclaimer: This page was researched and written by Curtis Jacobson. Views expressed are those of the author, and are provided without warrantee or guarantee. Apply at your own risk.
Photos by Curtis Jacobson. All rights reserved.