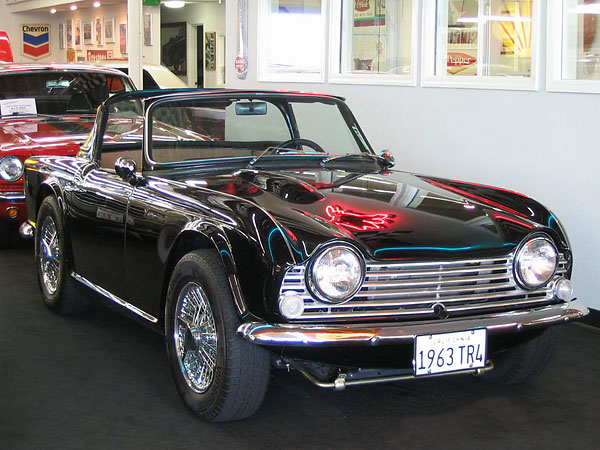 Art Hart's 1963 "Surrey Top" TR4 with Ford 302 V8 Engine
as published in British V8 Newsletter, Volume XV Issue 3, December 2007
Owners: Art Hart
City: Ottsville, PA
Model: 1963 Triumph TR4 (with surrey top)
Engine: Ford 302, 350hp crate engine by The Engine Factory.
Conversion performed by: Dan Tyler of San Jose, CA
| | |
| --- | --- |
| Engine: | Ford 302, 350hp crate engine by The Engine Factory. Edelbrock "Performer RPM" intake manifold (#60259). Speed DeMon carburetor. Elgin hydraulic roller cam with 212 intake at 0.050, 222 exhaust at 0.050, 0.498 lift intake, 0.512 lift exhaust. 1:6 ratio roller rockers. MSD 6AL ignition. Custom engine mounting, using motor mounts from a 1968 383 Plymouth Satellite. |
| Exhaust: | Cast iron Sunbeam Tiger exhaust manifolds. Stainless steel Magnaflow mufflers. Recently reconfigured by "Claude Mervine & Sons", Reading, PA which included adding a balance pipe and bungs in the down pipes for oxygen sensors. |
| Cooling: | Be Cool aluminum radiator, 2800 CFM electric fan. |
| Transmission: | Borg-Warner T5 5-speed manual transmission. McLeod hydraulic throw out bearing with Wilwood 5/8" master cylinder. Driveshaft custom made by Bayshore Truck Equipment Co. Modified stock transmission mounting. |
| Rear axle: | stock 3.73 TR4 rear axle. |
| Suspension: | stock TR4 front suspension, with upgraded springs and Koni shocks. The rack and pinion steering remains in its original location. Stock TR4 rear. |
| Brakes: | vacuum assisted dual master cylinder and two-stage pressure differential sensor from a TR6. Braided stainless steel brake lines. TR6 discs with Toyota 4-pot calipers and Porterfield R4S pads up front and Datsun 240Z finned aluminum drums and Porterfield R4S compound on stock TR4 shoes at the rear. |
| Wheels/Tires: | 195/65-R15 Sumitomo HTR 200 radial tires on heavy duty Dayton 72 spoke wire wheels with dental drive. |
| Chassis Mods: | Firewall cut back about 2" in the battery box area (which doesn't affect foot space.) Metal shielding around the front suspension has been removed. Halogen headlamps. |
| Interior: | stock TR4, with the rare "surrey" option (see photos). Custom dashboard and steering wheel. Autometer "Vintage Beige" gauges. |
| Weight: | 49% front / 51% rear. (Engine and transmission weigh 36lbs less than the Triumph parts, plus the battery was moved to the boot.) |
| Miles Driven: | 4500 since the conversion, as of November 2007. |
| Comments: | Most of the modifications to this car were made by the previous owner, Dan Tyler of San Jose, CA. I have been sorting the car out and making minor changes to suit me since purchasing it 6 weeks ago. |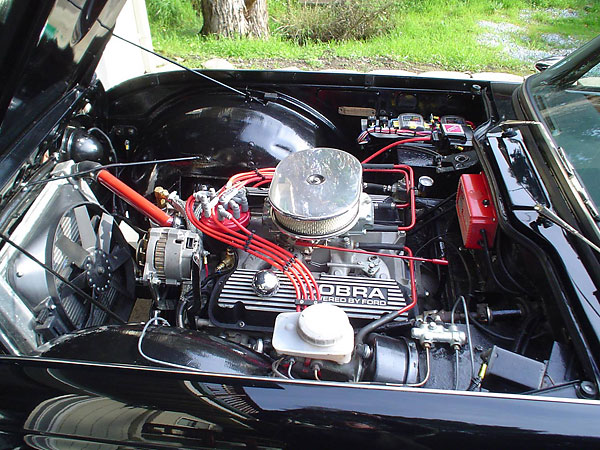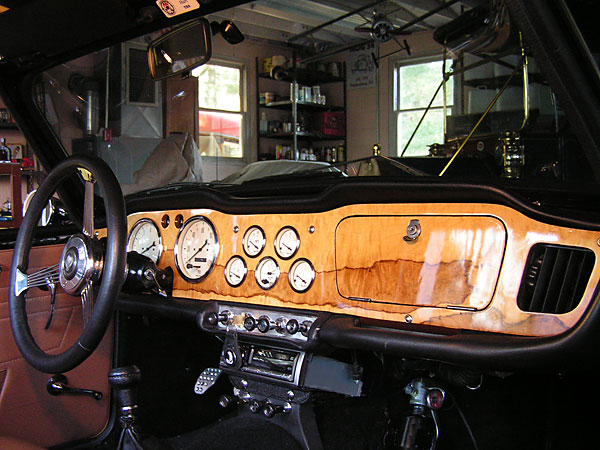 New burled ash dashboard (installed January '08) with glove box and new gauges.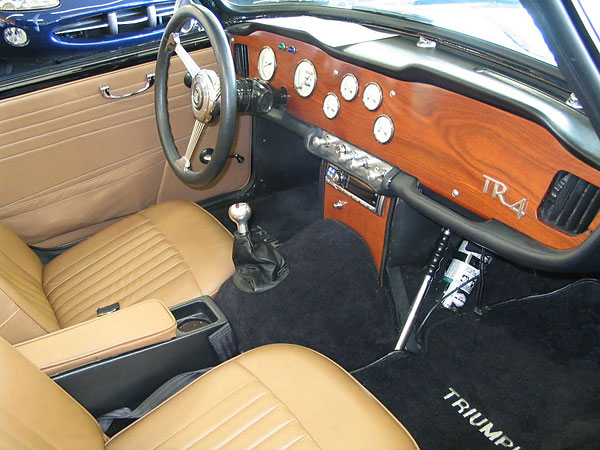 The dash as received when I bought the car...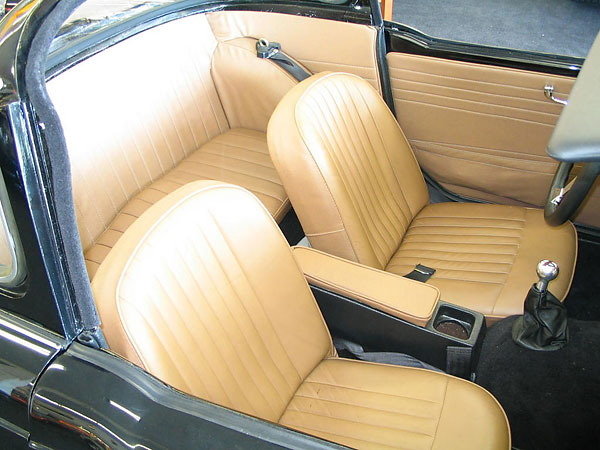 New leather upholstery and trim from Moss Motors...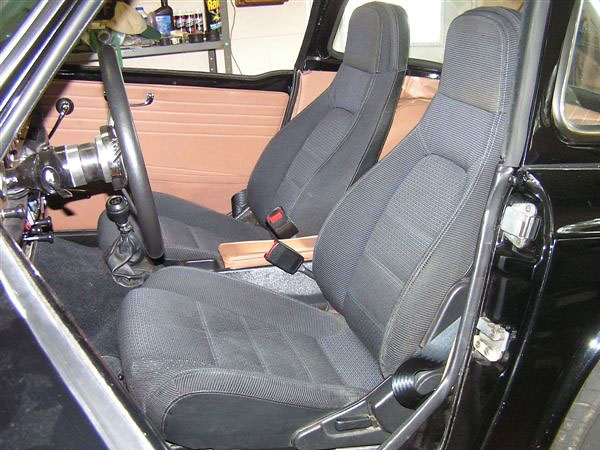 ...but the Triumph seats weren't comfortable enough, so
Mazda Miata (MX-5) seats were installed in late 2008.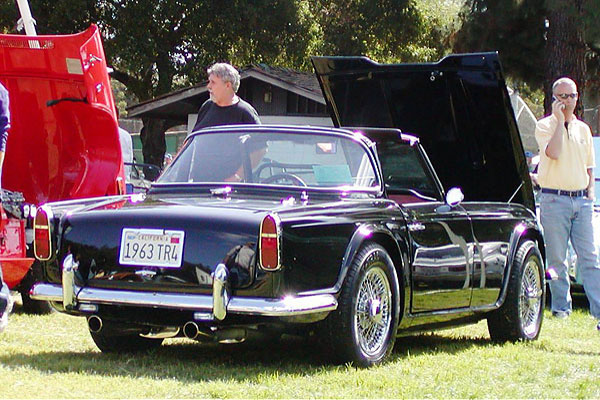 The rare surrey option provides more shelter than other convertible top designs.
All of the car's sheetmetal is original and rust free!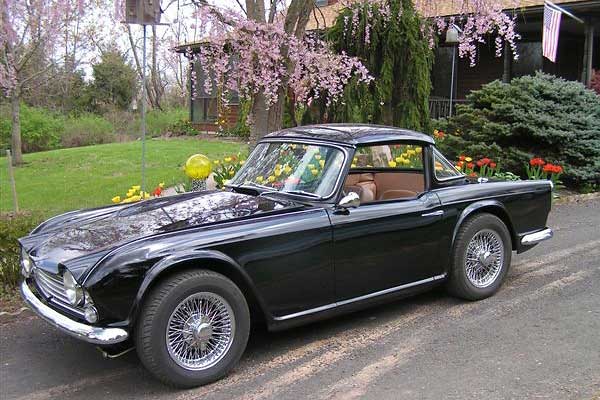 The surrey hard top was bare aluminum when I purchased the car, but it's now been
painted body color and trimmed with new headliner fabric to match the interior.