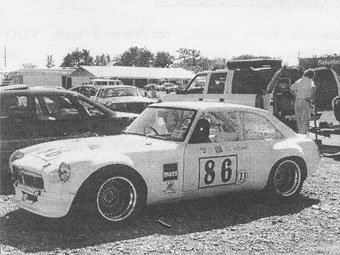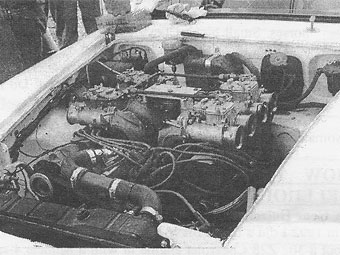 Jerry Richards' 160 mph MGB GT V8 road racer. / Four Webers Atop a Cross-Bolted Rover Block
Jerry Richards' Factory MGB GT V8 Racer Arrives
as published in British V8 Newsletter, Volume VIII Issue 2, May 2000
Owner: Jerry Richards
City: Flowery Branch, GA
Model: Factory MGBGT V-8
Engine: Rover 3.5 V8
Conversion performed by: Owner
I have owned the car for 9 years. One of approximately 2,500 factory MG's based on the Rover motor. I still have all the original parts, engine, trans., rear axle, etc. Twelve rears ago I built the car to run in the MG BCV8 Championship in England. I first stripped it down to a bare shell, replacing the inner and outer sills and installing a 6-point cage. The car now has a motor by John Eals in England with 4 side draught 48 Webers and a cross-bolted block.

When I moved to the U.S. 6 years ago, I loaned the car to Warwick Banks, a well known racer who sorted the car. Warwick seam-welded the tub and put in a Ford T-5 transmission, had special exhaust made which come out through the inner wings and performed a lot of suspension modifications. Warwick won many races in the car and set track records for MG at several racing tracks. In 1999, he set fastest lap of the day at Silverstone race track. Not bad for a 60 year old driver!

A similar car at Zolder was clocked by speed trap at 184 mph. My car is an easy 160 mph at most tracks. Best rev range is 4,400 to 5,600 rpm but will go to 7,000 easy. At its first race in the U.S., Warwick won the 1999 Collier Cup championship race at Watkins Glen.
Details
| | |
| --- | --- |
| Flywheel: | lightened Rover V8 from SD1. |
| Exhaust: | fabricated 4-into-1 through the front fenders, down the footwells. Very hot on the feet! |
| Brakes: | Wilwood 4-pot calipers and 11" vented discs on the front, stock MG drums on the rear. |
| Tires/Wheels: | Compomotive 3 piece (16x10 on the front, 16x11 on the rear. Wheels for racing in the wet are Revolution 15x10. |
| Suspension: | telescopic shocks front and rear. (Not an off-the-shelf kit!) Lower "A" arms modified to give required camber each side. 1" sway bar on the front. Nylatron bushings on all mounting points. Lots of strengthening. |
| Cooling: | basically stock radiator with a 5 row core and 3" longer than normal. |
| Rear End: | 3.9:1 gear ratio with limited slip differential. Stock rear axle casing from MGB. Special drive shafts. |
| Body: | MG Sebring wings. Rear wings extended. Fiberglass wings, door, bonnet and tailgate. (What are the rear lights? London taxi!!!) Front spoiler is extended factory styIe. |
| Conversion by: | original modification done by me, then the car was sorted out by Warwick. 5-speed trans, exhaust through the wings, seam welded front to back, twin fuel pumps and lightened. Car weighs around 1,850 lbs. |
| Advice: | if I were to do it again, I would use down draught carbs instead of side-draft. The side-drafts give great torque but not such good horsepower. (They're great for standing starts.) This car pretty much has it all! Also, get lots of advice from the people that know . Buy a second hand, ready to go car, which is much cheaper. |
| Est. Cost: | I stopped counting at $30,000, eight years ago. |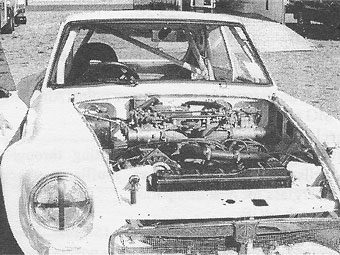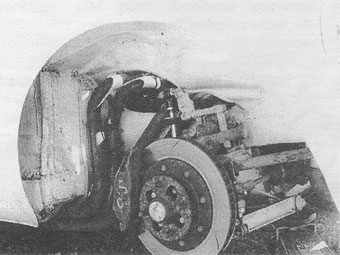 Being prepared to dust a few more Corvettes. / Massive vented disc brakes and custom exhaust.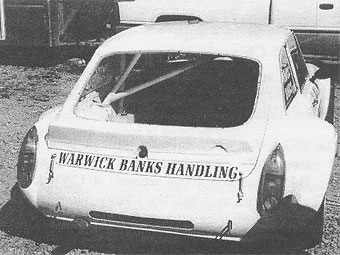 Jerry Richards' MG looks fast from any angle.


All photos by Tom Rosser, for "The MG V-8 Newsletter" (now known as "BritishV8 Magazine").
Copyright 2000. All rights reserved.
---
If you enjoyed this article, you may also enjoy these:
Les Gonda's MGB GT V8 Racecar and James Bowler's MGB GT V8 Racecar.

BritishV8 Magazine is creating a new collection of "How It Was Built" articles about British racecars!
Please contact BritishV8 if you have a racecar and would like to participate in this program.