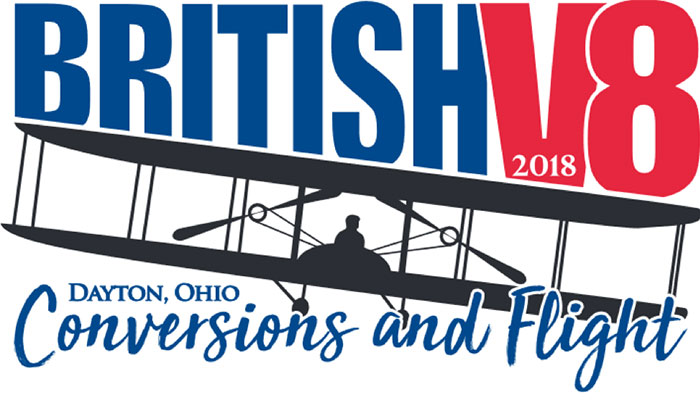 BritishV8 Annual Meetings
BritishV8 annual meets are for all enthusiasts of performance-modified British sports cars. We're informal. There's no Club here, and there's no Car Show either. There certainly aren't any Judges. Just come prepared to have fun and to share ideas about improving some of the world's most wonderful automobiles. Bring a friend and bring your camera!


| | | |
| --- | --- | --- |
| BritishV8 2018 | July 11 - 14 | Dayton, Ohio |
The twenty-second annual British V8 meet will be held in and around Dayton, Ohio from July 11 through July 14, 2018 at the Holiday Inn Dayton/Fairborn across the street from Wright State University. The overall theme of this year's meet is aviation. There will be visits to The Museum of the United States Air Force, Waco Field, and various historically significant sites related to the Wright Brothers.

This meet's host is Alan Moor. On our message board Al is known as "alanmoor".



---
The Venue
Holiday Inn Dayton/Fairborn
2800 Presidential Drive
Fairborn, OH 45324
Desk phone: (937) 426-7800

Room Rate: $104/night + tax

Amenities: Each room has refrigerator, microwave, and Keurig coffee maker. Free wi-fi is included. Breakfast isn't. There's a Bob Evans across the parking lot, and the hotel offers a breakfast buffet for under $10.

Parking: We'll have exclusive use of a side parking lot, and a car wash station will be available.

Reservations: Call the hotel directly at (937) 426-7800 and tell them the group name "British V8" or "BV8". You can also book online, just put the dates in and put "BV8" in the Group Code box when you search for availability. It will automatically give you the $104 rate. The rate is good for 2 days before and 2 days after the event.


---
Registration and Regalia
Name:
Guests:
City/State:
Car (make/model/year):
Drive Train:
Email Address:
Contact Phone Number:
Item
Price
Quantity
Size
Total
BritishV8 2018 Registration Fee
$90
1
(N/A)
$90
Additional Banquet
$35
(N/A)
T-Shirt (S-XL)
$18
T-Shirt(2XL-4XL)
$20
Polo
$30
Sweatshirt
$25
Long Sleeve T
$20
Ball Cap
$15
(N/A)
Grand Total
Note: you may print this directly from your web browser, or click for PDF file, or click for Microsoft Word file.

Please mail your completed registration to:

Alan Moor
25802 Gertrudes View Way
Chantilly, VA 20152


Please include a check, made payable to "Alan Moor".


* Your registration fee covers one banquet meal, the welcome pizza party, and other miscellaneous expenses related to the meet. Any excess funds will be carried over to next year's BritishV8 Meet operating fund.

* Regalia ordered after June 1 may not be available at the meet.


---
Itinerary
Wednesday
AFTERNOON

We will have a participant check-in / registration desk set up starting at 2:00pm in the Kitty Hawk Room at the Holiday Inn. We will have flyers listing local attractions and things to do in the area, along with complimentary bottled water and possibly an adult beverage or two. Later in the afternoon/evening we will gather for our annual British V8 Conversion meet pizza party in the parking lot.


Thursday
MORNING

We will be meeting at the Carillon Historical Park, located just south of the city center of downtown Dayton. Carillon Park has a museum and premier collection of items relating to Dayton's own Wright brothers, including the original 1905 Wright Flyer III. Wilbur and Orville Wright piloted this airplane in record breaking flights at Dayton's Huffman Prairie Flying Field just outside of Dayton, Ohio in 1905. The Wright museum is a chronological display which shows from beginning to end, how the Wright brothers developed the airplane.

Carillon Historical Park also features other exhibits relating to Dayton engineers, inventors, and industrialists, including Edward Deeds, Charles Kettering (electric starter), and John H. Patterson (NCR). Deeds and Kettering co-founded the Dayton Engineering Laboratories Company (DELCO).

LUNCH

The Carillon Brewing Company is located on the premises of Carillon Park and is a unique dining and drink experience... like taking a step back in time... the interior of the restaurant is actually the brewery itself... with high ceilings and a great atmosphere. The ales served here use grain that has been floor malted just as it was done in the 1800s and, when available, Ohio-grown hops. All brewed in open copper kettles, fermented in oak barrels, and unfiltered. They make their own root beer and ginger ale too. The menu here is old world recipes from the homeland that are combined with ones from this new home. Dishes from old English, German, and Irish immigrants' tables all find a home on the Brewery menu. Open for lunch or dinner and inspired by Dayton's earliest settlers and brewery owners through the foods inspired by them. The dishes, much like those who made them, historically come from the old country but have been spiced with a touch of the new. Meals are served Sunday through Thursday from 11:00am-9:00pm and Friday through Saturday from 11:00am-10:00pm.

AFTER LUNCH

After lunch, we will be taking a scenic drive through the beautiful southwest Ohio countryside. The drive will culminate at the home of MG enthusiasts (and factory MGB GT V8 owners) Carole and Terry Looft. Carole and Terry have a beautiful home that is filled with British car memorabilia and a fantastic English pub in the lower level. The Loofts are consummate MG collectors and have restored many MG vehicles over the years.


Friday
MORNING

We will take a 45-minute drive to Covington, Ohio to the facilities of D&D Classic (not to be confused with the other D&D in Michigan). D&D Classic is an automotive restoration shop that restores and fabricates cars ranging from Pebble Beach caliber all the way to your neighbors 1957 Chevy. They have a central building and several other buildings with vehicles in various states of restoration. D&D Classic does chassis rebuild, mechanical restoration, including transmissions, rear axle, brakes, and exhaust, full electrical rebuilding, rewiring, structural wood rebuilding for bodies, award winning interior wood refinishing and complete disassembly and assembly services. They also offer automotive and aircraft metal shaping. They have been known to fabricate entire cars based simply upon a WWII picture taken of a vehicle that resided in Europe.

LUNCH

We will travel from D&D to WACO Aircraft Museum in Troy, Ohio. This is about a twenty-minute drive. WACO has made available to us a covered shelter where we will enjoy a barbeque picnic lunch from Hickory River Smokehouse in Tipp City with all the trimmings.

AFTER LUNCH

We will walk over to the central WACO Aircraft Museum. The WACO (originally Weaver Aircraft Company) built airplanes in Troy, Ohio from 1920 through 1947. The WACOs were rugged and were often used as mail planes, business planes and for exploring. WACO was the largest manufacturer of airplanes in the U.S. between the two World wars having more airplanes registered than any other aircraft company.

During WWII, WACO produced huge numbers of military gliders for both the U.S. Army Air Forces and the RAF... they were primarily used during the invasion of Normandy and Operation Market Garden. WACO airplanes were resurrected in the 1980s and are currently being produced in Battle Creek, Michigan.


Saturday
The primary focus of Saturday will be to visit the National Museum of the United States Air Force (NMUSAF). It is close to our host hotel. This will be an open day where all can visit the Museum at your leisure. The NMUSAF galleries present military aviation history, boasting more than 360 aerospace vehicles and missiles on display -- many rare and one-of-a-kind -- along with thousands of historical items and powerful sensory exhibits that bring history to life and connect the Wright brothers' legacy with today's stealth and precision technology.

In addition to outside displays and exhibits, the museum has four connected buildings... there is an early years gallery (e.g. Wright brothers, WWI aircraft), WWII gallery (where the Memphis Belle recently went on permanent static display after her restoration), the third building contains aircraft and exhibits from the post Cold War era including the Korean War, and the Viet Nam War. The fourth building (the newest building, opened in 2017) contains space craft, experimental aircraft, and presidential aircraft.

The NMUSAF Theater has upgraded its theater from IMAX to digital 3D. This upgrade includes a new stage, theater seats and a new theater screen to support a broader range of programming - including educational presentations, live broadcasts and expanded documentary choices. The renovations include a 7.1 surround-sound system, audio devices for the hearing or visually impaired, and personal closed captioning systems. Several different movies are available to see each day. Admission to the NMUSAF is free, however there is a fee for IMAX movies. Your visit to the museum can easily take all day... plan on arriving early and leaving late. There is a cafeteria on site where you can purchase lunch.

Saturday evening, we will have our traditional BritishV8 meeting and banquet, concluding with our annual fundraising auction.


Sunday
Goodbyes, handshakes, hugs in the parking lot, farewell to all, and a safe journey home!


---
Read About Previous Meetings and Enjoy a Whole Lot of Photos:
| | | | | |
| --- | --- | --- | --- | --- |
| 97 Kansas City, MO | 98 Annapolis, MD | 99 Champagne, IL | 00 Westlake, OH | 01 Sebring, FL |
| 02 Grand Rapids, MI | 03 Townsend, TN | 04 Grand Rapids, MI | 05 Terra Haute, IN | 06 Townsend, TN |
| 07 Willoughby, OH | 08 Port Washington, WI | 09 Durham, NC | 10 Indianapolis, IN | 11 Townsend, TN |
| 12 Palestine, TX | 13 Omaha, NE | 14 Colorado Springs, CO | 15 Indianapolis, IN | 16 Townsend, TN |
| 17 Lewisburg, WV | | | | |