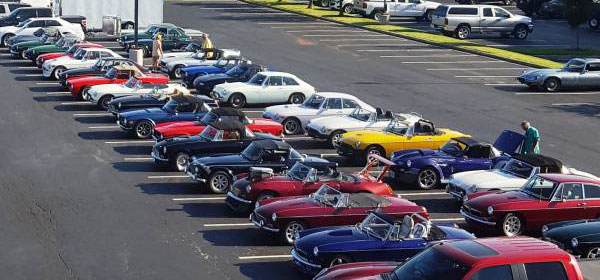 BritishV8 Annual Meetings
BritishV8 annual meets are for all enthusiasts of performance-modified British sports cars. We're informal. There's no Club here, and there's no Car Show either. There certainly aren't any Judges. Just come prepared to have fun and to share ideas about improving some of the world's most wonderful automobiles. Bring a friend and bring your camera!


| | | |
| --- | --- | --- |
| BritishV8 2019 | June 2 - 5 | Wytheville, Virginia |
The twenty-third annual British V8 meet will be held in and around Wytheville, Virginia. It's a beautiful location, surrounded by great roads for spirited driving of vintage sportscars!

This meet's host is Kelly Stevenson, assisted by Carl Floyd and Daryl Siefert. On our message board Kelly is known as "kstevusa" (Click on his User Name to send him a private message.)



---
The Venue
La Quinta Inn
1800 East Main Street
Wytheville, VA 24382
Desk phone: (276) 228-7400

Room Rate: $75/night plus 12.3 percent tax.

Amenities: Set in the Blue Ridge Mountains, this colorfully decorated hotel off Highway 11 is a 1.7-mile drive to the center of Wytheville and 8.9 miles from the Fort Chiswell Animal Park. Free continental breakfast! Mini-fridges, microwaves and coffeemakers are included in each modern room, as well as pillow-top mattresses, free WiFi and flat-screen TVs with HD channels. There's an indoor pool with a hot tub in addition to a fitness center.

Parking: We'll have exclusive use of a side parking lot, and a car wash station will be available.

Reservations: (please hold while are arrangements are being finalized.)


---
Registration and Regalia
An $85 registration fee includes one free t-shirt, one banquet dinner, and one BBQ Picnic.

Additional shirts, banquet dinners, and BBQ picnic meals can be purchased during registration.

To complete your registration go here, then come back: www.britishv8meet.org


---
Itinerary
Sunday, June 2

Pizza in the parking lot on Sunday evening.

Monday, June 3

Kelly & Artie will present a Tech Session about insurance for modified sports cars.

Casual drive to Big Johnson Overlook and Park to the north of Wytheville, on open mountain roads.

Tuesday, June 4

Open morning & evening, plus a Bar B Que Picnic at a local park.

Information concerning local Wytheville attractions will be in your Goody Bag.

Wednesday, June 5

Open time. (We'll enjoy driving many mountains roads including "The Back of The Dragon".)

Banquet at Wolfhart Dinner Theater. It's near by, and we'll have a shuttle bus to and from the hotel.

Mikel Moor will present a Tech Session on Power Steering for MGB.

Thursday, June 6

Check out, say farewells, and head home.



---
Read About Previous Meetings and Enjoy a Whole Lot of Photos:
| | | | | |
| --- | --- | --- | --- | --- |
| '97 Kansas City, MO | '98 Annapolis, MD | '99 Champagne, IL | '00 Westlake, OH | '01 Sebring, FL |
| '02 Grand Rapids, MI | '03 Townsend, TN | '04 Grand Rapids, MI | '05 Terra Haute, IN | '06 Townsend, TN |
| '07 Willoughby, OH | '08 Port Washington, WI | '09 Durham, NC | '10 Indianapolis, IN | '11 Townsend, TN |
| '12 Palestine, TX | '13 Omaha, NE | '14 Colorado Springs, CO | '15 Indianapolis, IN | '16 Townsend, TN |
| '17 Lewisburg, WV | '18 Dayton, OH | | | |