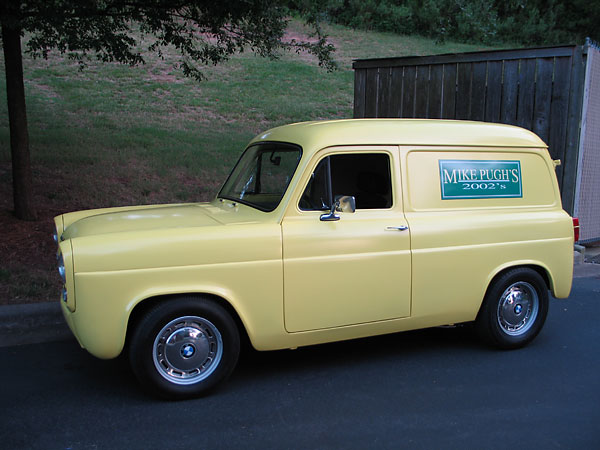 Mike Pugh's 1959 Ford Thames Panel Truck with BMW 2002 Mechanicals
as published in BritishV8 Magazine, Volume XVII Issue 2, December 2009
Owner: Mike Pugh
City: Raleigh, NC
Model: 1959 Ford Thames Panel Truck
Engine: BMW 2L inline four
Conversion by: owner
Background
My addiction to BMWs began when a friend decided he wanted to sell his 1969 2002 for the tidy sum of $2002.00. After a test drive of the little car, with about 100k miles on the odometer, we knew we had to have it. My fate was forever sealed. I was now a genuine 2002 nut. Over the years I have owned/restored over 30 of these fine little cars.

But this story actually begins about 9 years earlier when I was 14. With a tidy sum from my lawn mowing business, I bought my first car, a 1959 English Ford Anglia sedan on which I proceeded to rebuild the engine, brakes, etc. By the time I got my license I had it on the road and my then girlfriend (and now my wife) and I used to drive to school and on dates in it. Soon the little flathead 4 cylinder was not enough and I moved on to the world of late 60's muscle cars, which would occupy my obsession until a fateful day in 1976.

One day in 1979, my Dad and I were at Martinsville Speedway at a NASCAR race and in a field near the track was a small house and right outside was parked a 1959 English Ford panel truck (a.k.a. "Thames"). After knocking on the door and tracking down the owner, who actually lived in the next state, I was able to acquire the little truck. At this point, my addiction to 2002's was in full strength and so I big dreams of making this little truck run like a 2002. But, work and family rightfully took priority, so the little truck was relegated to my father's barn in Virginia where it would reside for 24 years, eventually become a popular resort for the local mouse community. Through out all of these years, the little truck stayed in the back of my mind, I wanted to make it run like a 2002, but the heart and soul of the little cars is more than just the engine, its also the suspension and brakes and balance. Finally my father thought I needed some motivation and hauled the little truck down to me and said "You really should do something with this thing." So into my barn it went and sat for another year or two.
One day as I was parting out a 2002, one that had been seriously damaged and had all the classic rust that these little cars can 'acquire', as I was about to start cutting it into small pieces for the metal recycler I decided to measure the width of the car at the rocker panels and compare them to the those of the panel truck. To my amazement, they were only about 1/16" difference. Well, the wheels in the brain started turning and before you know it I had hatched a plan: Why not graft the body of the panel truck onto the lower part of a 2002? After more measurements and a trial fitting of the front fenders to make sure the track of the BMW wasn't too wide, I proceeded with the project.

The first order of business was to remove the body of the 2002 while retaining the tub. Next on the agenda was to shorten the tub to accommodate the shorter wheelbase of the panel truck. This turned out to be almost exactly one foot. Now the fun could begin. I brought the panel truck up from the barn, removed all of the suspension and doors and began to brace the body internally so that I did not lose the shape as I was getting ready to remove the entire bottom of the unibody, leaving just the sides and the roof. I suspended the body with a hoist from the ceiling of my garage and began to carefully cut away the floor and firewall. Did I mention the little truck was rusty? After much trimming and planning, I was finally ready to make the critical cuts needed so that the two halves could be brought together. On my birthday in April of 2005, my Dad came down to have a look see. He gave me the thumbs-up on what I was about to do. In short order, the cuts were made and the two cars went together, albeit with a lot of work yet to do.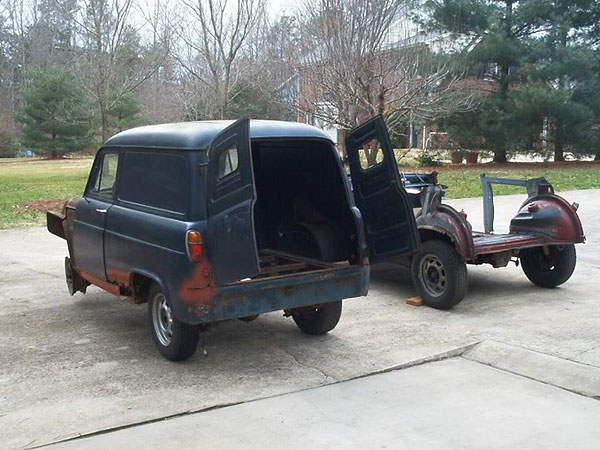 Two project cars?


The next 8 months were spent grafting the concoction together and completing countless small jobs. I mounted the panel truck front end, replaced the bottom of one of the truck's doors, modified a BMW fuel pickup/sender to fit the panel truck gas tank, etc., etc. etc. Shortening the driveshaft was easy for the machine shop. I found out that you can't buy an exhaust system for a BMW powered English Ford... so I made one by cutting apart an ANSA system and welding it up to fit. The rear inner wheel arches are from a 2002. A small Mazda Miata battery solved one problem; a wiring harness from a BMW solved another. The dashboard from a 2002 was used as were the gauges and center console.

Finally, after 5 pounds of MIG wire and two bottles of welding gas, plus a half gallon of Bondo, the body work was nearing completion. I had to make a decision on what color to paint the truck. After much consideration, I opted for New VW Beetle yellow but with a flattening agent added for a sort of 'rat rod' look. My wife Eileen came up with the idea of putting a smiley face on the rear door. All of the running gear and suspension has been renewed and is pretty much stock except for the Weber carburetor and sport springs. Actually, it is very fitting that the motor is from that very first 2002 of mine.

So how does the little truck drive? Like a short wheelbase 2002, what else? At about 1600 pounds, it's about 500 pounds lighter than a 2002 and even with the newly rebuilt stock motor, it has more than enough power. It corners like a 2002 race car.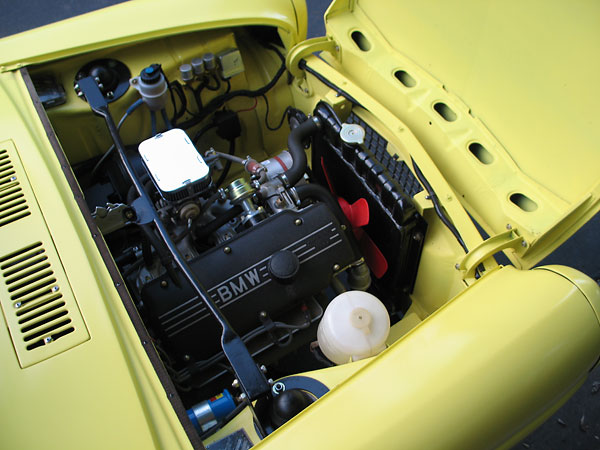 The completed engine installation.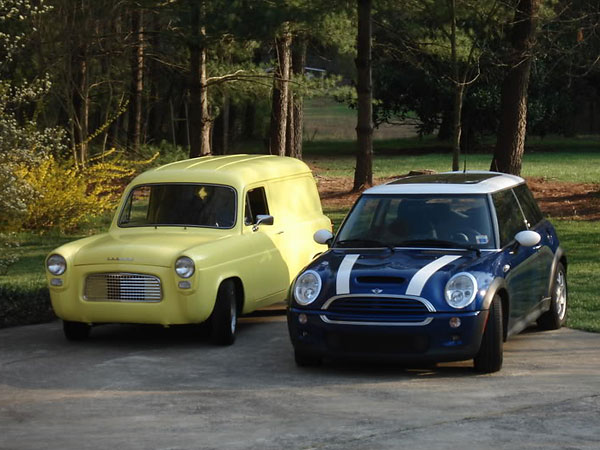 Two examples of BMW mechanicals combined with something wonderfully British.


The little truck made its public debut in May of 2007 at several shows in North Carolina, with the highlight for me being its outing at "Vintage at the Vineyard", an event for vintage BMWs largely attended by 2002 enthusiasts from all over the East Coast.

I couldn't have completed this project without help. First of all I'd like to thank my wife Eileen for all of the support she's given me over these many years, despite this addiction I have. My friend Gary, a professional body man of considerable talent guided me along the way with helpful suggestions and an awesome paint job. Doug and the guys at his shop provided significant help in the way of parts and machine work as did my 2002 buddy Bill. My dear friend Humberto offered so much encouragement, especially during some very trying personal troubles. I thank Scott for his encouragement and graphic mock-ups. Most of all, I couldn't have completed this project without my dad, Mickey Pugh. He has passed on now but he was the one who taught me the skills, gave me the confidence, and provided constant help. I'll keep those gifts with me throughout my life.


Features and Specifications
Engine:
BMW 2-liter four cylinder engine. Weber 32/26 DGEV carburetor. K&N air filter. Overhead camshaft. Solid lifters. BMW 2002Tii distributor (mechanical advance). Bosch Blue coil.

Cooling:
re-cored BMW 2002 radiator. BMW 2002 engine driven cooling fan.

Exhaust:
BMW 2002Tii exhaust manifold. ANSA aftermarket exhaust system for a 2002, cut down in length to fit.

Transmission:
BMW 320i 5-speed with overdrive, stock clutch, etc.

Rear Axle:
stock BMW independent suspension, 3.64:1 final drive ratio.

Front Susp.:
stock BMW suspension, upgraded with competition springs. BMW ZF worm-and-pinion steering gear.

Rear Susp.:
stock BMW independent suspension, upgraded with competition springs.

Brakes:
power brake system,
(front) disc,
(rear) drum.

Wheels/Tires:
BMW 2002 Tii steel disc wheels. 185/70R13 tires.

Electrical:
mostly stock BMW 2002 electrical system. Mazda Miata battery.

Body:
paint by Gary Hawkins.

Interior:
Recaro seats from a BMW 320i. Dashboard from a 2002.

Weight:
1500 lbs.

Comments:
April 2007.


How It Was Done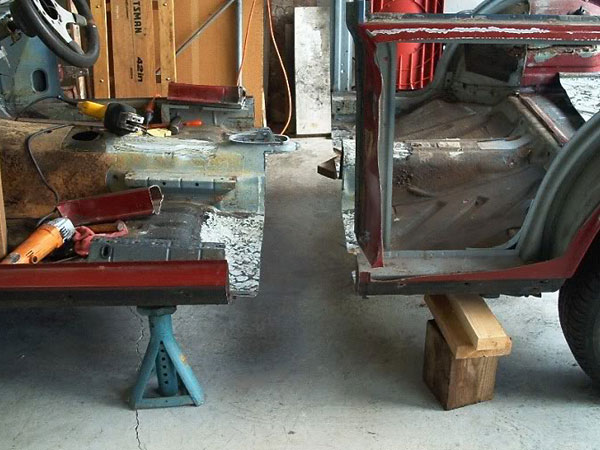 BMW 2002 tub, cut in half.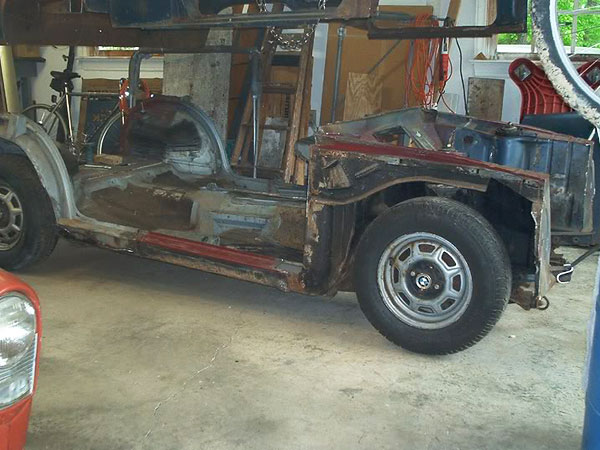 Twelve inches removed, and then welded back together.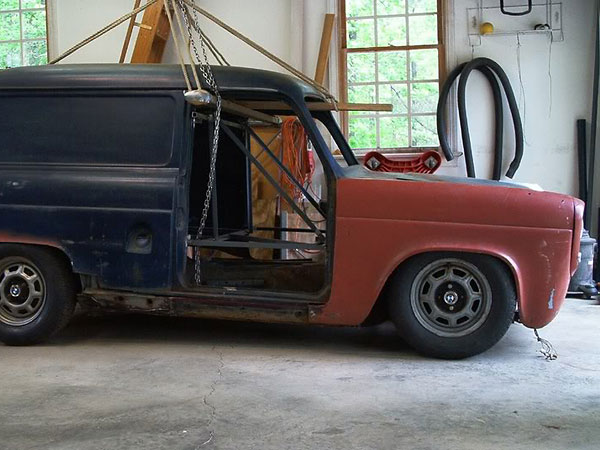 Setting the Thames panel van body on the modified BMW 2002 chassis.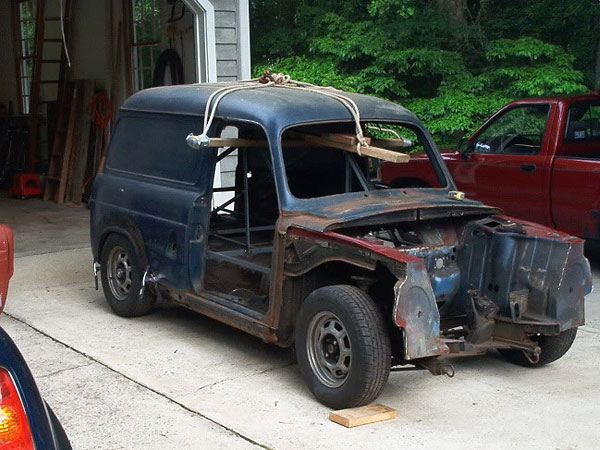 Now the body is clamped in place, and the project can be rolled around.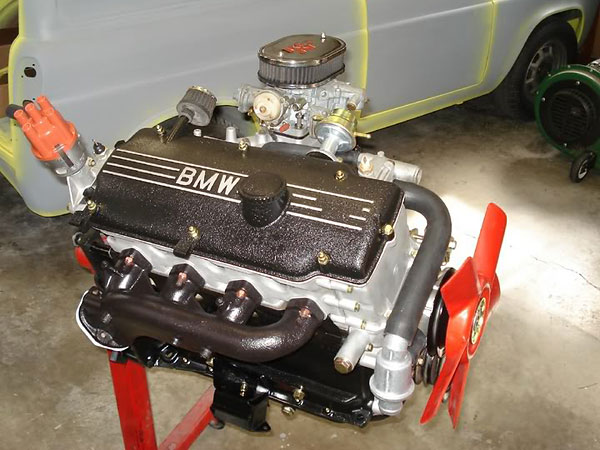 BMW 2002 engine upgraded with higher performance 2002Tii distributor and exhaust manifold.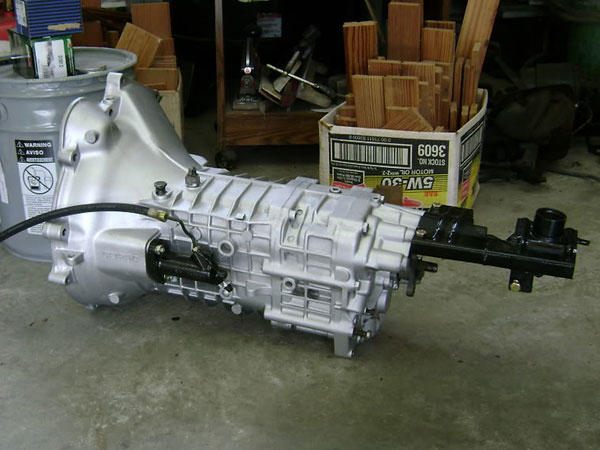 BMW 320i 5-speed with overdrive.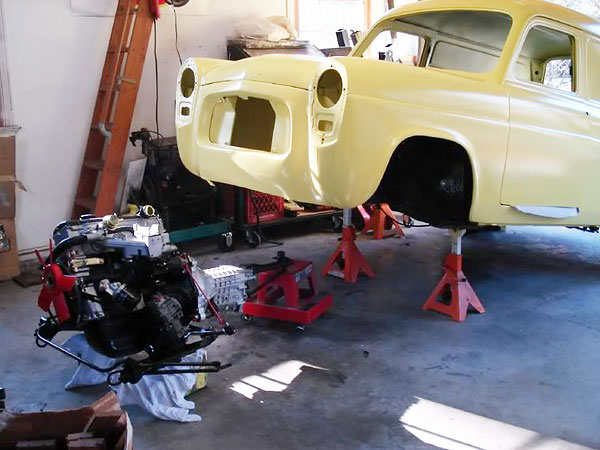 The drivetrain is ready for installation!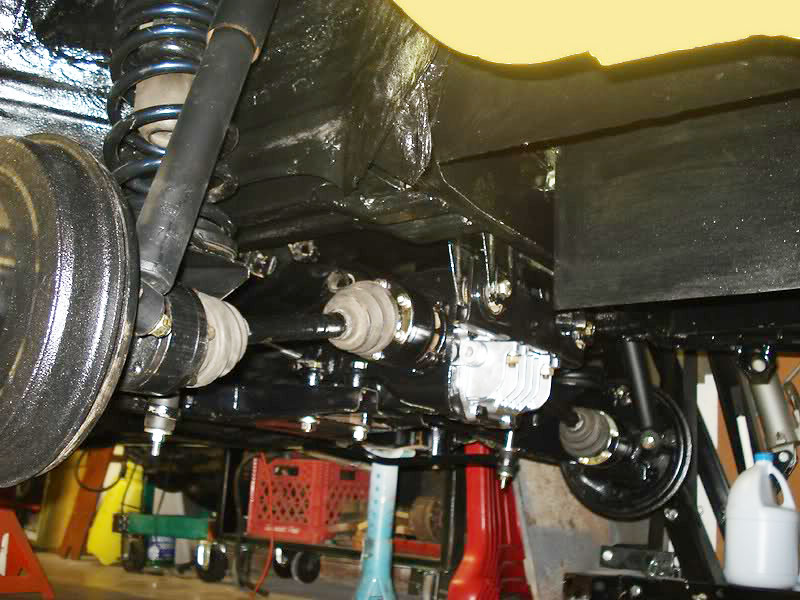 BMW 2002 independent rear suspension.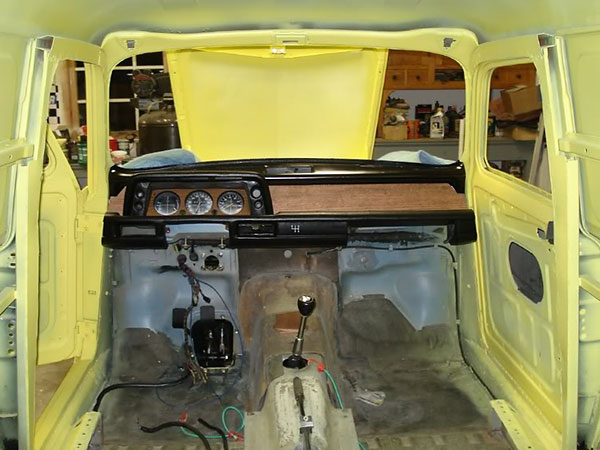 Trial fitting the BMW 2002 dashboard.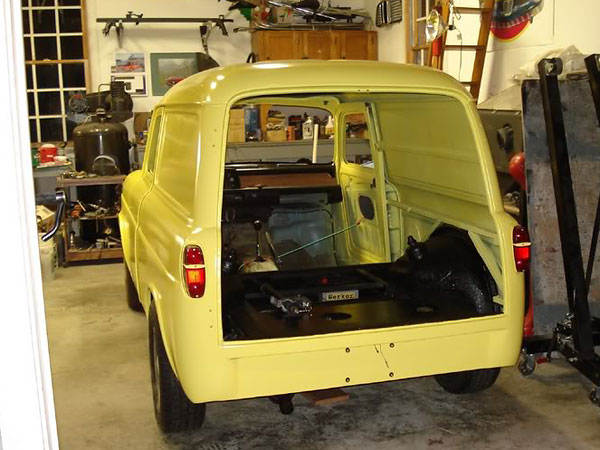 Battery hidden under cargo floor. ("Werker" is a private label brand from Batteries Plus stores.)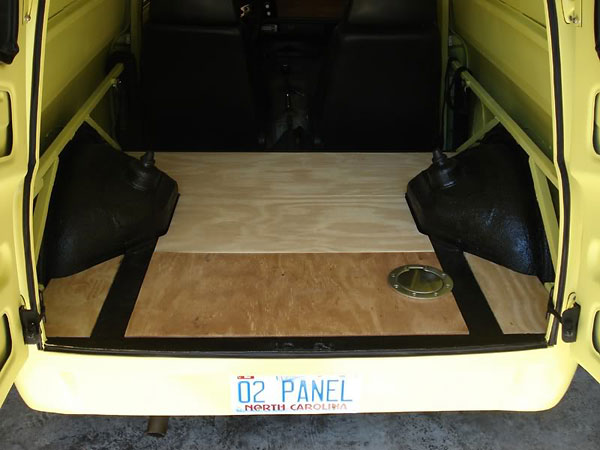 Plywood cargo floor. Note flush fuel filler, which will be hidden under carpet.


Engine Installation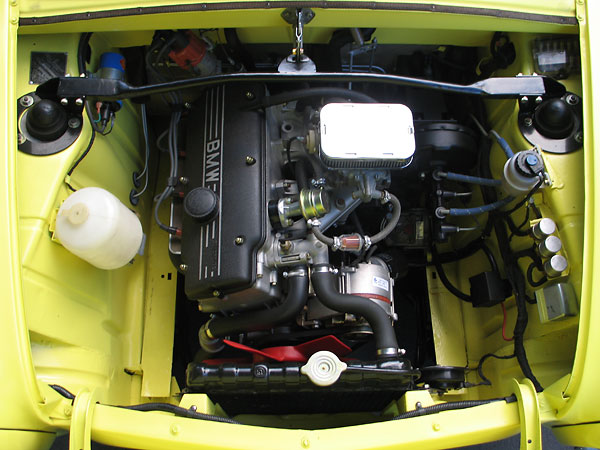 BMW 2002 1990cc, SOHC, 2 valve/cylinder four cylinder engine.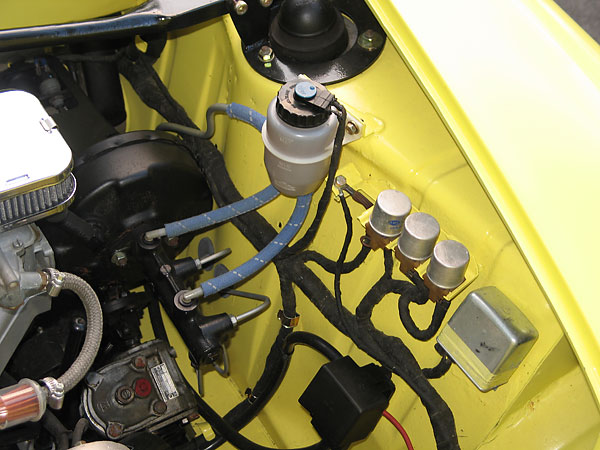 BMW 2002 engine electrical.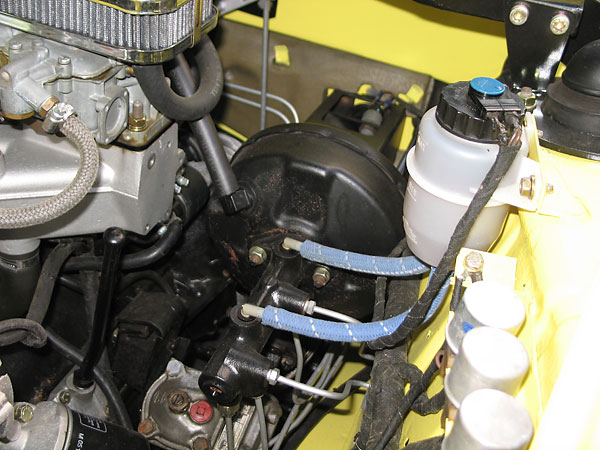 Power brake master cylinder.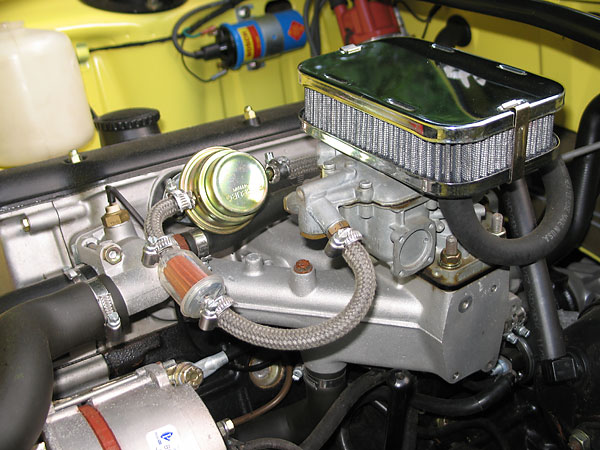 Pierburg mechanical fuel pump.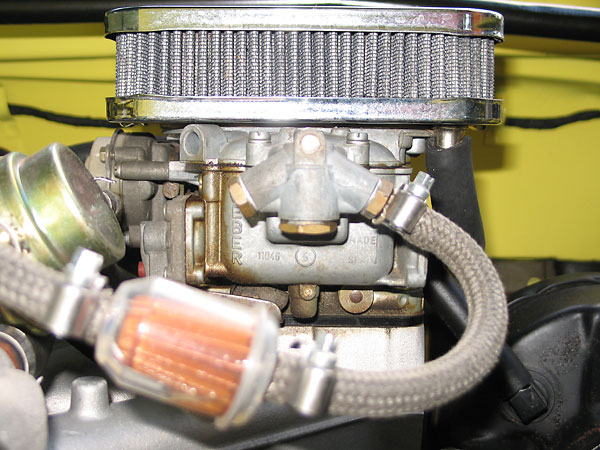 Weber 32/26 DGEV carburetor mounted to a stock BMW 2002 intake manifold.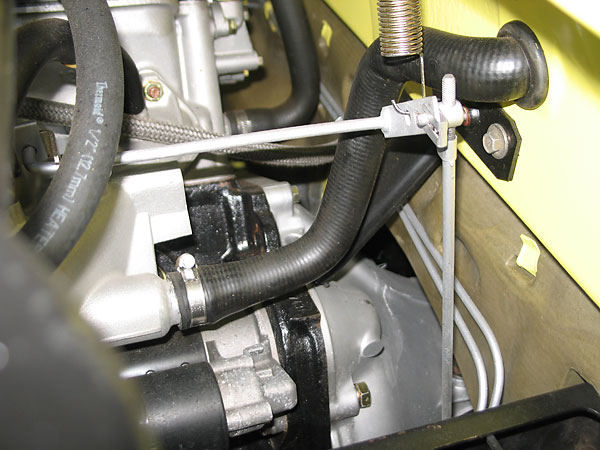 Throttle linkage.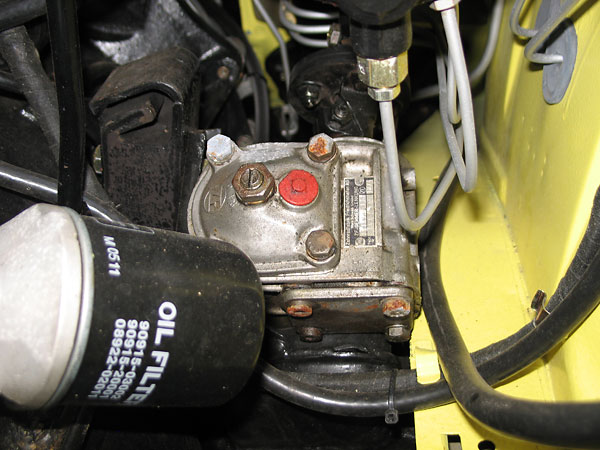 ZF steering gear.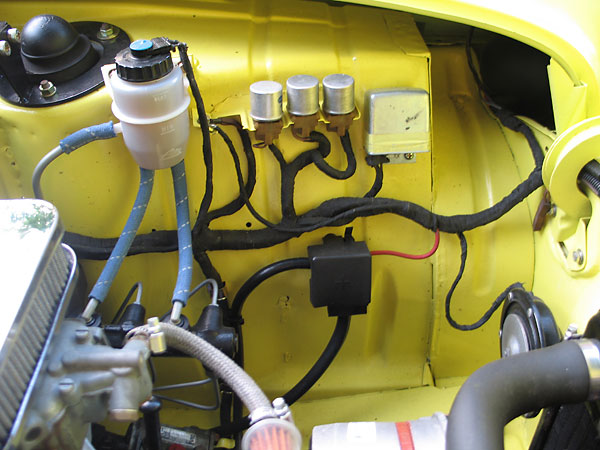 Brake fluid reservoir and various electrical relays.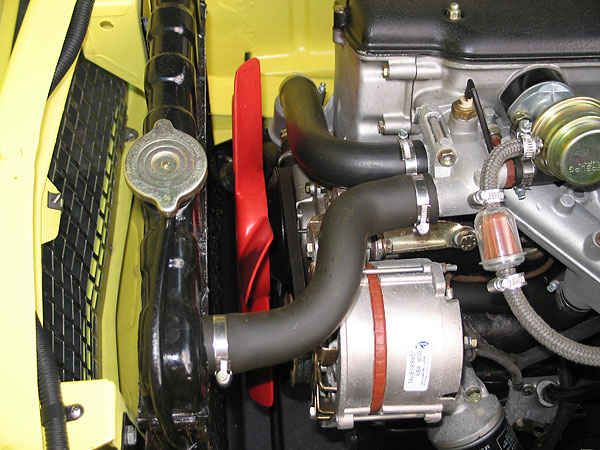 Bosch alternator, remanufactured by Precision Parts (labeled "BOA 089" and "JQA6018701")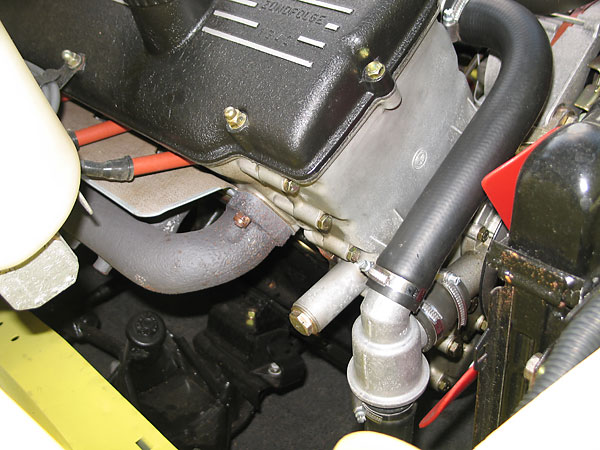 Motor mount, and plumbing details.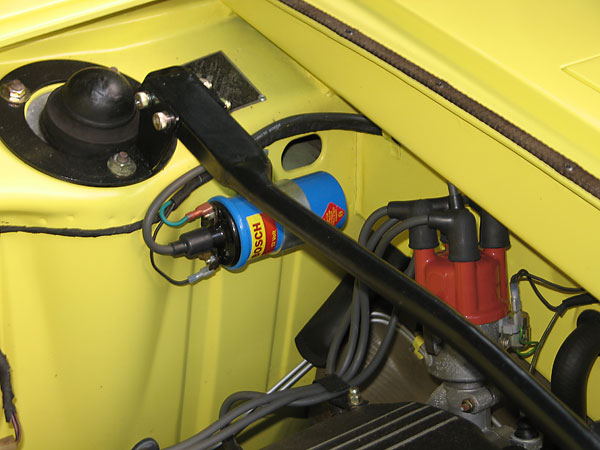 Bosch "blue" coil.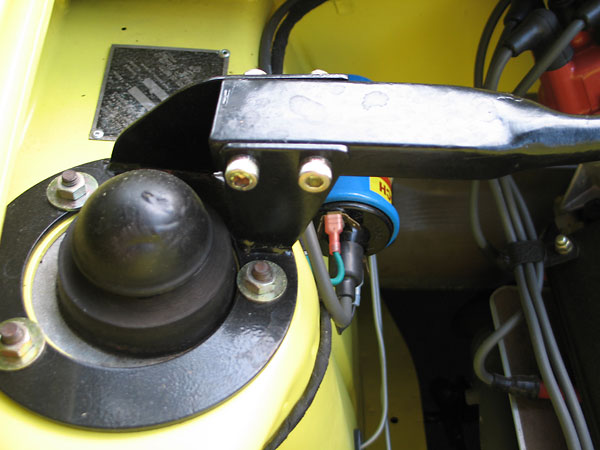 Monte Carlo bar.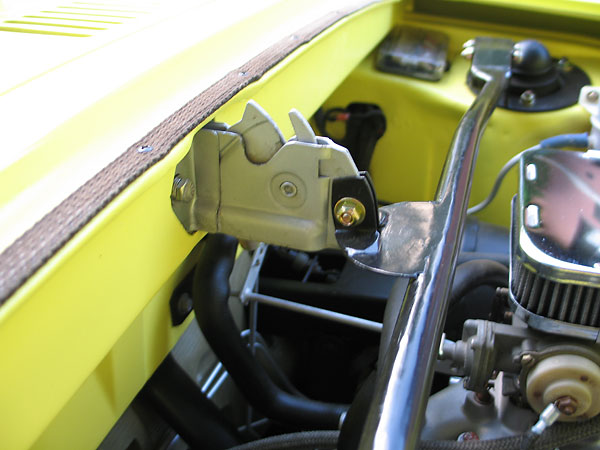 Hood latch.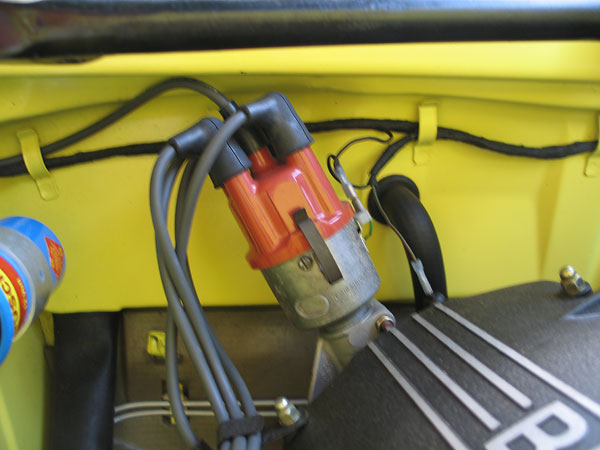 Distributor.


Interior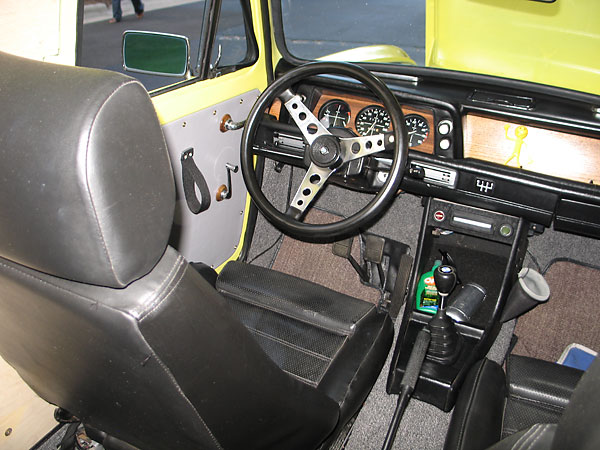 Interior overview.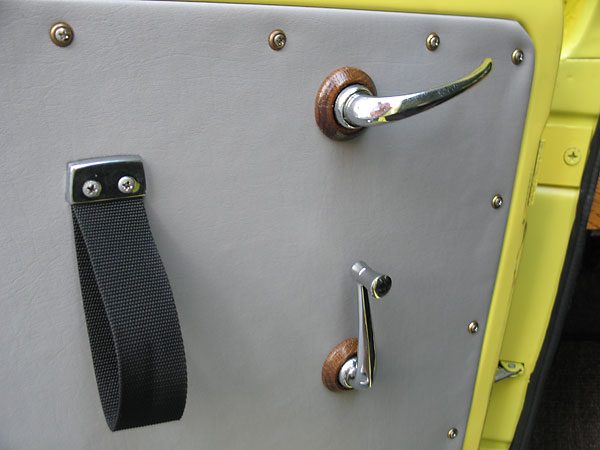 Custom door panel.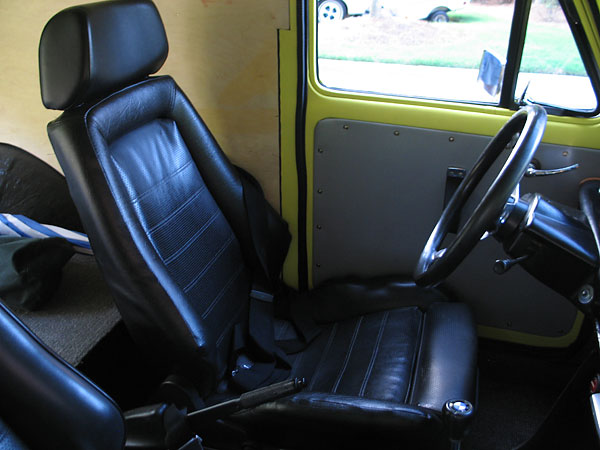 Recaro seats from a later model BMW 320i.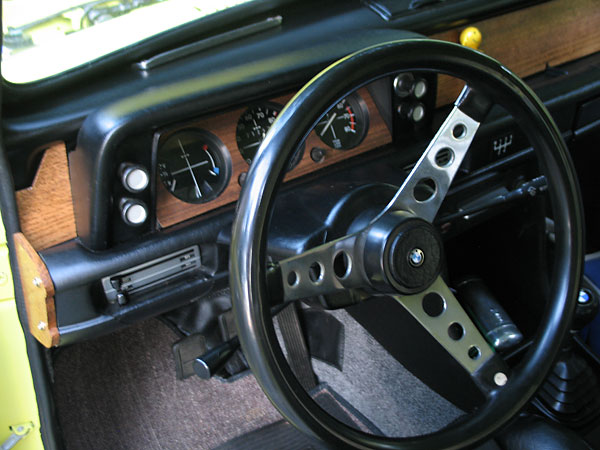 BMW steering wheel.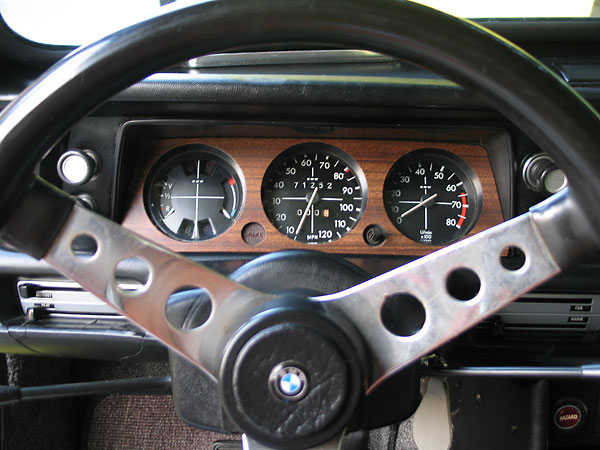 BMW 2002 instrument cluster. Speedo reads to 120mph. Tach reads to 8000rpm.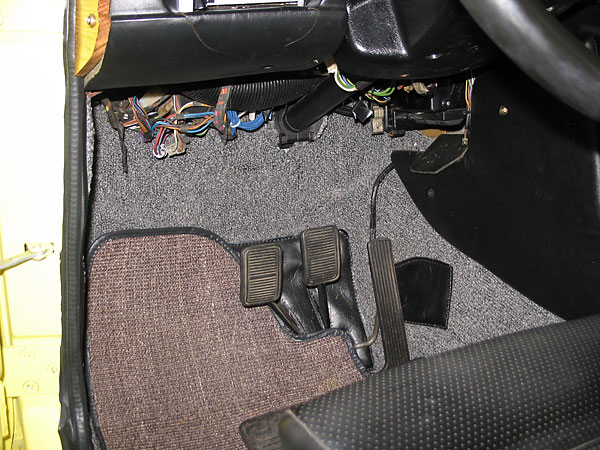 Carpet from Chris Willet at "Only O2".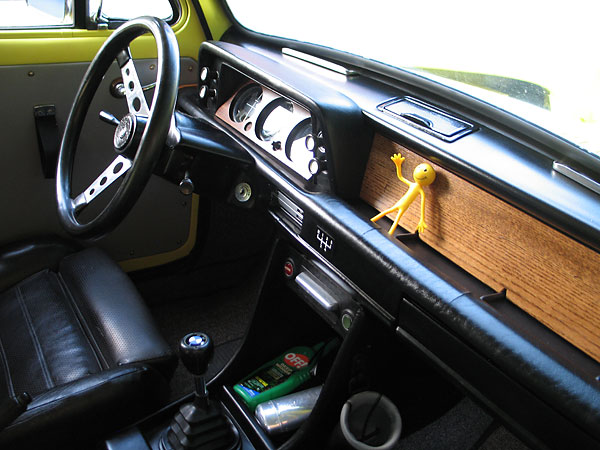 BMW 2002 dashboard.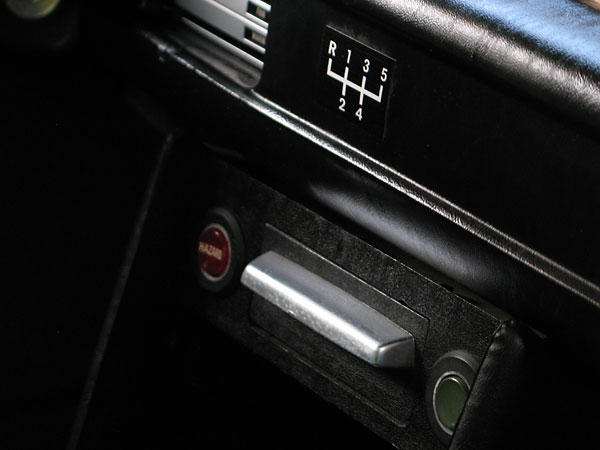 BMW 2002 center console.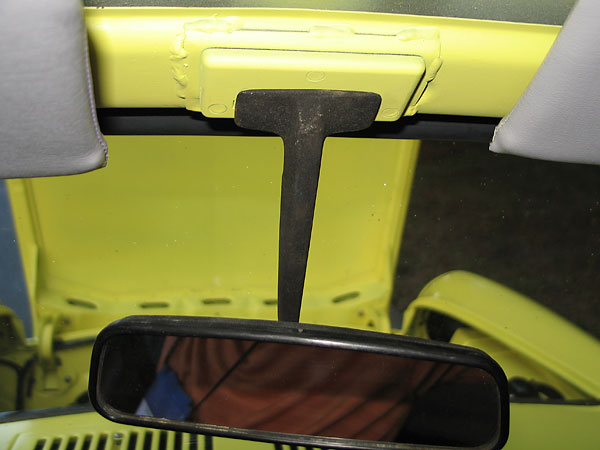 BMW 2002 rear view mirror.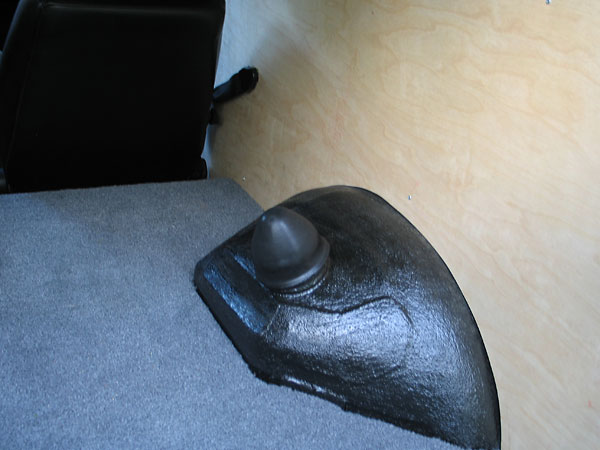 BMW 2002 inner wheel well.


Body and Trim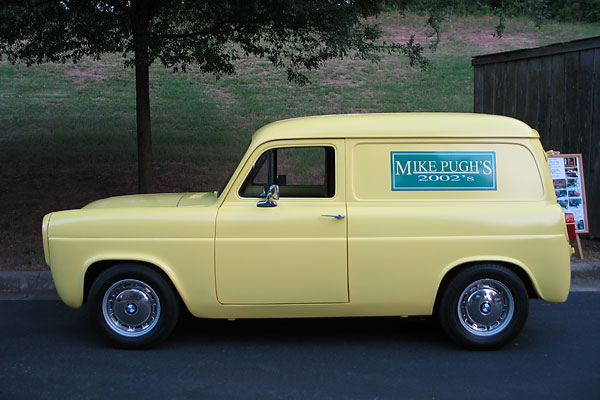 Mike Pugh's 2002's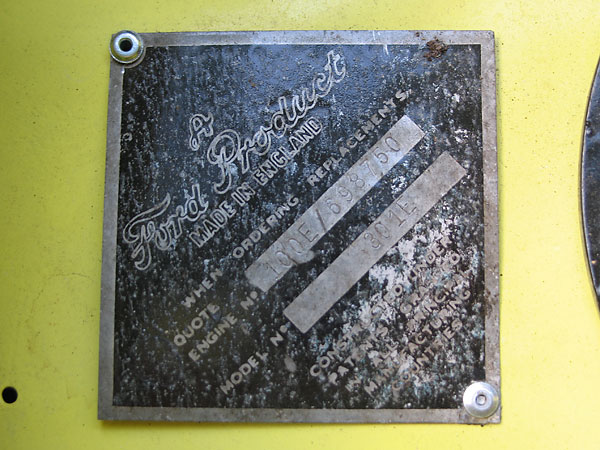 A Ford Product - Made in England
When ordering replacements, quote Engine No. "100E/698750", Moder No. "301E"
Constructed under patents granted in all principle manufacturing countries.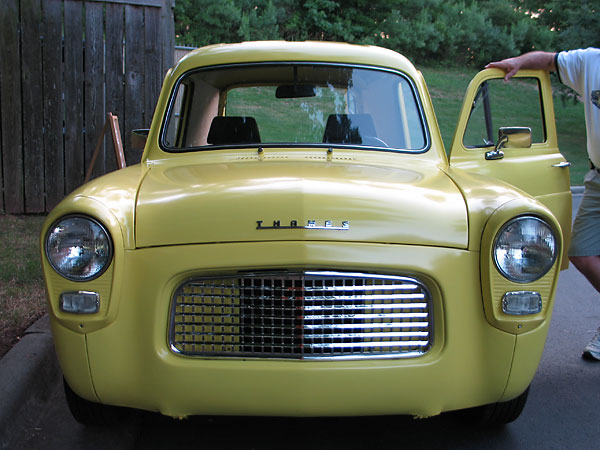 Ford Thames grille.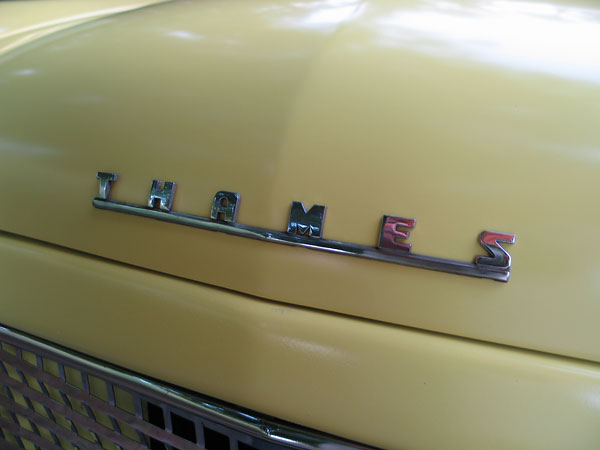 Ford Thames hood badge.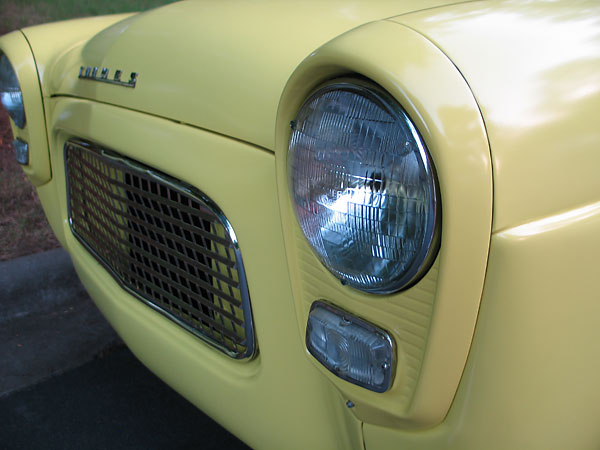 Ford Thames headlight trim.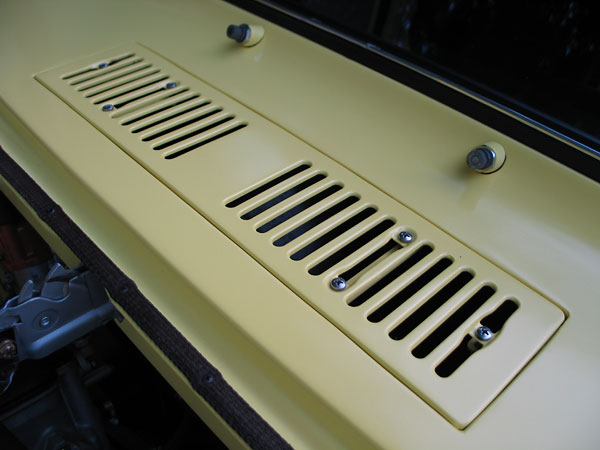 Ford Thames cowl vent.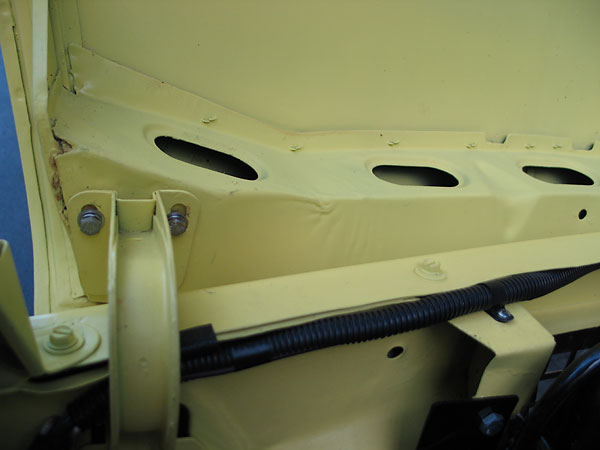 Ford Thames hood hinge detail.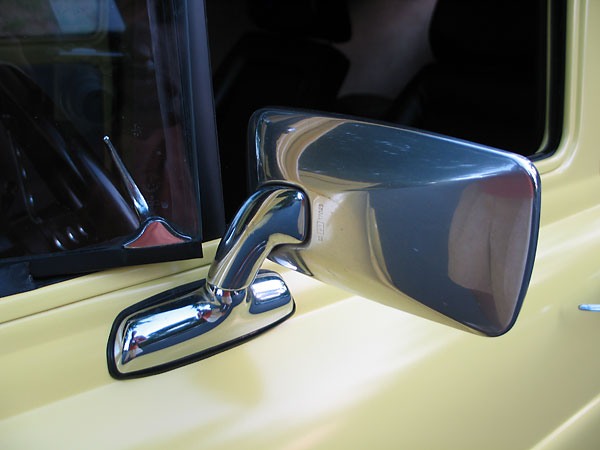 BMW 2002 side view mirror.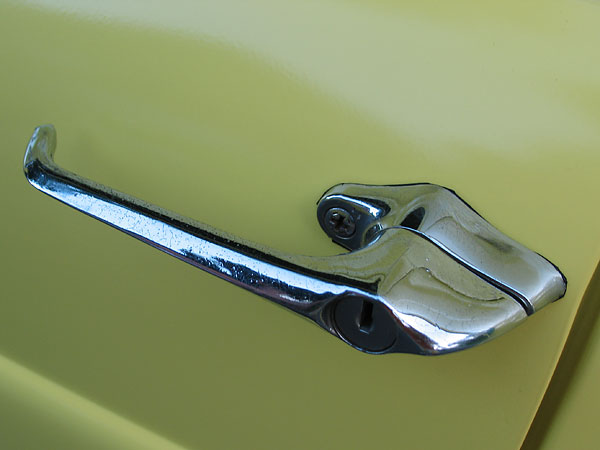 Ford Thames door handle.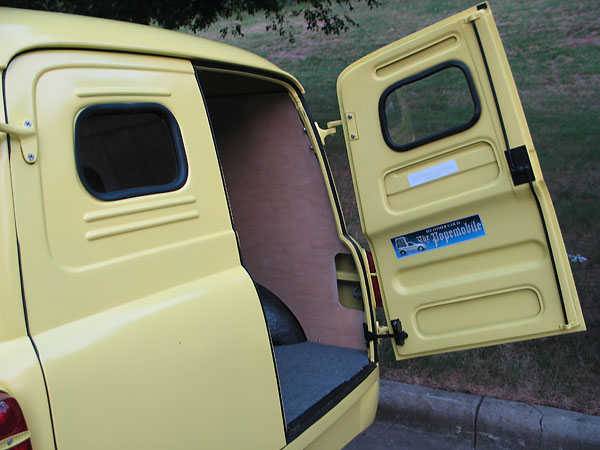 The bumper sticker reads: "My other car is the Popemobile"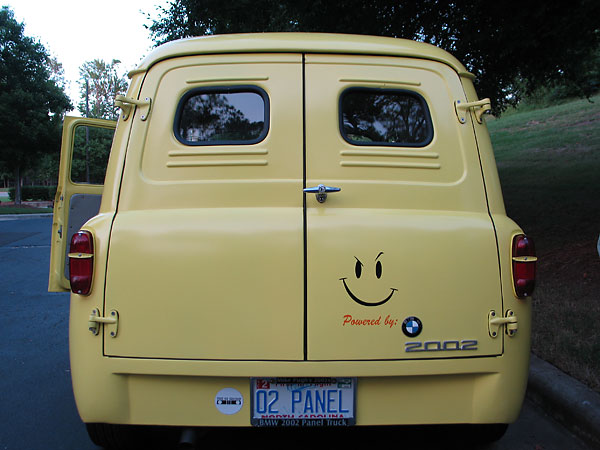 Powered by BMW 2002.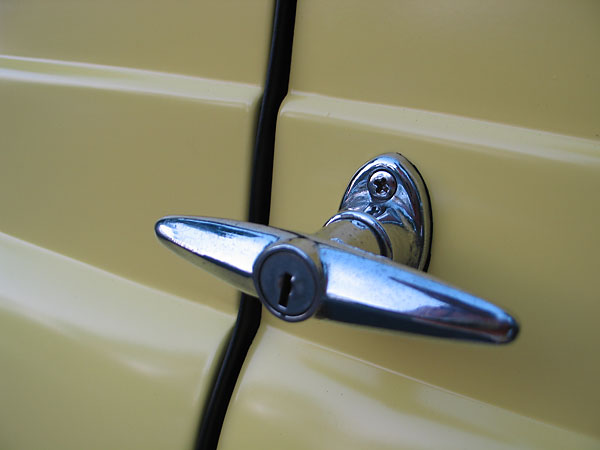 Ford Thames panel van rear door handle.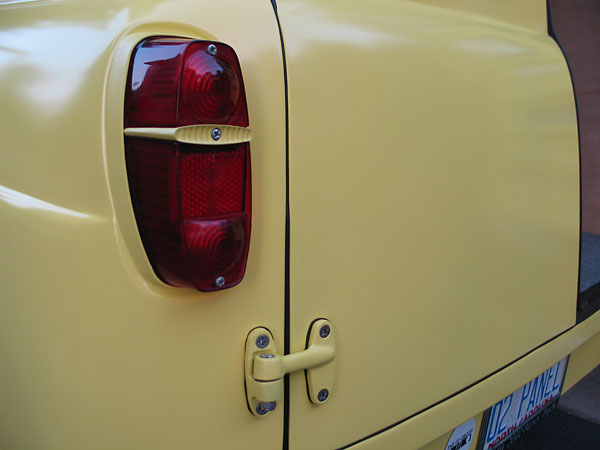 Ford Thames taillight.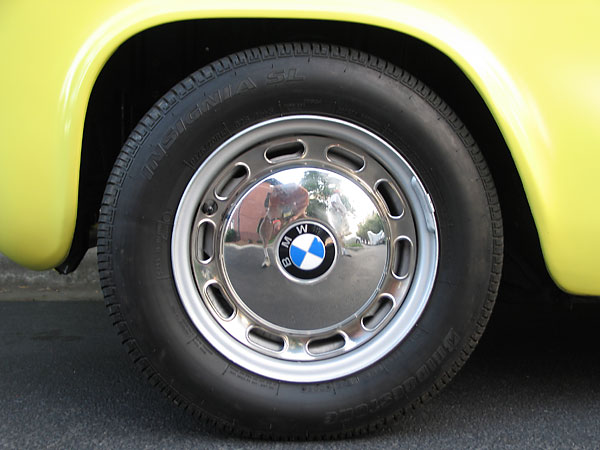 BMW 2002 Tii steel disc wheels.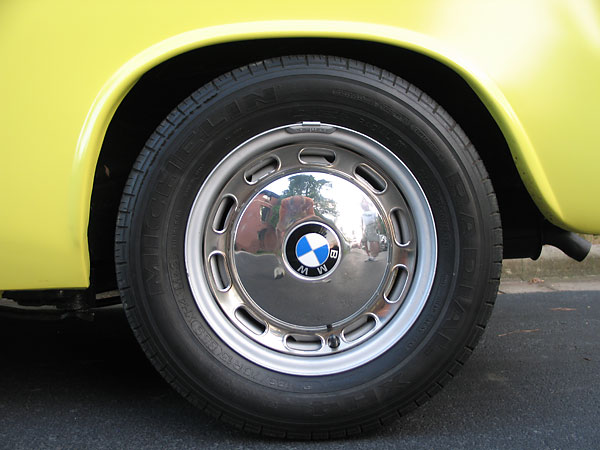 185/70R13 tires.


The eleven in-process photos in the "How It Was Done" subsection and the first and third photos in the "Background" subsection are by Mike Pugh for BritishV8 magazine. All other photos shown here are from June 2009 when we viewed Mike's car at the 2009 BritishV8 annual meet in Durham NC. Photos by Curtis Jacobson for BritishV8 Magazine. All photos are copyright 2009. All rights reserved.