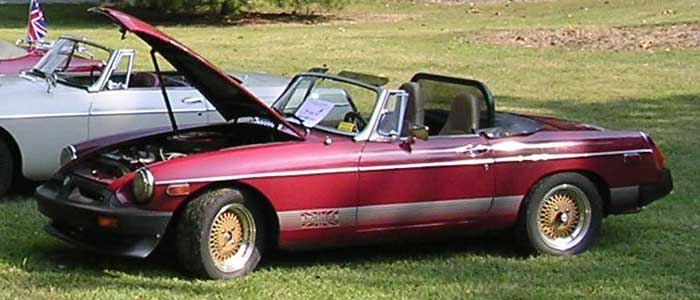 1979 MGB, with Buick 215 V8 (owner: Carl Floyd)
Top 10 Reasons to Bastardize a Perfectly Good Car
1. They're not perfectly good cars.
Many modern factory sports cars are well-engineered vehicles with ample power and handling, having good looks and style, but severely lacking in character. After spending 20-60 thousand dollars on a car, wouldn't you like to drive something with character?
From the 50's through the 70's, US auto manufacturers focused on building powerful, reliable muscle cars. At the same time, Europe and Japan built some beautiful, well engineered little cars, and then stuffed them with dinky little anemic power plants. Today, many of these stylish and character laden automobiles are still available at affordable prices. Powerful American powerplants and light weight Japanese motors are readily available, waiting for a creative motorhead to install them into an old classic! At last, the one thing that kept these cars from being motoring Nirvana can be eliminated - get rid of that puny engine and add some POWER!
NOW you have a perfectly good car.
2. The factory should have done it.
Some engine conversions work so well, it seems like it was the engineer's original plan. It probably was. You can be certain the design engineers wanted to do it, but the bean counters wouldn't let them.
3. Dr. Frankenstein would have done it -- Carol Shelby did!
Since you're on this web page, you've probably already heard the story: AC, a British car company producing a cute little car that had been around since before the wheel. Enter Carol Shelby, American cowboy with access to powerful American V8s.
It's the classic romance: boy meets little car, boy gets big motor, boy performs engine conversion, boy goes racing, and boy wins. The love affair with the AC Cobra begins... Enzo Ferrari was not amused!
Enjoying this article? Our magazine is funded through the generous support of readers like you!
To contribute to our operating budget, please click here and follow the instructions.
(Suggested contribution is twenty bucks per year. Feel free to give more!)
4. It's the American thing to do.
Melting pot theories aside, automotive genetic experimentation is a long-time US hobby. Stripping, chopping, transplanting... to the chagrin of automotive ethicists everywhere.
5. The Hempstead Law supports it.
There is a common law among mechanics everywhere, originally discovered by Benjamin Dent Hempstead. It goes something like this:
Pride X Fun = Worth of Vehicle \ Performance Equipment
6. It's an expression of your manhood.
Your wife is right, the Corvette is a phallic symbol. Installing a Corvette motor in another car is just another way of... expressing your virility. Even in prehistoric times, the caveman with the biggest club got the prettiest cavewoman. How big is your club?
7. They perform heart transplants on humans.

If your life depended on a heart transplant, would you choose the same model, or the 4-valve per chamber, High Output model?

8. It's a positive result of a mid life crisis.

There are far more stupid things on which you could spend your money. If you think stuffing a big engine into a little car is expensive, just compare it to the cost of a Mistress. Don't you know Bill Clinton wishes he had done an engine swap instead?

9. Tim Allen would be proud of you.

And perhaps a cute lesson in morality will appear at the end of your project!

10. It's an excuse to buy more tools.

Engine hoists are cool. So are air wrenches, floor jacks, welders, and all those other nifty tools you couldn't otherwise justify. Tools are, after all, toys, and "he who dies with the most toys wins!"


11. Bonus Reason!

IT'S YOUR CAR AND YOU JUST DAMN WELL WANT TO!