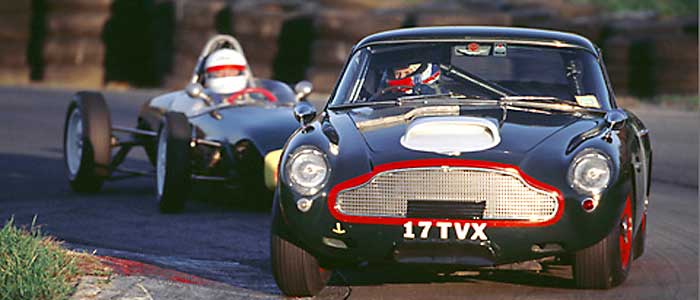 Aston Martin DB4GT (owners: James Bond... and Jim Freeman)
Factory Built Little Cars with Big Motors
AC COBRA
Does anything need to be said about the Cobra? Prior to the insertion by Shelby of the small block Ford, AC was a relatively obscure marque. Their earlier 4-cylinder model, known as the AC Ace, was little known outside sports car circles, and certainly not known for its performance. With the extra oomph provided by the Ford, along with other tweaks, the Cobra beat Ferrari for the world championship. There are more replica Cobras on the road now then there ever were the real thing!
ALLARD
Produced from 1946 through 1953, this classic sports car came with a variety of V8 engines, from the 85 HP 221cid Ford flathead, through 331cid OHV Cadillacs, all the way up to 235 HP 331cid Chryslers!
ASTON MARTIN DB4
In 1948 British automotive magnate David Brown purchased and brought together the assets of an engine company (Lagonda) and a chassis company (Aston Martin). Their combined resources were immediately thrown into developing a sports car. In 1951 five of the new DB2 model Aston Martins were entered at Le Mans. All five finished. One finished third-overall, and they also achieved a 1-2-3 sweep of the 3-liter class. Enzo Ferrari probably noticed. (Certainly everyone noticed Aston Martin by 1959, when Roy Salvadori and Carroll Shelby drove to outright victory at Le Mans and clinched the World Sports Car Championship!) The seminal Aston Martin, however, was the DB4. This model was the first clean-sheet design by the new company. All later models seem derivative. It featured all-wheel disk brakes and dual-overhead cams on an inline-6 engine that would reliably produce 350bhp. The mildest state-of-tune offered from the factory was a still-respectable 240bhp. When the DB4GT was introduced in 1959, it was shorter, lighter and more powerful. The GT model's engine featured Weber carbs, dual-distributors and two spark plugs per cylinder. To lodge their dagger even deeper into Enzo's heart, Aston Martin contracted with Milan's Zegato design-house to produce an even more brutal, streamlined, and lightweight variant. Only nineteen DB4GT Zegatos were produced, but they were spectacular!
Subsequent Aston Martin models were progressively bigger and heavier. Eventually big enough that they don't qualify for inclusion on this webpage, even though Aston Martin developed and offered a high performance V8 of their own design.
Enjoying this article? Our magazine is funded through the generous support of readers like you!
To contribute to our operating budget, please click here and follow the instructions.
(Suggested contribution is twenty bucks per year. Feel free to give more!)
MGB V8
British garage owner Ken Costello created early MGB-V8s by installing Rover 3.5 liter V8s into customers' MGB-GTs. (Note: the very first one he built actually had an Oldsmobile 215...) British-Leyland was so impressed by the 130mph cars that they started producing their own version. Why wouldn't they be impressed? The aluminum V8 actually weighed less than the standard MGB iron 4-cylinder. Unfortunately, reportedly due to intercompany rivalries, no MGB GT V8s were produced for the American market. In the early 1990's Rover group updated the V8 MGB and re-released it as the MG RV8. Far more MGBs are converted to V8 power than any other British sports car.
MORGAN PLUS 8
The Morgan has been in production, with only limited concessions to progress, since the world was flat. Actually, with one
BIG
exception - inclusion of a Rover V8!
SUNBEAM TIGER
Carroll Shelby had a part in the specification and marketing of other little British cars besides the AC Ace. The Rootes company contracted Shelby to prototype an engine conversion on the Sunbeam Alpine. The 1964 Tiger shared the Cobra's Ford small block 260 V8, but in a milder tune. Later models have the 289, but after the Rootes group had been taken over by Chrysler, a Ford engined car was no longer acceptable.

TRIUMPH STAG
A much nicer car - and engine - then is generally given credit for, but the V8 was not really a high performance engine.


TRIUMPH TR8
The Shape of Things to Come! TR8 was Triumph's TR7, except with an aluminum V8 instead of an iron four. Until recently considered the black sheep of the Triumph family, the TR8 (and re-engined TR7s) are gaining in popularity! With the Rover V8, there is a lot of performance potential in these cars.

TVR
In addition to several anemic four cylinder versions, TVR automobiles have been produced with an amazing variety of large engines, including: a 2.8L Ford Cologne V6, a 3.5L Rover V8, to a 4.7L Ford V8, and an amazing 5.0L Rover V8.