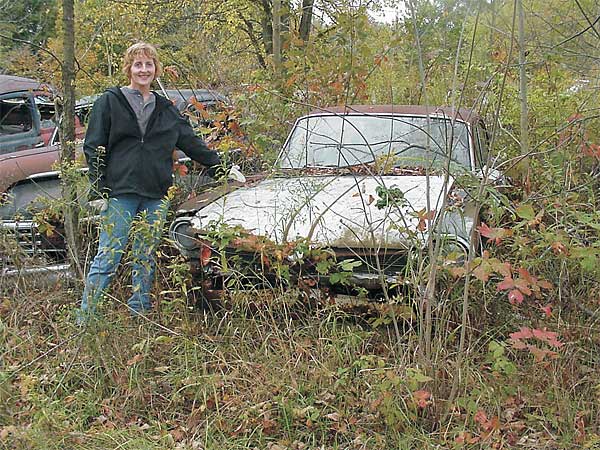 Junkyard Quest
(originally published in British V8 Newsletter, Volume XI Issue 1, January 2003)
by: Kurt Schley and Sue Hunter
Quests! For Columbus, it was finding the New World. For Quatermain, it was finding King Solomon's lost gold mines. For any hard-core gearhead it is finding a stash of old, undisturbed cars which are available for sale. Thus I got a heavy duty case of rusty-iron fever when I heard of just such a hoard in the hills of central Ohio. Sue Hunter and I had attended the Canfield auto parts swap meet in August of 2002. I usually wear a bright yellow T-shirt to the swap meets, with "WANTED BUICK/OLDS 215 ENGINES" emblazoned across the front.
This usually garners at least one or two "I know of one!" tales, most which turn out to be leads.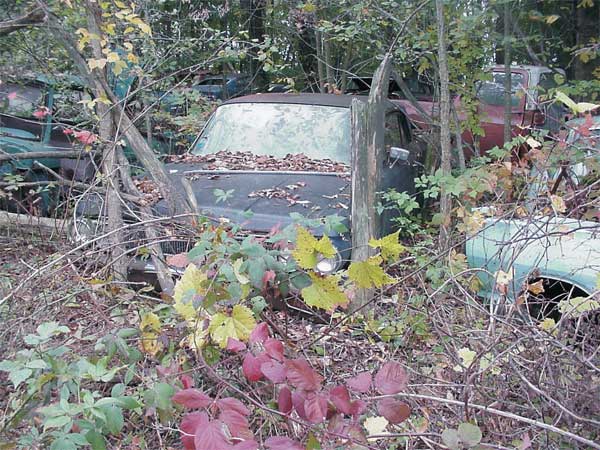 At the last Canfield, OH swap meet an elderly fellow stopped me and stated that he was the trying to clear 110 acres of land in Southern Ohio of old cars. The cars had been accumulated there in the 50's thru early 80's by a local auto dealer. When the dealer acquired a trade in or other old car he did not want, it was towed out to the property in the boondocks, lined up with all the others and dumped. Over the many years about 800 cars had accumulated and recently the owner had died. My new best friend, Jerry, went on to relate that he was trying to sell off the cars for the widow, so that the land could be sold. He reckoned that there were at least five or six F-85s or Buick Specials with 215s inhabiting the chest high weeds and overgrowth.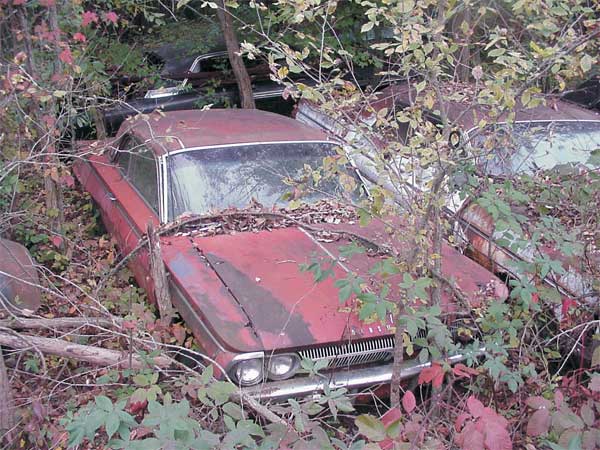 About two weeks later, Sue and I headed south, equipped with crowbars, cameras, bramble-proof clothes, and flashlights. The final turn off from the road lead onto a dirt path through woods and fields, up to an old brick garage on a steep hillside. Beyond the garage sat row after row of partially overgrown cars of every description. Bill had brush hogged the aisles between the rows, but many of the cars showed only rooflines above the tightly woven thorns and vines. Before Sue and I set out on our 215 search, Jerry related how he had just pulled "about 15 Hemi engines out for some feller. Charged him $150 each and he seemed pretty happy!" Jerry also cautioned us that it was rutting season and any buck deer wandering around might be a touch aggressive. He had been chased off the hill by a horny and frustrated whitetail the last week.
Enjoying this article? Our magazine is funded through the generous support of readers like you!
To contribute to our operating budget, please click here and follow the instructions.
(Suggested contribution is twenty bucks per year. Feel free to give more!)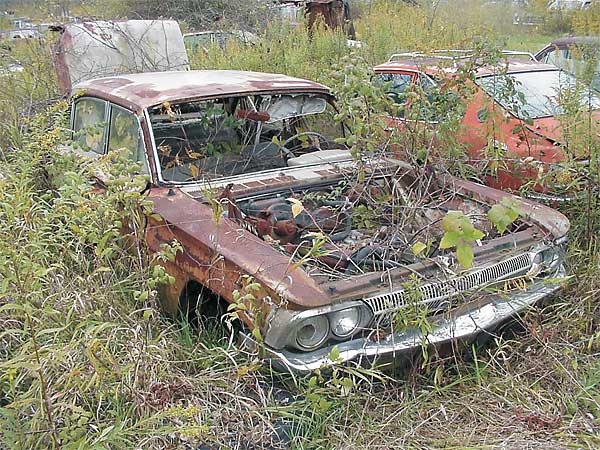 The next four hours were like playing "Where's Waldo", as Sue and I traveled slowly up and down between rows of well hidden hulks, trying to pick out the Specials, F85's, Cutlass's, and Jetfires. Nearing the end of the search, our tally stood at eight targets located (including two which eagle-eye Sue gleefully picked out after I had walked by and missed them completely). Four were already stripped of the 215, one was a V6 with a 3-speed manual bellhousing and three had intact 215's.
Unfortunately, the decades of rest on the often wet ground had resulted in the engines exteriors being pretty rough, to the point at which I was sure the internals were frozen up. As they were two barrel motors with automatics, I decided to leave them. The next to last row did yield some gold. A'64 Buick, after having the hood bent in half and pried open, showed a 300 motor - unfortunately not a 4 barrel, but still desirable for the heads, crank and front cover. This was a keeper!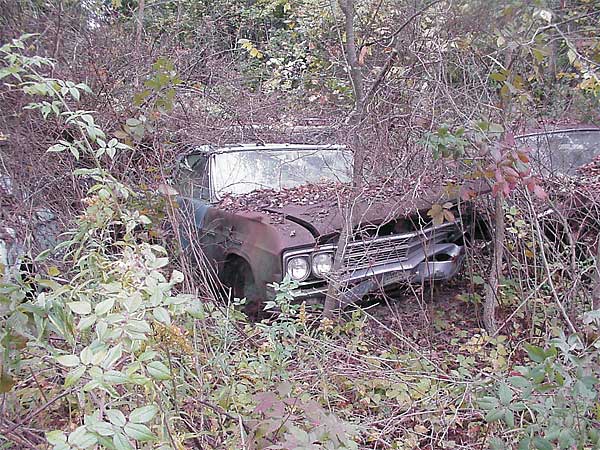 Reluctantly we wended our way through the rest of the VW microbuses, tri-five Chevy's and other relics down to the garage. I arranged with Jerry to have him pull the 300 engine and I would pick it up in a couple of weeks. Naturally, when we drive down for the motor pickup, Sue and I will just have to go through the collection again. Maybe we missed a 4-speed manual bellhousing, a 215 Jetfire engine or... ?
Disclaimer: This page was researched and written by Kurt Schley and Sue Hunter. Views expressed are those of the authors, and are provided without warrantee or guarantee. Apply at your own risk.