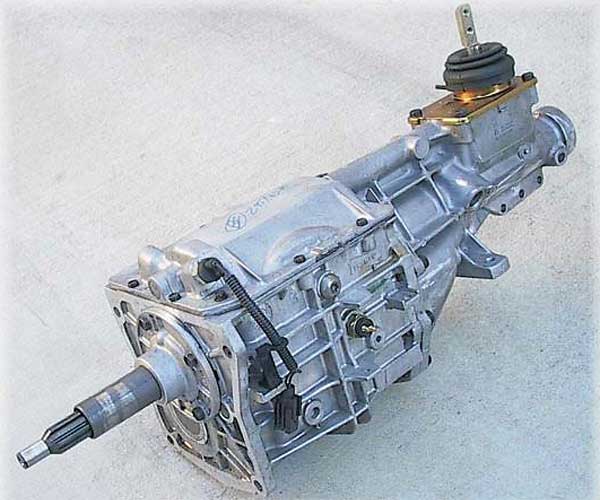 The Borg-Warner T5 5-Speed Tranmission
Which 5 or 6 Speed Transmission for your Ford Conversion?
This article appeared in The British V8 Newsletter - Volume XII, Issue 1 - January 2004
by: Pete Mantell
So you've decided to build a Ford 302 conversion (thanks possibly to Dan Master's great article "Is There a Ford in Your Future" in the May-August 2003 Newsletter) and now you need to choose a 5 or 6 speed transmission. You've heard about World Class T5's, non World Class T-5's, Tremec 3550's & TKO's, T56 six speeds and you've been left scratching your head! Well, here's a guide to the 5 & 6 speed transmissions available for that Blue Oval Bad Boy from my own research and experience. At the end of the day, as always, it depends on budget.
If you buy second-hand or junkyard, look out! As you may know, some of the transmissions out there can be well-tested! From junkyards the only ones you'll find will be aT-5, unless you hit a gold mine and find a heavily modified Mustang that has already been fitted with an aftermarket Tremec 3550!
Second hand or eBay you'll find plenty out there, just try and look for a 1983 to 1993 with an input shaft diameter of 0.668" rated at 265 ft/lbs or more, this will ensure that it's the stronger version of the T-5. 1994 to 1995 can be used except you will have to get the slightly longer bell housing as the input shaft is longer. T-5's with the 0.59 diameter input shaft transmission are only rated at a maximum of 240 ft/lbs.
If you look at the aftermarket then all are available ranging from $1000 for a new, uprated T5 to $2200 or more for the T56 six-speed.



Borg-Warner T5 Dimensions

A = 19.5 inches
B = 7.2 inches
C = 14.5 inches
D = 24.7 inches
Weight = 75 pounds

The T-5 was designed and manufactured by Borg-Warner until 1997, where the company's manual transmission operation was bought by Transmission Technologies Corporation (TTC) who also acquired Tremec in 1994. TTC is a joint venture between DESC group and Dana Corporation and is the leading manual transmission manufacturer. (
www.ttcautomotive.com
). The T5, 3550, 3550TKO and T56 are all manufactured by this company.
Not all Borg Warner T-5's are the same. The first T-5 five speeds were introduced to market in 1981, in of all things, an AMC Spirit/Concord. In 1983, T-5s were introduced to Mustangs and are currently used in V-6 Mustangs. The T-5 is the only American made standard transmission to span almost 20 years of production. Because of the large quantities of T-5's produced, many parts are interchangeable. There are now over 200 different T-5 transmission assembly part numbers and still counting.
There are two basic kinds of T-5's, Non World Class (NWC) and World Class (WC). In 1983 and 84 Ford used Non-World Class T-5s to improve performance and gas mileage at the same time. The NWC boxes had 2.95 first gear set with 1st, 2nd, 3rd, gears riding on a solid output shaft. The counter gears spin on straight cylindrical bearings with a thrust washer in front. 2nd, 3rd, 4th and 5th gears used solid bronze synchros. Torque rating for the NWC was 265ft/lbs.
In 1985, Ford introduced the World Class T-5 installed with a 3.35 first gear set. No longer were 1st, 2nd, and 3rd gears spinning on a solid output shaft. Needle bearings were installed under each gear to reduce drag. The lower counter gears saw tapered bearings. All main shaft synchros were fiber-lined steel rings to improve ring surface area while 5th remains bronze. By improving the friction of the synchro ring, the synchro slows the gear faster making for smoother shifts. Torque rating remained the same at 265ft/lbs. and the overdrive was reduced from 0.63 to 0.68.
From 1990 to 1993 the stock Ford production V-8 WC T-5 was upgraded with stronger 3.35 gear set. The nickel content was increased to produce a harder, stronger gear. 2nd and 3rd gear ratios decreased slightly. Synchro linings on 3rd & 4th were improved by changing to carbon fiber to further improve shifting. A longer throw shifter was installed to "make it easier to shift". Torque rating jumped to 300ft/lbs.

When the 93 Cobra was introduced, so was the "Cobra Spec" T-5. It was the first T-5 with a front tapered output bearing and steel front bearing retainer. The Cobra boxes also received a reverse brake and synchro assembly where there was none before. Just about everything else remained the same. Torque rating was increased to 310ft/lbs.

1994 and 95 were the last two years Ford used the T-5 behind a V-8. In the SN95 Mustangs, the bell housing in both the 3.8L and 5.0L versions was made longer to place the T-5 shifter in the correct location to the body. This in turn made the input shaft longer. (7.85") The neutral safety switch was eliminated, as it was no longer needed. Everything else remained the same.

Today's V-6 Mustangs sports the last of the T-5s. The T-5 behind the 3.8L is a 3.35 first gear set with a 0.68 over drive. What makes these different from the rest is the electronic speedometer trigger. No longer is there a mechanical driven cable system. It has the longer input shaft equipped with a steel front bearing retainer and reverse synchro brake assembly. Torque rating is 300ft/lbs. These T5's can be converted to a V8 spec box.

Ford also used the T-5 behind 2.3L through the years. While the 4 cylinder T-5 may appear to be the same, they are not. Most 4 cylinder T-5s received a 3.97 gear set with a 0.79 overdrive and the small input pilot bearing shaft. Four cylinder T-5s should not be used behind a V-8, even when the pilot bearing is changed to match. Simply put, they will not hold up. Torque rating is 240ft/lbs. Besides, the first gear is much too low to be usable for your MGB or Triumph conversion.

In about 1993 Ford started offering a new "Super Duty" unit to the motorsport crowd. The "Z" spec T-5, also sometimes referred to as "World Class T-5". Most folks, associate the term "World Class" as meaning the best. The T-5 Z is a 93 Cobra T-5 with 2.95 first gear set and 0.63 over drive. It has the best of everything. Hardened gears, short throw shifter, steel front bearing retainer, and tapered output shaft bearing. Best of all it has a torque rating of 330ft/lbs. This T-5 can handle up to 450 hp if not drag raced. New Super Duty T-5 Z's can be purchased from your favorite speed shop like Summit Racing, part number FMSM7003Z.


| | | |
| --- | --- | --- |
| Tremec TR-3550 5-speed Transmission | | Borg-Warner T56 6-speed Transmission |
The Tremec TR-3550 transmission is only available aftermarket and will fit the T-5 bell-housing. There are 4 versions available:
TR-3550 rated at 350ft/lbs.
TR-3550 II rated at 375ft/lbs.
TKO rated at 425ft/lbs.
TKO-II rated at 475ft/lbs.
Gear Ratios:
1st - 3.27:1
2nd - 1.98:1
3rd - 1.34:1
4th - 1.00:1
5th - 0.68:1
Reverse - 3.00:1
Enjoying this article? Our magazine is funded through the generous support of readers like you!
To contribute to our operating budget, please click here and follow the instructions.
(Suggested contribution is twenty bucks per year. Feel free to give more!)
The Borg-Warner / Tremec T56 six-speed overdrive transmission was developed for adaptation to a wide range of vehicle requirements. Currently, the Tremec T-56 is being used on the Dodge Viper, Chevy Corvette Z06, the new Pontiac GTO, Ford SVT Mustang Cobra, Aston Martin DB7 Vantage and V12 Vanquish, and Holden Commodore and Monaro. The T56 is rated up to 450 ft/lbs. You will need to ensure that the T56 has the correct bellhousing, as this is part is integral. This transmission is much heavier than T-5 and slightly taller also, so more transmission tunnel mods may be required to install it.
Gear Ratios:
1st - 2.66-1
2nd - 1.78:1
3rd - 1.30:1
4th - 1.00:1
5th - 0.74 or 0.80:1
5th - 0.50 or 0.62:1
Reverse - 3.00:1
So, you're spoilt for choice! While it's best to shoot for the 90-93 T-5 due to its increased torque capacity, you shouldn't pass up a good 83-89 T-5, especially if you're engine is not heavily modified. I've found that T-5 strength and longevity is more a factor of its condition and mileage rather than its torque rating. A used, high mileage, Cobra T-5 will probably shift poorly and give out much sooner than an earlier T-5 that came out of grandma's car!
Good luck and happy hunting!






Tremec Dimensions

input shaft = 6.00 inches
flange to rear-most shifter = 19.51 inches
flange to tail = 24.07 inches
Note: three shifter locations to choose between.



Borg-Warner T56 / Tremec TR-3550 Dimensions

A = 26.4(?) inches
B = 5.3 inches
C = 26.4 inches
D = 33.1 inches
Weight = 115-130 pounds
Note: Dimensions are for Ford applications; diagram is from a GM transmission
Disclaimer: This page was researched and written by Pete Mantell. Views expressed are those of the author, and are provided without warrantee or guarantee. Apply at your own risk.