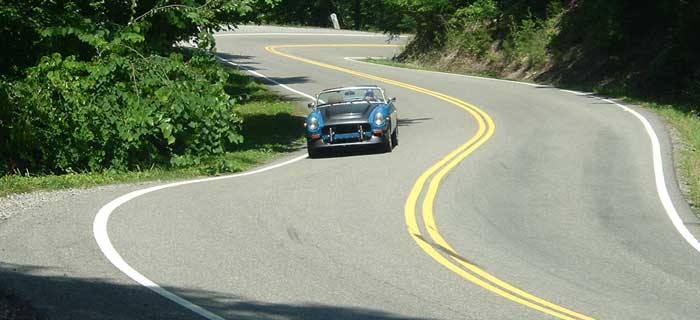 Kelly Stevenson Carves Up "The Tail of the Dragon" (Deal's Gap, Tennessee)
In The Driver's Seat (Volume XIII, Issue 1 - January 2005)
by: James Jewell
Happy New Year! I had a really funny opening paragraph that recounted my personal growth throughout 2004, but my senior editor (wife) though that a court might be able to use it as an admission of liability if any of the subscribers attempted to perform any of the acts described therein. In addition, there were some comments that may have been offensive to readers who derive their lineage from a particular European country that no longer exists. So under advice from my better half, I instead give you this benign image: I've learned a lot this year. Mostly I've learned about the incredible limits of human patience and tolerance. Despite sitting on your checks for months at a time, and taking nearly as long to get out back issues, you have all demonstrated in incredible level of tolerance and understanding for me. Let me say it does not go unappreciated!! It's also made me more respectful of other small businesses, as I now understand what they have to go through on a daily basis.
I'm aware that the quality of customer service has gone down since Dan left the helm, but I'm taking strong actions to remedy that. I've invested money in professional business software (Quick Books Pro) and customer management software. Hopefully this will reduce the time it takes me to close out your requests. That is, of course, if I remember to use it.
On a positive note, subscriptions are up this year. We are approaching 200 paid subscribers in at least 4 countries; this despite me allowing the web page to become hopelessly out of date! Along those lines, I have been working on a complete revamp of the web site, and will turn it on as soon as I feel comfortable that it will work properly (I'm no web designer!) Several more 'vintage' issues of the newsletter have been restored and digitized, which will improve the quality of reprints.
In addition to reprints, I want people to have access to downloadable versions of all the hard-copies they paid for. In other words, if you first subscribed in May of 1997, I'd like for you to be able to down-load electronic versions of the newsletter back to the May '97 issue. So try to recall when you first subscribed. I'll work by the honor system, of course. You can e-mail or call me with that nugget of information if you know it, and we'll set up a password for you. This may take a while to fully implement, but I think you'll enjoy seeing many of the photos in color as well as being able to replace issues on which you spilled motor oil.
Enjoying this article? Our magazine is funded through the generous support of readers like you!
To contribute to our operating budget, please click here and follow the instructions.
(Suggested contribution is twenty bucks per year. Feel free to give more!)
Kurt Schley has volunteered to be our social coordinator. If you know of any upcoming events or meets, please contact Kurt or me. One of my first goals with the re-designed web site is to have a strong social calendar. Not just V8 events, but all automotive events where it would be appropriate to make our presence felt. If you are going to such an event and want to hand out issues of the newsletter to potential customers, contact me with enough lead-time and I can print some up for you, or do it at your local Kinkos, and I should be able to reimburse your printing costs (please contact me before doing that, however).

On a personal note, it's been a busy year out side of my V8 life. I met my promotion board and was selected to make Major. I should pin on the new rank in May. I've also gotten 'conditional' membership on the U.S. Air Force Highpower Rifle Team, which has been somewhat of a dream of mine. If I'm able to make good scores over the year, I should be made a regular member. I lost my uncle in the Fall, who was... no, IS a hero of mine, but my wife and I also made it to our first wedding anniversary. I spent most of my free time working on the home renovation and the newsletter, and almost no time at all actually working on my MGB conversion, although I did hire out my head work, and rebuild my T-5 tranny which will both be topics for future articles.

Keep up the word-of mouth sales pitches for the newsletter, and feel free to make copies for your friends! Talk us up at your British car clubs as well as on any electronic bulletin boards/mailing lists that you can think of. Stay Safe Out There!