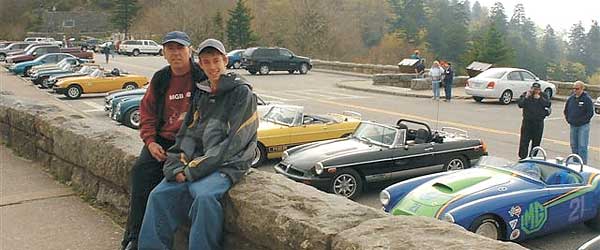 Canadian Corner (Volume X, Issue 2 - May 2002)
by: Martyn Harvey
(Editor's Note: In its original form, this article provided an internet address for The Canadian MGB V8 Register. We regret that the web address no longer works. We'll update this page with a new address for the Register when we become aware of one.)
It's great to see that there are numerous MGBs currently under conversion to V8 power across Canada. I'm only aware of those cars that have been "registered" at the Canadian MGB V8 Register, so there may be even more than I know. The interest in these exciting and fun machines continues to grow and so does the number of questions I receive about conversion techniques and sources for V8 conversion parts.
During the past seven years I've enjoyed the process of building my own MGB V8 and I've especially enjoyed the camaraderie that is part of MG ownership. However, through personal experience, I know that the cost of converting a car in Canada has become astronomical.
Enjoying this article? Our magazine is funded through the generous support of readers like you!
To contribute to our operating budget, please click here and follow the instructions.
(Suggested contribution is twenty bucks per year. Feel free to give more!)
Canadian MGV8 converters have to endure several deterring obstacles when procuring their conversion parts. These include: the poor exchange rate of the Canadian dollar, seemingly high shipping costs, and the hassle of Canada Customs procedures. Hopefully, these obstacles will not deter Canadians who love their MGs and dream of driving them with a few extra horsepower to keep up with the flow of modern traffic. Some people have the skills to fabricate their own parts and therefore avoid some of these problems. For most people though, there's a balance between fabricating parts at home and sourcing parts from afar. There is one thing I am certain of; a large part of the excitement of MGBV8 ownership is the process of designing and building one's own car.
The Canadian MGBV8 Register provides useful information about building an MGBV8 and about sourcing conversion parts. There are several different pages that include: links, detailed listings of members' cars, a discussion board, classified ads, and an account of my MGB V8 experiences. I hope all MG and other car enthusiasts find it an interesting and valuable resource.

I hope we'll see a few more Canadian V8s on the road this driving season and I'm looking forward to visiting with all my V8 friends at this year's events.