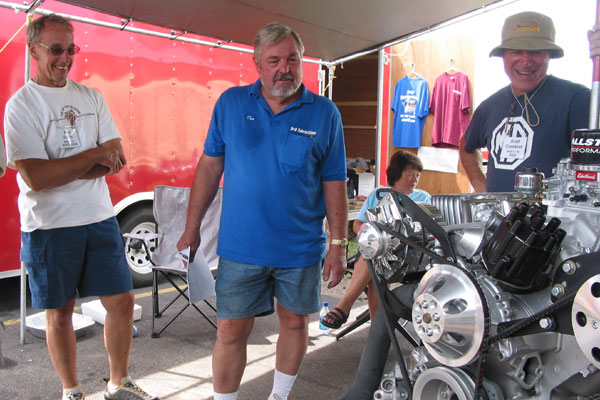 British V8 2007 Tech Session: Rear Axle Selection and Set-Up
as published in British V8 Newsletter, Volume XV Issue 2, September 2007
presented by: Dan LaGrou of D&D Fabrications
coverage by: Curtis Jacobson
D&D Fabrications recommends General Motors 10-bolt axles for MGB engine swaps. Dan Lagrou explained this way: the stocks of competitive Ford axles are older. The end of production of the 9" Ford axle was 1975 or 76. The end of production for the 8" Ford axle was in the early 80's. The Ford 8" was used on some Mustang II's. (Dan didn't discuss the Ford 8.8 axle, which pretty much replaced both the 8" and 9" Ford axles and is still in production.)
The small GM 10-bolt axles have a ring gear 7 5/8" in diameter. Some 7 1/2" axles were made early on, but the pinion was smaller and other parts were non-standard, so Dan recommends that people just avoid these. Around 1989, the 7 5/8" axle changed from 26 to 28 splines on the axle shafts.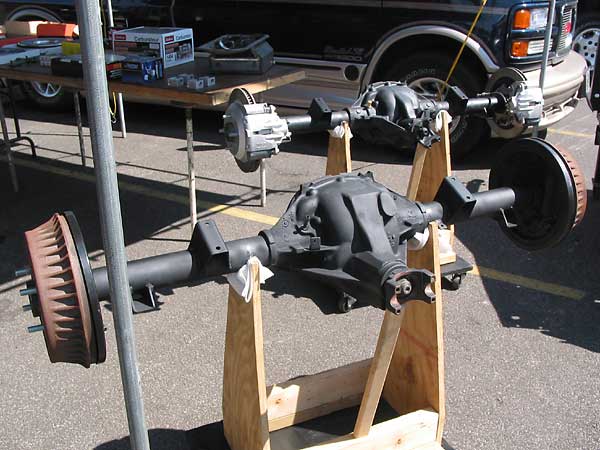 The GM 10-bolt axles were used in Chevy S10 pickup trucks through about 2004. For that reason they're plentiful, cheap, and available in good condition, plus a lot of them have limited slip differentials. They come with appropriate gear ratios for MGB V8 conversions. The most common ratios are 3.08, 3.23, and especially commonly 3.42:1 (which was standard in S10.) Other gear ratios are available in the aftermarket. These ratios seem to compare favorably to what was standard in most 8" Ford applications. The most popular ratios for an 8" Ford were lower: 2.90 or 3.03:1.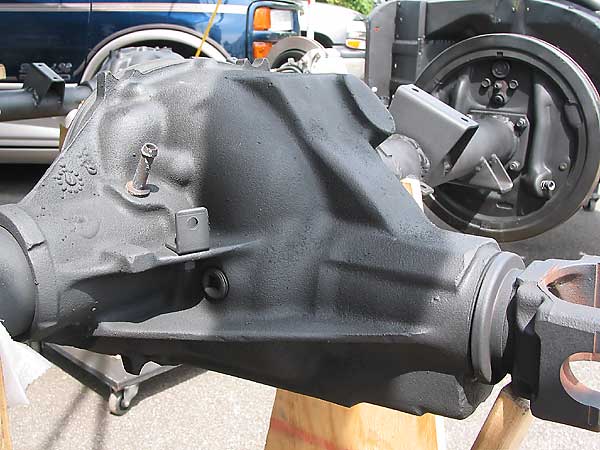 Fill up to the level of the drain plug with hypoid gear lube.


Several cast iron differential carrier designs were used on GM 10-bolt axles, but they all have tubular sections extending out of the differential to the sides. (In basic design, a GM 10-bolt looks a lot like a Ford 8.8 axle.) When looking for a 7 5/8" axle for an MGB, in one respect it doesn't matter what axle casting you choose. They all cost the same and require the same techniques to "narrow" to MGB width. Therefore, pick your axle based on condition and features (gear ratio, differential, and brakes), not based on the housing. (Note: the ID tag on these axles tells what's inside. The tag is attached via one of the 10 cover bolts. Expect to find it at 3 o'clock or 9 o'clock when viewing the axle from the rear.)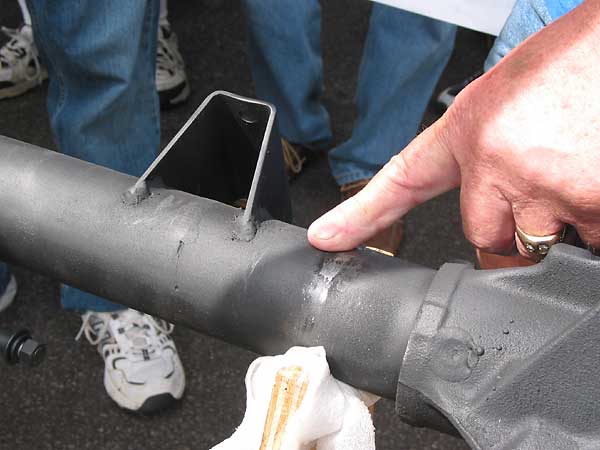 What if you want to narrow a Chevy 10-bolt axle at home? It's not too hard to do. Since the axle tubes have a constant diameter (and aren't formed steel like a 9" Ford) you can narrow the housing by cutting out a section anywhere along the tube. When you're ready to weld the axle back together, the pieces will line up. You just fixture up the axle nice and straight and weld it back together. Generally, welding leaf spring perches, Panhard rod brackets, etc. onto these axle housings is pretty straightforward too because they don't usually warp when heated.
Enjoying this article? Our magazine is funded through the generous support of readers like you!
To contribute to our operating budget, please click here and follow the instructions.
(Suggested contribution is twenty bucks per year. Feel free to give more!)
Even if they narrow their own housing, most people do send out for new axle shafts (from someone like Moser Engineering.) When you go to install the new axle shafts they should slide in and out EASILY. If they bind at all, the axle isn't straight. (Note: if the axles do bind, all is not lost. Bent axle housings aren't hard to straighten by a professional.)
Various limited-slip differentials have been used by GM in the 10-bolt rear axle. GM switched back and forth between Eaton, Auburn, and Zexel Torsen.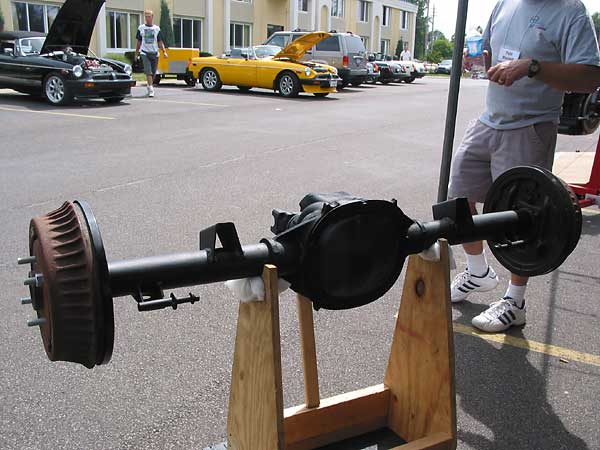 Dan emphasized that installing the D&D Fabrications narrowed axle is "a driveway job." No specialized tools or skills are needed. Hooking up the brake system is easy because the brake connections are all inverted flare type. All brake line and parking brake cable brackets are already installed. A parking brake cable kit is available.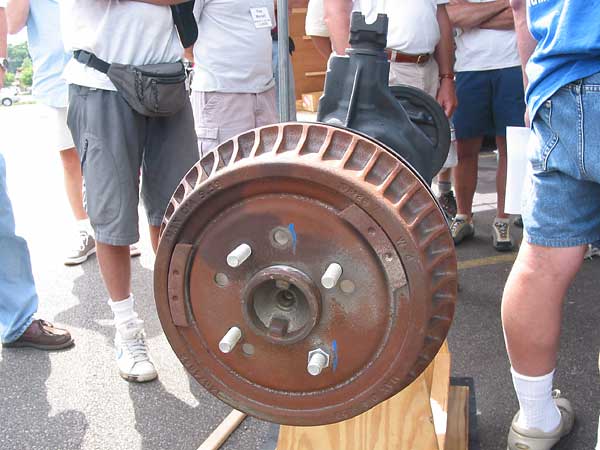 If you decide to go with drum brakes, keep in mind that aluminum brake drums (with iron liners) can be scrounged up. They're no longer made, but GM did use them on some of the big Buick and Chevy sedans in the early 1990's. They weigh about 7 pounds, versus the 15 pound weight of solid cast iron brake drums. Another reason to use them is that they look great behind spoke wheels.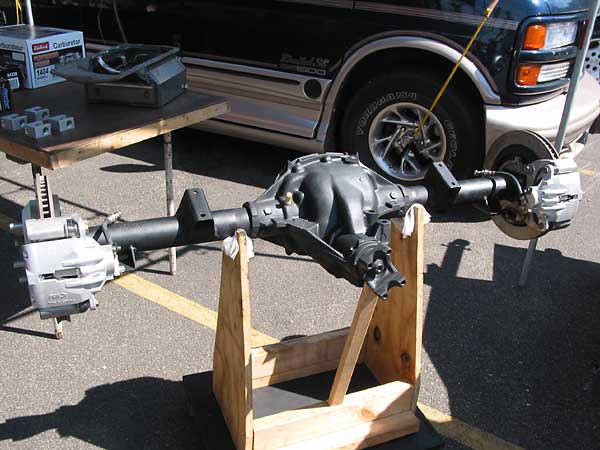 If you want disc brakes, General Motors used three different calipers on these axles. You can choose from the following:
Option 1 (from the Versailles) is an iron caliper and a helix parking brake
Option 2 (from 92-99) is an aluminum caliper, and the parking brake is inside the rotor bell, which works better
Option 3 (from 99-on) is also an aluminum caliper, and the parking brake is inside the rotor bell, which works better
(Option 3 is shown in the photos.)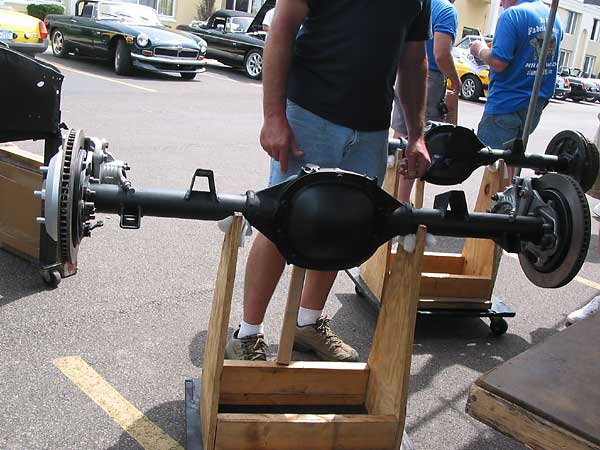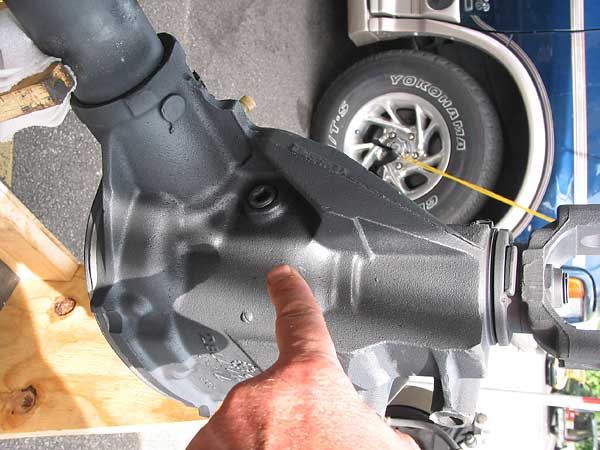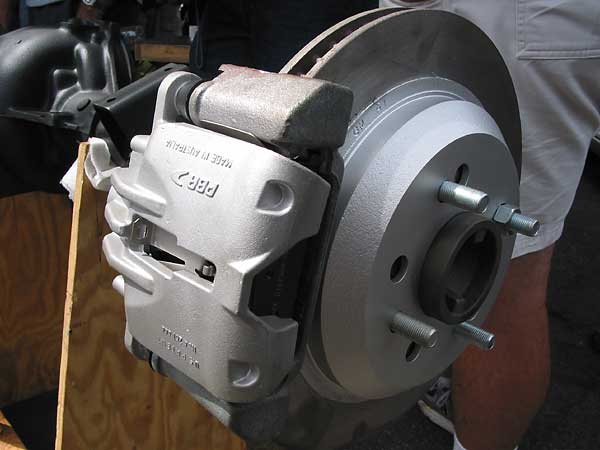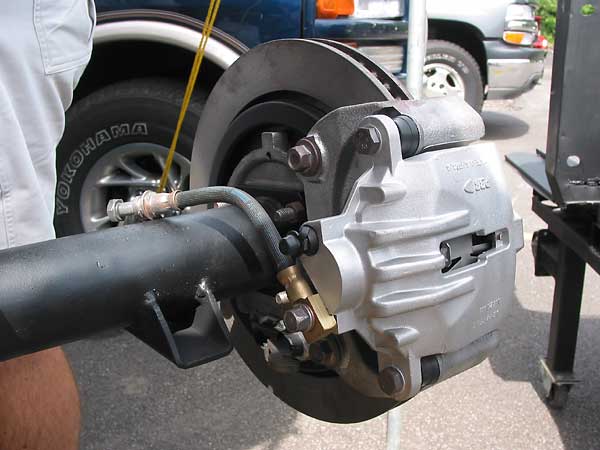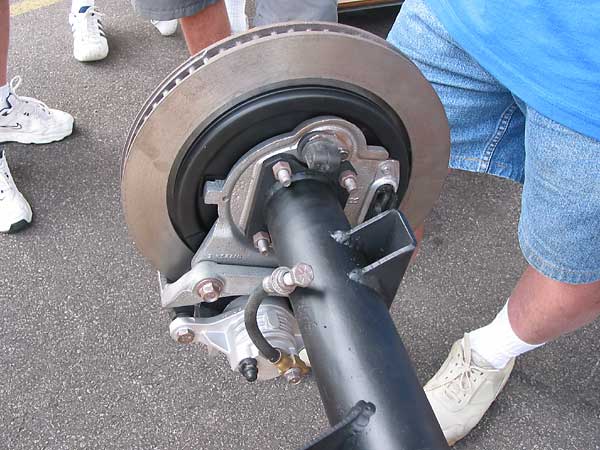 Dan also mentioned the 9-bolt "Australian" axles as an alternative for MGB V8 converters. Dan described these as a heavier duty axle that's still in production. They shouldn't however be confused with the 10-bolt. The 9-bolts have been used in 350 "Tuned-Port" Camaros, (and some other F-bodies between 1985 and 90) and they are thus fairly common at swap meets. Expect to pay about $300 for one.
The Australian axles actually have a long history and have been used in many, many cars. They're also known as "Borg-Warner 9-bolt" axles or "M78" axles. These axles entered production in the late 1960's by BTR Engineering Ltd., who was later bought out by Borg-Warner. Borg-Warner has subsequently been bought out by Dana. Besides Camaros, these axles have been used in Australian market Ford Falcons, Plymouth Valiants, Holden (GM) Commodores, Toyota Corrolas, Nissan Skylines, Morgan Plus 8's, and some models of Datsuns. In the UK these axles have been used in Vauxhalls and Jenson-Healeys.
Need a driveshaft? D&D also makes and sells driveshafts specifically for MGB engine conversions. They charge $225. You need to specify the length of the driveshaft. When you measure the driveshaft, keep in mind that you need to allow one inch of "pull out" at the transmission.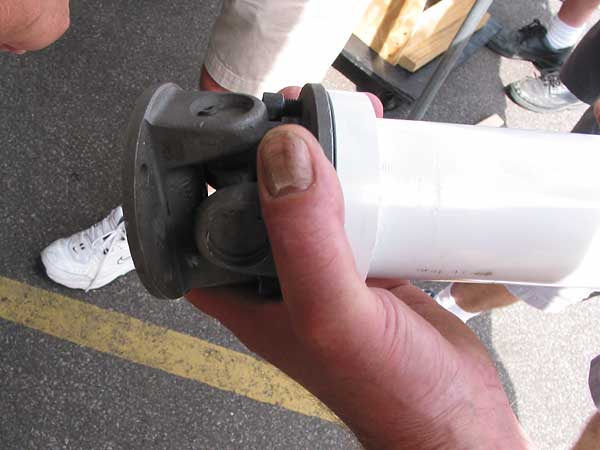 Disclaimer: This page was researched and written by Curtis Jacobson. Views expressed are those of the author, and are provided without warrantee or guarantee. Apply at your own risk.
Photos by Curtis Jacobson for the British V8 Newsletter. All rights reserved.