Tim Duhamel (Jaguar XJ12C) and Pete Mantell (MG MGB)


BritishV8 2013 Track Day at Mid-America Motorplex
as published in BritishV8 Magazine, Volume XXI Issue 1, July 2013
by: Curtis Jacobson
About Mid America Motorplex
Mid America Motorplex is a relatively new road racing facility; its road course was completed in April 2002. Track owner Mark Tincher commissioned the track's design to Alan Wilson, and asked him to build it with safety in mind. The result is a 2.23 mile long racing circuit "with 15 turns of increasing radiuses, decreasing radiuses, long straights, ample passing zones, challenging switchbacks, and a flat-out kink". According to Mid America Motorplex's website, the 40 foot wide polymer track surface is an uncommonly tire-friendly compound; it minimizes tire wear while promoting traction for all types of vehicles. The track certainly has very generous run-off areas in nearly all directions. For BritishV8's track day, Mid America Motorplex was well staffed with corner workers. Before we took to the track, the staff very helpfully marked suggested braking zones, corner apexs, and they even marked corner exit "targets" with traffic cones.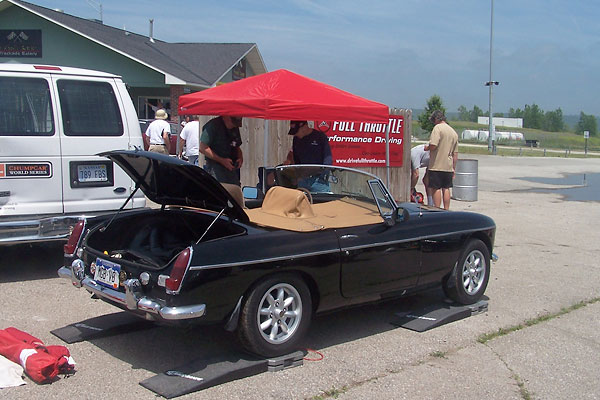 Al Wulf's Buick 215 powered 1967 MGB tips the scales at just 2228#.

Weigh-In Results
OWNER
MODEL
ENGINE
LBS
(FL, FR, RL, RR, F:R, fuel load)
LBS
(FL, FR, RL, RR, F:R)
- WITHOUT DRIVER -
- WITH DRIVER -
Ryan Reis
59 Husky
Olds 2.3L
2460
(595, 594, 650, 621, 48.3:51.7, unk.)
2685
(686, 603, 742, 655, 48.0:52.0)
Tim Duhamel
76 XJ12C
Chevy 350
3835
(1005, 1049, 882, 898, 53.6:46.4, 3/4)
Al Wulf
67 MGB
Buick 215
2228
(557, 563, 554, 554, 50.3:49.7, full)
Carl Floyd
79 MGB
Buick 215
2239
(601, 577, 505, 556, 52.6:47.4, full)
2429
(666, 581, 583, 599, 51.3:48.7)
Mike Moor
78 MGB
Buick 300
2362
(596, 613, 572, 581, 51.2:48.8, 1/2)
2555
(670, 616, 646, 623, 50.3:49.7)
Dave Kirkman
80 MGB
Ford 302
2375
(573, 646, 606, 550, 51.3:48.7, full)
Kelly Stevenson
78 MGB
Ford 302
2458
(659, 678, 546, 575, 54.4:45.6, full)
Curtis Jacobson
71 BGT
Buick 215
2150
(521, 546, 542, 541, 49.6:50.4, full)
2341
(595, 543, 611, 592, 48.6:51.4)
Rick Ingram
74.5 BGT
Rover ~5L
2392
(602, 614, 590, 586, 50.8:49.2, full)
Terry Schulte
74 BGT
Ford 302
2596
(659, 654, 664, 619, 50.6:49.4, full)
B.A.D.A.S.S.
68 BGT
Buick 455
2780
(full)
2835*
(720, 720, 675, 720, 50.8:49.2)
Phil McConnell
74 Spitfire
Chevy 350
2624
(703, 669, 584, 668, 52.2:47.8, full)
2800
(744, 678, 670, 708, 50.8:49.2)
Jay Smith
63 TR4
Ford 302
2316
(587, 646, 565, 518, 53.2:46.8, full)
2509
(647, 647, 649, 566, 51.6:48.4)
Dale Knapke
72 TR6
Ford 2.3
2345
(full *)
2521
(592, 586, 701, 642, 46.7:53.3)
Calvin Grannis
74 TR6
GM 5.7L
2657
(661, 643, 660, 693, 49.1:50.9, full)
Ken Hiebert
72 TR6
GM 5.7L
2763
(709, 696, 655, 703, 50.9:49.1, 2/3)
Note: B.A.D.A.S.S.'s "Roadmaster" was weighed with and without toolbox, not with and without driver.

We didn't have time to weight Phil Leonard's MG RV8 racecar at Mid-America Motorplex, but it gets weighed after every Sports Car Club of America GT2-class race it competes in. (It has competed in eight races to date!) It weighes approximately as follows: 1,583lbs empty, plus ~170 pounds of gasoline, plus ~250 pounds of driver, plus at least 150 pounds of lead ballast (strategically placed) to bring it to the SCCA-mandated minimum race weight for a GT2 RV8: 2101 pounds.


Participant Cars (photos by Graham Creswick)

Fastest overall: Calvin Grannis and his 1974 TR6 V8 (2656#)


LF: 75a/64a, 30.5psi/36.5psi, 134F/135F/136F. OK.
RF: 74a/64a, 30psi/36psi, 131F/130F/126F. OK.
LR: 75a/64a, 30psi/37psi, 134F/138F/142F. OK.
RR: 75a/60a, 31psi/38psi, 140F/136F/132F. OK.


Quickest through the corners: Carl Floyd and his 1980 MGB V8 (2240#)


LF: 77a/69a, 26.5psi/37psi, 130F/133F/138F. -0.5psi.
RF: 80a/69a, 26psi/31psi, 136F/134F/130F. OK.
LR: 78a/64a, 25psi/31psi, 134F/136F/139F. OK.
RR: 79a/70a, 25psi/28psi, 137F/137F/130F. ?


Tim Duhamel and his 1976 XJ12C (3835#)


LF: 71a/67a, 31.5psi/42.5psi, 124F/130F/128F. -1.5psi.
RF: 72a/65a, ?psi/43psi, 131F/129F/121F. -2psi.
LR: 72a/65a, 34psi/41psi, 119F/125F/125F. -1psi.
RR: 70a/66a, 31.5psi/40psi, 129F/128F/120F. -1psi.


Curtis Jacobson and his 1971 MGB GT V8 (2150#)


LF: 76a/63a, 29.5psi/37psi, 139F/140F/138F. -1psi.
RF: 72a/64a, 29.5psi/36psi, 141F/138F/129F. -1psi.
LR: 74a/66a, 29.5psi/35.5psi, 134F/138F/132F. -1.5psi.
RR: 72a/60a, 29psi/34psi, 137F/136F/131F. -1psi.


Phil McConnell and his 1974 Spitfire (2622#)


Mike Moor and his 1978 MGB V8 (2302#)


LF: 77a/68a, 27psi/31psi, 125F/129F/127F. -1psi.
RF: 78a/68a, 27psi/30psi, 120F/123F/119F. -1psi.
LR: 77a/73a, 28psi/31psi, 121F/124F/122F. -1.5psi
RR: 73a/67a, 27.5psi/30psi, 120F/120F/117F. -0.5psi.


Dale Knapke and his 1972 Triumph TR6 (2345#)


Dave Kirkman and his 1980 MGB V8 (2375#)


LF: 83a/76a, 23psi/36psi, 119F/126F/126F. OK.
RF: 83a/71a, 24psi/32psi, 116F/117F/113F. -1psi.
LR: 83a/75a, 23psi/33psi, 114F/115F/116F. OK.
RR: 83a/75a, 23.5psi/29psi, 115F/114F/111F. -0.5psi.


Steve DeGroat and his 1970 MGB GT V6


LF: 78a/74a, 34psi/38psi, 129F/129F/130F. OK.
RF: 76a/68a, 33psi/?psi, 124F/117F/108F. -1psi.
LR: 78a/74a, 33psi/37psi, 110F/113F/116F. OK.
RR: 78a/72a, 32.5.5psi/36psi, 117F/115F/114F. -0.5psi.


Fresh Off the Racetrack: Terry Schulte's Spectacular 1974 MGB GT V8 (2596#)


Tire Compound and Inflation Advice
What are all those numbers underneath the photos? Max Fulton volunteered to measure tires with a durometer, an air pressure gauge, and a temperature probe. Rick Ingram helped gather data when cars pulled off the racetrack and onto pit lane for quick measurements. Then, Max made specific recommendations about how much air pressure track day participants should add or remove air from their tires to improve overall traction before resuming their track day.

So, what does "LF: 75a/64a, 30.5psi/36.5psi, 134F/135F/136F. OK." mean?

When cold, the tread of the Left Front tire measured 75 with a Shore A hardness tester. After use on the racetrack, the tread softened to a measurement of 64 Shore A hardness. (Softer is stickier. All tires soften while in use, but the amount they soften is a function of their design, their suitability for a particular car, and their age. A tire that's designed for use on heavier cars, that's oversize or undersize for a given car, that's rated for for high-mileage use, or that's getting old will typically exhibit less drop in durometer reading.)

The tire started with 30.5psi of cold air, and the air pressure measured 36.5psi after use.

Three temperature measurements were made across the tread of the tire; 134°F at the outside tread block, 135°F in the middle, and 136°F at the inside tread block. That's a very even temperature distribution, so the tire's air pressure has been judged "Okay".


Participant Cars (photos by Richard Woodley)

Larry Shimp and his 1968 MGB GT V8 (2568# when weighed at BV8-2008)
chasing Dale Knapke in his TR6 and Carl Floyd in his MGB


Richard Moor and his 1969 Fiberfab Avenger (2330# when weighed at BV8-2008)


Participant Cars (photo by Artie Clark)

Doug Brown and his Mini


LF: 68a/56a, 34psi/40psi, 125F/126F/129F. OK.
RF: 68a/58a, 34psi/38psi, 132F/132F/133F. OK.
LR: 69a/62a, 33psi/37psi, 119F/116F/123F. +1psi
RR: 68a/62a, 34.5psi/37psi, 121F/120F/119F. OK.
Enjoying this article? Our magazine is funded through the generous support of readers like you!
To contribute to our operating budget, please click here and follow the instructions.
(Suggested contribution is twenty bucks per year. Feel free to give more!)
Participant Cars (photos by Curtis Jacobson)

Ken Hiebert and his 1972 TR6 (2762#) - Photo taken later in the week.


LF: 73a/60a, 34psi/43psi, 157F/166F/167F. -2psi.
RF: 72a/60a, 33.5psi/42psi, 160F/155F/145F. -1psi.
LR: 74a/63a, 34.5psi/42psi, 150F/168F/165F. -2psi
RR: 73a/62a, 34psi/41psi, 165F/172F/152F. -3psi.


Pete Mantell and his 1969 MGB V8 (2305# when weighed at BV8-2008) - Photo taken later in the week.


LF: 78a/76a, 34psi/40psi, 125F/126F/129F. OK.
RF: 81a/70a, 33psi/39psi, 125F/120F/118F. +1psi.
LR: 82a/72a, 34psi/25psi, 119F/121F/122F. ?
RR: 80a/74a, 32psi/38psi, 122F/123F/120F. -1psi.


Phil Leonard and his 1992 MG RV8 Racecar (1851#) - Photo taken in 2012 at Heartland Park, Kansas.