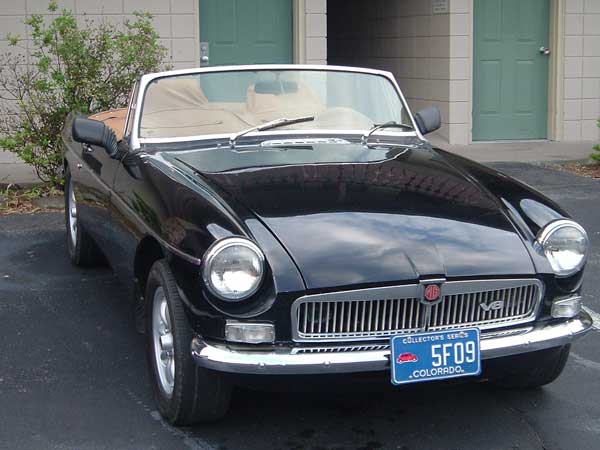 Al Wulf's 1967 MGB with Buick 215 V8 Engine
as published in British V8 Newsletter, Volume XIV Issue 3, December 2006
Owner: Al Wulf
City: Wheat Ridge, CO
Model: 1967 MGB
Engine: Buick 215 V8
Conversion performed by: Owner
| | |
| --- | --- |
| Engine: | Buick 215 bored 0.040" over, with Silv-o-lite 9.6:1 pistons. Composition head gaskets. Stock Buick 4-barrel manifold. Carter 400cfm carburetor. Crower 50228 cam. |
| Exhaust: | Through-the-inner-fender 4-into-1 headers (home-made with parts from "Headers by Ed"). Two small glass-pack mufflers. |
| Electrical: | Pertronix ignition. Delco alternator. Stock MGB wiring, with modifications for alternator and fan. |
| Cooling: | MGB-V8 radiator. Perma-cool 14" electric fan and thermostatic switch. |
| Transmission: | Borg Warner T5 five speed (from a 1983 Firebird with 305cid V8). 0.63:1 fifth gear. Driveshaft custom made locally by "Frontrange Driveline". |
| Clutch: | Diaphragm-type pressure plate from '93 Camaro/Firebird with 3.4L V6 9 13/16" clutch disk. Stock MGB master cylinder. McLoed hydraulic throw-out bearing. |
| Rear Axle: | Ford 8" with 3.40:1 ratio and open differential, narrowed to MGB width. MGB lug pattern. |
| Front Susp.: | stock MGB. |
| Rear Susp.: | stock MGB except with MGOC (MG Owners Club) Triangulation Kit. (Note: this kit consists of brackets that clamp onto the leaf springs six or eight inches forward of the axle, and that are then linked back to clamps on the axle housing inboard of the springs.) |
| Brakes: | MGB master cylinder (early, single line system). MGB front disk brakes. Ford 9" x 1 3/4" drum brakes. |
| Wheels/Tires: | 14" by 5.5" Minilite replica wheels. 195/60R14 Yokohama Avid H-4 tires. |
| Gauges: | VDO Vision tach and programmable speedo. MGB fuel gauge and oil pressure/water temp gauge. |
| Body: | Substituted a later-model windshield frame for the day/night rearview mirror. |
| Interior: | Pontiac Fiero seats with headrest speakers and custom upholstery. |
| Weight: | Approximately 2100 pounds. |
| Completed: | Although still not fully completed, the conversion was driveable just in time for driving (from Denver Colorado) to the 2001 British V8 Meet in Sebring Florida. It has since been driven to the 2004 British V8 Meet in Grand Rapids Michigan and the 2006 British V8 Meet in Townsend Tennessee, as well as several other long trips. |
| Miles driven: | Approximately 43,500 miles, as of the Colorado English Motoring Conclave, September 2006. |
| Comments: | The car is very reliable. I did have to replace a clutch at 30,000 miles, so maybe I will switch to a 10.5" clutch if this one doesn't hold up. The 3.4:1 rear axle seems a little tall when driving in the mountains but it's great otherwise. Perhaps a 0.73:1 fifth gear would be better. I would like to make the following changes/additions: torque arms, Panhard rod, front spoiler, dual exhaust, fuel injection, and a new wiring system. I'd also like to upgrade the brakes to a dual system. |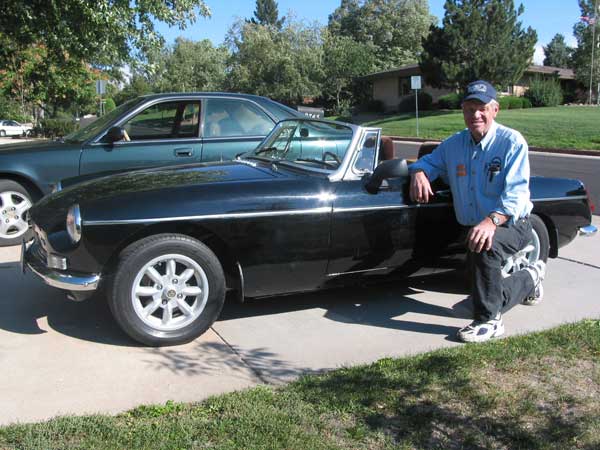 Al Wulf and his long distance touring car.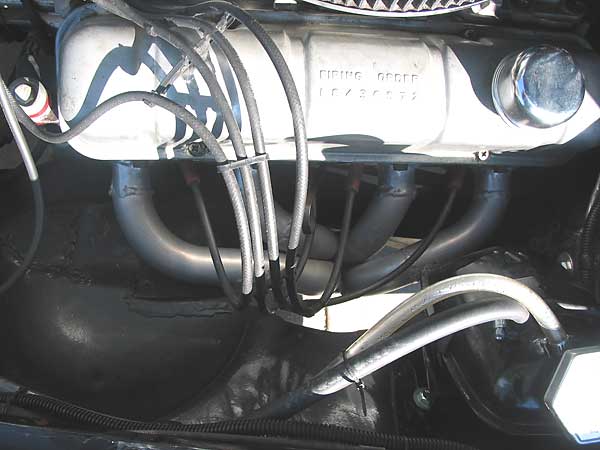 Al fabricated his own through-the-fender headers.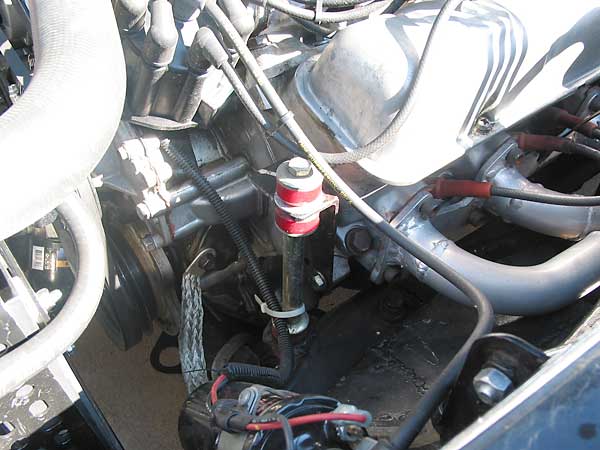 A supplemental torque rod limits rotation of the engine on its mounts.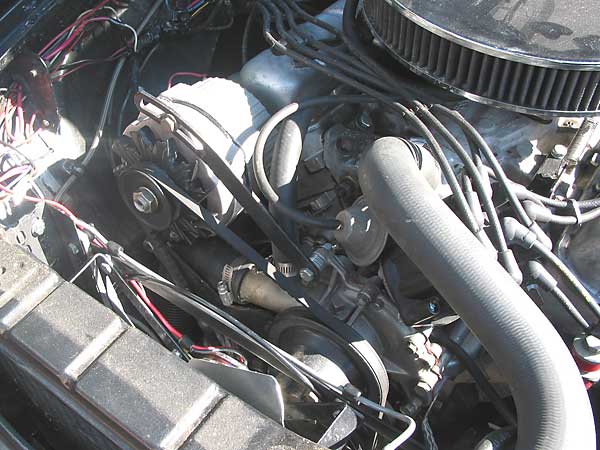 A reliable Delco-Remy alternator.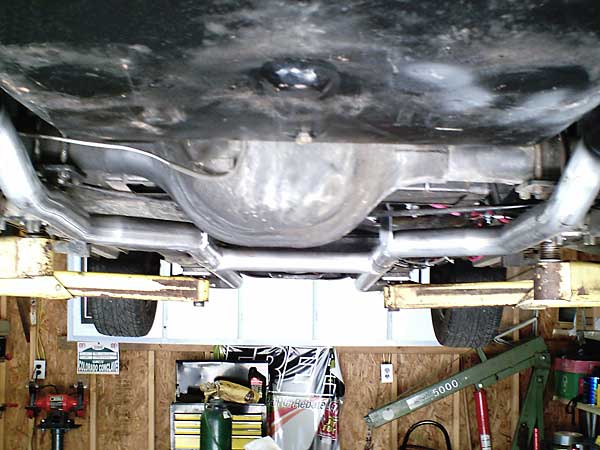 Stainless steel dual-exhaust with crossover pipe.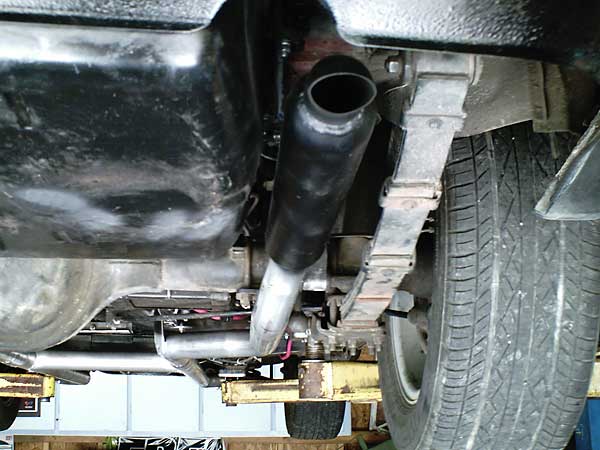 Glass-pack mufflers on either side of a centered fuel tank.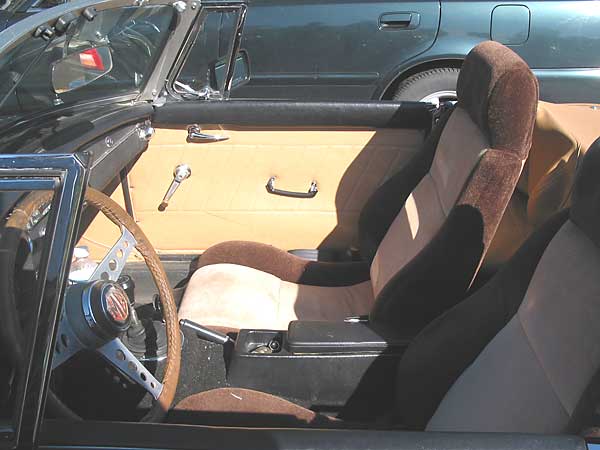 Pontiac Fiero seats (re-upholstered to suit the MGB).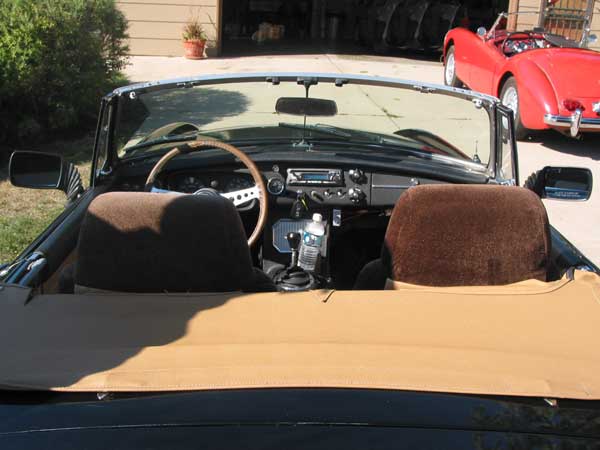 Notice the in-dash CD player and the daytime/nightime mirror.