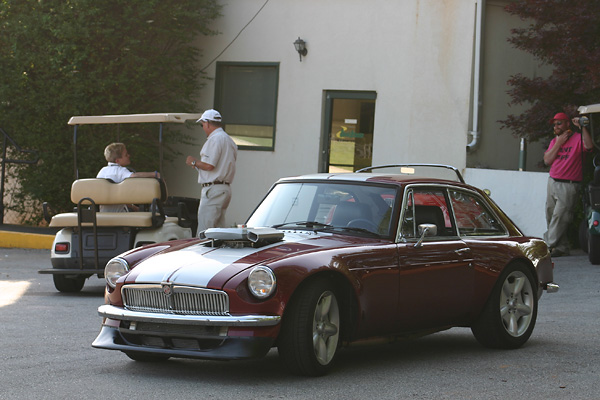 Roadmaster: Big Block Buick Powered MGB GT V8
as published in BritishV8 Magazine, Volume XX Issue 1, July 2012
(New introductory paragraph added October 2014. Original intro moved to bottom of page.)

Owners: B.A.D.A.S.S. (see below)
City: various
Model: 1968 MGB GT
Engine: 1971 Buick 455cid V8
Conversion performed by: B.A.D.A.S.S.


BritishV8 Enthusiasts Come Together to Complete a Magnificent Group Project
The Roadmaster Project brought BritishV8 enthusiasts together. It started with musings on a message board. It continued through many weekends in various backyard garages. Key suppliers to our hobby pitched-in. And as enthusiasts came together, so did a wonderful car. A great driving car. A little car with a great big heart! Once essentially complete, Roadmaster went on tour. It's been driven all over the country. It's been driven by celebrities. It's appeared in magazines. And now, it's time to sell Roadmaster and move on to other projects. This page remains to tell the glamorous and technical sides of the story. If you're interested in purchasing Roadmaster, please contact Pete Mantell of Mantell Motorsport by phone at 217-688-2463.

The photos in this "photo gallery" page were taken at or around Road Atlanta during "The Mitty" vintage car race over the April 27-29, 2012 weekend. High resolution originals of these photos are available for use in magazine articles and for other promotional purposes. Many additional detail and in-process photos are also available. Please note that ALL photos appearing on the BritishV8 website and message board are copyright protected unless specifically noted otherwise, so it's important that you contact us before publication. (It will only take a moment.) Please contact Curtis Jacobson via the "Contact" button at the top of this page for more information.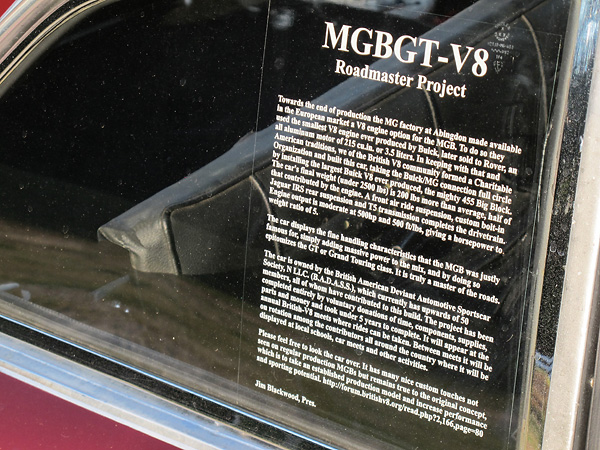 MGB GT V8 - Roadmaster Project


Decals on the car's side windows explain the Roadmaster project:

Towards the end of production the MG factory at Abingdon made available in the European market
a V8 engine option for the MGB. To do so they used the smallest V8 engine ever produced by
Buick, later sold to Rover, an all aluminum motor of 215 cu.in. or 3.5 liters. In keeping with that
and American traditions, we of the British V8 community formed a Charitable Organization and
built this car, taking the Buick/MG connection full circle by installing the largest Buick V8 engine
ever produced, the mighty 455 Big Block. The cars final weight (under 2500 lbs) is 200 lbs more
than average, half of that contributed by the engine. A front air ride suspension, custom bolt-in
Jaguar IRS rear suspension and T5 transmission complete the drivetrain. Engine output is
moderate at 500 hp and 500 ft/lbs, giving a horsepower to weight ratio of 5.

The car displays the fine handling characteristics that the MGB was justly famous for, simply adding
massive power to the mix, and by doing so epitomizes the GT or Grand Touring class. It is truly
a master of the roads.

The car is owned by the British American Deviant Automotive Sportscar Society, LLC (B.A.D.A.S.S.),
which currently has upwards of 50 members, all of whom have contributed to this build. The project
has been completed entirely by voluntary donations of time, components, supplies, parts, and money.
It took under 5 years to complete. It will appear at the annual BritishV8 meets where rides can
be taken. Between meets it will be on rotation amoung the contributors all around the country
where it will be displayed at local schools, car meets, and other activities.

Please feel free to look the car over. It has many nice custom touches not seen on regular
production MGBs but remains true to the original concept, which is to take an established
production model and increase performance and sporting potential.

Jim Blackwood, President
Features and Specifications
Engine:
1971 Buick 455 engine, rebuilt and balanced. Various modifications to the lubrication system, including enlarged pickup galley and tube, porting of the oil pump, and double-groove cam bearings. TA Performance Products Stage 2 Street Eliminator aluminum cylinder heads. Poston S-Divider B-455 intake manifold. Quadrajet 750cfm four barrel carburetor with electric choke. K&N oiled gauze air filter. Holley adjustable fuel pressure regulator. Buick "Star Wars" (1967 model GS and Riviera style) air cleaner. Delco-Remy distributor. Lucas Sport ignition coil. Jeg's 8.0mm Red Hot Pow'r Wires spark plug leads. MSD6AL capacitive discharge ignition system with rev limiter (currently chipped at 6000rpm). MSD Programmable Timing Computer.

Cooling:
Summit Racing aluminum crossflow radiator (30"x18"x2"). Custom aluminum header tank. Specially modified thermostat housing with secondary filler neck. Dual late model Chevrolet Camaro electric cooling fans on separate circuits, thermostatically controlled and actuated by relays.

Exhaust:
entirely custom made featuring tubular manifolds and four glass-pack mufflers.

Transmission:
Borg Warner "World Class" T5 5-speed with 0.63:1 fifth gear. 11" Chevy Camaro/Corvette clutch. Later-model MGB (Girling) master cylinder. Pull-type slave cylinder on custom mounting bracket.

Rear End:
Jaguar open differential. 3.54:1 ring and pinion.

Front Suspension:
specially modified MGB front suspension featuring Blackwood Labs air bag system in lieu of coil springs. Stock MGB (Armstrong, remanufactured) lever shock absorbers Nylon upper control arm bushings. Bronze lower control arm bushings, with Zerk grease nipples. (Stock MGB anti-sway bar has deliberately been removed.) Chevy 5-lug hubs modified to fit MGB spindles.

Rear Suspension:
specially modified Jaguar XJ-6 independent suspension featuring QA1 aluminum bodied coilover shock absorbers. (Eight inches of wheel travel!) Stock (Jaguar) 5-lug hubs.

Brakes:
(master) Chevrolet Corvette tandem master cylinder. Later-model MGB mounting bracket.
(front) early Chevrolet Camaro/Malibu 11" vented rotors. Early Dodge Dart single piston floating calipers.
(rear) Jaguar XJ-6 inboard disc brakes with 10.5" rotors and four piston calipers.

Wheels/Tires:
Jaguar XK-8 (1997-1999) 17" x 8" aluminum wheels. Continental "Extreme Contact DWS Tuned" tires (225/45 ZR17 front, 245/45 ZR17 rear).

Body Mods:
"Sebring style" fiberglass front fenders. Sebring style rear fender flairs, custom fabricated in steel. Fiberglass bonnet. Dual gas-spring type cylinders on bonnet. "Special Tuning style" urethane air dam. Bumper over-riders omitted, front and rear. Front turn signal lamps shaved. (They're now integral to the headlight assemblies.) Side marker lamps shaved. Back-up lamps shaved. Dual gas-spring type cylinders on GT hatch. Fuel tank centered to make room for dual exhaust. Le Mans style fuel filler cap. Basecoat clearcoat paint in metallic burgandy with dual metallic silver rally stripes.

Instruments:
(left to right) Stewart Warner fuel level (E-F), speedometer (0-160mph), oil pressure (0-80psi), voltmeter (10-16V), tachometer (0-8000rpm), and coolant temperature gauge (100-240F). VDO suspension air pressure gauge (0-150psi).

Interior:
Pontiac Fiero seats with custom upholstery by Mr. Mikes. Kenwood KDC-MP145 (50Wx4) stereo head unit. Kicker speakers. Stock (1969-1971) "Abingdon pillow" style dashboard. Stock MGB GT rear seat. Aftermarket steering wheel. Custom "Fly-off" style hand-brake release.

Electrical:
Advance Auto Wire wiring harness. H.I.D. headlights with integral parking/marker/turn-signal lights. Chrysler alternator.

Completed:
Spring 2012.


Engine Installation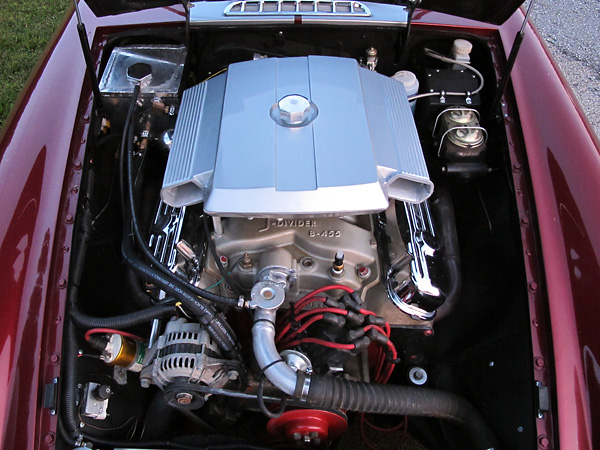 BA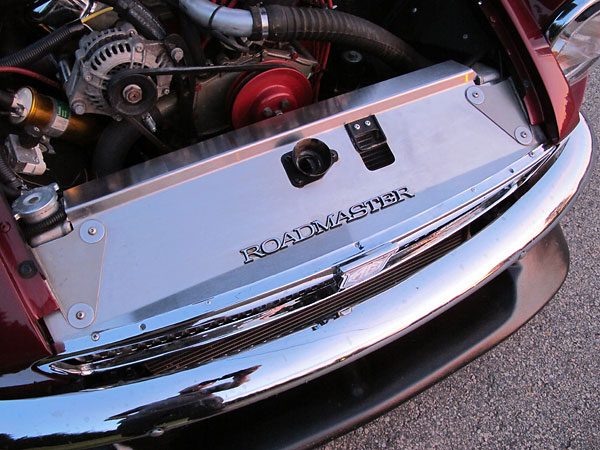 BB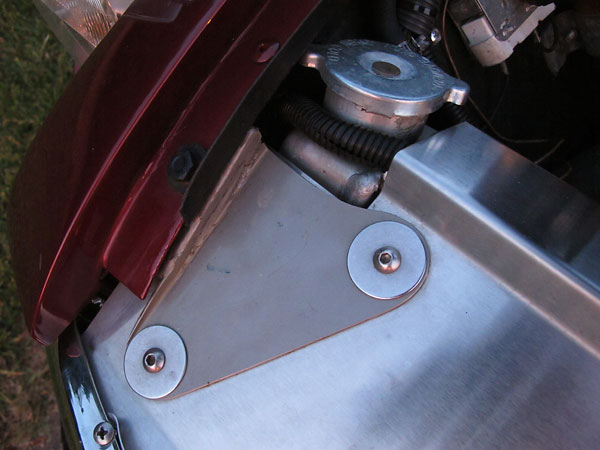 BC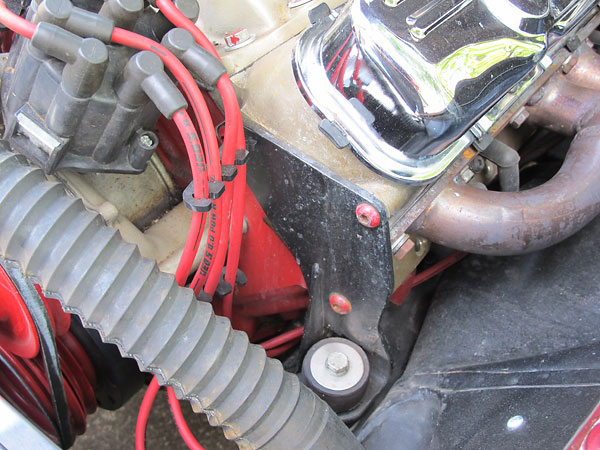 BD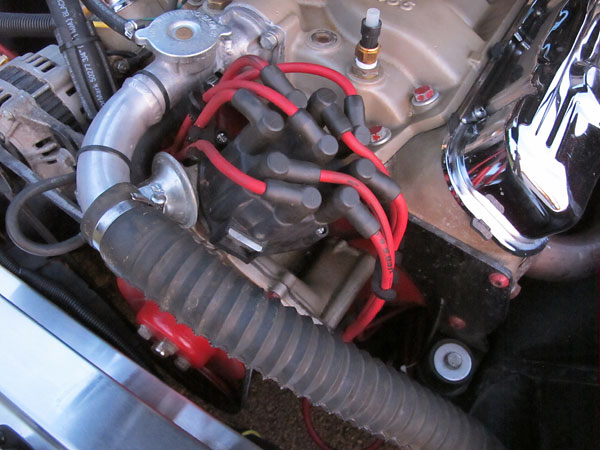 BE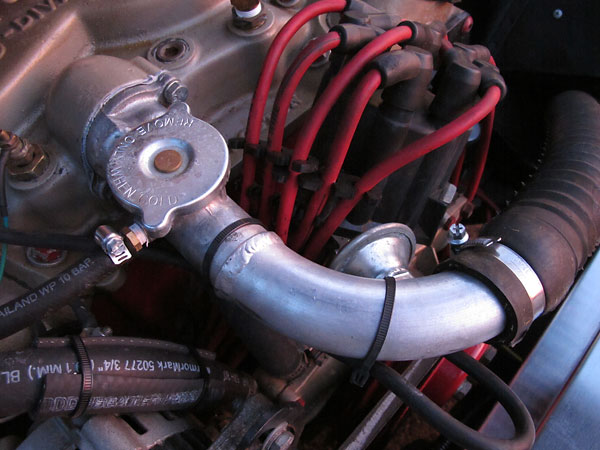 BF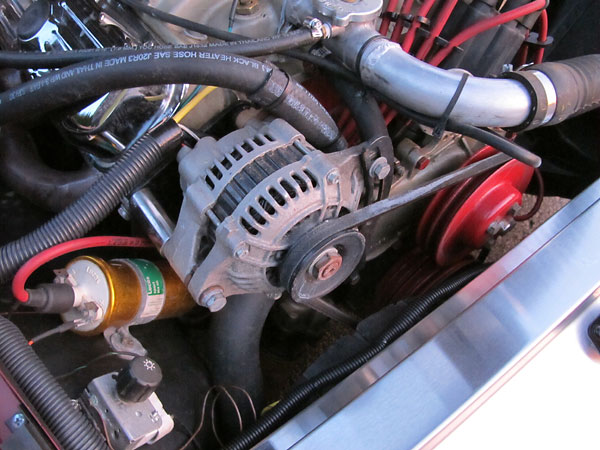 BG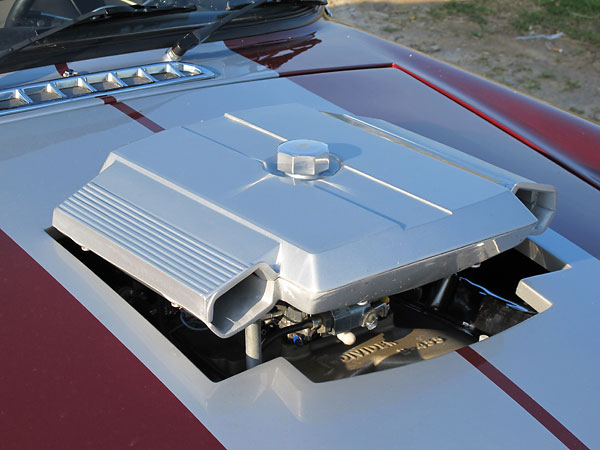 BH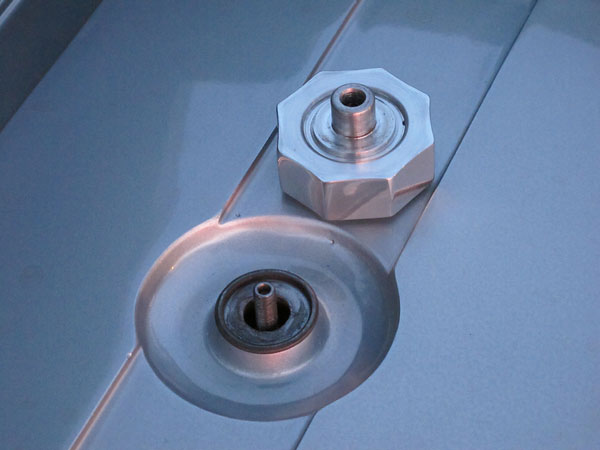 BI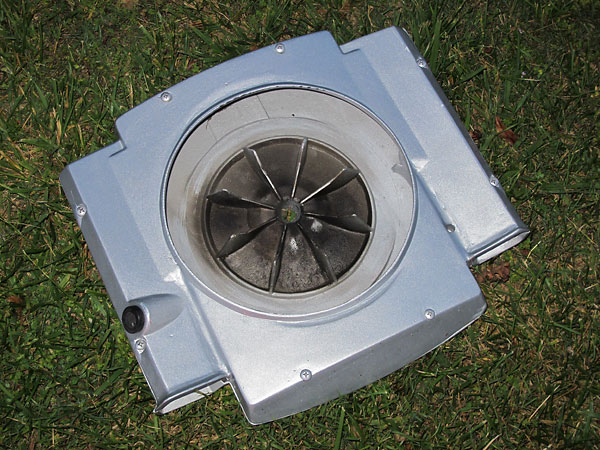 BJ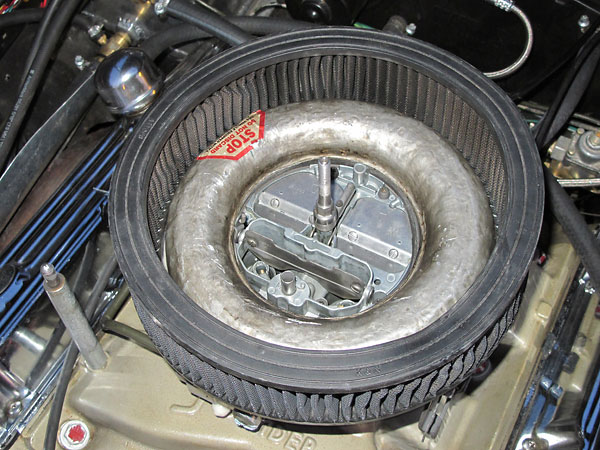 BK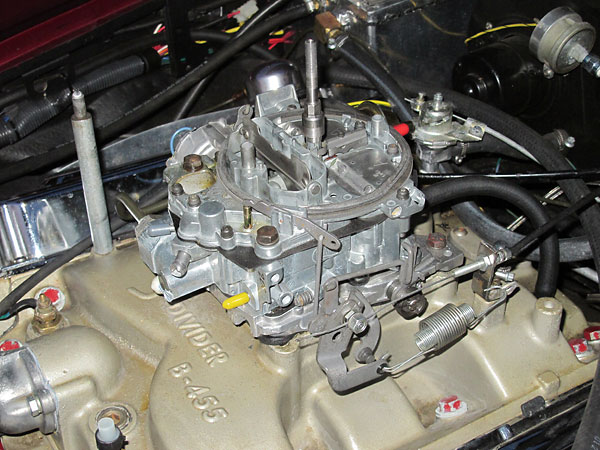 BL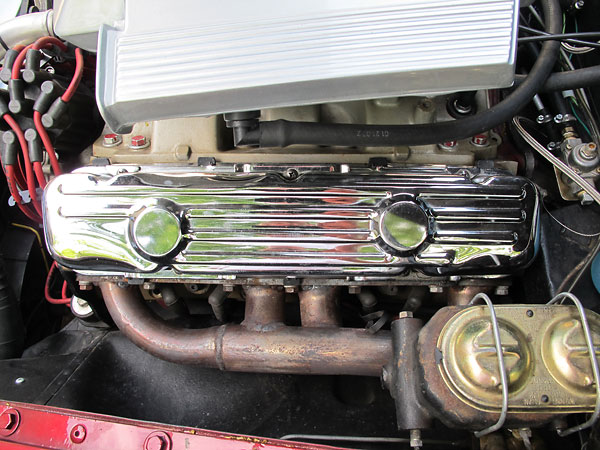 BM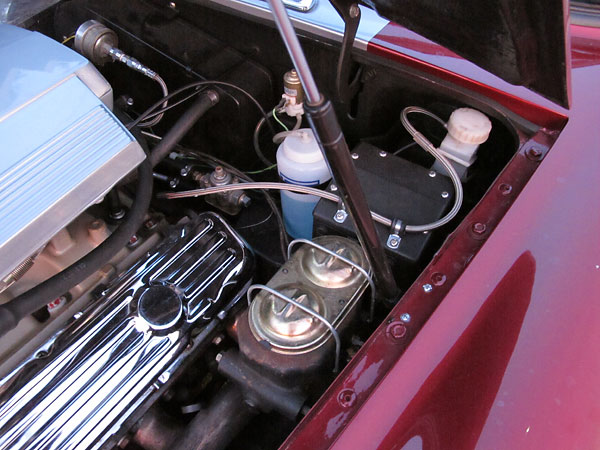 BN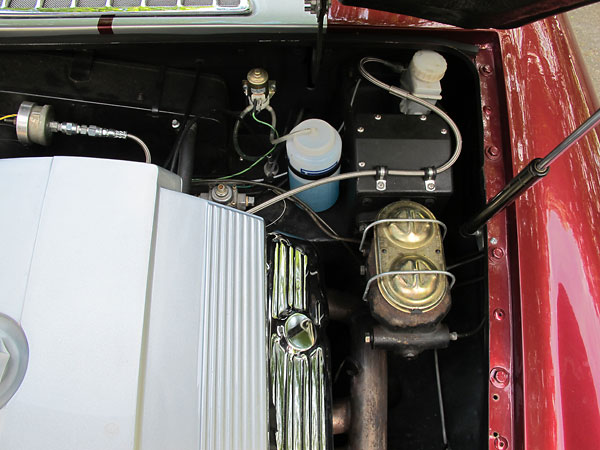 BO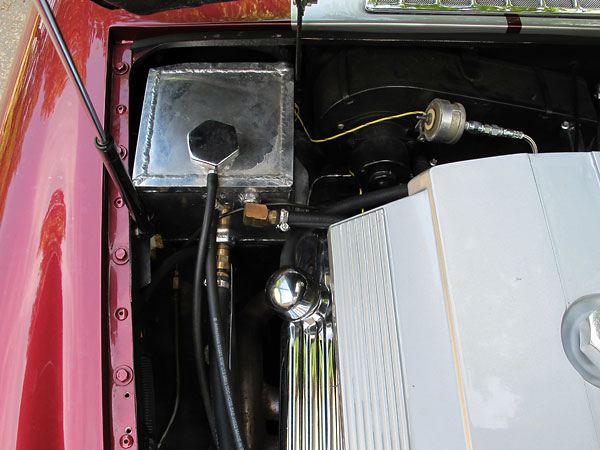 BP


Front Suspension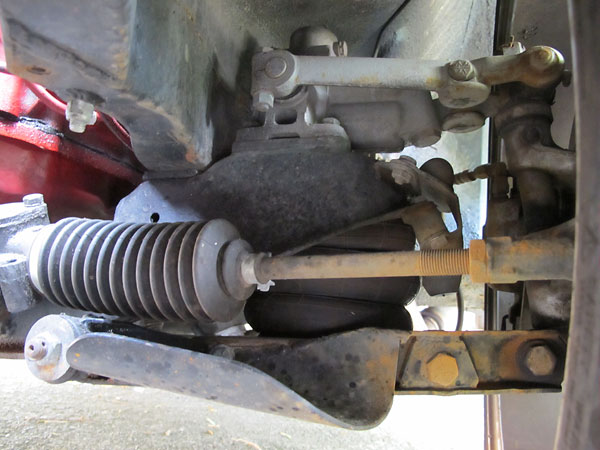 CA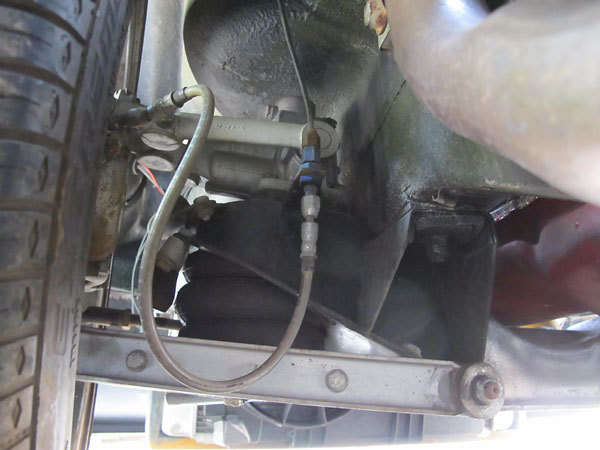 CB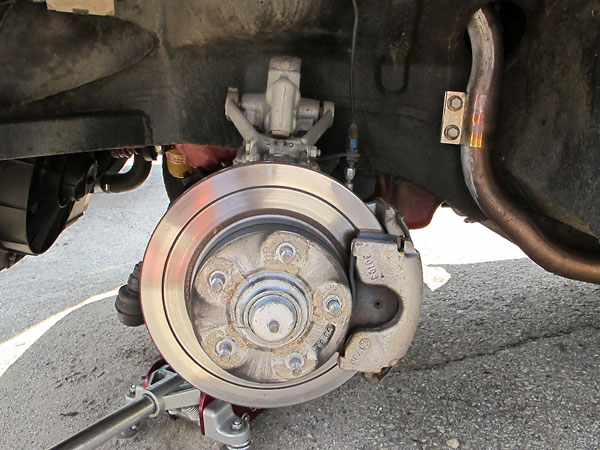 CC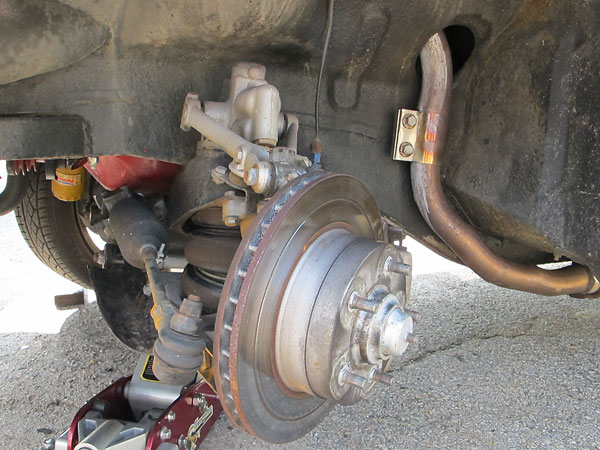 CD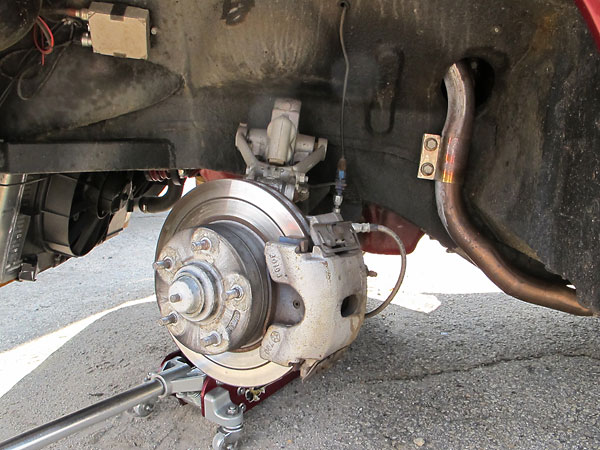 CE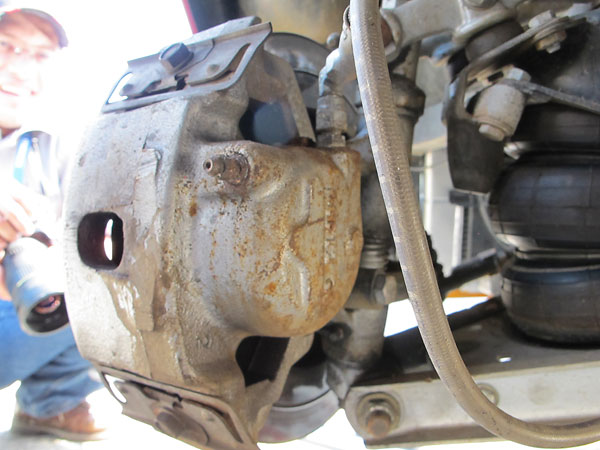 CF


Rear Suspension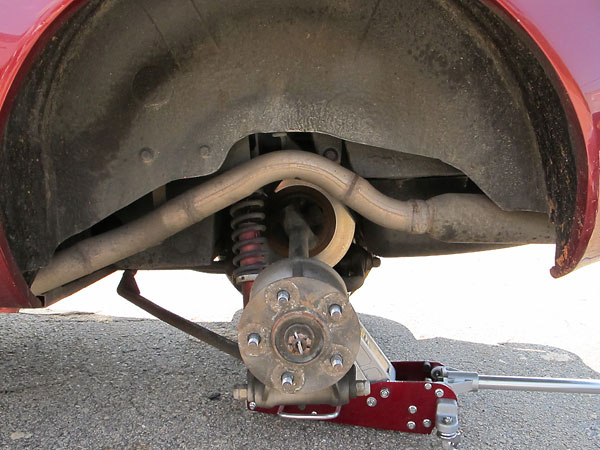 DA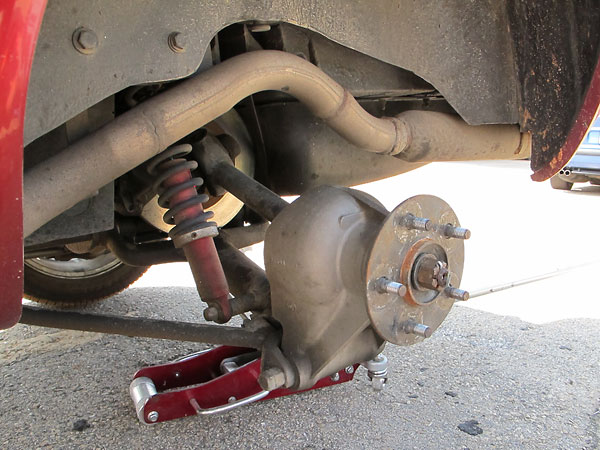 DB


Enjoying this article? Our magazine is funded through the generous support of readers like you!
To contribute to our operating budget, please click here and follow the instructions.
(Suggested contribution is twenty bucks per year. Feel free to give more!)
Interior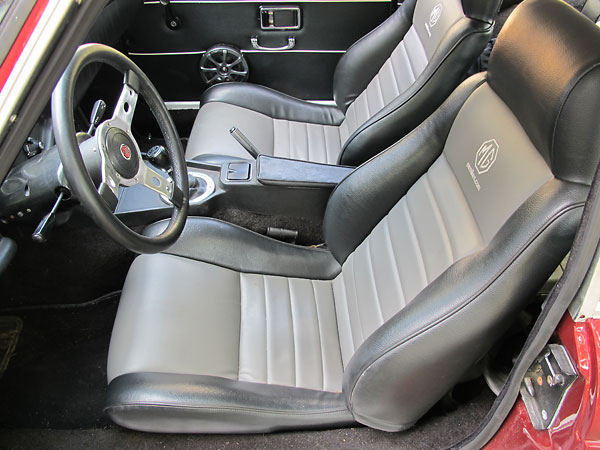 EA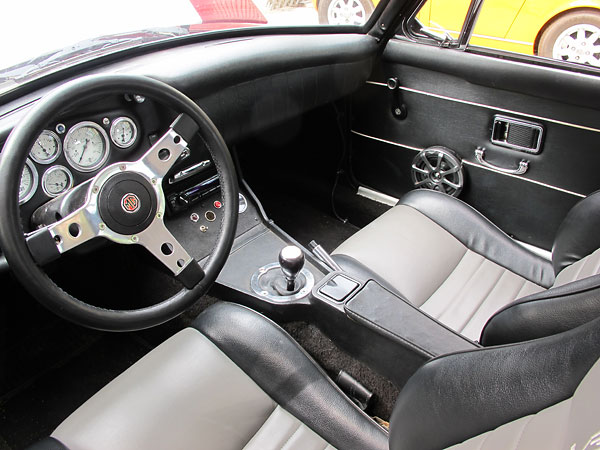 EB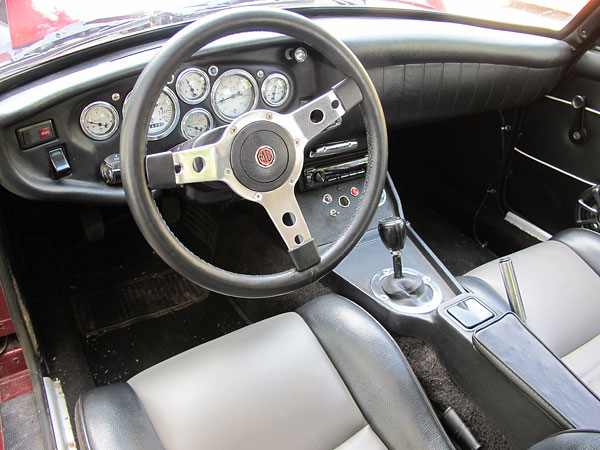 EC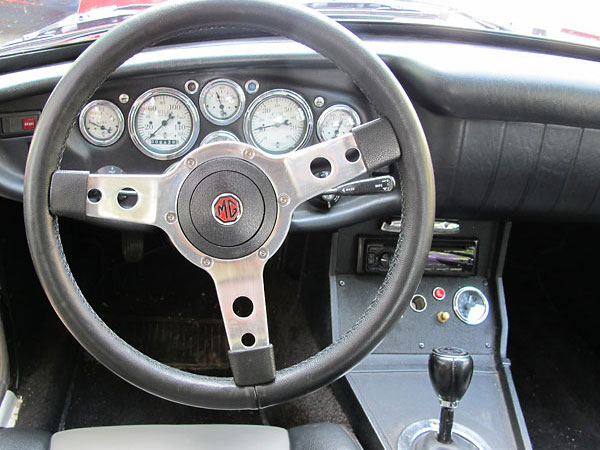 ED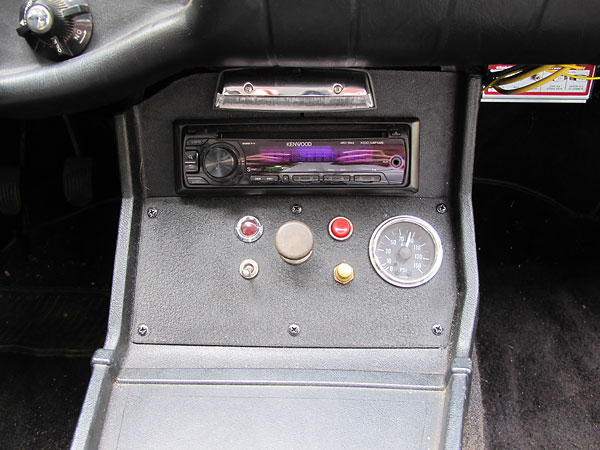 EE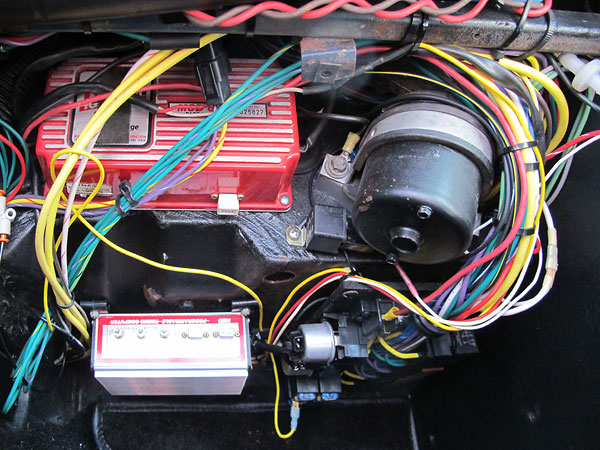 EF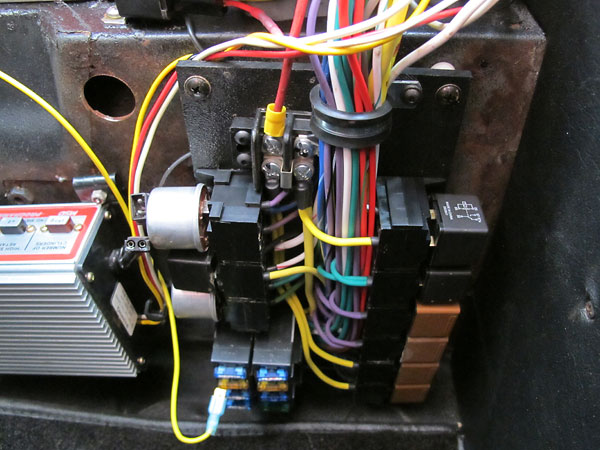 EG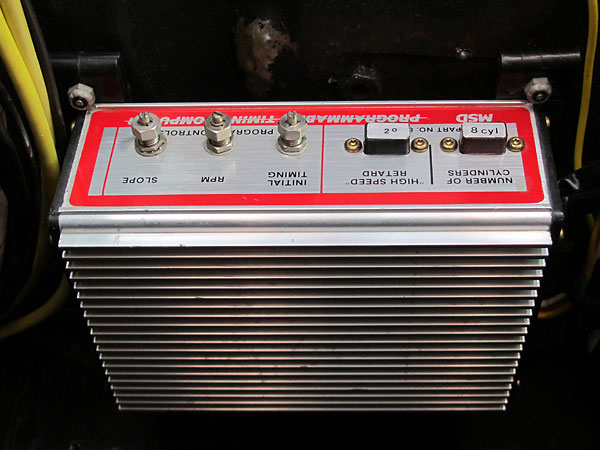 EH


Exterior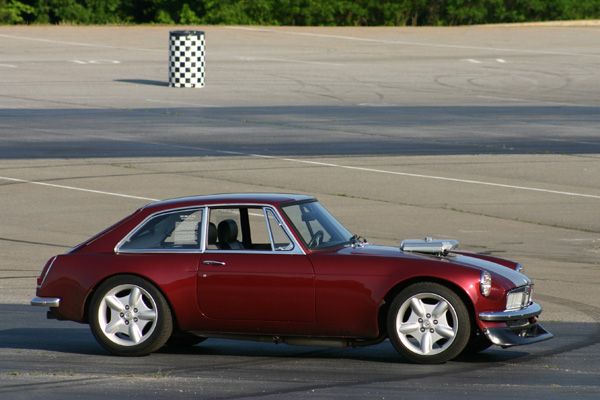 AA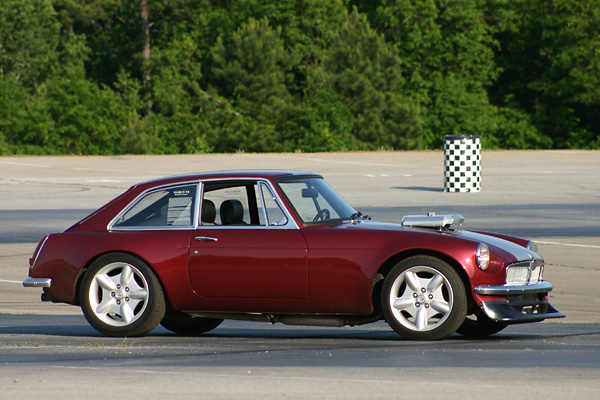 AB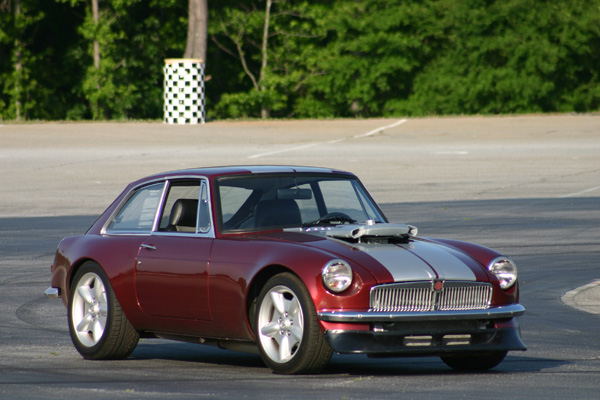 AC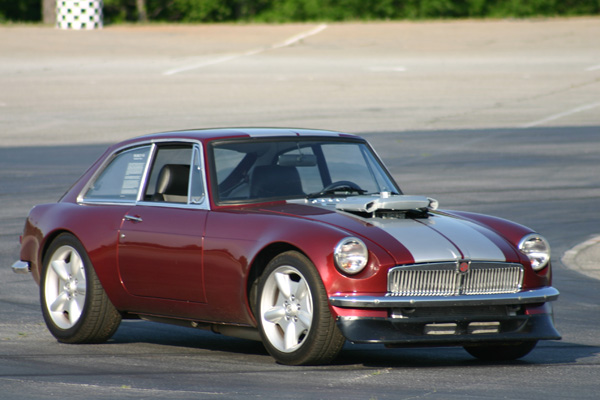 AD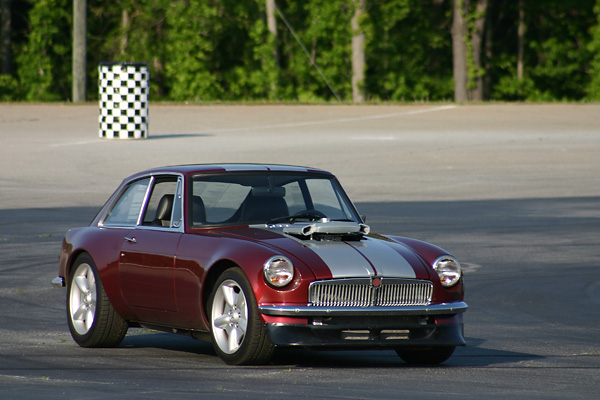 AE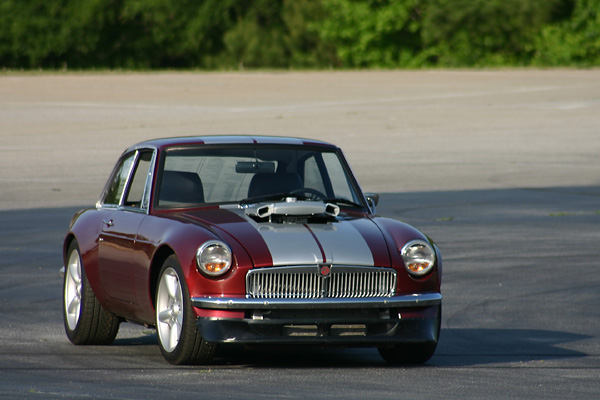 AF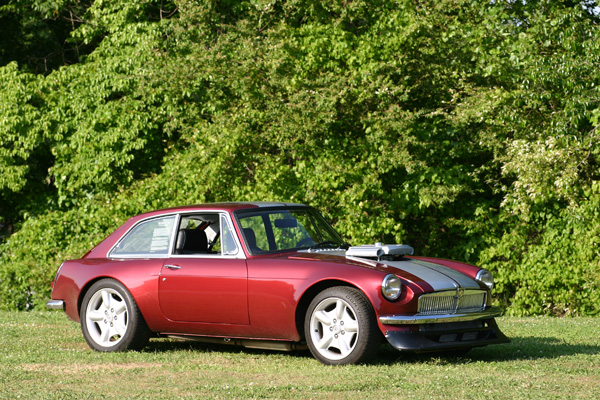 AG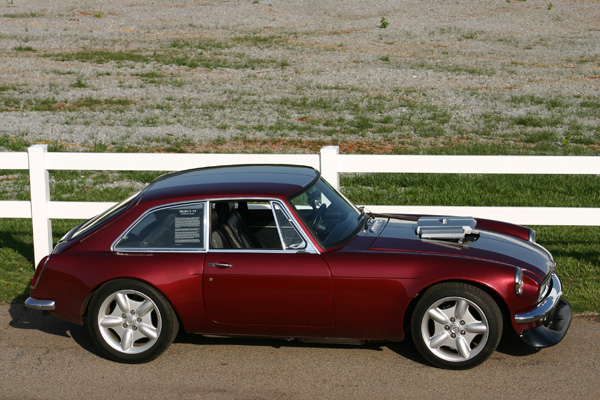 AH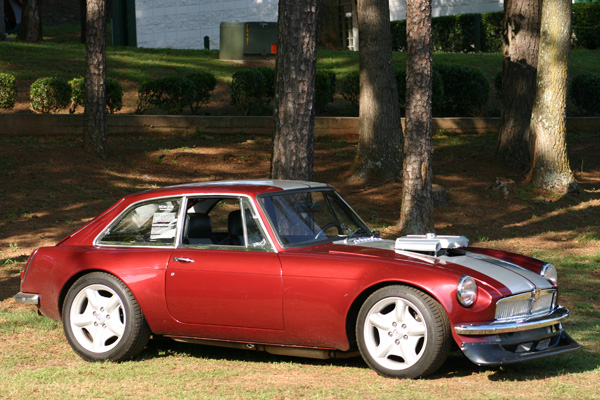 AI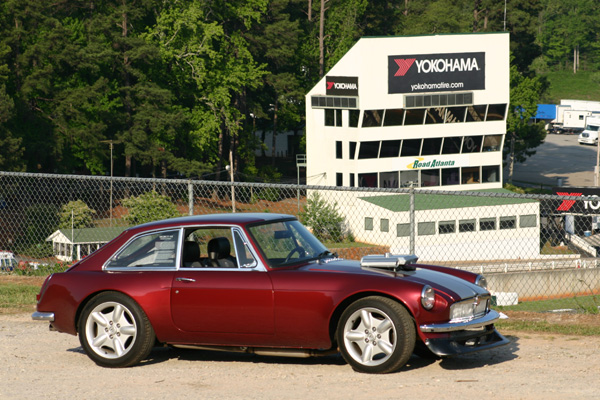 AK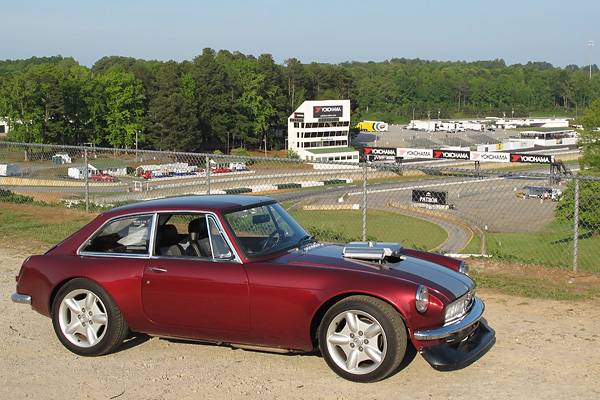 AL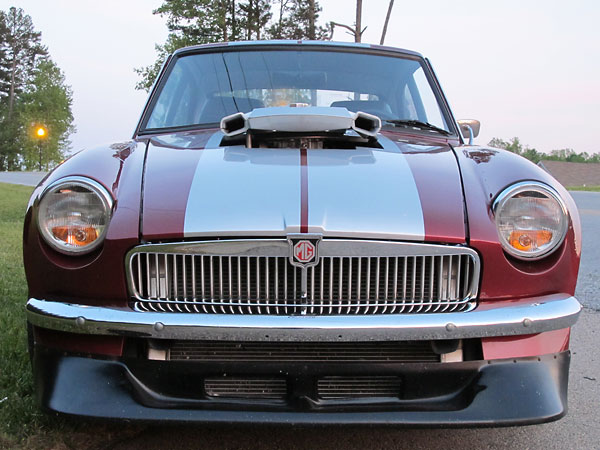 AM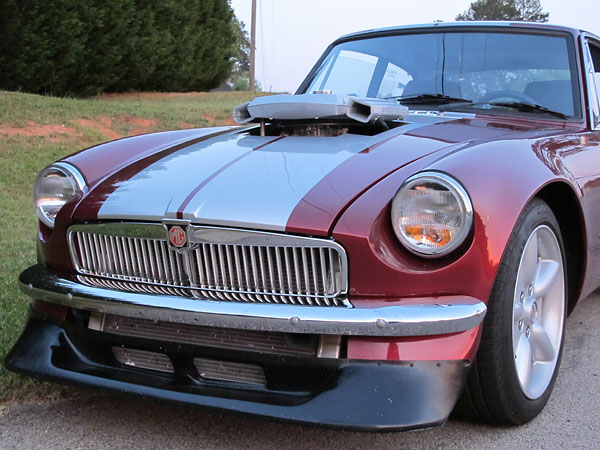 AN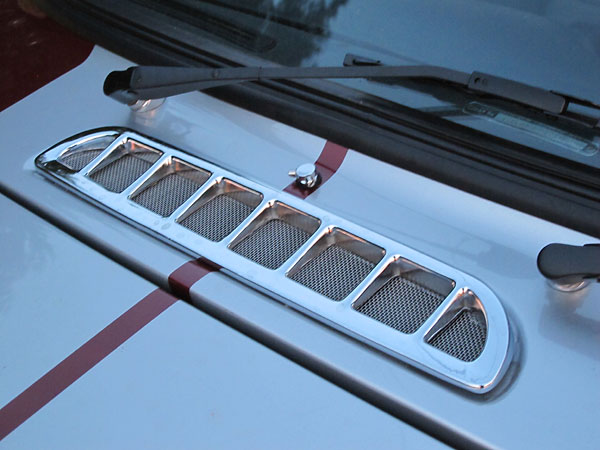 AO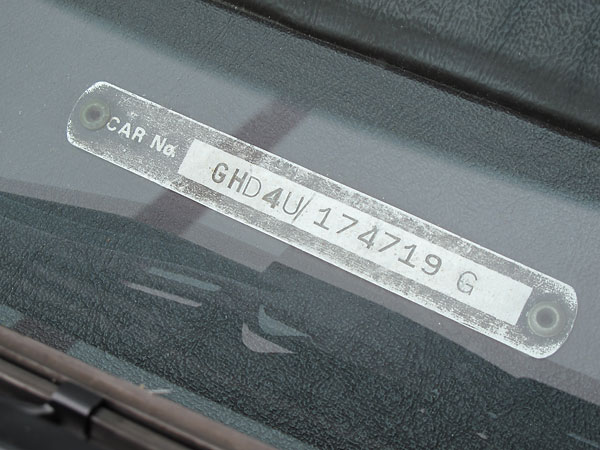 AP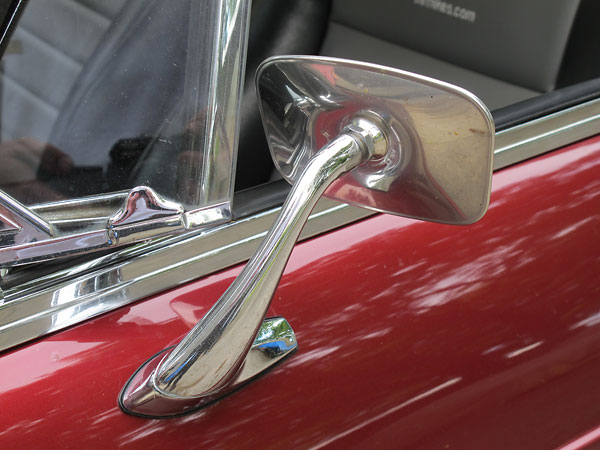 AQ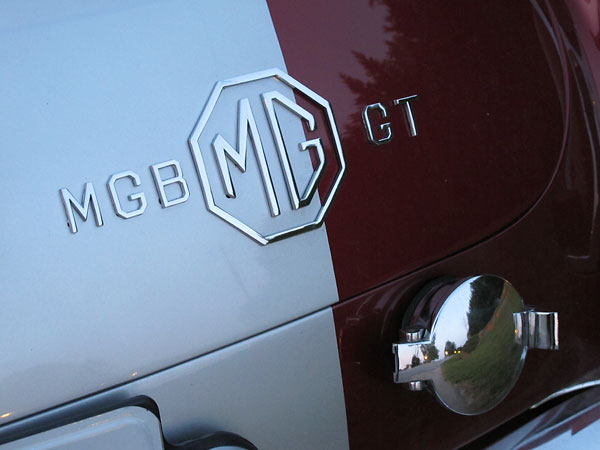 AT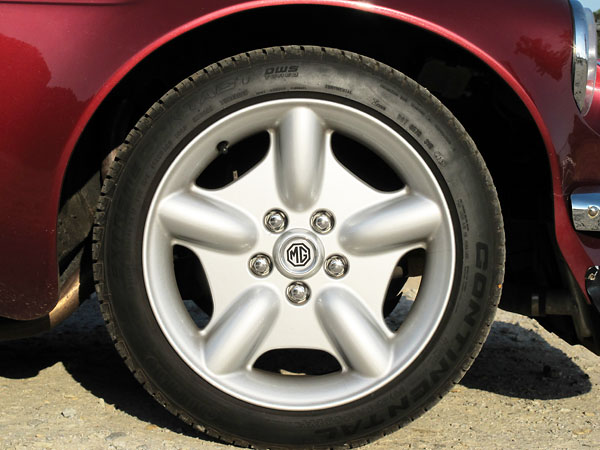 AU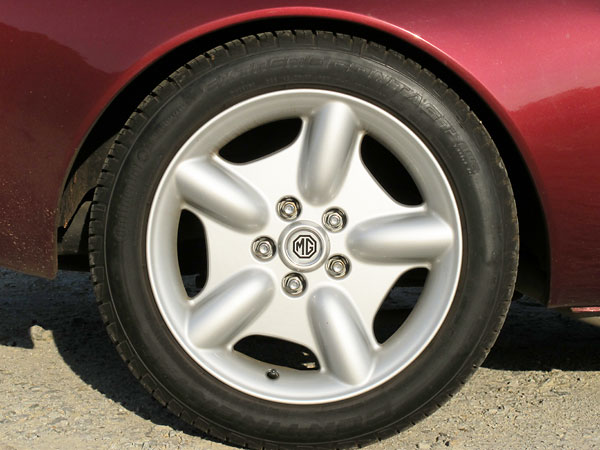 AV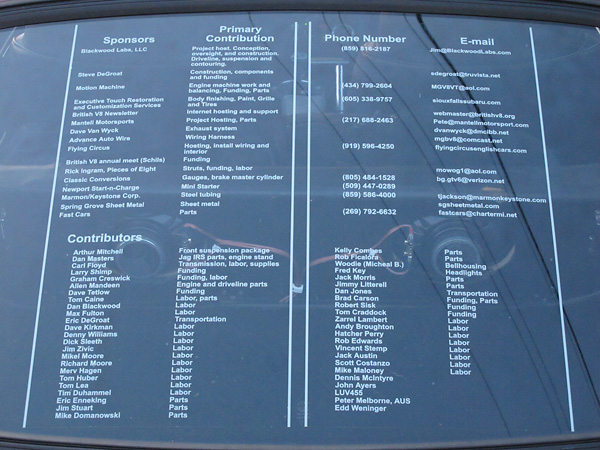 Project Sponsors and Contributors (rear window decals)


Sponsor
Primary Contribution
Contact Info
Blackwood Labs LLC
Project hosting. Conception,
oversight and construction.
Driveline, suspension and contouring.
www.blackwoodlabs.com
(859) 816-2187
Steve DeGroat
Construction, components and funding.
Motion Machine
Engine machine work and balancing.
Funding. Parts.
www.motionmachineinc.com
Executive Touch Restoration
& Customization Services
Body finishing. Paint. Grille. Tires.
siouxfallssubaru.com/restorations.aspx
British V8 Magazine
Internet hosting and support.
www.britishv8.org
Mantell Motorsport
Project hosting. Parts.
www.mantellmotorsport.com
Dave Van Wyck
Exhaust system.
Advance Auto Wire
Wiring harness.
www.advanceautowire.com
Flying Circus English Cars
Project hosting. Wiring installation.
Interior trim. Wheels.
www.flyingcircusenglishcars.com
BritishV8 Annual Meet (Schils)
Funding.
Rick Ingram, Pieces of Eight
Gas springs. Funding. Labor.
mowog1@aol.com
Classic Conversions
Gauges. Brake master cylinder.
www.classicconversionseng.com
Newport Start-n-Charge
Mini starter.
(509) 447-0289
Marmon/Keystone Corp.
Steel tubing.
www.marmonkeystone.com
Spring Grove Sheet Metal
Sheet metal.
www.sgsheetmetal.com/
Fast Cars Inc.
Parts.
www.fastcarsinc.com
| | | | |
| --- | --- | --- | --- |
| Contributor | Primary Contribution | Contributor | Primary Contribution |
| | | | |
| Bill Young | Funding. Labor. Supplies. | Kelly Combes | Parts. |
| Arthur Mitchell | Front suspension package. | Rob Ficalora | Parts. |
| Dan Masters | Jag IRS. Engine stand. | Woodie (Michael B.) | Bellhousing. |
| Carl Floyd | Transmission. Labor. Supplies. | Fred Key | Headlights. |
| Larry Shimp | Funding. | Jack Morris | Parts. |
| Graham Creswick | Funding. Labor. | Jimmy Litterell | Parts. |
| Allan Mandeen | Engine and driveline parts. | Dan Jones | Transportation. |
| Dave Tetlow | Funding. | Brad Carson | Funding. Parts. |
| Tom Caine | Labor. Parts. | Robert Sisk | Funding. |
| Dan Blackwood. | Labor. | Tom Craddock | Funding. |
| Max Fulton | Labor. | Zarrel Lambert | Labor. |
| Eric DeGroat | Transportation. | Andy Broughton | Labor. |
| Dave Kirkman | Labor. | Hatcher Perry | Labor. |
| Denny Williams | Labor. | Rob Edwards. | Labor. |
| Dick Sleeth | Labor. | Vincent Stemp | Labor. |
| Jim Zivic | Labor. | Jack Austin | Labor. |
| Mikel Moore | Labor. | Scott Costanzo | Labor. |
| Richard Moore | Labor. | Mike Maloney | Labor. |
| Merv Hagen | Labor. | Mickey Richaud | Parts. |
| Tom Huber | Labor. | Dennie McIntyre | |
| Tom Lea | Labor. | John Ayers | |
| Tim Duhammel | Labor. | LUV455 | |
| Eric Enneking | Parts. | Peter Melborne, AUS | |
| Jim Stuart | Parts. | Edd Weninger | |
| Mike Domanowski | Parts. | | |
Original Article Introduction
The Roadmaster Project has largely been coordinated via a running thread on the BritishV8 message board.
You can review the project's history and the car's continuing development here:
"BritishV8 Forum / MG Sports Cars / MGB Roadmaster".

The Roadmaster is currently on tour! You can monitor its progress from this message board thread:
"BritishV8 Forum / MG Sports Cars / Roadmaster Events List".

For further background information, here are two early articles about the Roadmaster Project:
Roadmaster Status Report One and Roadmaster Status Report Two