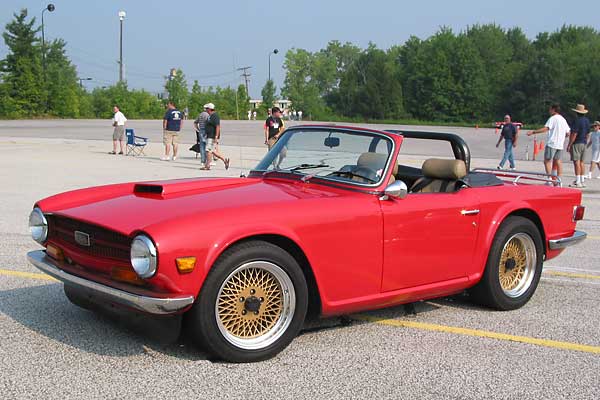 Dale Knapke's 1972 TR-6 with 2.3L Ford SVO Turbo-4
as published in British V8 Newsletter, Volume XV Issue 2, September 2007
- (Additional photos: July 2013.)
Owner: Dale Knapke
BritishV8 UserID:
tr6turbo
City: Sidney, OH
Model: 1972 Triumph TR-6
Engine: 2.3L Ford SVO, turbocharged and fuel injected
Conversion completed by: owner
Engine:
the 2.3L (140cid) Ford SVO 4 cylinder engine from a 1987 Thunderbird Turbo Coupe has been updated with an Esslinger Engineering aluminum D-port cylinder head, Esslinger Engineering 2277 hydraulic roller cam, and Precision Turbo GT30R76 turbocharger. Air enters through a hood scoop, into a hood-mounted plenum with a panel air filter, before routing into the turbocharger. A custom 24x13x3 intercooler with 3" inlet and outlet has been fitted. The engine management system is an Accel DFI Gen VII.

Cooling:
custom aluminum radiator and 16" electric fan.

Exhaust:
stainless steel tubular exhaust header by Precision Turbo, routed into dual SuperTrapp mufflers. (One 3" tube comes down from the turbo and then splits into two 2.25" tubes.)

Transmission:
Ford Motorsport Heavy Duty T5 5-speed with 2.95:1 first gear.
(Note: V8-spec T5s require a special pilot bearing when used behind a 2.3L engine.)
Centerforce stage-3 clutch with McLeod hydraulic throw-out bearing (HTOB).

Rear axle:
9" Ford with 3.89:1 ratio, Moser Engineering aluminum center section, Moser narrowed axles, and Ford Motorsport limited slip differential

Suspension:
the front is stock, except with inboard lower A-arm pivot points relocated to improve geometry. The stock rear suspension has been replaced with an owner designed and built 4-link rear suspension featuring QA1 adjustable coilover shock absorbers.

Brakes:
Wilwood master cylinder and (front) Wilwood Dynalight 12.18" vented front front brakes and Ford Turbo Coupe 10.5" vented rear brakes.

Wheels/Tires:
(front) Enki 16"x6" wheels with 205/55/R16 Firestone Firehawk tires.
(rear) Enki 16"x8" wheels with 255/50/R16 Firestone Firehawk tires.

Body Mods:
basically stock except for hood scoop (fabricated by owner). The floor pan over the axle has been raised 10 inches, and a rear cross brace has been removed from the frame to accommodate the 4 bar link suspension.

Interior:
custom tan leather upholstered interior. Custom dashboard, steering wheel, radio console, and welded-in roll bar.

Electrical:
AutoMeter instruments. Battery relocated to trunk.

Weight:
2395 pounds (no driver), with 47/53 front-to-rear weight distribution.

Performance:
11.21 second quarter mile at 121 MPH. (My goal is 10.99 seconds at 125 MPH.)

Mile Driven:
60000 miles since conversion (about 1989), as of the British V8 2007 meet.

Comments:
This is not a difficult conversion to do! The modifications to accommodate the engine are fewer then all of the V8 conversions I have seen, TR6 or MGB. The exhaust can be routed through the chassis and not under it, so very low ground clearance is feasible.

The biggest challenge I faced was the four link suspension but that's not absolutely required for the conversion, especially if you don't intend to drag race your car (or run the very wide tires drag racing requires). You could leave the stock rear suspension or you could use the leaf spring set-up from a TR250 to greatly simplify the conversion. This would require running tires and wheels that are near stock in size.

A stock Ford 2.3L Turbo Coupe engine puts out about 200 HP, which is almost double the original 6 cylinder. Unmodified, the Ford engine would make for a great driver with a lot of performance in a TR6 or an MGB. The stock Ford engine management system is a very good system and it can accommodate a lot of engine modifications before it becomes a bottleneck. I got close to 300 engine HP before I went with the Accel system. I now have about 400 HP at the engine. The stock Turbo Coupe wiring harness also is a good harness to modify for the application. There's a lot of extra wire in it, (which you'll probably want to remove,) but the engine management part is mostly self-contained and not heavily integrated into the rest of the car's wiring. There's a good following of hot rodders using this engine, so aftermarket performance parts and information are available.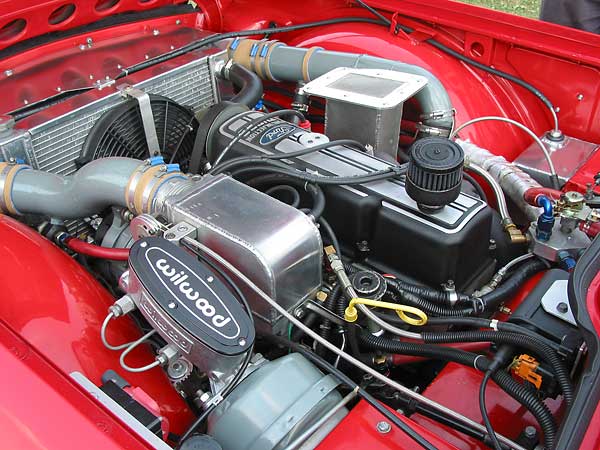 2.3L (140cid) Ford SVO 4 cylinder engine from a 1987 Thunderbird Turbo Coupe.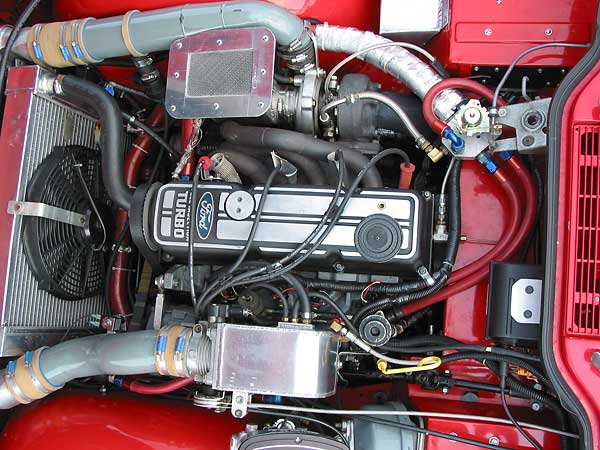 On Dayton Performance's Dynojet Research rolling road in August 2009, Dale's turbocharged four
cylinder engine delivered 396 horsepower and 398 footpounds of torque. Since our original article
(above) was published, Dale's personal best quarter mile has improved to 10.76s at 128 MPH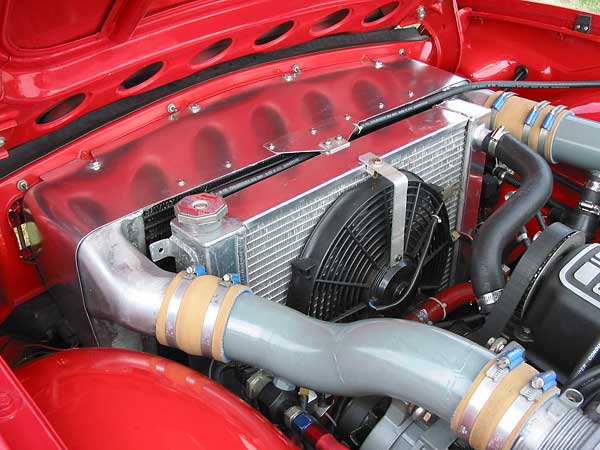 Intercooler, custom aluminum radiator, and electric cooling fan.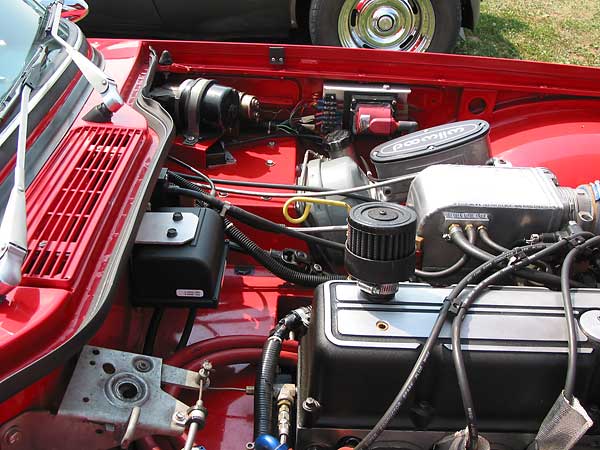 Battery has been relocated.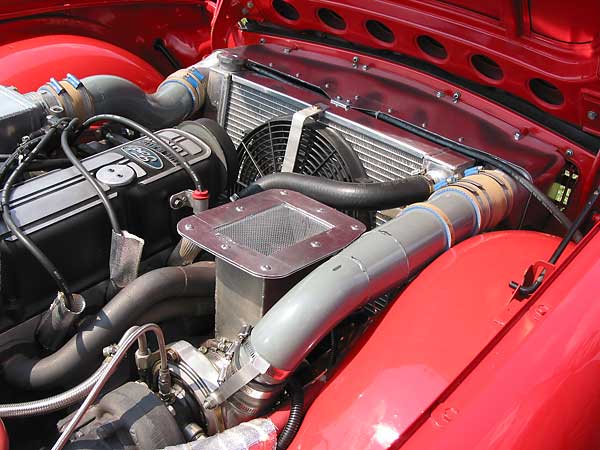 Intercooler plumbing.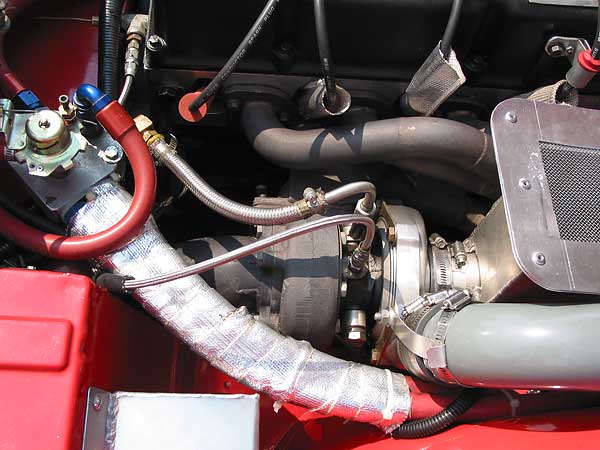 Precision Turbo GT30R76 turbocharger.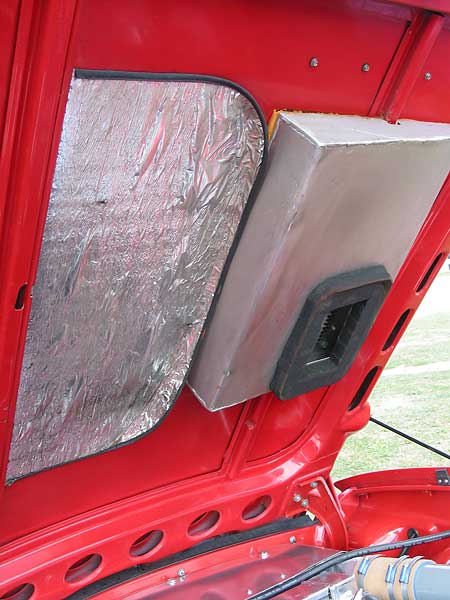 Hood scoop feeds into a plenum integral to the hood, which houses a panel air filter.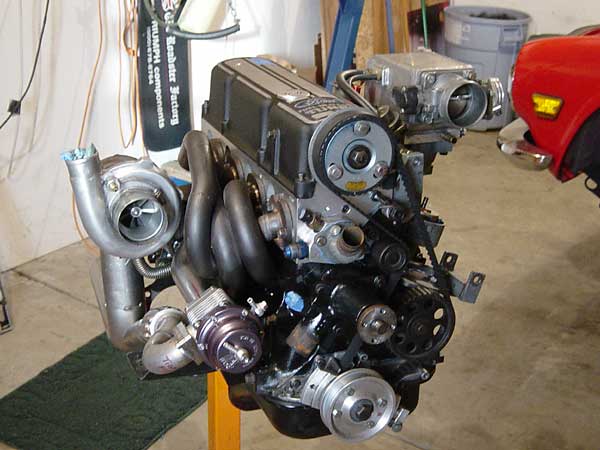 Stainless steel header by Precision Turbo.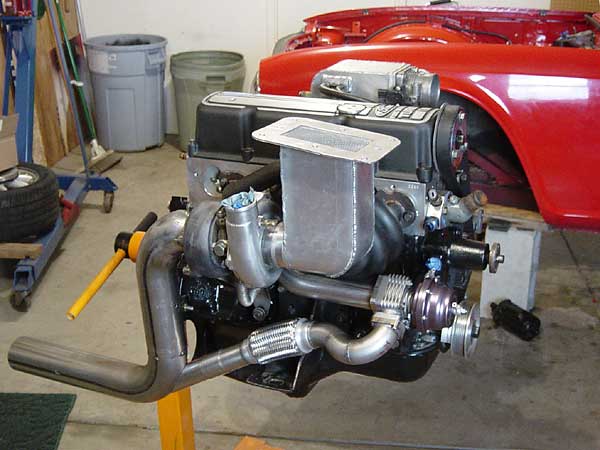 Wastegate.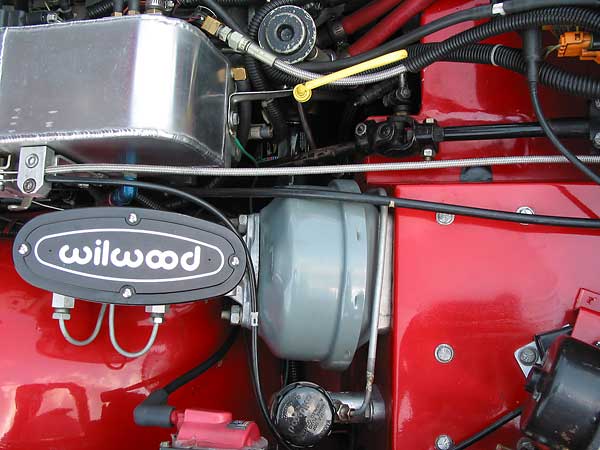 Wilwood brake master cylinder.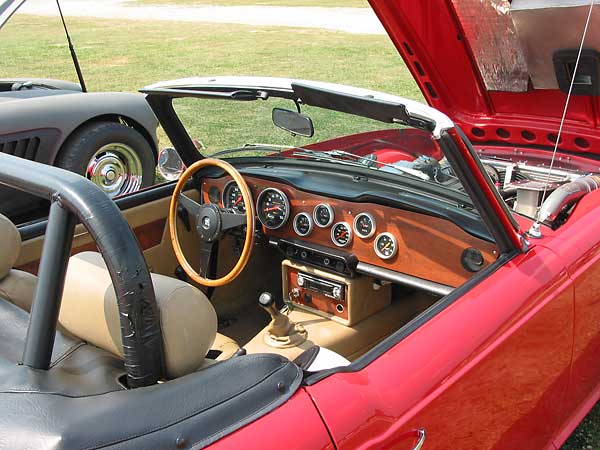 Custom TR6 dashboard and radio console.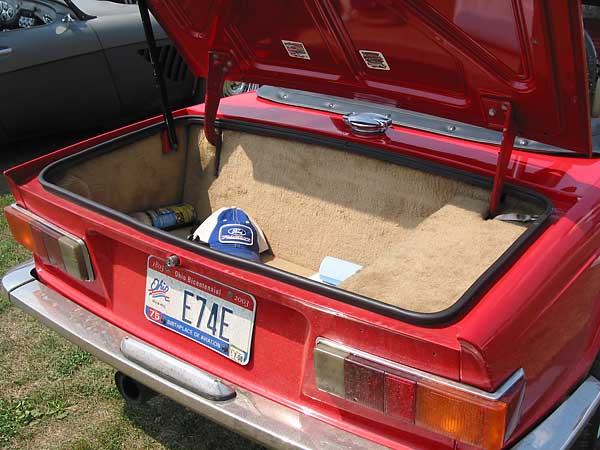 Neatly trimmed luggage compartment.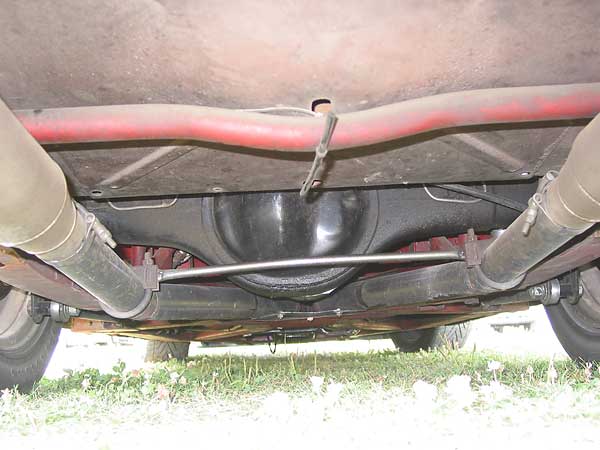 Ford 9" rear axle.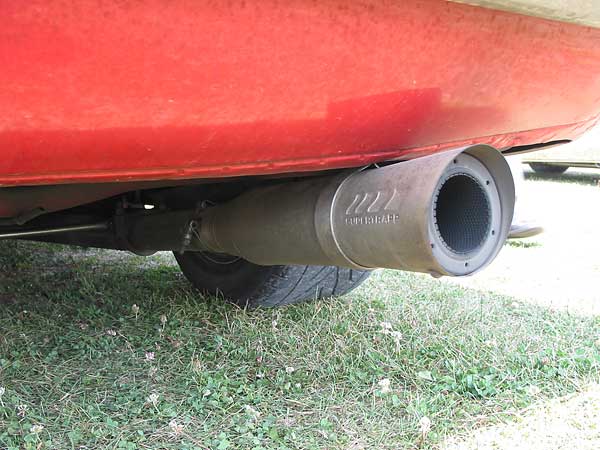 Dual Supertrapp mufflers.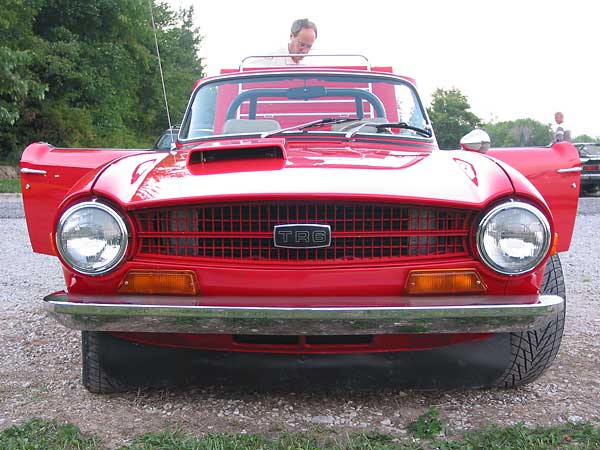 Hood scop and painted grille.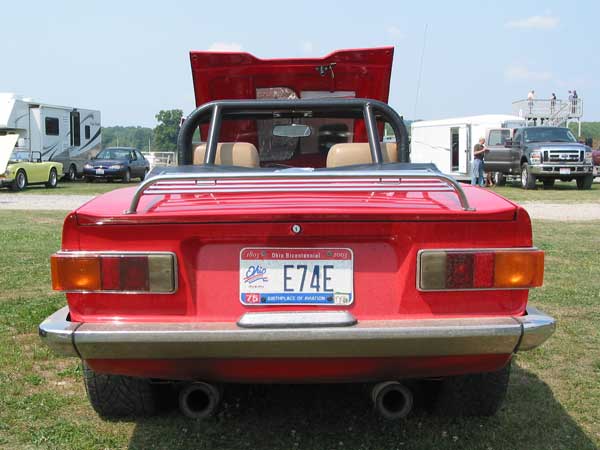 Roll hoop and luggage rack.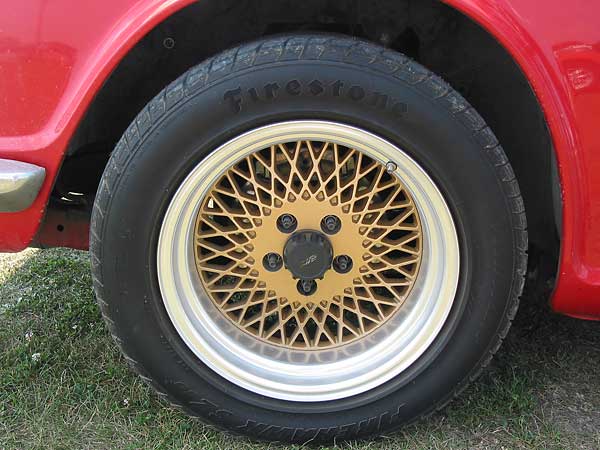 Enki 16" wheels with Firestone Firehawk tires.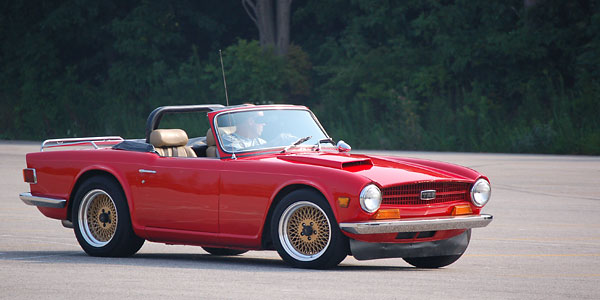 Dale Knapke, autocrossing at British V8 2007.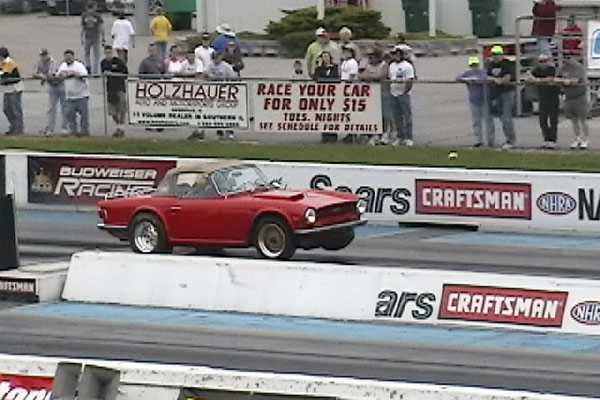 Dale Knapke's TR6, in its element.


After the Rebuild - Photos From BritishV8 2013
Dale drag races this exceptionally powerful TR6 and occasionally uses it for track days too. Broken parts and upgrades are inevitable. At Indianapolis, during the BritishV8 2010 track day at O'Reilly Raceway Park, Dale hit a patch of spilled coolant. He careened off-track and crashed into a concrete wall. Front clip destroyed. Bent frame. An ambulance took Dale to the hospital. Miraculously, he attended our group dinner that night - looking bruised and battered, and wearing a neck brace, but flashing an occasional smile too. A lesser man might have written off his TR6, but Dale took it in stride. After Indianapolis, he extensively rebuilt his TR6 while incorporating many upgrades. He lengthened the wheelbase (plus fenders and hood) 2" to bring the TR6 into compliance with NHRA's 90" minimum wheelbase for its racing class. Details here. The following post-rebuild photos were taken at BritishV8 2013.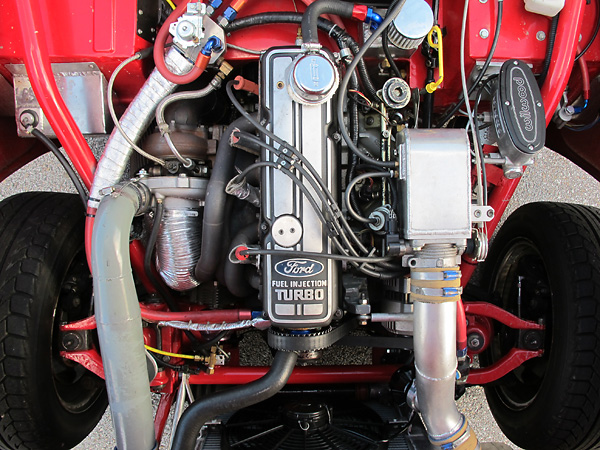 Dale cut the old TR6 frame off at the firewall, and grafted on new metal. Then, he added
a new 10-point rollcage constructed of Chrome Moly steel tubing.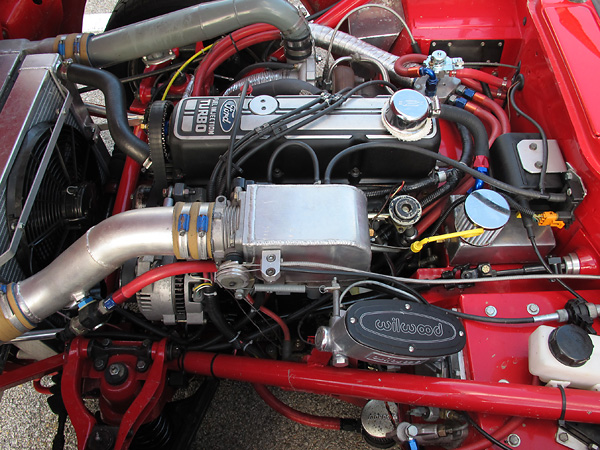 Plenum.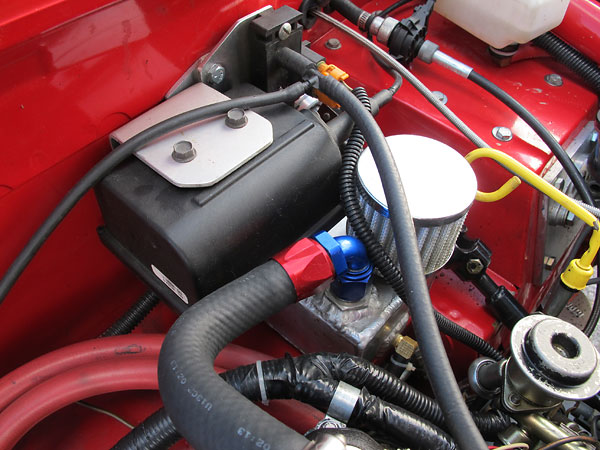 Cruise control (left) and MAP sensor (right).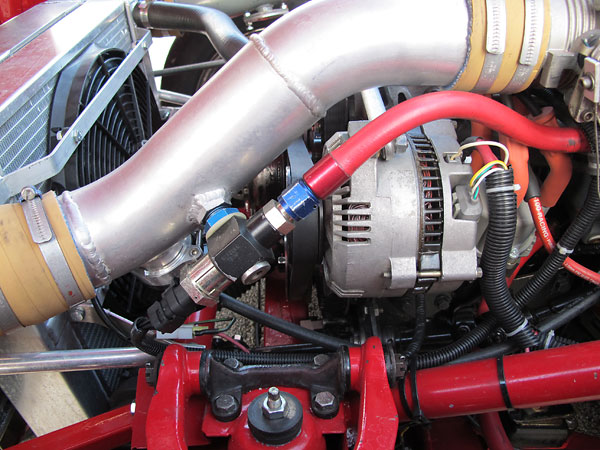 Foreground: a blowoff valve vents excess pressure from the compressor side of the turbocharger.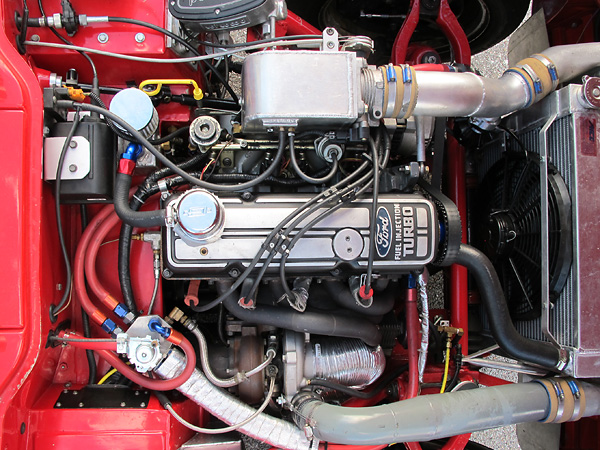 Fuel injection controlled by an Accel DFI Gen VII engine management system.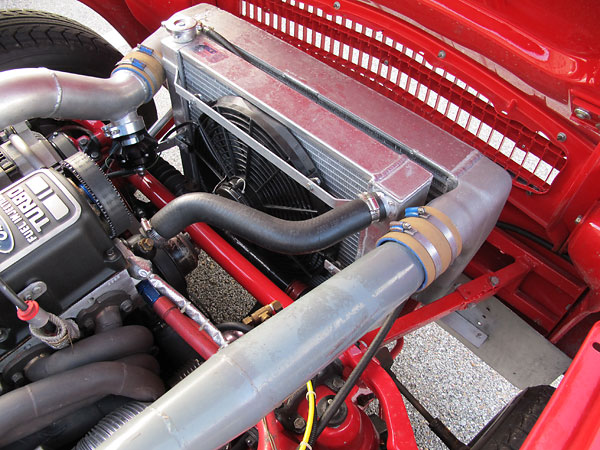 Afco aluminum radiator.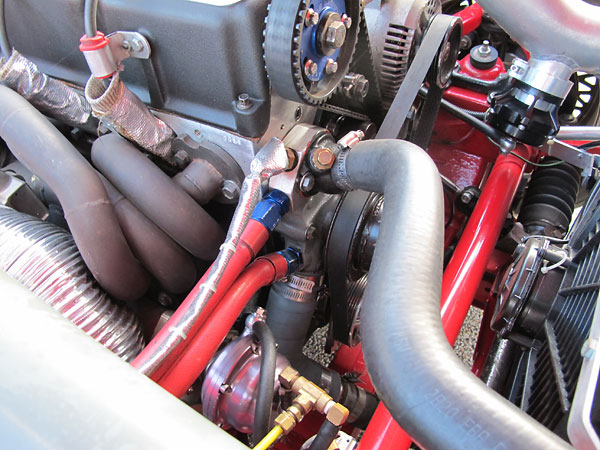 Foreground: a pressure activated wastegate diverts excess exhaust gas away from the turbine
wheel to regulate the turbocharger's speed and thus the maximum boost pressure it creates.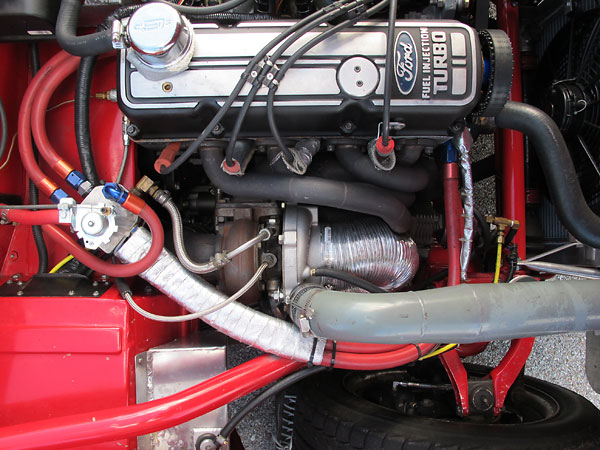 Precision Turbo GT30R76 turbocharger.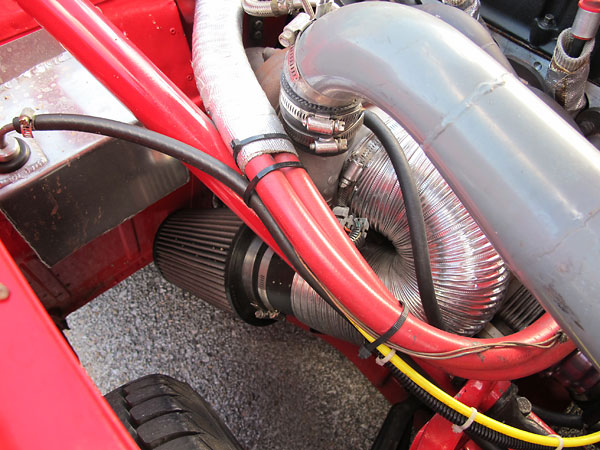 K&N gauze air filter.