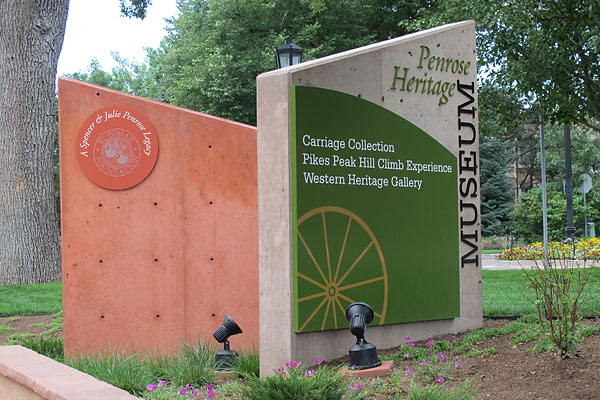 BritishV8 Tours: The Penrose Heritage Museum
as published in BritishV8 Magazine, Volume XXII Issue 1, December 2014

words and photos by Curtis Jacobson


Two Transportation Museums in One!
During our 2014 annual meet, BritishV8 members visited The Penrose Heritage Museum in Colorado Springs.

Spencer Penrose (1865-1939) built a great fortune in Colorado's mining industry, and invested much of it back into Colorado Springs based businesses and charities including the Broadmoor Hotel, the Pike Peak Automobile Highway, the Cheyenne Mountain Zoo, and many others. Together with his wife Julie (1870-1956), Penrose established the El Pomar Foundation in 1937. The El Pomar Foundation has subsequently managed over $320,000,000 in charitable gifts to advance the arts and humanities, education, health services, and community initiatives. The El Pomar Foundation operates the Penrose Heritage Musuem, which features two distinct collections: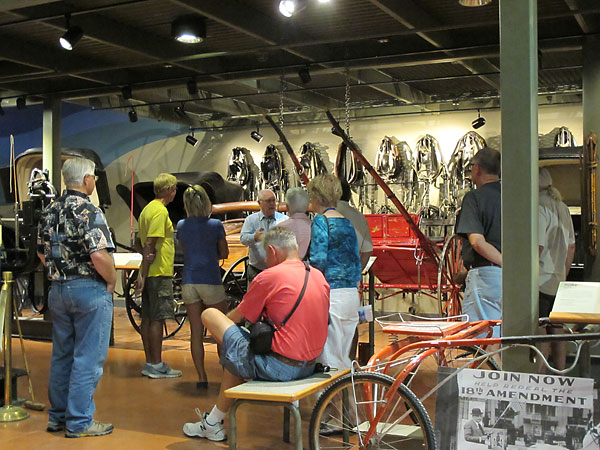 Through the first half of our tour we learned about the history of horse drawn carriages
dating from approximately the beginning of our country.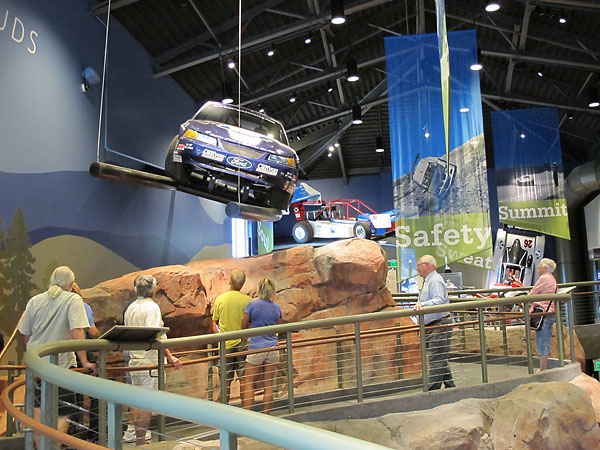 The second half of our tour focused on aspects of the Pike's Peak Hillclimb.


The museum is located at 11 Lake Circle, Colorado Springs, Colorado 80906. Phone: 719-577-7065. Visiting hours are 9am to 5pm from Monday through Saturday and 1pm to 5pm on Sunday. Admission is free.


A Brief Survey of the Museum's Carriage Collection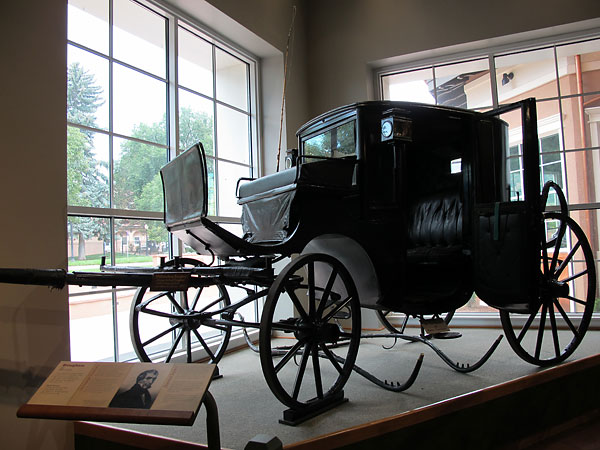 Brougham Carriage (coachbuilder unknown, circa ~1840)
Brougham style carriages were first introduced in London, in 1838. Lightweight and refined, with
generous side windows, coachmakers across Europe and then North America soon followed fashion
and introduced their own brougham carriages. This particular example belonged to President William
Henry Harrison, who died of pneumonia just one month after his riding his horse down Pennsylvania
Avenue in his inaugeration parade. Perhaps he should have used his carriage that day.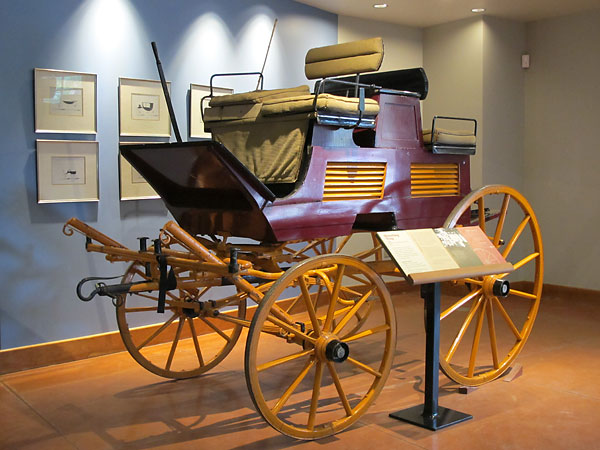 Hunting Break (by William H. Gray, circa 1895)
Hunting Breaks (a.k.a. "shooting traps") feature built-in kennels for transporting hunting dogs.
Louvered panels provide ventilation for the dogs. This carriage also features a compartment between
its seats suitable for transporting shot game or for the hunter's picnic lunch.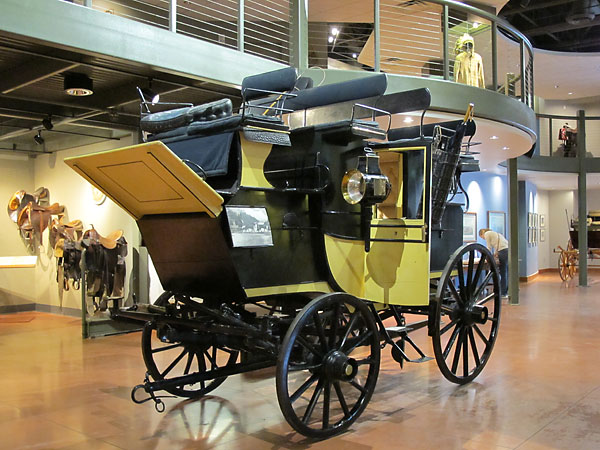 Gentleman's Drag (by Brewster and Company, New York NY, circa 1890)
This remarkable vehicle seats 18, but only four can ride on the inside! Built for private customers, a
gentleman's drag is built lighter than similar looking commercial vehicles such as Concord coaches and
English road coaches (a.k.a. "Talley-Ho coaches"). This particular example belonged to a prominant
New Yorker named Charles A. Baldwin. It features its original upholstery, some of which is walrus hide!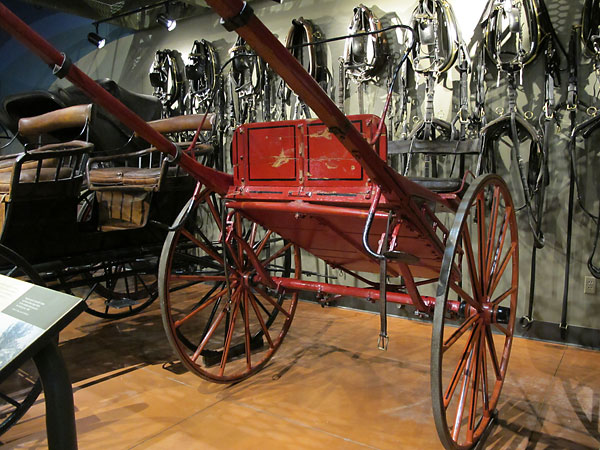 Training Cart (coachbuilder unknown, circa ~1893)
Distinctive features of training carts (a.k.a. "breaking carts") include an iron arch that keeps reins
from touching and spooking a young horse, and even more importantly, extra long shafts to prevent
the horse from kicking its driver. Nonetheless, you can see hoof marks on the kick board! Training
carts were more widely used than you might imagine; many people appreciated their light weight
and nimble handling. Steel tires on this particular example contributed to its durability.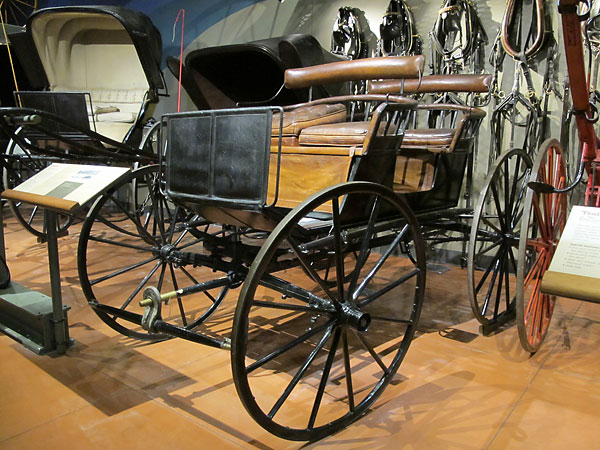 Surrey (by Brewster and Company, New York NY, circa 1897)
Brewster and Company introduced their tremendously popular four seat "Surrey" carriage in 1872.
Many other builders followed with similar designs. Cutaway doors to make climbing up and into
rear seats didn't appear on surreys until the mid 1880s. This particular example still features
its original boar's hide upholstery and bentwood backrests, but no "fringe on the top".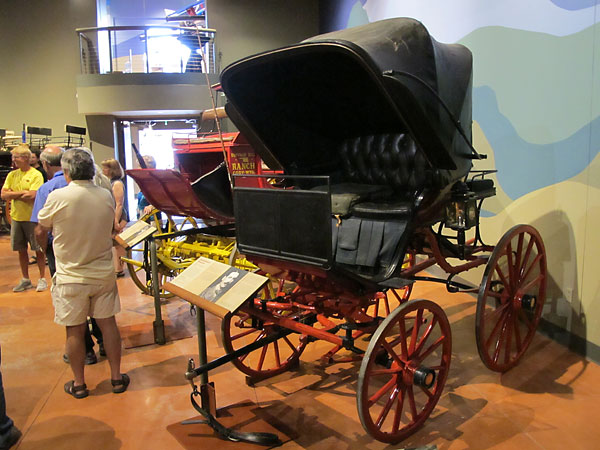 Gentleman's Phaeton (by Brewster and Company, New York NY, circa 1890)
The phaeton (pronounced FAY-ton) style originated in the late 1700s. Tall and flamboyantly
styled, but sporty too: phaeton's were primarily intended for a single person but could
carry two up front, plus they came with a rear-facing seat suitable for a servant.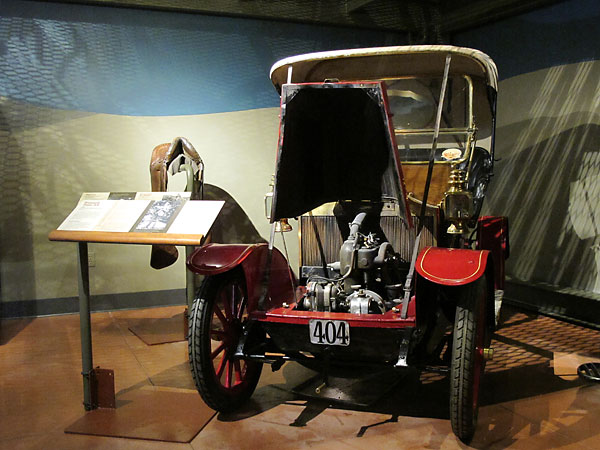 Renault Type AX (circa 1906)
In 1906, Renault produced approximately 2200 cars and opened their first U.S. market dealership
in New York city. Notice that the body on this example is in the phaeton carriage style. The brass
framed windshield and acetylene lanterns are period-installed, American-made accessories.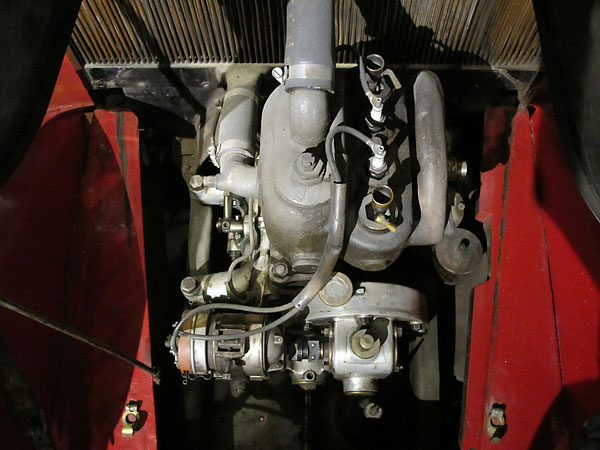 Radiators mounted behind engines are a characteristic feature of early Renaults.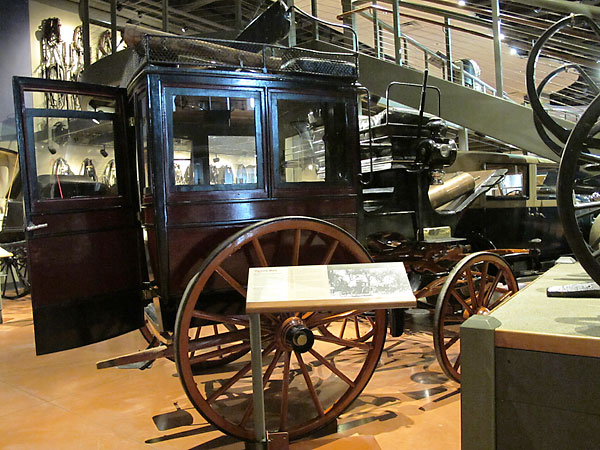 Opera Bus (by Million-Guiet & Compagnie of Paris, France, circa 1890)
This carriage was originally owned by Chester A. Arthur II, son of America's 21st President.
He imported it to America and used it for club rallies and amateur carriage racing. This carriage
can carry ten passengers. Its carbide headlamps are connected to a gas tank under the drivers seat.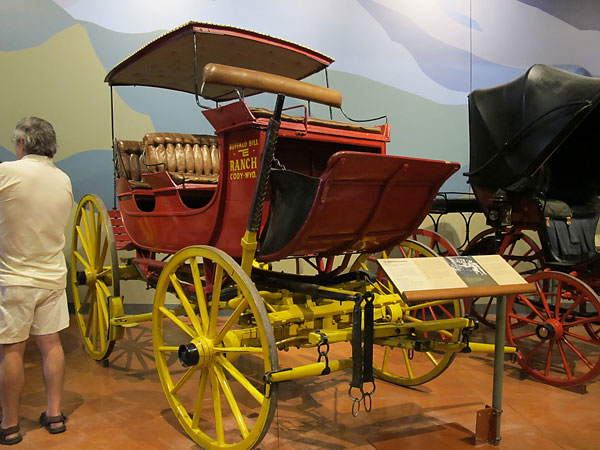 Yellowstone Carriage (by Abbot-Downing Company, Concord NH, circa 1895)
This carriage was build for Buffalo Bill Cody, who ordered it unpainted so he could better inspect
the workmanship. The design, including a canopy hard top, was optimized for siteseeing excursions.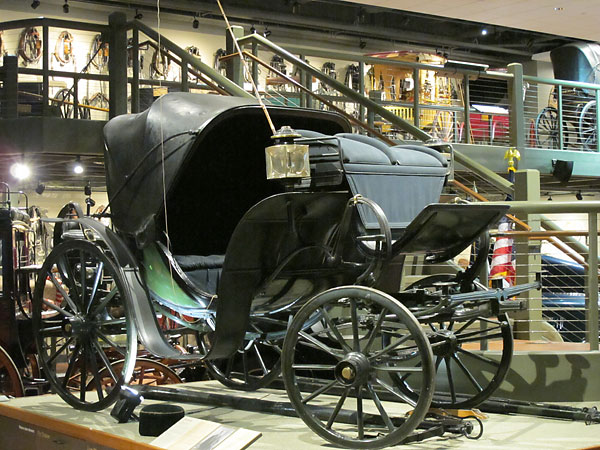 Victoria Carriage (by Brewster and Company, New York NY, circa 1862)
This elegant carriage was originally owned by Chester A. Arthur, America's 21st President.
(Served 1881-1885, following the assassination of President Garfield). Note the low sill height
and double-sprung suspension. Imagine its leather roof folded down. This elegant carriage
was built for promenading across New York's new Central Park, which opened in 1857.



Lion: less than two inches tall, but grand nonetheless.
The carriages in Penrose's collection, including President Arthur's Victoria, are generally
displayed in excellent, unrestored condition. Countless tiny, fascinating details remain.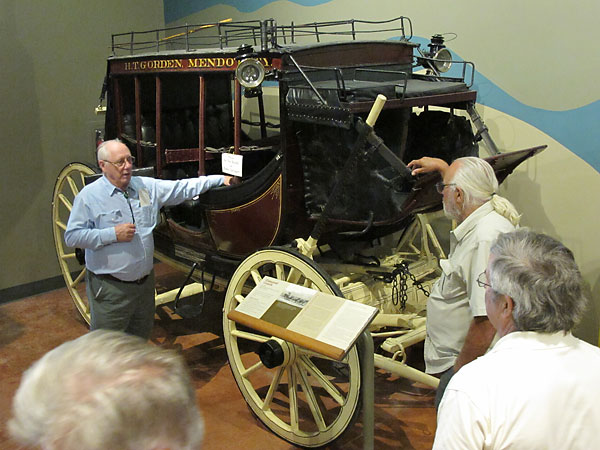 Concord Coach (by Abbot-Downing Company, Concord NH, circa 1857)
As seen in countless western movies, stagecoachs transported people and mail. This coach
ran between California's Fort Bragg and Cloverdale, about 80 miles each way. It seats six
inside and three outside, plus roof-top riders on occasion. Best seat: next to the driver.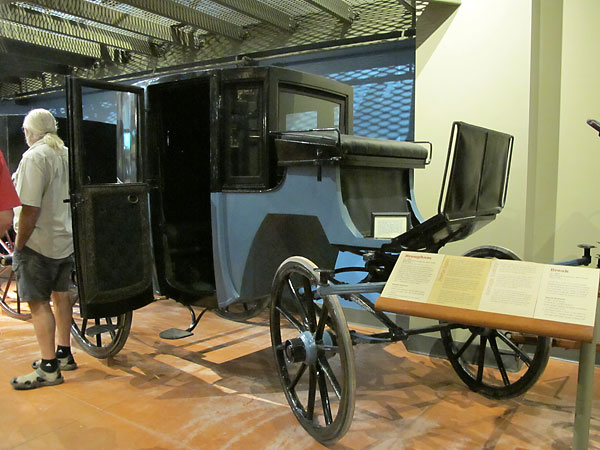 Brougham (by Brewster and Company, New York NY, circa 1892)
In 1839, Lord Peter Henry Brougham (rhymes with home) commissioned the first carriage of this
compact, closed style. This brougham, once owned by the art collecting Guggenheim family, has
glass windows, rubber tires, and step covers (on the doors) to keep steps free of mud.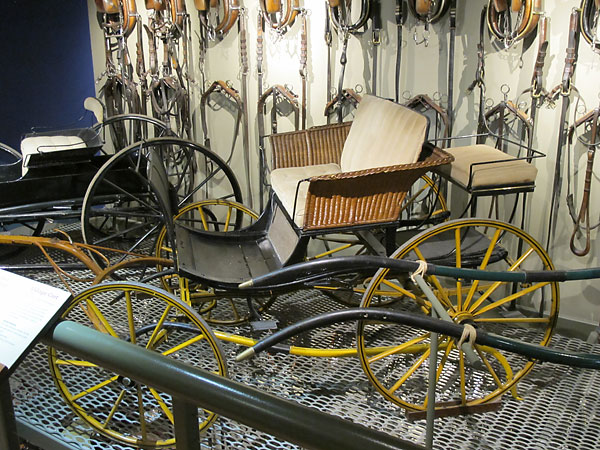 Basket Phaeton (by Horace Ervein, Ogontz PA, circa 1905)
Featuring stylish paintwork, brass hubcaps, corduroy upholstery, and a comfortable willow
wicker seat: this style of phaeton satisfied discerning turn-of-the-century women.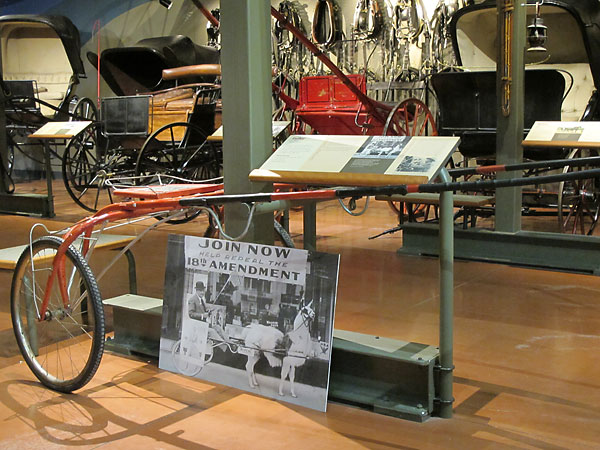 Bicycle Sulky (builder unknown, circa 1915)
Scottish veterinary surgeon John Boyd Dunlop re-invented and developed manufacturing processes for
pneumatic bicycle tires in 1887. (Unbeknownst to Dunlop, someone else had patented the concept
40 years earlier.) By 1890, Dunlop's tires were being mass-produced, and by 1892 pneumatic tires
were available (in conjunction with wire spoke wheels) on lightweight "bicycle sulky" carriages.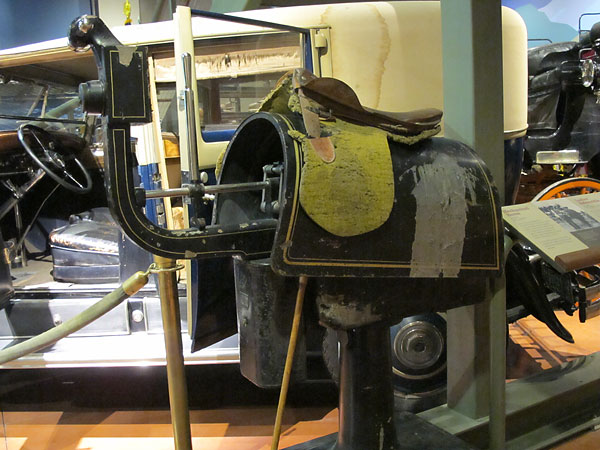 Mechanical Horse (S.A.G., Germany, circa 1910)
Spencer Penrose purchased this mechanical horse so he could ride every single day
and even practice polo mallet swings without concern for Colorado's winter weather.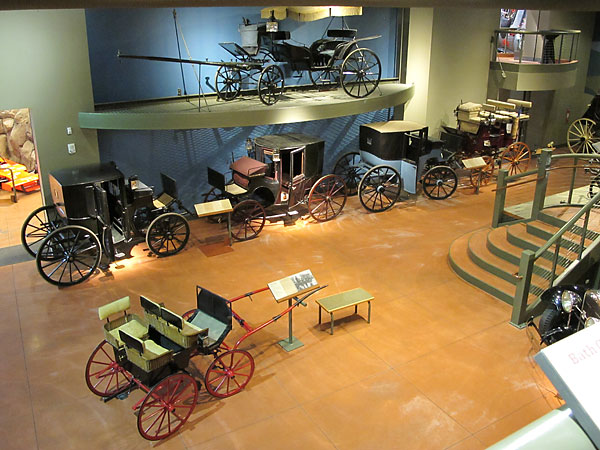 Miscellaneous
The carriage collection continues upstairs, where smaller carts share space wth special collections
representing other interests of the Penrose family such as native American ceremonial costumes.


An Overview of the Museum's Pike's Peak HillClimb Exhibits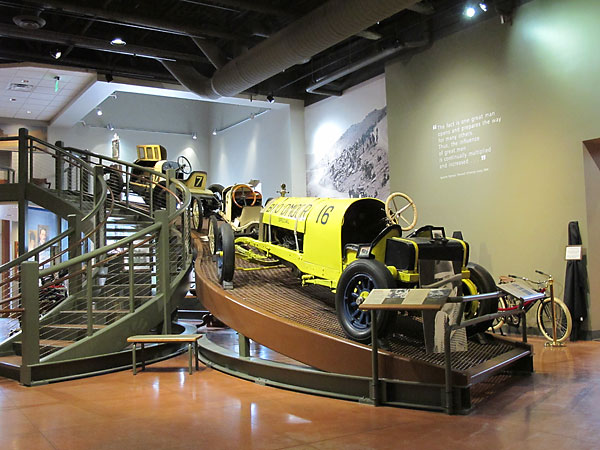 The Museum of the Pikes Peak International Hill Climb
Since 1916, racers have raced to the summit of Pikes Peak, some 14,110 feet above sea level.
With about 160 tight turns and an elevation gain of 4,720 feet in just 12.4 miles, the course
has always been a unique test of man and machine. Until 2011, the road remained unpaved.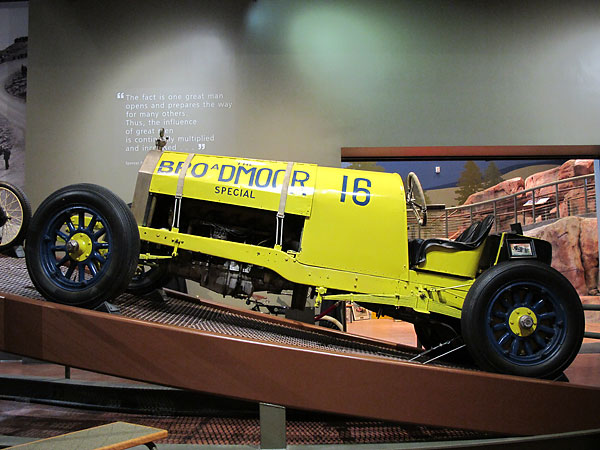 Broadmoor Special (Pierce-Arrow Motor Car Co. Buffalo NY, circa 1918)
From the beginning, the Penrose family has been closely associated with the hill climb.
Here's the first Pikes Peak hill climb car they put their name on.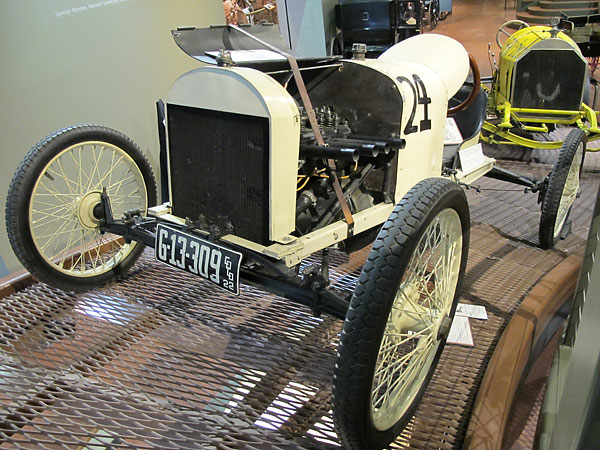 "Old Liz" Bullock Special (built from Model T Ford truck parts, in Madrid NE, circa 1918)
In 1922, twenty-two year old independent racer Noel Bullock surprised a tough field of Chevrolet,
Essex, Hudson, Mercer, and Packard racecars with a lowly Model T Special. The Bullock Special
wasn't built specifically for hillclimbing, and in fact Bullock had never entered a hillclimb race
before, but he had already won 74 dirt (oval) track races with his humble little car. Bullock
admitted to two particular upgrades for Pikes Peak: Dayton wheels and Firestone Cord tires.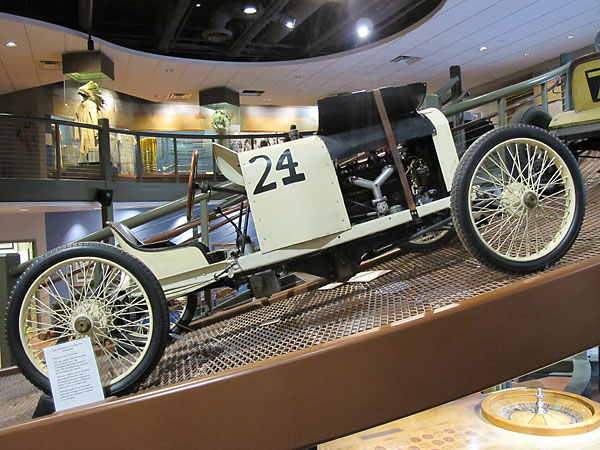 After the race, Bullock's car became known as "The RAJO Special"
Noel Bullock had also used a RAJO brand aftermarket cylinder head. RAJO was a performance brand
advertised in major magazines and distributed by Western Auto stores. (RAJO heads are generally
considered a rung or three below Frontenac heads.) At the urging of his new sponsor, Bullock
dramatically upgraded the appearance of his racecar with an all new body. The car you see in
these photos is far more polished and refined than what race spectators saw in 1922!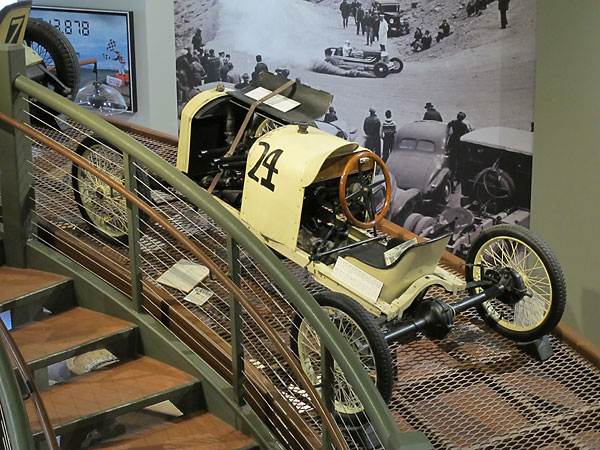 Blackballed by Pikes Peak Organizers in 1923
The gentlemen who ran Pikes Peak weren't amused by Bullock's upset victory or the publicity it got.
They figured that although good tires made Bullock competitive, light weight had been his advantage.
In 1922, the Bullock Special weighed just 975 pounds. For 1923 a new minimum weight rule was set:
1600 pounds! Bullock cast a 625# lead ballast, bolted it to the bottom of his car, and submitted his
registration. However, when he arrived to race, organizers disqualified him because earlier in the
year he'd participated in a race that wasn't sanctioned by the American Automobile Association.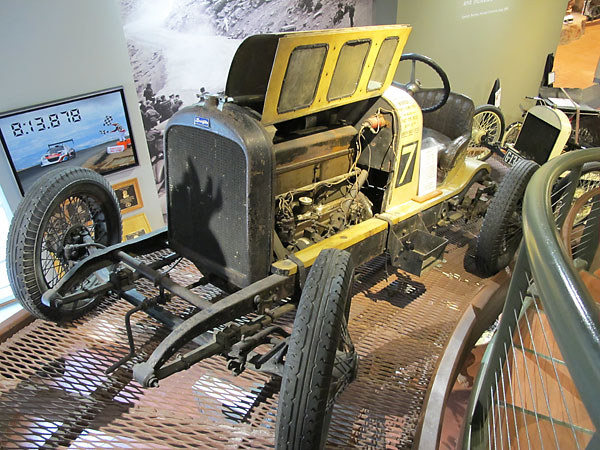 Minute Man Six Special (Lexington Motor Company, Connersville IN, circa 1920)
With Otto Loethe driving, this special short-wheelbase Lexington competed at Pikes Peak
from 1920 through 1924, finishing first, second, third, and then first again respectively.
It's powered by an Ansted six-cylinder engine with single downdraft carburetor.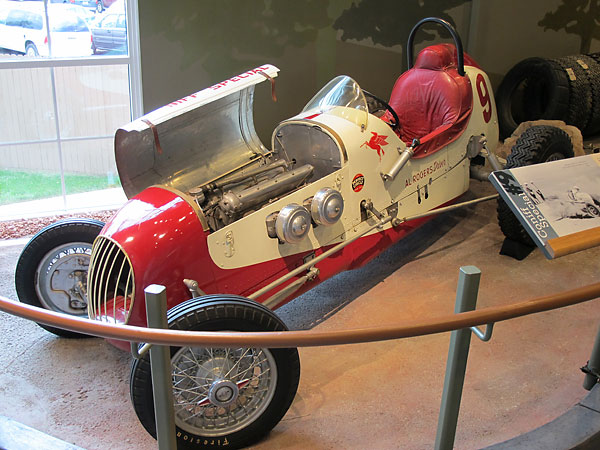 Coniff Offenhauser 220 Special (built by Joe Coniff, circa 1939)
One of the most successful racecars in Pikes Peak history, this car was driven by Al Rogers.
Rogers won the Pikes Peak hillclimb with it in 1940, 1948, 1949, 1950, and 1951.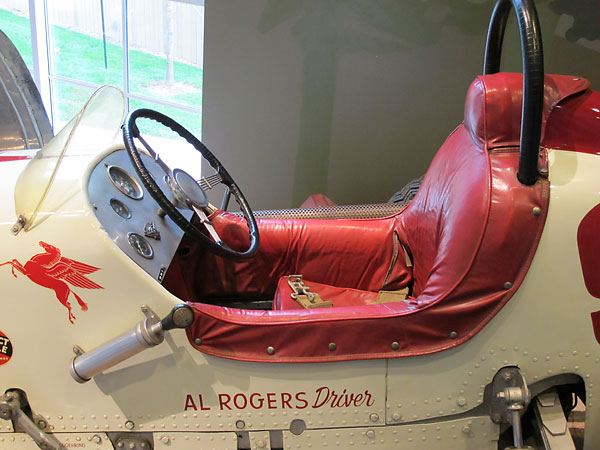 Durable
Built solely for Pikes Peak, this car was driven in the 1953 race by Phil Hulse.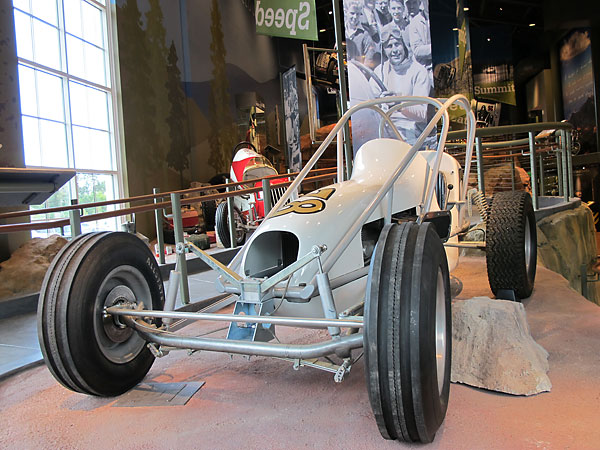 Conze-Offenhauser hillclimb car (built by Vincent Conze, Los Angeles CA, circa 1960...)
This racecar has a long, interesting history: as a "sprint car", as a "champ car", and especially
as a hillclimb car. Al Unser drove it to a 2nd place finish at Pikes Peak in 1960. Louis Unser
used it to place 8th in 1961. Slim Roberts entered it in 1962, but wrecked (and broke his neck).
Shortly after Slim's accident, it got its first rollcage. However, for 1964 it was updated...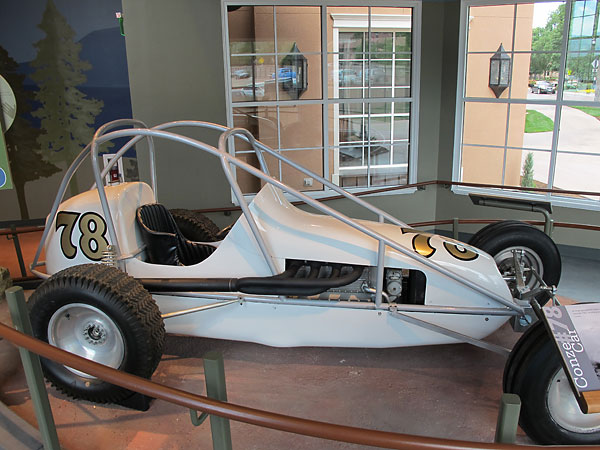 "Vince Conze's Down Tube Sprint Car" (circa 1964)
...with a distinctive and groundbreaking external rollcage. Countless sprint cars have been
built with external "down tube" frames since this car popularized the concept. Al Unser Sr. used
the Down Tube Special to win the 1964 Pikes Peak hillclimb. To this day, the car still belongs
to the Unser family, although Charles Lowdermilk borrowed it in 1965 (and placed 3rd). The cage
is cool, but this car's special advantage though was its amazing power to weight ratio, 2#:bhp.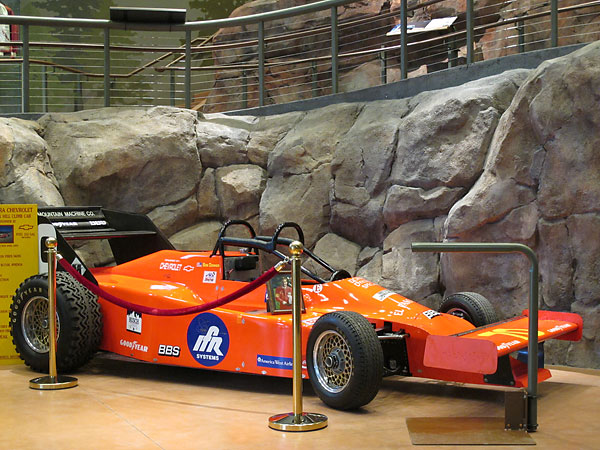 Donner-Dykstra DD3-Chevrolet (built in Colorado Springs CO, circa 1989)
Bobby Donner III won the Open Wheel class with this 355cid/620bhp Chevrolet powered racecar.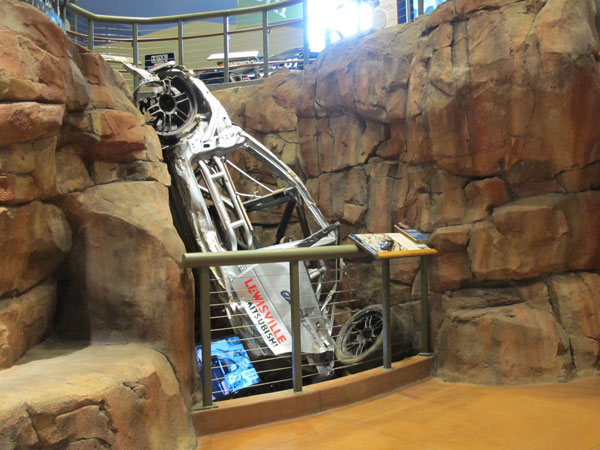 Mitsubishi Lancer Evolution 8 (Evolution Dynamics, Lewisville TX, circa 2012)
This Evo is the most famous racecar in our article, because its spectacular tumble was caught
on a video that "went viral". Driver Jeremy Foley and co-pilot Yuri Kouznetsov miraculously
walked away. They've become spokesmen for up-to-date safety equipment, properly installed.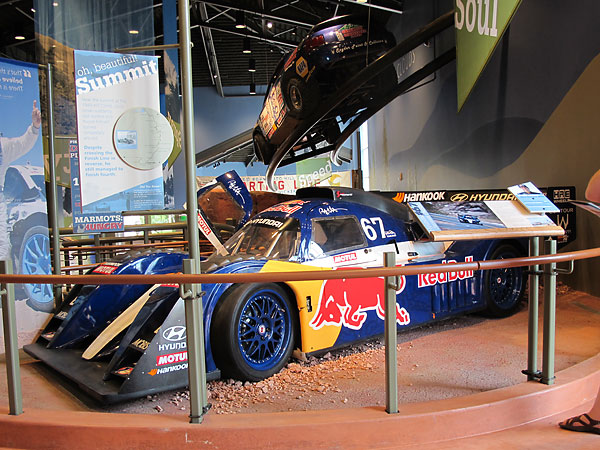 Hyundai Genesis PM580 (Rhys Millen Racing, circa 2013)
Rhys Millen drove this unlimited-class, tube-frame Hyundai racecar to a second place overall
finish and set the second fastest time in history (9:02.192, behind Sebastion Loeb 8:13.878)
at the 2013 Pikes Peak International Hill Climb. This racecar utilizes a production-based
engine (i.e. stock block and head castings) and stock electronic power steering system.


Enjoying this article? Our magazine is funded through the generous support of readers like you!
To contribute to our operating budget, please click here and follow the instructions.
(Suggested contribution is twenty bucks per year. Feel free to give more!)
Golden Bee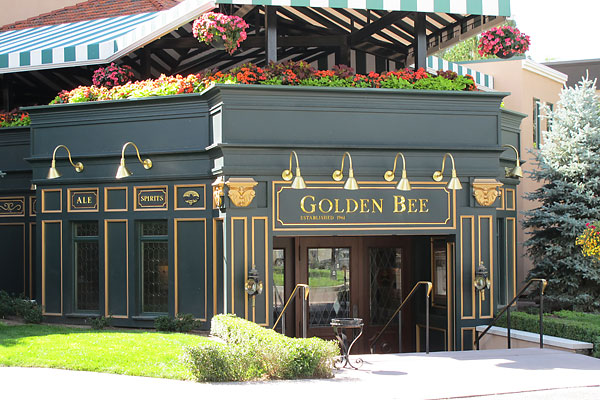 The Golden Bee Pub at the Broadmoor (established 1961)
After touring the Penrose Heritage Museum, we walked around the block for a pint...




Disclaimer: This page was researched and written by Curtis Jacobson. Views expressed are those of the author, and are provided without warrantee or guarantee. Apply at your own risk.

All photos by Curtis Jacobson for BritishV8 Magazine. All rights reserved.
---
If you liked this article, you might also enjoy:
• BritishV8 2014: Tour of Author Clive Cussler's Car Collection
• BritishV8 2013: Tour of Speedway Motors' Museum of American Speed
• BritishV8's Tour of Morgan Motor Company's Factory
• BritishV8 2012: Tour of Hatfield Restorations
• BritishV8 2012: Tour of the Texas State Railway Maintenance Facility
• BritishV8 2010: Tour of The Indy 500 Hall of Fame Museum
• BritishV8 2010: Tour of Mark Scott's Prototype Development Shop
• BritishV8's Tour of The MG Owners' Club in Cambridge
• BritishV8's Tour of British Motor Heritage