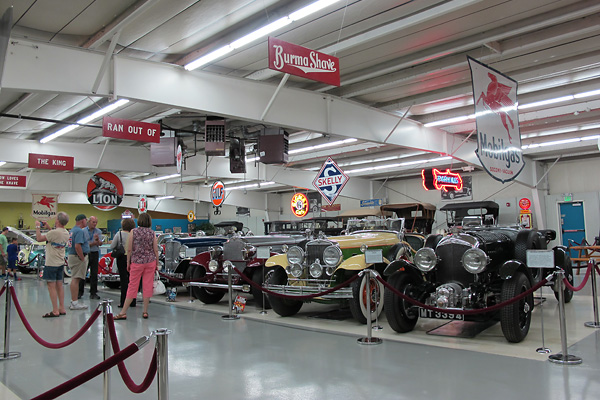 BritishV8 Tours: The Cussler Museum in Arvada Colorado
words and photos by Curtis Jacobson


Author Clive Cussler Shares His Passion for Adventurous Motoring
BritishV8 enthusiasts recently visited The Cussler Museum of fine automobiles in Arvada, Colorado. Our tour was one of the exciting outings and activities that comprised our eighteenth annual meeting. The Cussler Museum displays over one hundred cars collected by popular novelist Clive Cussler, best known for adventure genre bestsellers such as Deep Six, Black Wind, Sahara, and Raise the Titanic. Cussler's cars appear in these and other "Dirk Pitt" novels and feature film adaptations, and often grace his book cover jackets too. The Cussler Museum is open from 10am to 7pm on most Mondays and Tuesdays between April and September. Admission costs just five dollars per person. (Phone 303-420-2795 for further details.) Some favorite photos from our tour are featured below.


Tip: Start in the Back Room!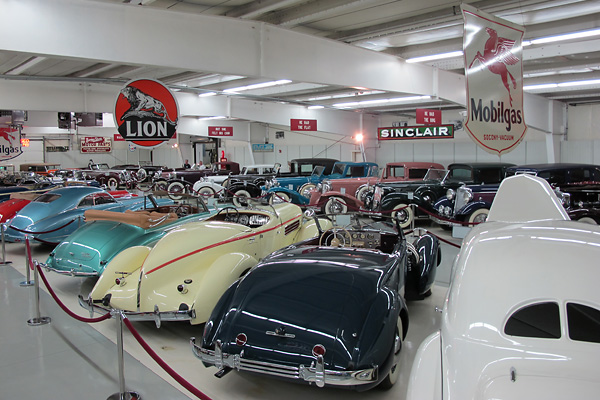 The Cussler Museum spans just two large rooms. For the most part, its back room features cars built
before World War 2 including particularly excellent assortments of boattail speedsters and classic
town cars. Many of these cars feature custom, coachbuilt bodies. These cars look stunning, even
while displayed behind velvet ropes. The front room features post-war cars up to about 1965.
Most of the post-war cars are convertible variants of mass-market American sedans.


Brass Era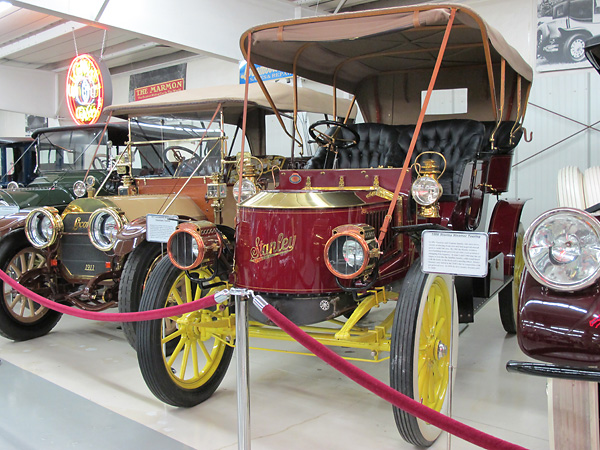 1906 Stanley Steamer Touring
Identical twins Freelan Oscar and Francis Edgar Stanley built a car, went racing, and found fame. In
1906, they exceeded 127mph at Daytona Beach! The brothers sold their original design to Locomobile,
then initiated production of a different and improved model. Stanley touring cars could reach 75mph.
About 11,000 were built. Generally, Stanley Steamers burnt kerosene though gasoline from a separate
tank supplied a pilot burner. Water tanks needed to be topped up about every 45 miles.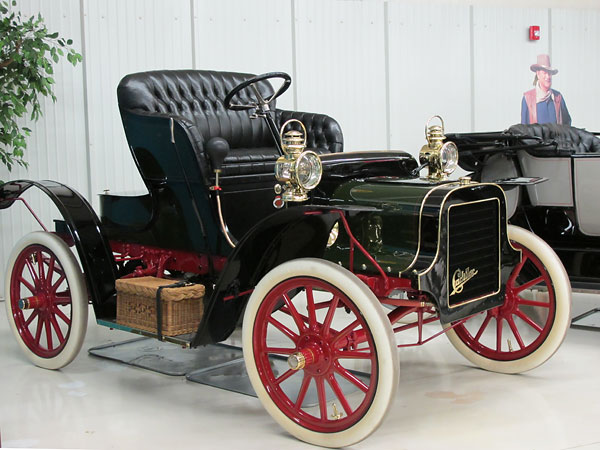 1908 Cadillac Model S Tulip Roadster
Cadillac's slogan "Standard of the World" dates to 1907, and refers to the fact that their cars
featured standardized parts that could be assembled and used without skilled fitment. This car's
10hp engine has a single cylinder and displaces 98.2 cubic inches. By 1907, that minimal engine
was starting to hurt sales, and Cadillac would soon join the trend to multi-cylinder engines.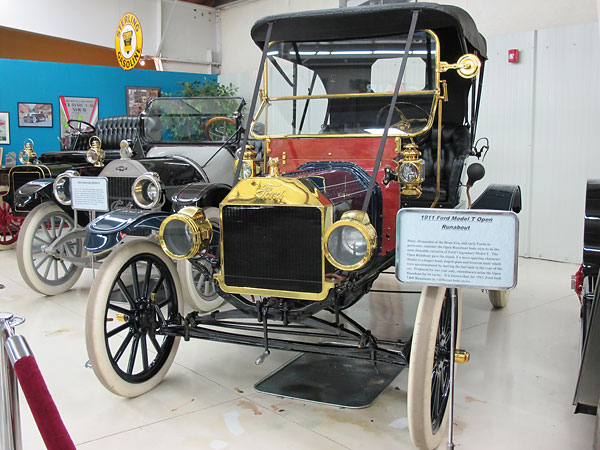 1911 Ford Model T Open Runabout
Open Runabouts were produced for just one year and they're particularly collectable because they
have a longer hood, sloped windscreen, lower seating position, and they're rare. It's hard for me
to call them sporty, but they were relatively light and their four cylinder engines did displace 177
cubic inches. Dark blue was Ford's standard color in 1911; Henry Ford hadn't settled on black yet.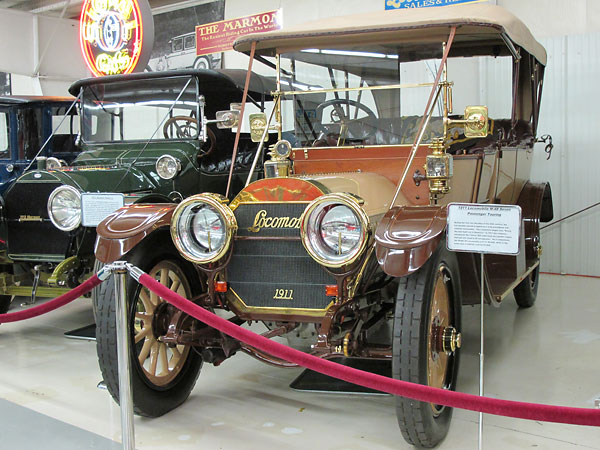 1911 Locomobile M48
In contrast with Ford, Locomobile occupied the very top tier of the American market.
In 1911 Locomobile introduced their new 525 cubic inch, T-head, six-cylinder engine.
It reportedly produced about forty-eight horsepower. Original price? $4800.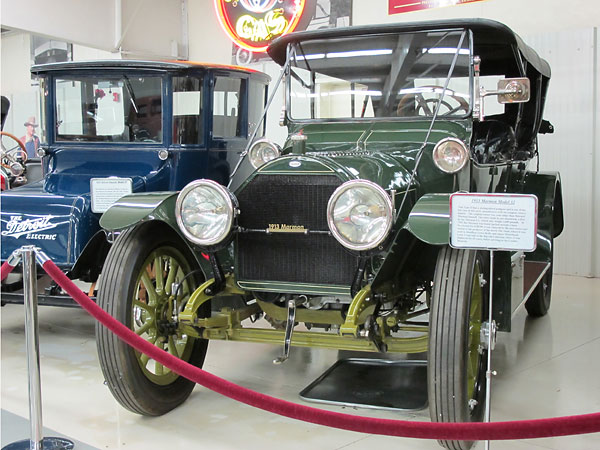 1913 Marmon Model 32
Marmon is credited with innovation in use of aluminum, and this particular Marmon has a cast
aluminum body. Curb weight is 2600 pounds. Next factoid: the first known use of a rear view
mirror on a car was on Ray Harroun's Marmon at the inaugural (1911) Indianapolis 500.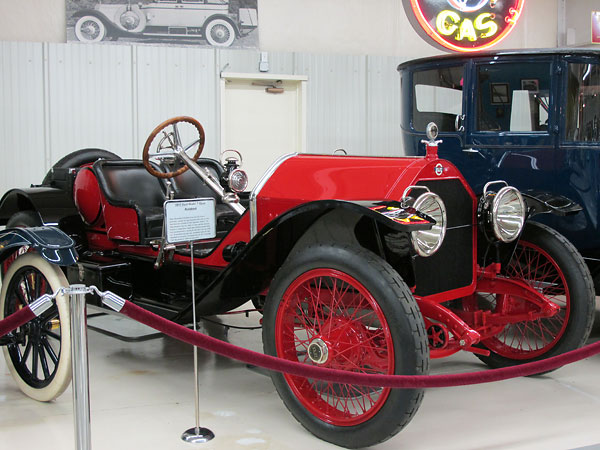 1913 Stutz Bearcat Series 4B
A Stutz placed 11th in the inaugural Indy 500, which was quite good considering the displacement
and preparation level of rivals. The following year, Stutz announced their new "Bear Cat" (two words
at the time) in the Indy 500 program with a slogan that soon became famous: "The Car that made
good in a day." It was a stripped down, short wheelbase model, built mainly from off-the-shelf parts.
A 390cid, 60hp, four cylinder engine was supplied by The Wisconsin Motor Company.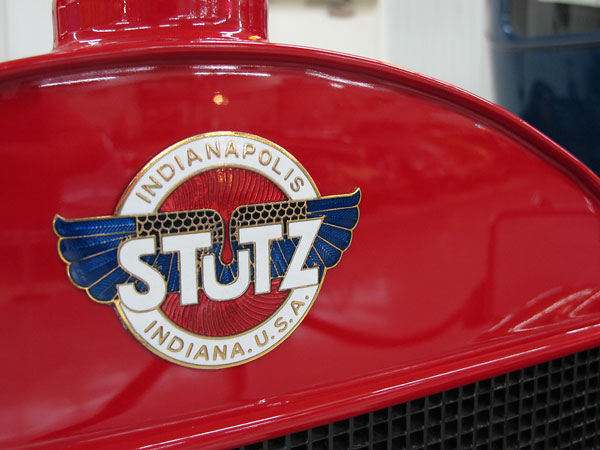 Badge: Stutz - Indianapolis, Indiana U.S.A.
In 1912, Stutz Bearcats won 25 of 30 races entered. In 1915, Erwin "Cannon Ball" Baker used a
Bearcat for his record coast-to-coast drive, which inspired the famous Cannonball Run rallies.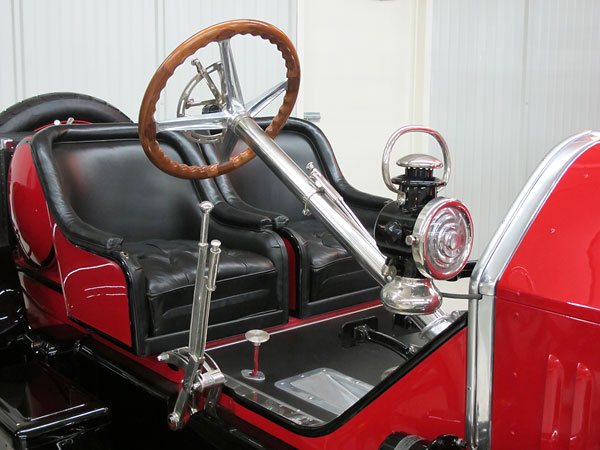 Stutz Bearcat's Stripped-Down but Top Quality Cockpit
A sportscar for the young and wealthy, Bearcats became the iconic car of America's Roaring Twenties.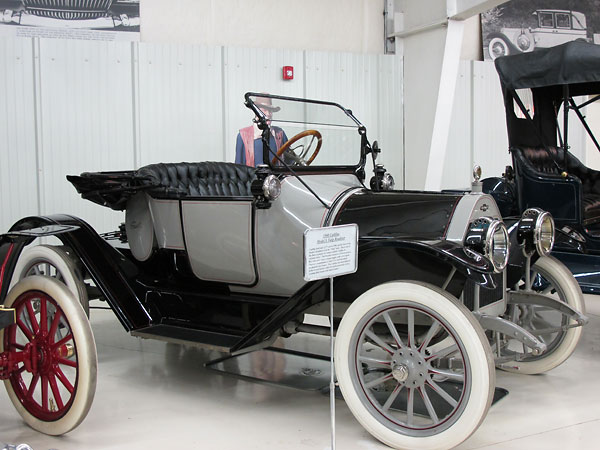 1914 Chevrolet Series H
General Motors founder W.C. Durant wanted to compete head-to-head with Ford's Model T. So,
in 1914, Chevrolet introduced this two-door "Royal Mail Roadster" and also a four-door
model called "Baby Grand". Their 171cid four-cylinder engines produced about 26hp.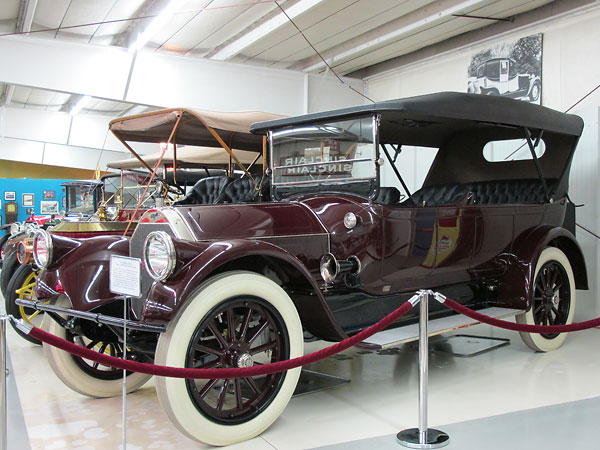 1916 Pierce Arrow Series 4 Model 48 Seven Passenger Touring
Peerless and Packard introduced new V8 and V12 engines in 1916, but Pierce remained committed
to refining their large-displacement six-cylinder engine design through 1927. This particular example
features a 525cid, 48hp version and a four-speed selective sliding-gear manual transmission. Trivia:
uncommonly quiet engines helped make Pierce-Arrow cars especially popular with bootleggers.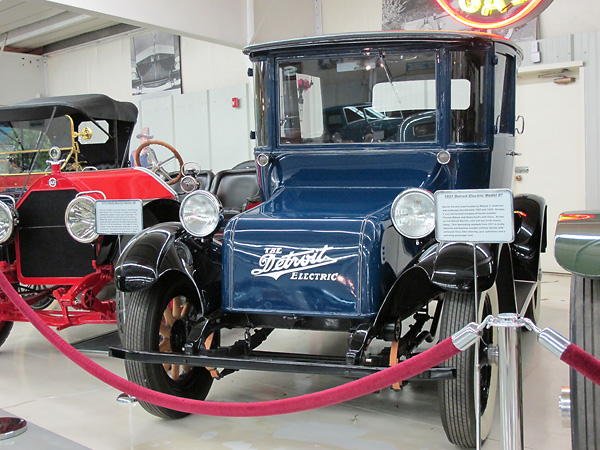 1931 Detroit Electric Model 97
As long as there have been cars, there have been electric cars. They remain "the future of
the automobile". Advantages: no hand-cranking, nearly silent, no tailpiple emissions. But
batteries degrade quickly, so range goes from short to shorter, and then they're expensive
to replace. The Detroit Electric car company had a particularly long run; they built electric
cars between 1907 and 1939. Their interior is the best part: with tiller steering from the back
seat, a swiveling front-mounted passenger seat, wrap around windows, and a flat floor.


Michigan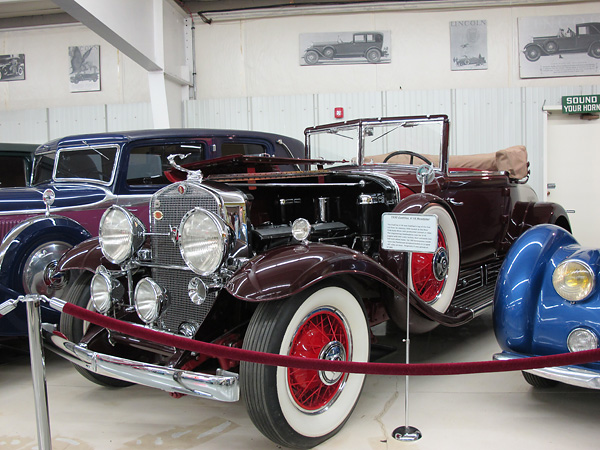 1930 Cadillac V16 Roadster
The Great Depression of the 1930s started with a crash at the New York Stock Exchange on a
Tuesday in October, 1929. Three months later, at the New York Auto Show, Cadillac launched
their "Sixteen" series to universal praise. All six body styles from opulent two-door roadster
right through lavish town car and limousine featured Cadillac's magnificent new V16 engine.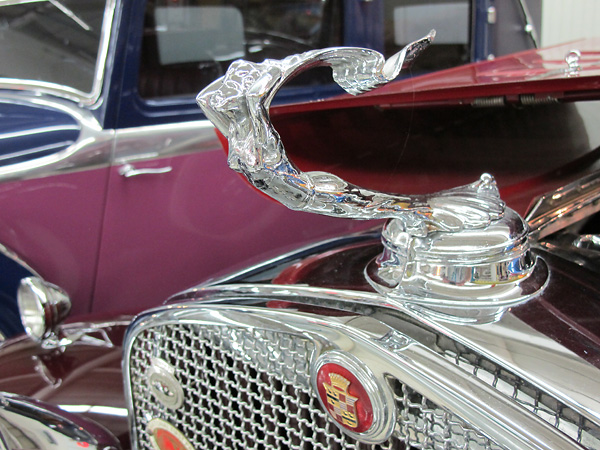 1930 Cadillac Hood Ornament
Remarkable styling, technical merit, and quality weren't enough to overcome the economic situation.
Though production of the Cadillac Sixteen range continued through ten years (with particularly
conspicuous updates for 1938), sales were only strong at the very start. Only 4076 Cadillac Sixteens
were produced. About half of them were built in the first six months of 1930.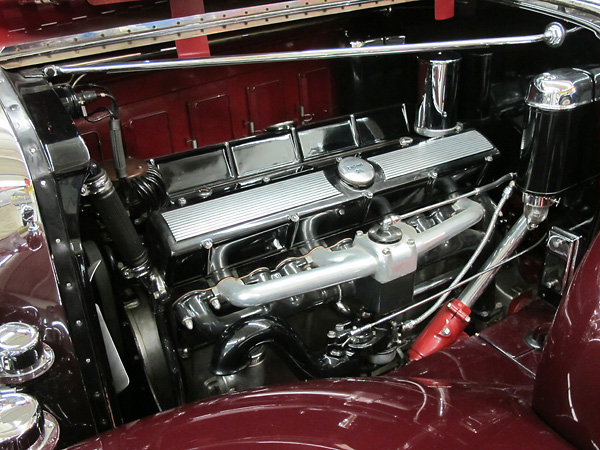 Cadillac Sixteen Engine
Cadillac's V16 engine's development had been a top secret project. The first V16 ever designed
from a clean sheet of paper, it had a 45-degree cylinder bank angle. Overhead-valve heads also
helped keep the engine narrow. Displacement totaled up to 452 cubic inches. It was rated 175bhp.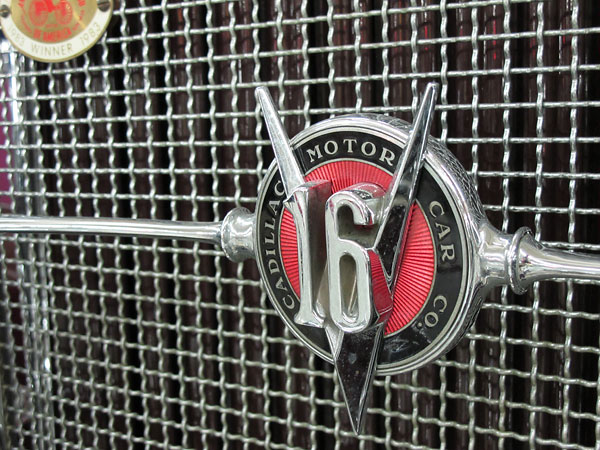 Grille Badge: V16 - Cadillac Motor Car Co.
Want one? A similar 1930 Cadillac V16 Roadster sold at auction on October 9, 2014 for $1,100,000.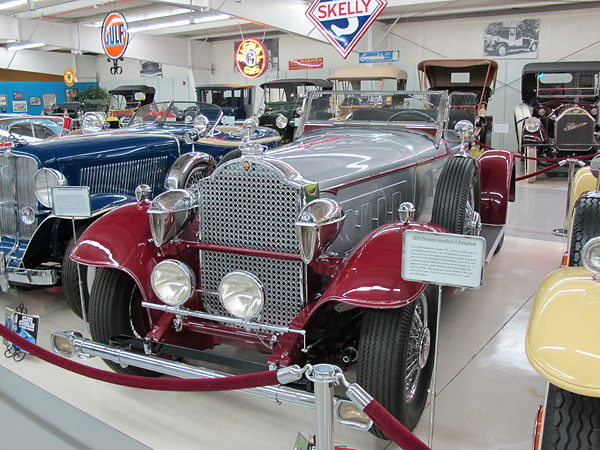 1930 Packard Model 734 Speedster 8 Runabout
As rivals sank, Packard Motor Car Company sailed through the Great Depression with colors flying.
Packard had long offered top-tier luxury and refinement. Though operating on a smaller scale than
Cadillac, Packard was also focused on growth in the "high performance" segment in 1930. They had
been building excellent 9-bearing straight-eight engines since 1923. For 1930's Model 734 series,
Packard particularly upgraded cylinder head and manifold designs. The uprated Packard 384cid
(6.3L) "Super 8" engine was rated 120bhp.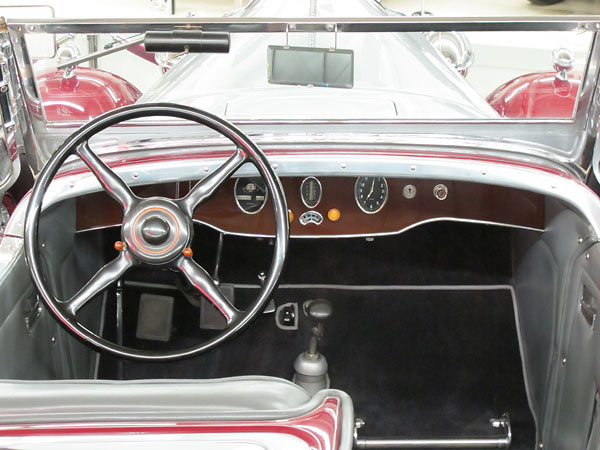 The Packard Speedster dashboard and steering wheel are both distinctive and elegant.
Far more unusual: the driver's seat is mounted ahead of the passenger seat to provide elbow room
for spirited driving. Note also the placement and short throw of the four-speed gearbox's selector.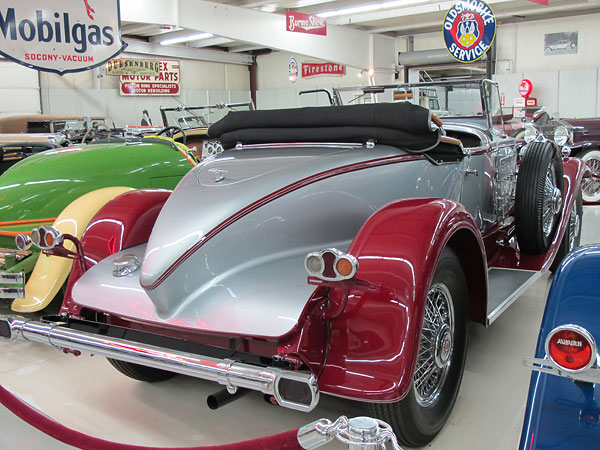 A 1930 Packard Model 734 Boattail Speedster sold at auction for $506,000 in 2011.
RM Auctions: "Packard offered the 734 Speedster with five different body styles. The Rumbleseat
Runabout, Phaeton and Boattail Runabout were priced at $5,200, while the Victoria and Sedan were
an even $6,000." Christie's Auctions: "113 Packard Model 734 Speedsters were built, of which 39
were designated Runabouts, as delineated by their 442 body numbers. Of those, just 11 are strongly
believed to exist today as complete cars."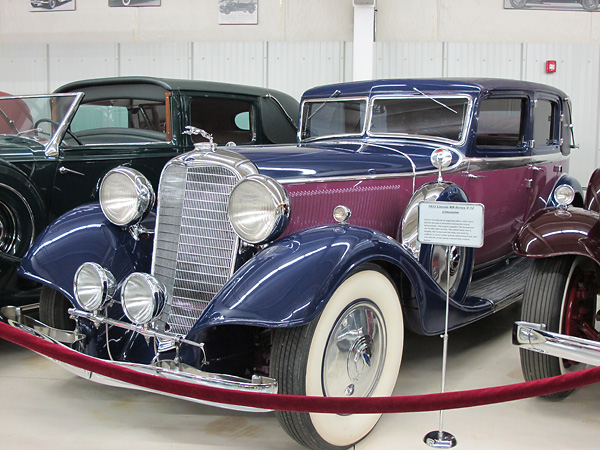 1933 Lincoln KB V12 Judkins-bodied Limousine
Lincoln introduced their Model K in 1930 with 385cid V8 engines. A new-design 448cid V12 engine was
introduced in 1932. "KA" and "KB" designations were used to indicate V8 and V12 respectively. In 1933,
the KA designation indicated a smaller (382cid) V12. In 1934, both models got 414cid V12 engines;
KA and KB indicated two different wheelbases that year. Go figure! Trivial fact: the factory that built
these big Lincoln luxury cars was located in Long Beach, California. Also, although most K-Series
Lincolns were assembled with Lincoln's own bodies, bare chassis were available and various builders
offered custom bodies. This particular example features a Judkins "two window" limousine body.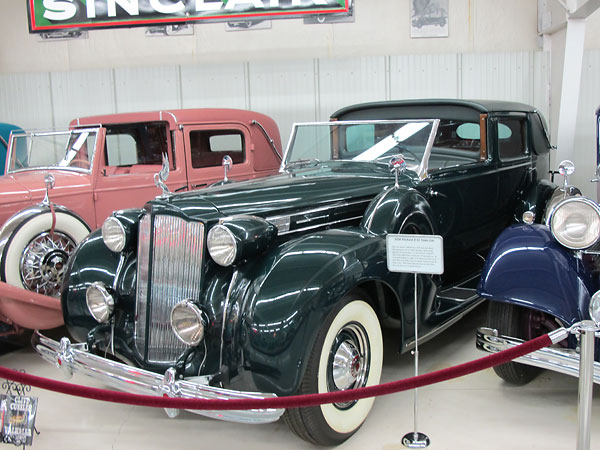 1938 Packard V12 Town Car (Model 1608)
Only limited documentation remains for this particular Packard. Its bodywork is believed to have been
a one-off project by a coachbuilder named Henry Brunn under contract to well-known Packard
dealer Earle C. Anthony of California. It has a 139 inch wheelbase, and its roofline is about
two inches lower than other Packard Town Cars of its age.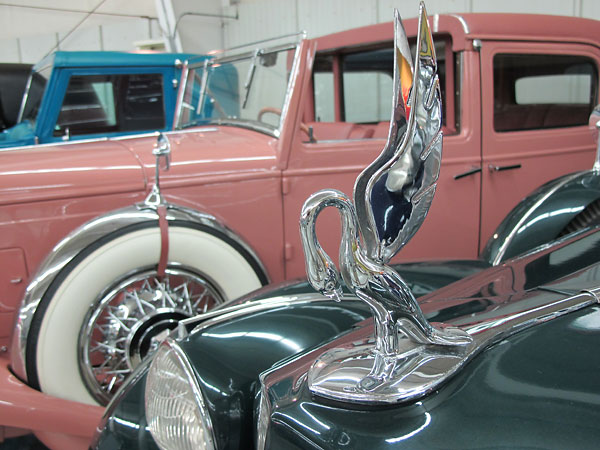 1938 Packard Hood Ornament
Packard had pioneered the V12 engine configuration with their famous "Twin Six" engines from 1916.
In 1932, Packard introduced an entirely new and sublimely smooth 7.3L V12. At introduction these
engines were rated 160bhp, but they evolved to 473cid (7.7L) and 202bhp ratings before production
ended in 1939. This 1938 Packard has a 473 cubic inch engine, rated 175hp.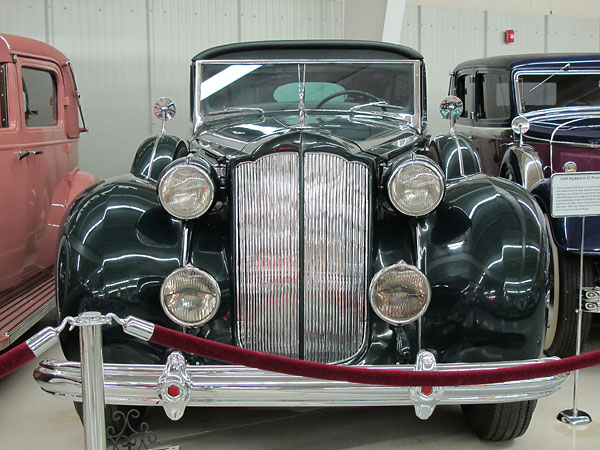 1938 Packard Waterfall Grille
"Waterfall grille" has been used to describe many cars, but never more accurately than here.
Packard survived the worst of the Depression, 1933 and 1934, with total sales of only 15,000 cars.
The company invested boldly, developing a "Junior" six-cylinder model range and tooling up a whole
new factory to produce it. Sales rebounded: 37,653 in 1935, 68,772 in 1936, and 95,455 in 1937.
But trouble was coming. Economic storm clouds gathered through 1938 as war brewed in Europe.
Sales of V12 powered Packard dropped from a record 1,300 cars in 1937 to only 566 in 1938.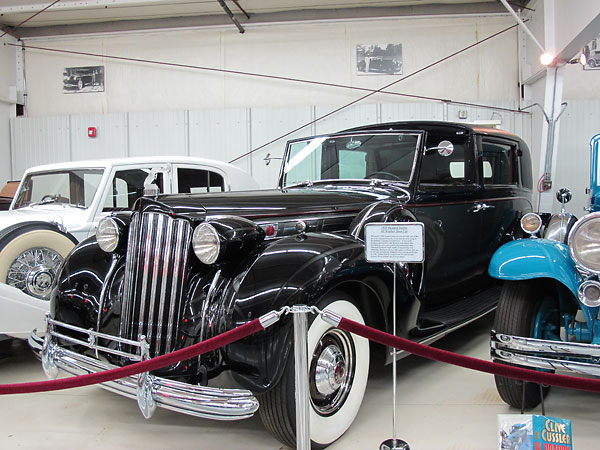 1939 Packard Twelve All Weather Town Car (Model 1708)
The luxury end of the car market suffered worst in the pre-war recession. 1939 was the final
year for Packard Twelve production, and this All Weather Town Car is one of the last
Packards fitted with handsome bespoke coachwork by The Rollson Company of New York,
a firm particularly associated with Packard town cars and limousines.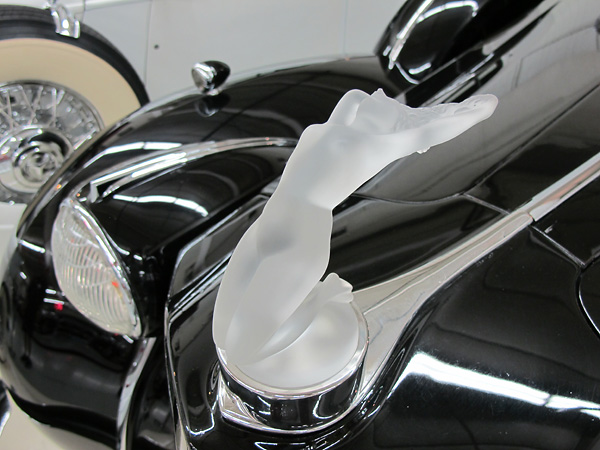 1939 Packard Chrysis Crystal Hood Ornament.



Indiana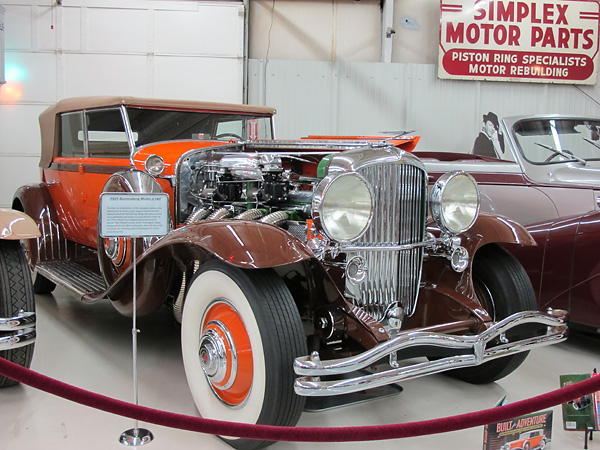 1929 Duesenberg Murphy-bodied SJ (J140)
Duesenberg Automobile & Motors Company was founded in 1913. In October 1926, Duesenberg was
acquired by Errett Lobban Cord to operate as a division of his Auburn Automobile Company. Cord
empowered Fred Duesenberg to develop a world-beating chassis. For the J-series chassis, Gordon
Buehrig designed body elements such as fenders, radiator grilles, hoods, and instrument panels.
Buehrig also designed bodies for Duesenberg affiliated branches, but these were "coachbuilt" cars:
bodies were added after cars left the Duesenberg factory. About half of J-series Duesenbergs were
styled by independent coachbuilders. This particular example features a body by Murphy Inc. of
Pasadena, complete with Murphy's trademark extra-narrow "clear vision" A and B pillars.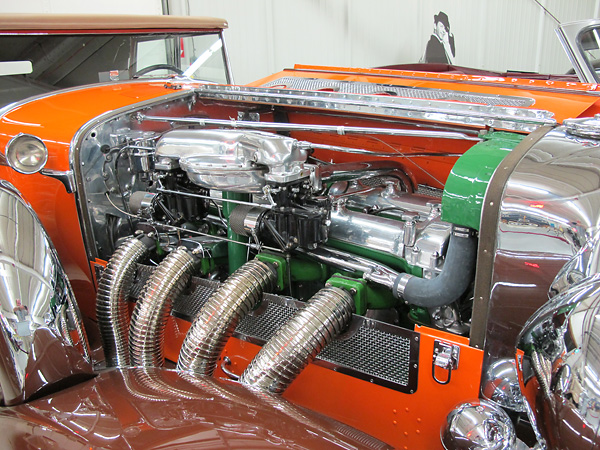 Duesenberg Supercharged DOHC Inline-8 Engine
Engine technology was what set Duesenbergs apart. Here we have a 1929 engine with dual overhead cams,
four valves per cylinder, and a compact supercharger! It produces about 280hp from 420 cubic inches.
The Duesenberg chassis, with four-wheel, servo-assisted hydraulic brakes, was also state of the art.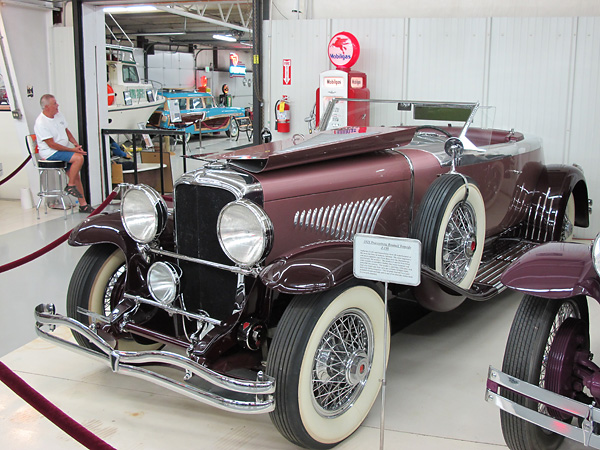 1929 Duesenberg Murphy-bodied Boattail Torpedo (J198)
Lithe and graceful, Murphy bodies were very popular with Hollywood stars.
One of just six built with a "Torpedo" boattail, this car is extra special.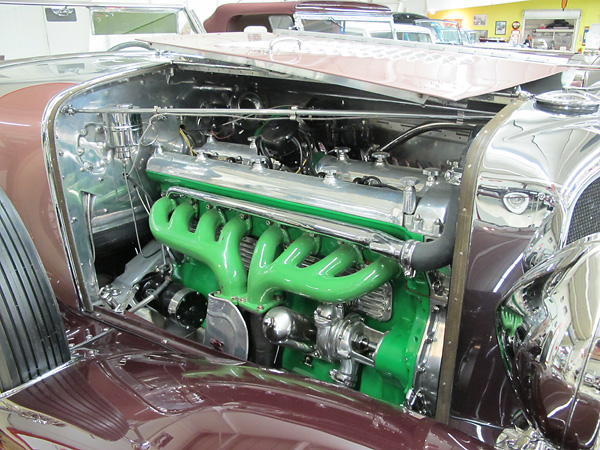 Duesenberg J-Series DOHC Inline-8 Engine
Even without supercharger, the Duesenberg 420cid inline-8 was rated 265 horsepower.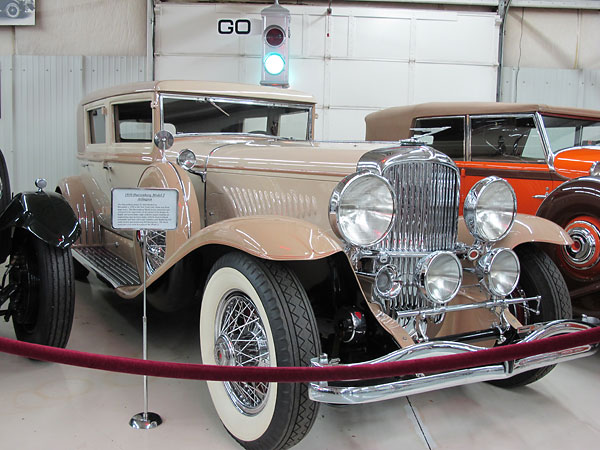 1930 Duesenberg Derham-bodied Arlington Club Sedan (J232)
The Derham Body Company was famous for especially beautiful and luxurious sedan bodies
and interiors. This car features a one-off design Derham called "Arlington Club", atop a
153.5" chassis. Duesenberg priced their J-series chassis from $8500. I don't know what
Derham charged for their coachwork, but it could easily have equaled that figure. Clive
Cussler did quite well to purchase this car for just $506,000 at public auction in 2010.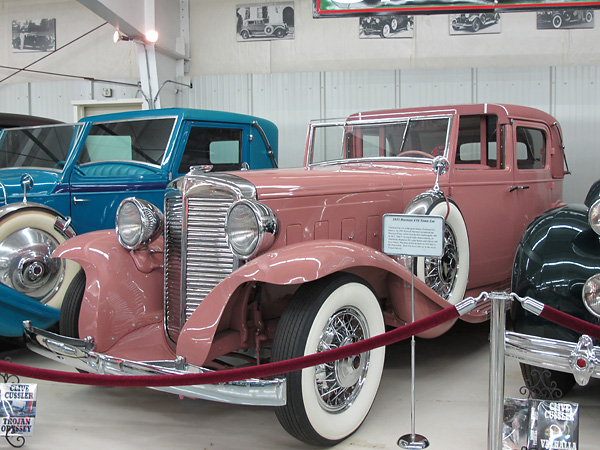 1931 Marmon Sixteen Town Car
Howard Marmon began designing his V16 engine in 1927, but production was delayed until 1931. By
that time, Cadillac had stolen Marmon's glory. By some accounts, Marmon had a superior engine.
Whereas Cadillac's engine block was iron, Marmon used steel sleeves within an aluminum block to
save weight. The Marmon displaced 491cid to Cadillac's 452, and had a higher compression ratio too.
Only 392 Sixteens were built before the company collapsed. The Marmon Registry says 95 still exist.
Clive Cussler's is the rarest of the rare: the only Marmon Sixteen Town Car ever built.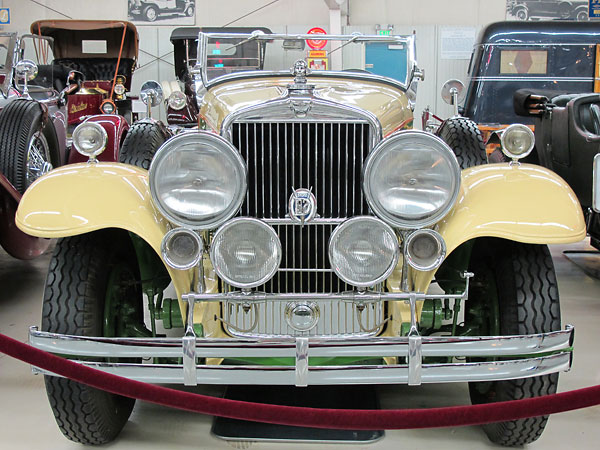 1931 Stutz DV-32 Speedster
Since 1928, Stutz's Vertical Eight had featured an overhead cam straight-8 engine in a double
drop chassis of unusual rigidity and low CG. For 1931, Stutz substantially improved the engine
with dual overhead camshafts and four valves per cylinder. The result was remarkable: power
increased from 113bhp to 156bhp. Torque rose to 300ftlbs. However, performance upgrades
weren't enough to improve sales. 1931 production added up to just 384 cars.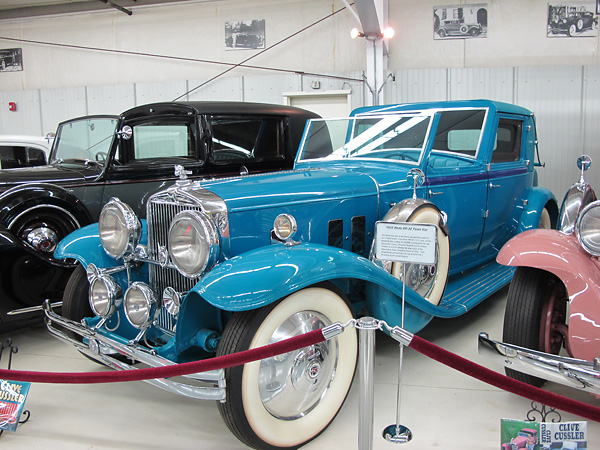 1932 Stutz DV-32 Town Car
Stutz continued to offer remarkable cars, but only managed to sell about 120 in 1932.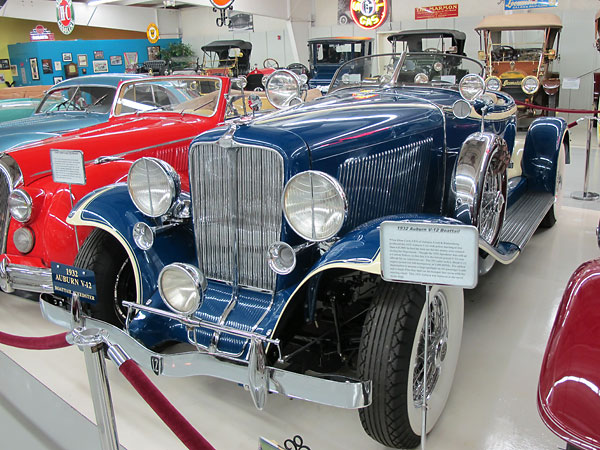 1932 Auburn V12 Boattail
Al Leamy styled Auburn's 1931 Boattail Speedster in modern Art Deco style. The design carried
over to 1932 when Auburn began offering a George Kublin designed Lycoming-sourced V12 engine
featuring 45 degree V and overhead cams working horizontal valves. This V12 produced about
160hp from 391 cubic inches. The V12 was a technical success, but only about 2,250 were built
(for six different body models) over 2.5 years. The V12 was dropped in 1934. Inline-8 equipped
Auburn boattails sell for about $250,000 today, while V12s typically command twice that price.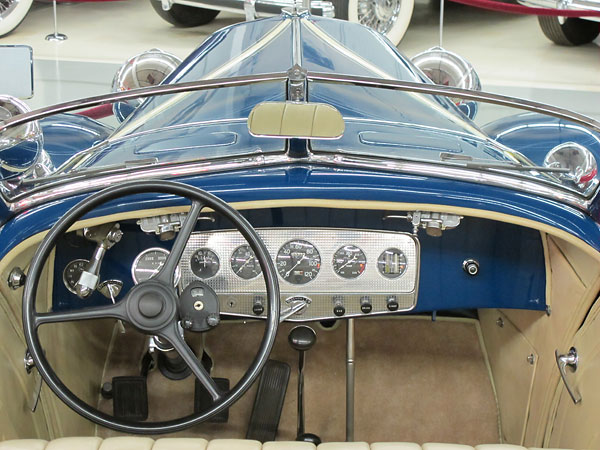 Six Speed Transmission?
An ordinary three-speed manual transmission was supplemented with an extraordinary Columbia
two-speed electric overdrive rear axle, operated via a switch on the steering column.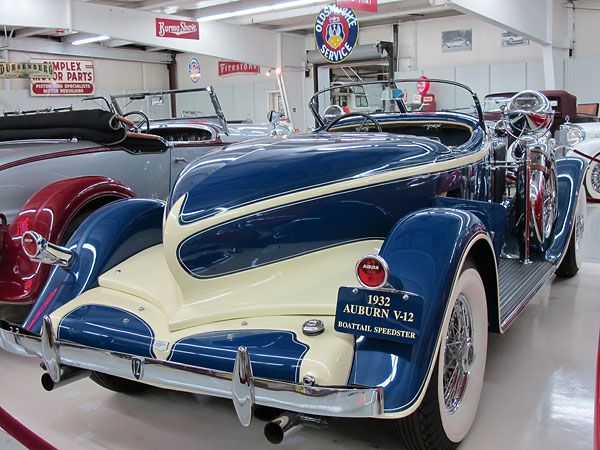 Auburn's Boat Tail
Auburn's Boattail Speedster didn't have either a trunk or rumble seat.
Instead, it had a small door for stashing a golf bag inside the tail.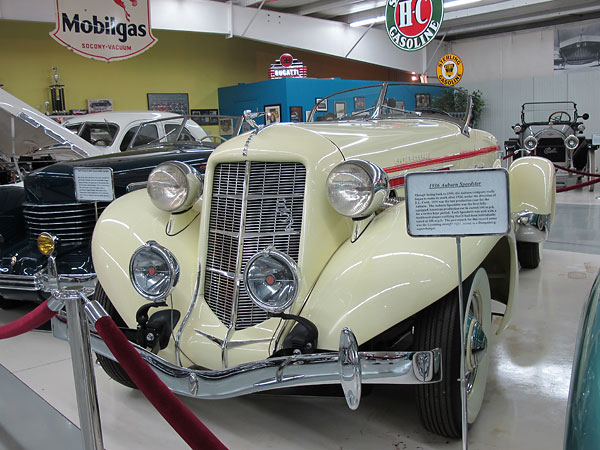 1936 Auburn Speedster
This Auburn Speedster features a Lycoming inline-8 engine with a Duesenberg supercharger.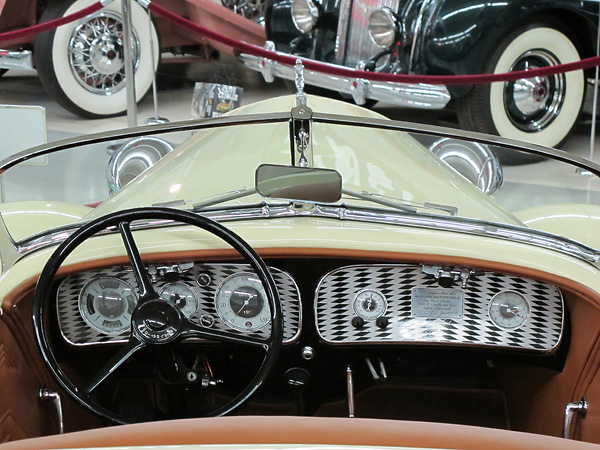 Stylish Dashboard
1936 was the final year of production for Auburn models.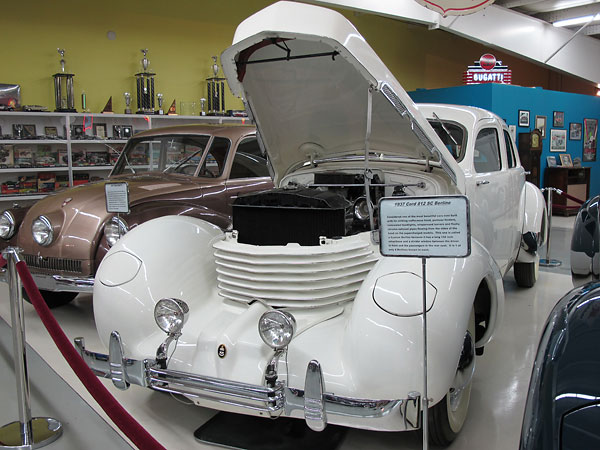 1937 Cord 812SC "Custom Berline"
The Cord brand, after being mothballed in 1932, was re-introduced in 1936 with the 810 series.
Styling certainly stood out from the crowd: coffin nose, pontoon fenders, wrap-around louvers,
flip-up headlights, etc. The Custom Berline variant cost $600 extra for a seven inch longer
wheelbase (132") and a glass divider between driver and passenger seats. Only four Cord 812SC
Custom Berlines are known to exist.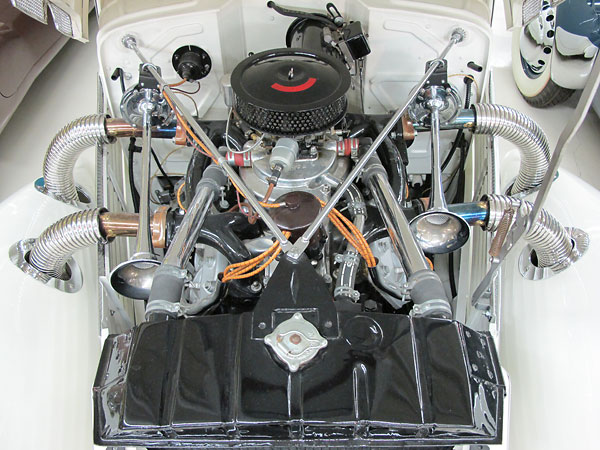 Schwitzer-Cummins Centrifugal Supercharger
288cid, 190hp, V8 engine. Four-speed preselector manual transmission. Front wheel drive.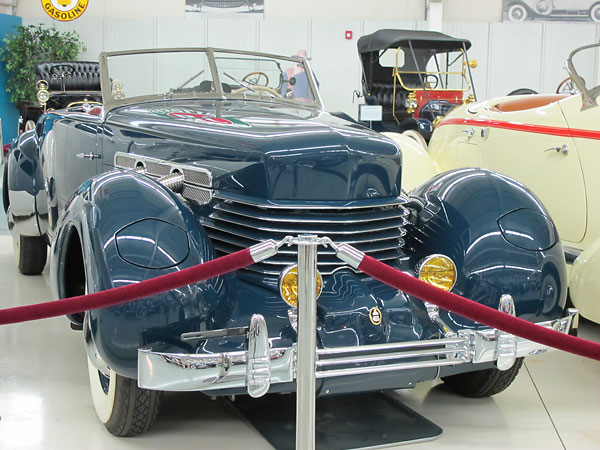 1937 Cord 812SC Convertible Coupe
This car is one of approximately 195 convertible coupes built. Only 64 of them were supercharged.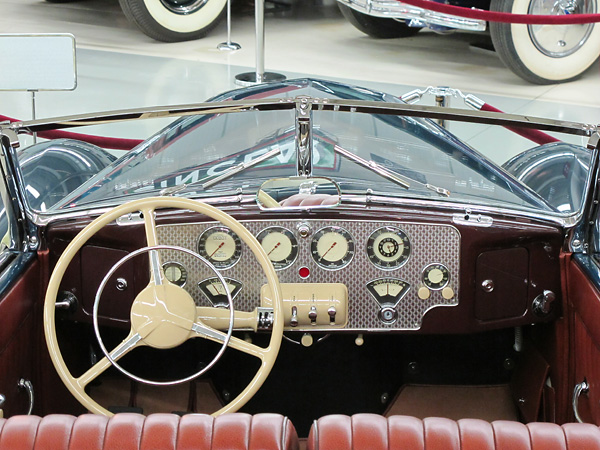 Cord production ended in 1937.


New York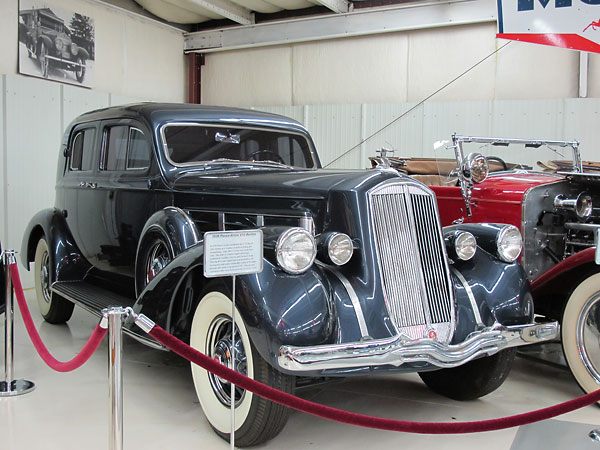 1936 Pierce-Arrow V12 Berline (Model 1602)
In 1928, Pierce-Arrow merged with a much larger and wealthier company. It was actually a welcome
takeover. Studebaker funded modernization of Pierce-Arrow's facilities and development of two new
engines: an inline-8 (circa 1929) and an eighty-degree V12 (circa 1932). When facing receivership
in 1933, Studebaker sold the Pierce-Arrow division to its management. Pierce would survive five
more years. Shown here: one of 206 1936 Pierce-Arrows built with 462cid V12 engines, rated 185hp.
Incidentally, Pierce-Arrow engineer Carl Voorhies invented self-adjusting, hydraulic tappets and they
were used in Pierce engines from 1932. What does Berline mean? Sedan. But in the context of
horse-drawn carriages, the term refers to a body suspended from frame rails via leather straps.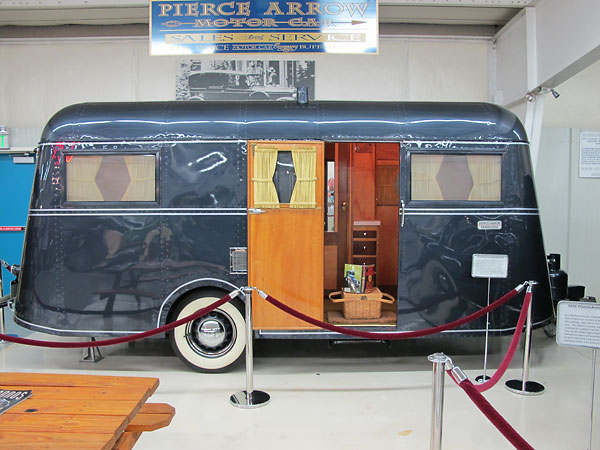 1937 Pierce-Arrow Travelodge (Model B)
Looking urgently for new ways to make money, Pierce-Arrow decided to build camper trailers.
This example is 16.5" long. It sleeps four. It has a fold-down dinette table, icebox, and heating
stove. And, it has a bathroom with sink and toilet! Pierce-Arrow would happily paint these to
order, or to match their cars. $845 new. Only 12 Pierce-Arrow Travelodges still exist.


Pennsylvania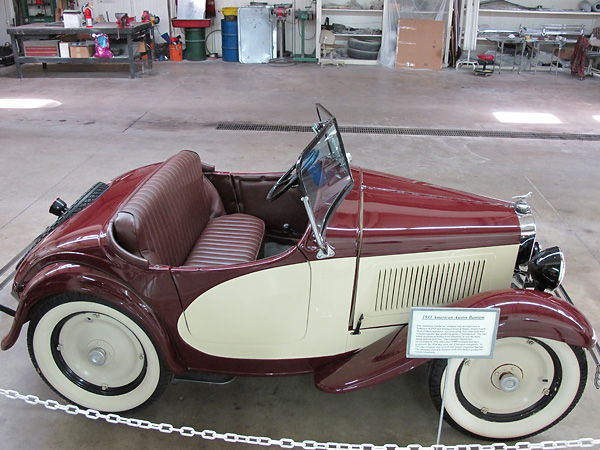 1933 American Austin Bantam
From founding in 1929 through bankruptcy in 1934, The American Austin Car Company was an
independent producer based in Butler Pennsylvania. Inspired by Austin Motor Company's
"Seven", they designed their own tiny "Bantam" car. Approximately 20,000 were built before
the market dried up. Bantams do feature many components licensed or imported from the British
Austin (e.g. 747cc engines), but their bodies were unique and always American made. Tiny and
lightweight, Bantam bodies were popular in the 1960s with hot-rodders and drag racers.


Enjoying this article? Our magazine is funded through the generous support of readers like you!
To contribute to our operating budget, please click here and follow the instructions.
(Suggested contribution is twenty bucks per year. Feel free to give more!)
England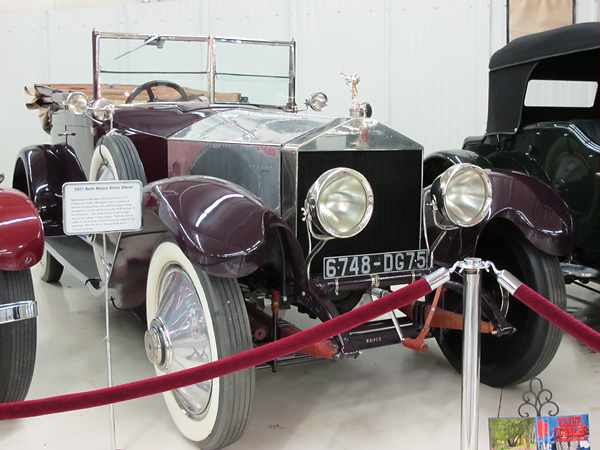 1921 Rolls Royce 40/50 h.p. (a.k.a. Silver Ghost)
The proper name for this chassis was "40/50 h.p.", though the name "Silver Ghost" came to widespread
use once Rolls Royce's "Phantom" was introduced in 1925. Silver Ghosts were so very exceptional at
introduction, few significant updates were needed over twenty years of production. Power ratings for
Rolls Royce's 7.4L inline-6 did gradually rise from 48bhp at 1250rpm to 80bhp at 2250 rpm. Electric
starters and headlights were provided from 1919. 7,874 Silver Ghosts were produced between 1906
and 1926: 6,173 in England plus 1,701 in Springfield, Massachusetts. This one is fitted with a
Park-Ward touring body.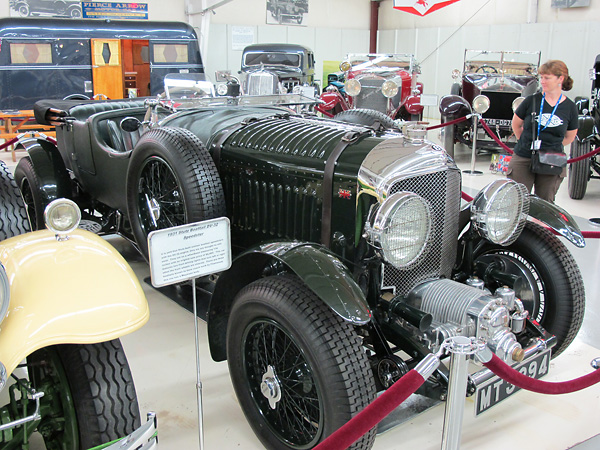 1929 Bentley 4.5L
Bentley's 4.5L engine was developed by dropping two cylinders from their successful but quite heavy
6.5L inline-6. Bentley built 270 cars around the 4.5L engine between 1927 and 1931. This particular
car was originally fitted with a Mulliner sedan body, but later a Vanden Plas Le Mans touring body was
substituted. Its 4.5L engine was updated with a high-lift camshaft, and a Bentley supercharger was
retrofitted. A previous owner vintage raced this car extensively and quite successfully in Europe.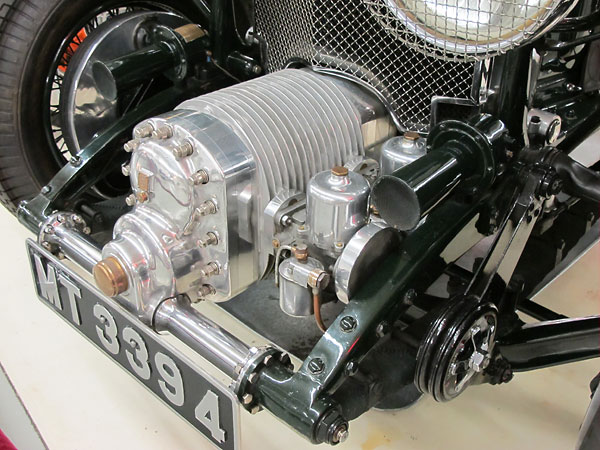 Birth of Birkin's "Blower Bentley"
Walter Owen Bentley was extremely skeptical about forced induction. "W.O." always preferred to increase
displacement. But Bentleys were raced at the very highest levels by wealthy independent customers. One
in particular, Sir Henry "Tim" Birkin, wouldn't take "no" for an answer. Birkin schemed to dominate The 24
Hours of Le Mans by supercharging five Bentley 4.5 racecars himself. Thus, the Bentley Blower was born.
Birkin's prototype captured other people's imagination. The factory relented. 55 Bentley Blowers were built.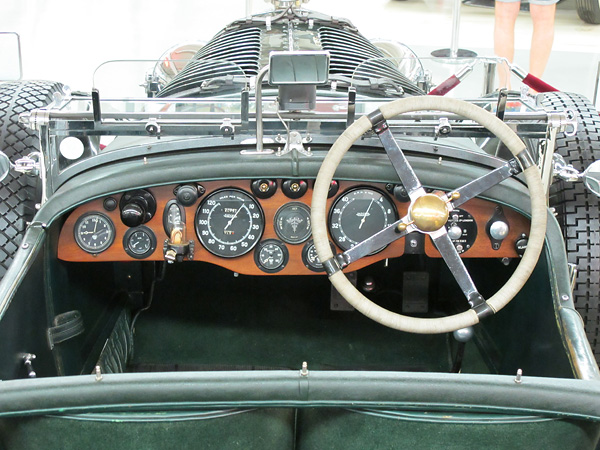 Blower Bentleys in Competition
Ironically, Birkin's Blower Bentley failed badly at Le Mans. In the 1930 race, six-cylinder Bentleys
finished first and second place while two Blower Bentleys (including one driven by Birkin) failed to
finish. However, Birkin did log that race's quickest lap. Blower Bentleys also set several speed
records. Famously, a Blower Bentley circled Brooklands at 138mph in 1932.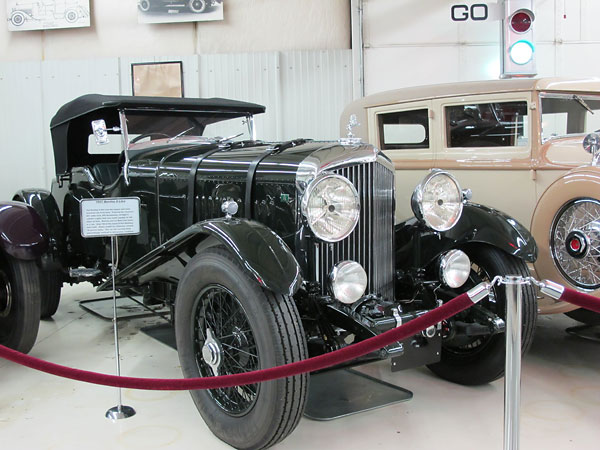 1931 Bentley 8 Litre
Mr. Cussler's collection includes several cars that were the final and best efforts of great manufacturers.
Of these, the 8 Litre Bentley is exceptional. Even with limousine coachwork and seven passengers aboard,
these cars would pull like a train to over 100mph. In acceleration and maximum speed, the grand Bentleys
outperformed Rolls Royce's "Phantom II" and Mercedes' supercharged "770", yet did so with remarkable
smoothness and a modest exhaust tone. Contemporary magazines universally praised this biggest Bentley
but there weren't enough buyers to recoup development costs. Only 100 were built. Of the 78 which survive,
many have been substantially altered: original buyers preferred enclosed body styles and the longest
optional wheelbase whereas modern collectors prefer lightweight open bodies and shorter wheelbases.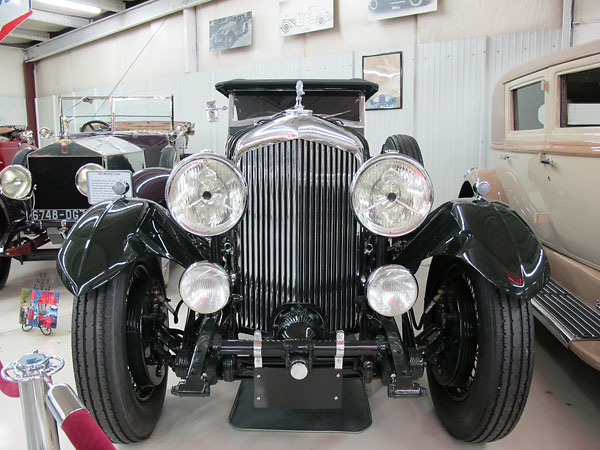 The Fate of Bentley Motors Limited
Bentley Motors Limited slipped into receivership on July 10, 1931 after failing to make mortgage payments.
At the time, Bentley management was confident aviation engine manufacturer D. Napier & Son Limited would
be their white knight, but it wasn't Bentley's decision to make. Rolls Royce acquired Bentley through a sealed
bid auction. Rolls Royce management recognized the value of Bentley's trademark, and for the next
seventy years Bentley cars were badge-engineered variants of Rolls Royce models.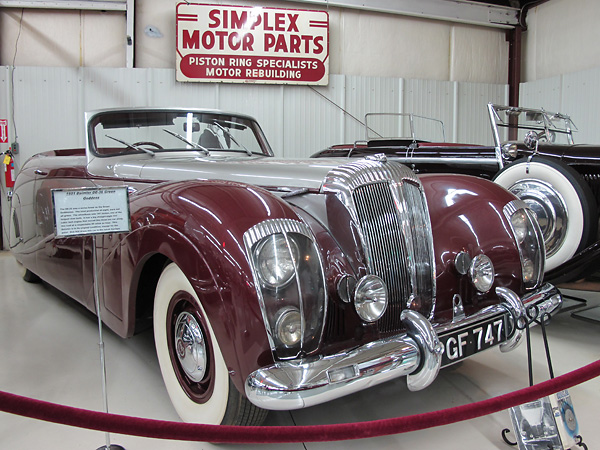 1951 Daimler DE36 "Green Goddess" (chassis number 51745)
From 1900 through 1950, Britain's Daimler Company Limited supplied nearly every car used by the royal family.
The firm's direction began to change with introduction of the DE36 chassis at the Earl's Court Motor Show in 1948.
A magnificent jade green convertible stole attention away from Daimler's usual stodgy limousines. This original
"Green Goddess" featured streamlined bodywork by Hooper. Eight cars of this type were completed, and they're
collectively called Green Goddesses though they were painted various colors. In 1949, Daimler's Managing Director
Bernard Docker married socialite Norah Lady Collins. She believed an extravagant lifestyle would lift Daimler's
fortunes. Lady Docker's lifestyle and the show cars she inspired kept Daimler in British tabloids, even as Daimler
drifted from their traditional niche. The Docker's were forced out in 1956. Jaguar absorbed Daimler in 1960.


France, Italy, and... Czechoslovakia?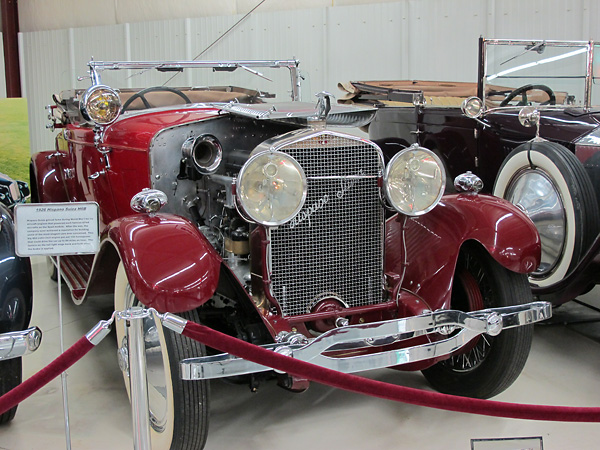 1926 Hispano-Suiza H6B
Swiss engineer Marc Birkigt designed much of this car and earlier versions of it were built in Spain, but
Hispano-Suiza H6Bs are French automobiles. Hispano-Suiza engines feature steel sleeved, cast aluminum
engine blocks and overhead camshafts. They displace 6597cc, and have a reputation for smoothness and
excellent torque output. The chassis features servo-assisted aluminum drum brakes on all four wheels.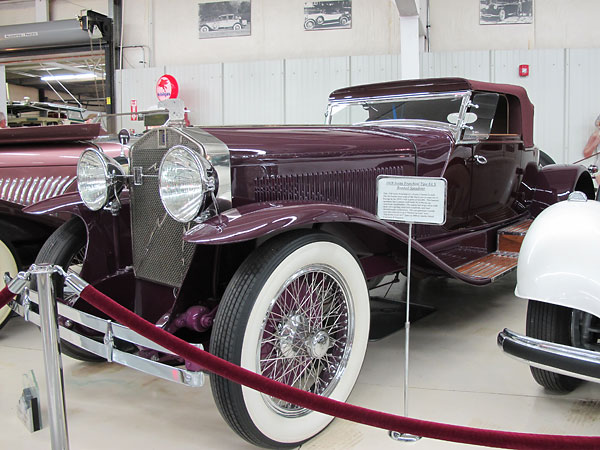 1928 Isotta Fraschini Tipo 8A S Boattail Speedster
Cesare Isotta and Vincenzo Fraschini began producing cars in 1902 and their company continued until
World War II when production shifted to military aviation and marine engine parts. The boattail speedster
bodywork on this example is rare. Two bodies of this type were produced by LeBaron in U.S.A.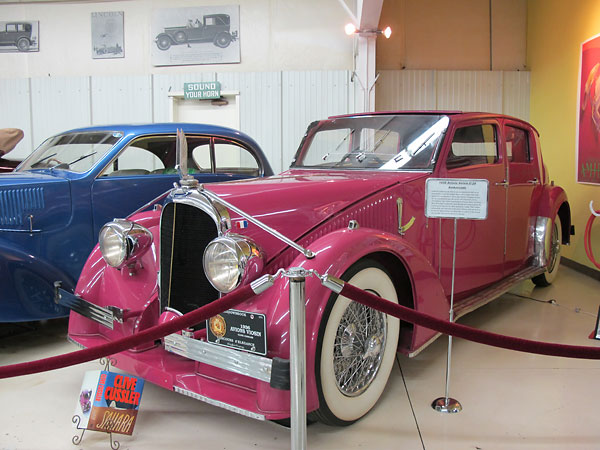 1936 Avions Voisin C28 Ambassade
The styling and color of this car put me off. I can't bring myself to research or write about it. Sorry.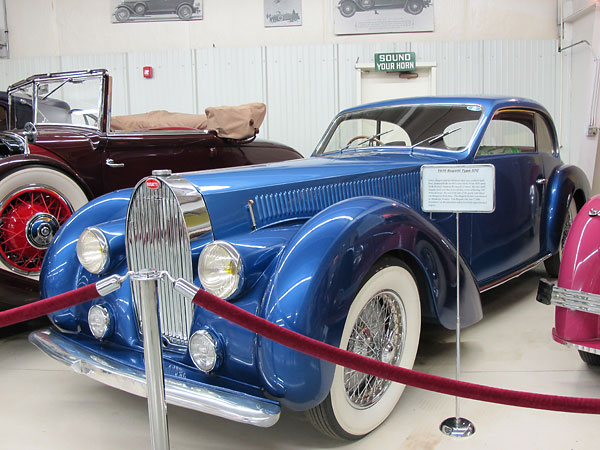 1939 Bugatti Type 57C
Ettore Bugatti racecars dominated racing on the European continent from 1925 through 1938.
The company also built luxurious cars at its factory in Molsheim France.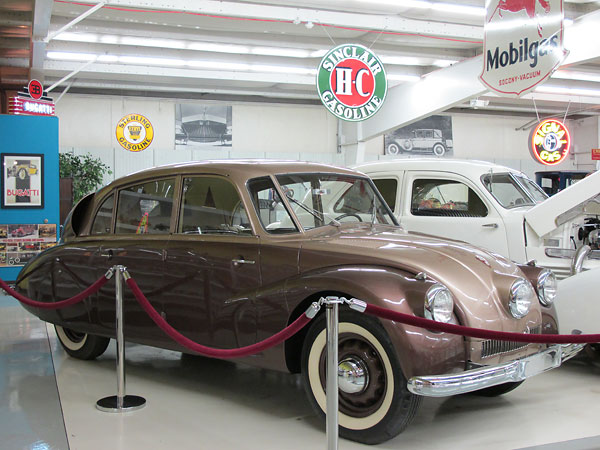 1947 Tatra Type 87
This Tatra Type 87 is probably the most esoteric car in Cussler's collection: three headlights, three-pane
windshield, suicide front doors, a shark fin for aerodynamic stability, air scoops on the side for engine
cooling, windows into the engine compartment from both the cabin and the exterior, wheel spats, and
other futuristic features that might have excited Buck Rogers fans... but these cars were mostly built
for the German market. On the technical side: an air cooled, overhead cam, ninety degree, V8 engine
which displaces 180cid and delivers about 80 horsepower. Small, but enough to propel a Type 87 to
100mph on the autobahn. Initially introduced in 1936, production continued after WW2 and ultimately
3056 Type 87s were built. Arguably the world's third oldest automaker, Tatra phased out passenger
car production in the late 1990s but stills produces commercial vehicles.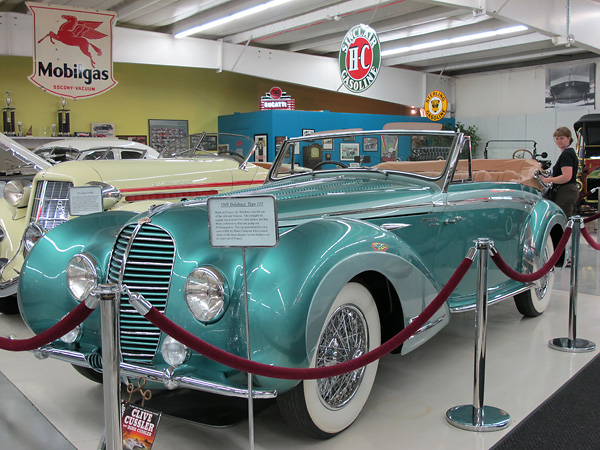 1948 Delahaye Type 135
Delahaye started producing cars around 1896, but really came into their own with the low-slung Type 135
chassis, circa 1935. These came equipped with excellent inline six-cylinder engines in 3.2L and (later) 3.5L
sizes. Some were successfully raced. Mainly, the 135 proved a blank canvas for high end French car stylists.
This particular Delahaye is easily one of the loveliest cars in the Cussler collection: it features a custom body
by Henri Chapron. Delahaye production resumed after WW2. Approximately two thousand Type 135 chassis
were built before the Delahaye firm closed in 1954.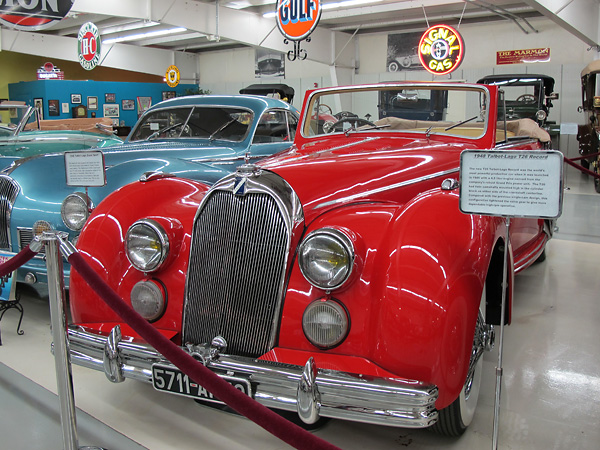 1948 Talbot-Lago Record T26
In 1935, Antonio Lago purchased the French assets of the Sunbeam-Talbot-Darracq company and reorganized them
as "Automobiles Talbot-Darracq S.A.". After the merger, Lago's cars were marketed under the brand "Talbot-Lago".
From 1946, his top-of-the-line engines were enlarged to 4.5L and featured hemispherical combustion chambers and
dual camshafts acting through pushrods. Relatively low rotating mass provided good high RPM performance. The
Record model was an executive class car offered with four or two doors and with either sedan and coupe versions.
Bespoke bodies could also be arranged, though the market for coachbuilt cars was now unmistakably declining.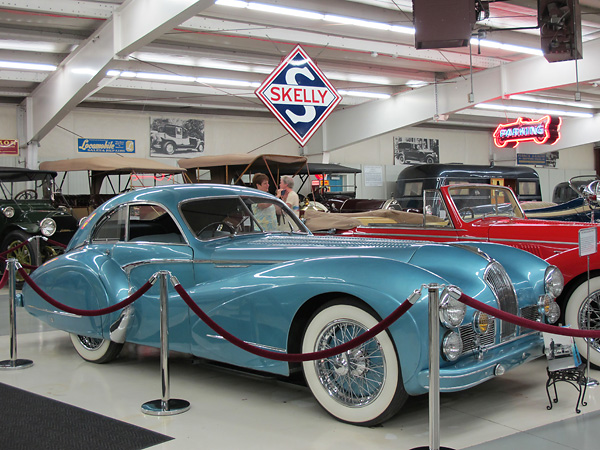 1948 Talbot-Lago Grand Sport
Through the 1940s, most Talbot-Lago cars came with Talbot's own steel bodies. From October 1948, Talbot-Lago
offered a short-wheelbase variant of their T26 chassis with a specially tuned version of the 4.5L six-cylinder.
Only twelve examples of this new short-wheelbase "Grand Sport" were built in 1948, and all twelve were
despatched to coachbuilders. Jacques Saoutchik of Paris built this extraordinarily glamorous example.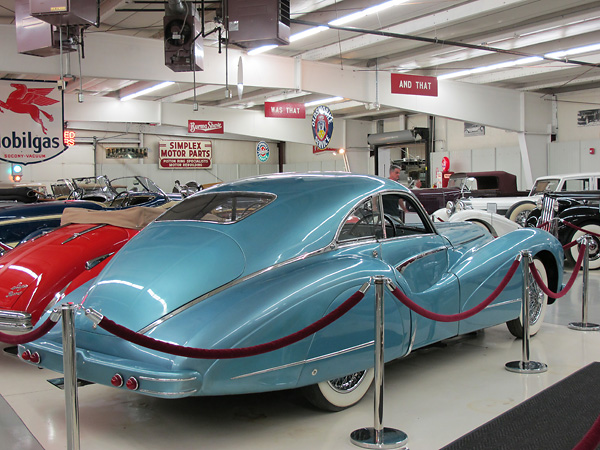 Amazingly, this particular car was literally a barn find. It had been used as a chicken coup for years!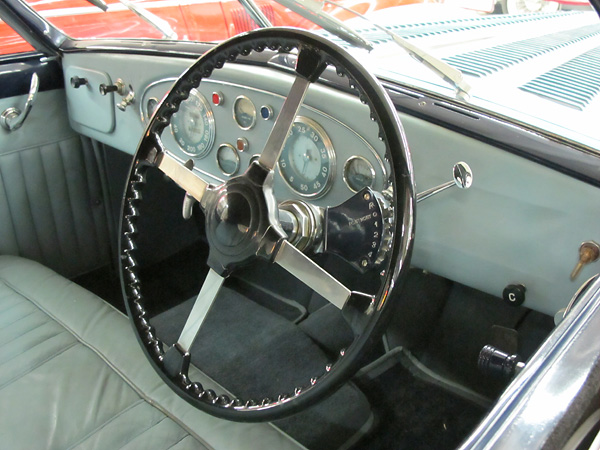 Wilson pre-selector gearboxes were a popular option on Talbot-Lagos of this era.


Enjoying this article? Our magazine is funded through the generous support of readers like you!
To contribute to our operating budget, please click here and follow the instructions.
(Suggested contribution is twenty bucks per year. Feel free to give more!)
The Front Room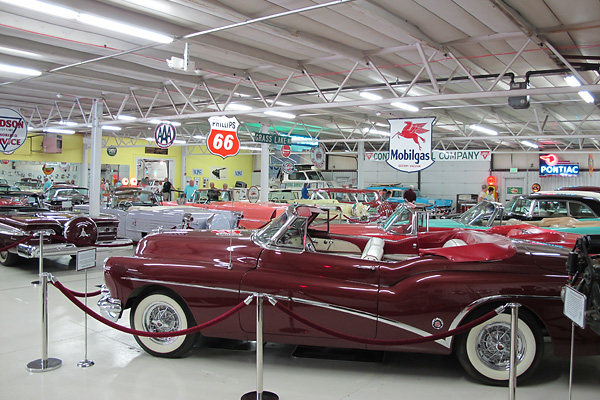 The front room of the Cussler Museum almost exclusively features convertible variants of familiar
mass-produced American automobiles. A Cadillac Eldorado Biarritz is lovely and it's impressive
to see two of them parked side-by-side, but I'd recommend saving them for your second visit.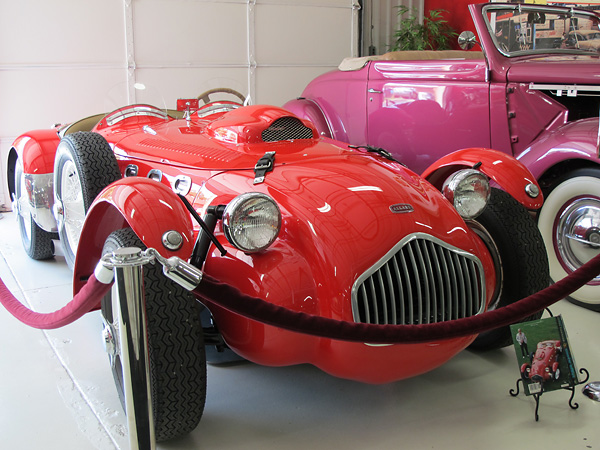 Closest to the door: 1952 Allard J2X
With a big American engine shoehorned into a lightweight British chassis, an Allard J2X parked just inside
the door is sure to interest BritishV8 enthusiasts. Though apparantly featured in a Cussler novel, I couldn't
help thinking the J2X is out of place in his museum; it belongs on track or in a paddock with other racecars.
And these beasts look a whole lot better less restored, with some patina. I hope these last notes aren't too
discordant: I enjoyed my visit to The Cussler Museum immensely and I certainly look forward to returning.
(Did you hope to read more about Allards? You might enjoy this.)




Disclaimer: This page was researched and written by Curtis Jacobson. Views expressed are those of the author, and are provided without warrantee or guarantee. Apply at your own risk.

All photos by Curtis Jacobson for BritishV8 Magazine. All rights reserved.
---
If you liked this article, you might also enjoy:
• BritishV8 2013: Tour of Speedway Motors' Museum of American Speed
• BritishV8's Tour of Morgan Motor Company's Factory
• BritishV8 2012: Tour of Hatfield Restorations
• BritishV8 2012: Tour of the Texas State Railway Maintenance Facility
• BritishV8 2010: Tour of The Indy 500 Hall of Fame Museum
• BritishV8 2010: Tour of Mark Scott's Prototype Development Shop
• BritishV8's Tour of The MG Owners' Club in Cambridge
• BritishV8's Tour of British Motor Heritage