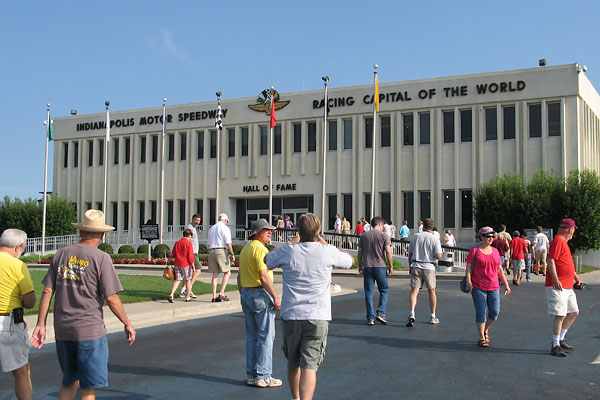 Indianapolis Motor Speedway - Racing Capital of the World - Hall of Fame


BritishV8 2010: Touring the Indy 500 Hall of Fame Museum
as published in BritishV8 Magazine, Volume XVIII Issue 1, December 2010
by: Curtis Jacobson
On Saturday July 10th, BritishV8 meet participants gathered to visit Indianapolis Motor Speedway, and specifically to tour the Indy 500 Hall of Fame museum.

A historic marker in front of the Hall of Fame reads as follows. "Indianapolis Motor Speedway: constructed in 1909, the Speedway has contributed significantly to the advancement of automotive technology and development of safety devices. It is unchallenged as the world's oldest continuously operated race course and the site of the largest one-day sports event anywhere. Listed on the National Register of Historic Places and dedicated on the 59th running of the 500, May 25, 1975. (Presented by Historic Landmarks Foundation of Indiana.)"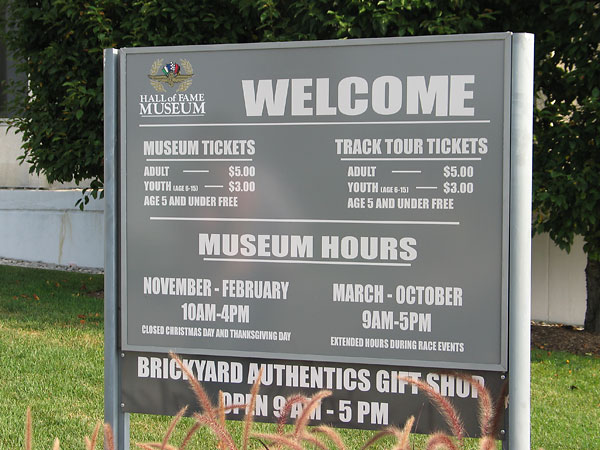 Open whenever you want to go. Easily affordable. Go! Now! Return soon!


Vehicles with Nothing to do with the Indy 500
The Indianapolis 500 Hall of Fame museum has made an effort to display vehicles that put "Indycars" in perspective. Some of them miss the mark rather badly. Perhaps a two ton 1914 Marmon "roadster", a 1927 Duesenberg land yacht, or a 1939 Indian motorcycle would interest your brother-in-law, but they belong in the Smithsonian, not here. Incidentally, the Smithsonian's own car collection is a national disgrace. Look for it in the basement of the National Museum of American History if you want to see a worn out Ford Pinto or a very average and faded Dodge minivan. However, some of the Hall of Fame's non-Indy veteran racecars are quite interesting. I lingered longest at these two.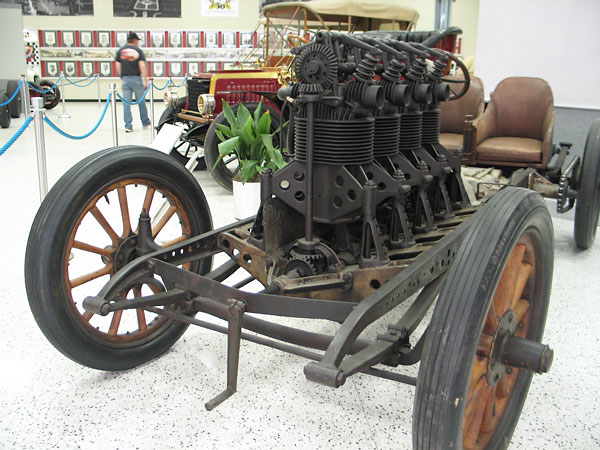 This "Premier Special" was built by the Premier Motor Company of Indianapolis in 1903, six years before
"the brickyard" was constructed. This car was built specifically to contest the first Vanderbilt Cup Race,
but wasn't allowed to compete because it exceeded the maximum weight rule. Despite absense of any
bodywork and hundreds of drilled lightening holes, this goliath still tipped the scales ar 2320 pounds.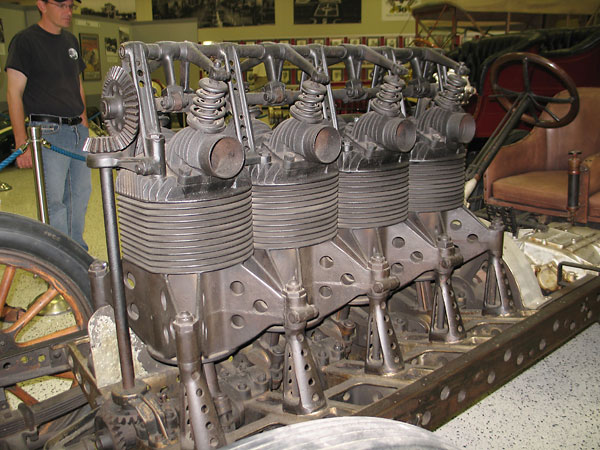 No oil filter. The Premier Special 923cid engine is especially interesting because it features an open crankcase.
According to the company, this engine produced 100 horsepower at 1000rpm. Whether you believe that or not, the
Premier Special did clock a very respectible 59.21mph test lap of the Indiana State Fairgrounds' one mile track.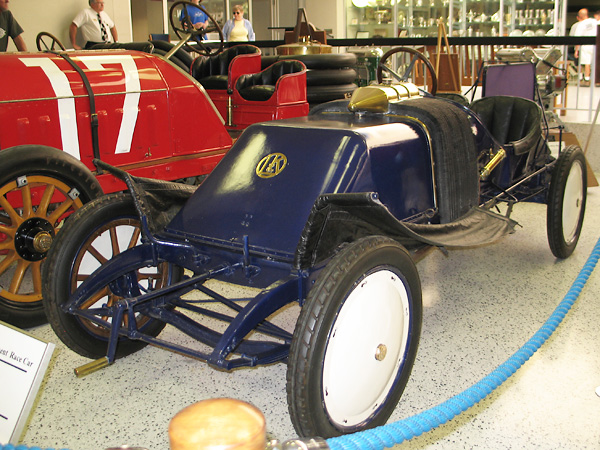 Aerodynamic wonder. Located in Prague, capitol of today's Czech Republic, the Laurin & Klement firm built
this "Type S-2" racecar in 1906 for Yugoslavia's Baron Leo Haan. Haan added a rudder to the tail of the car and
attached it via linkage to the steering wheel, with the effect of significantly improving the car's cornering behavior
at speed. The car was already notably streamlined, with smooth hubcaps over its spoked wheels and with a
chisel-shaped nose. The radiator wraps tightly around the cowl, as was a popular fashion in that era.


Indy 500 Racing with the Engine Up Front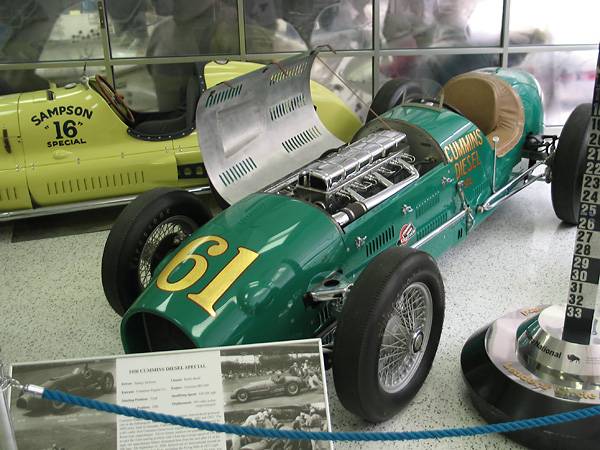 We could have included dozens of photos here from the first fifty years of the Indy 500. The Hall of Fame museum
features many spectacular cars from this era, and displays them very well, but the 1950 Cummins Diesel Special
is far and away our Editor's favorite. Cummins entered diesel-powered cars in the 1931, 1934, 1950 and 1952
Indy 500s. This one featured a 401cid supercharged heavy duty truck engine, which was sufficient to power it
around the Indy track at 129.208mph (four lap average). Unfortunately, the supercharger failed at lap 52.
Later in 1950 the Cummins Diesel Special completed a record breaking Flying Mile at Bonneville at 165.2mph


Enjoying this article? Our magazine is funded through the generous support of readers like you!
To contribute to our operating budget, please click here and follow the instructions.
(Suggested contribution is twenty bucks per year. Feel free to give more!)
British Racecars that Revolutionized the Indy 500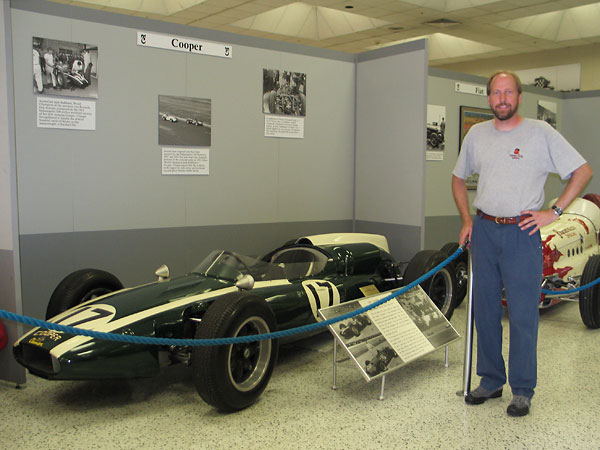 Jack Brabham's 1961 Cooper-Climax.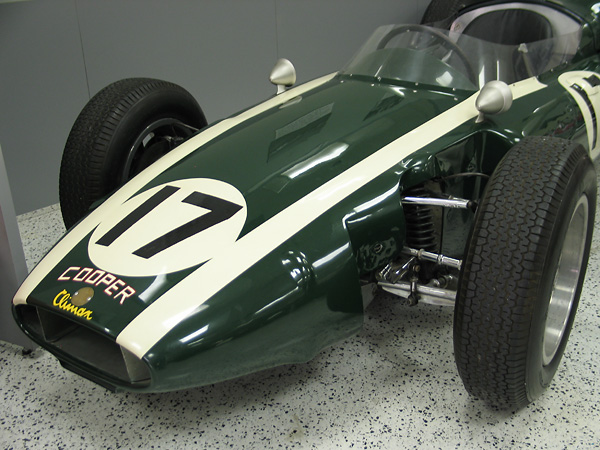 Jack Brabham qualified fifteenth quickest (145.144mph) and finished ninth in the 1961 Indy 500.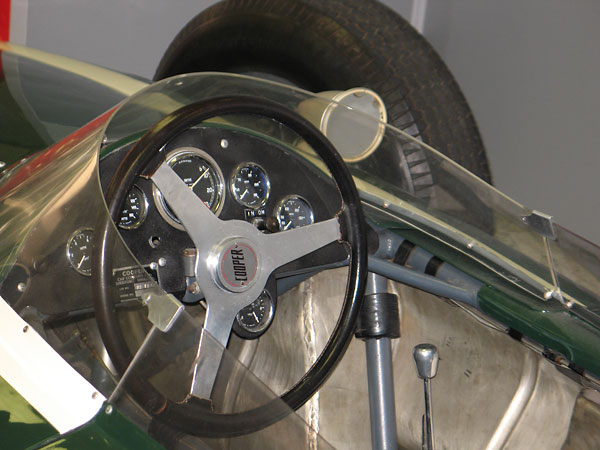 Brabham's Cooper is rightfully credited with starting the revolution from front-engined to rear-engined Indy cars,
but it wasn't the first rear-engined car to enter an Indy 500. Several rear-engined cars had entered between 1937
and 1951, but none of them finished their races. Brabham's Cooper was already well developed: Brabham had
used the same car to win his second F1 world championship. It was then stripped down and strengthened for
the 500 because the Indy track at that time included a much longer length of brick pavement on the main straight.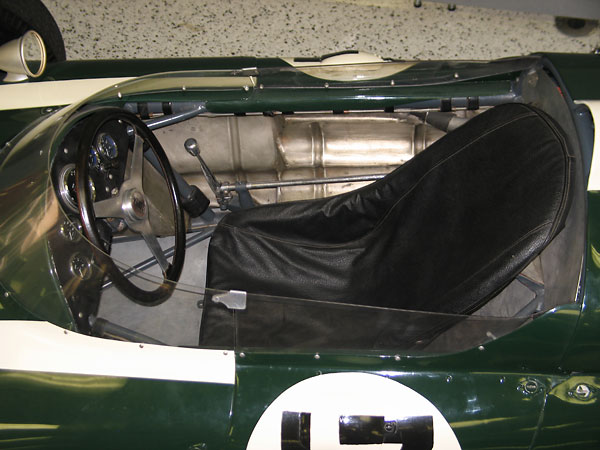 In addition to strengthening the chassis, the Cooper-Climax team also increased engine displacement from 2.5
to 2.7 liters (167.6cid, 3.78" bore, 3.74" stroke"), and canted it over further to lower its center of gravity.
(Brabham's engine was an inline four with dual overhead cams, not the prematurely aborted Climax Godiva V8.)
If you're interested to learn about earlier Cooper Climax cars, here's a great place to start: 1957 Cooper T43.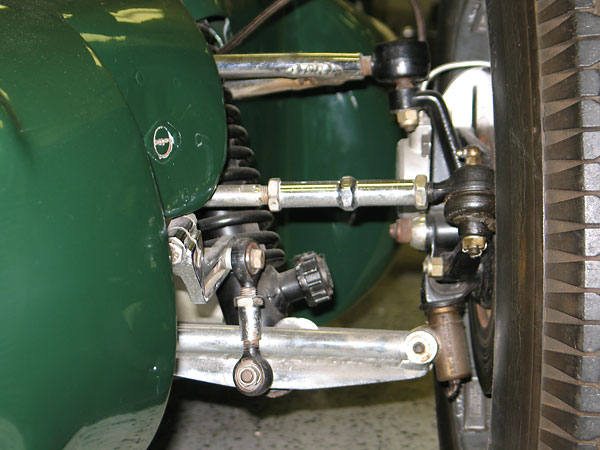 Armstrong adjustable coilover shock absorbers on all four corners.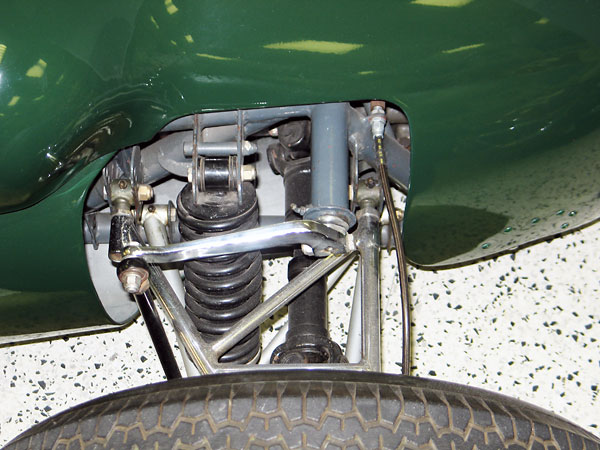 The Cooper-Climax's anti-roll bars are easily replaced, but not tuneable once installed.
(If rain had started mid-race, there would be no option to soften rear roll stiffness.)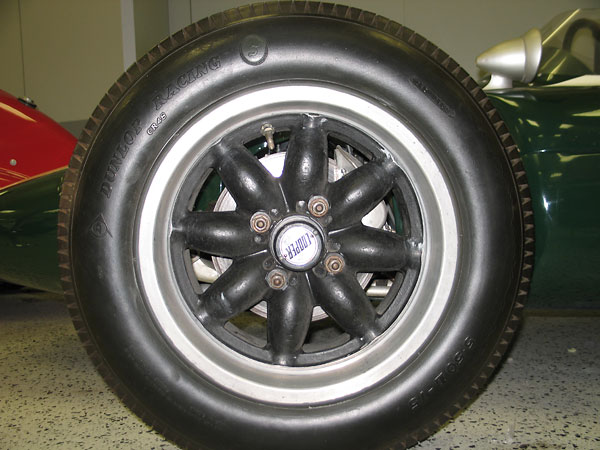 Cooper's distinctive eight-spoke magnesium wheels would become iconic.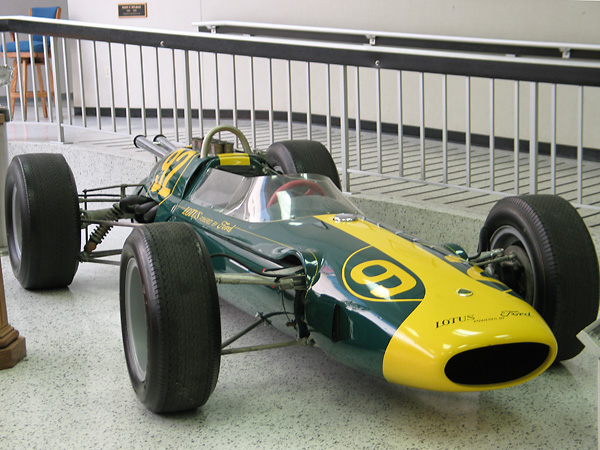 This car's paint job, number, and signage are all deliberately deceptive. The Indy 500 Hall of Fame Museum
would evidently like visitors to think this is Jim Clark's Lotus Type 29 racecar, chassis# 29/3. In fact, Clark's
car was destroyed many years ago. This is the Lotus 29 his teammate, Dan Gurney, drove to a seventh place
finish in the 1963 Indy 500. This is chassis# 29/1. When it raced in 1963, it was painted white with a blue
stripe. It wore racing number 93. Of course, none of that takes away from Clark's accomplishment...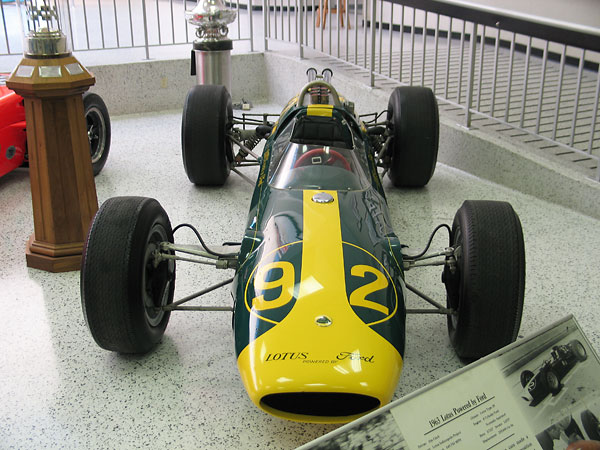 Jimmy Clark qualified seventh quickest (149.75mph) and finished second to Parnelli Jones,
after leading laps 68-95. For this performance, Clark was named "Rookie of the Year" for 1963.
(Notice that the front suspension features inboard shocks and springs!)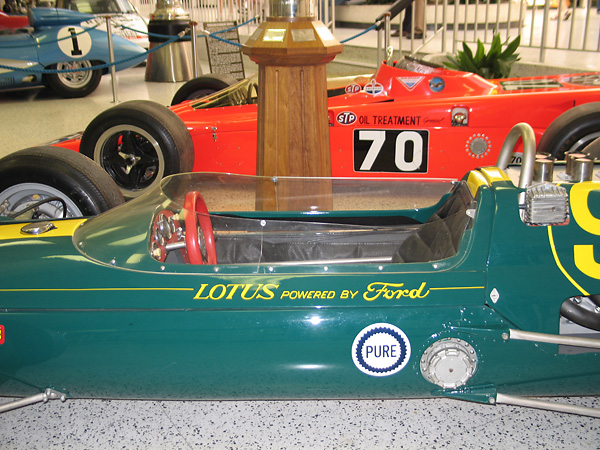 Jim Clark's Lotus was powered by a production-based 256cid Ford V8 (3.762" bore, 2.875" stroke.)
The Ford engine's performance is often credited with ending Offenhauser's very long term and complete
dominance of Indy 500 racing, but that dominance was actually cracked in 1962 when Mickey Thompson's
team entered their Buick 215 powered car, with which Dan Gurney drove to Rookie of the Year honors.
The Buick qualified 8th and was the only non-Offenhauser engine in 1962's field of 33 cars.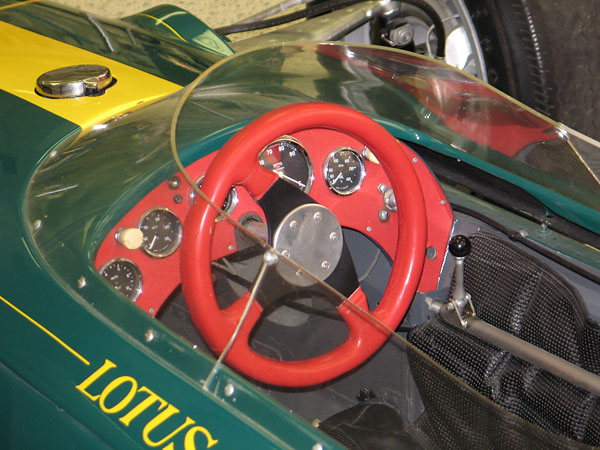 Lotus assigned Jimmy Clark an exceptional Chief Mechanic named David Lazenby to manage the Lotus 29's
preparation, tuning, and maintenance. You can read more about David Lazenby and his own race car
designs here: 1974 Hawke DL11 Formula Ford Racecar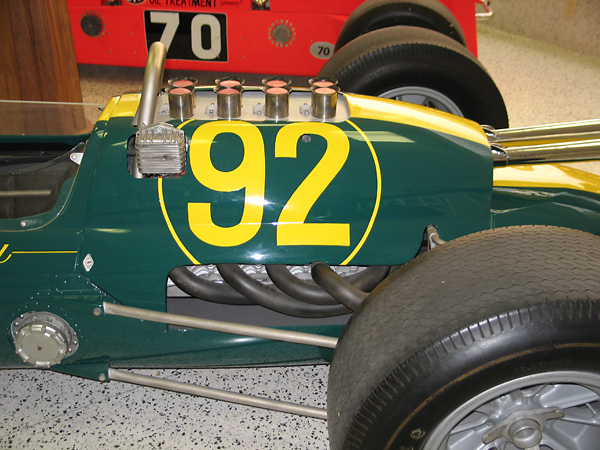 Fixed length trailing links, like these, require great fabrication precision.
By 1963, we expected they would have used Heim joints for convenient adjustment.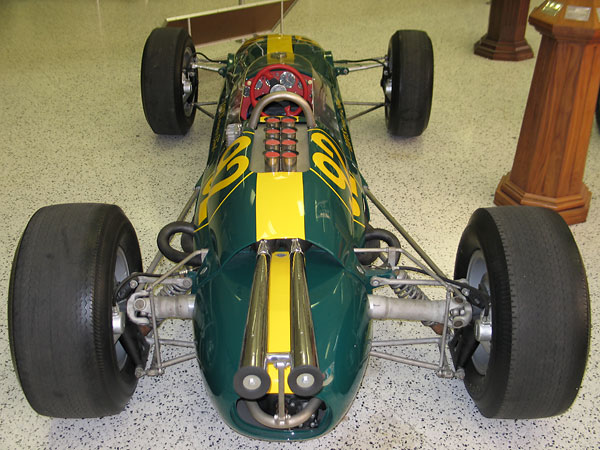 In the era before significant aerodynamic downforce, it was common practice to build Indy 500 cars
with offset suspension links because, the car's only travel counter-clockwise around the oval-shaped
track. The offset reduced weight transfer to the outboard tires, which evened-out tractive force.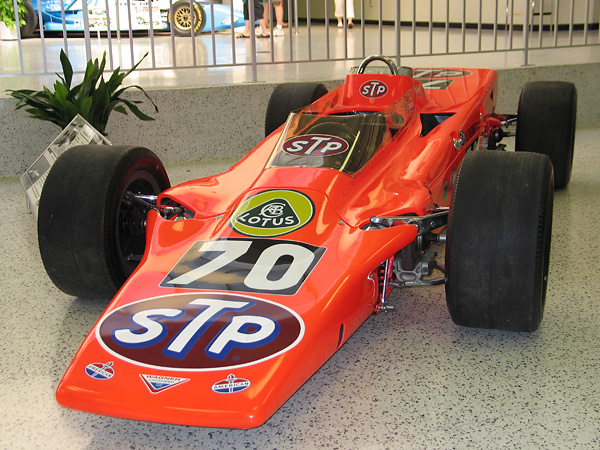 Graham Hill's Turbine-Powered Lotus Type 56 (1968 car #70).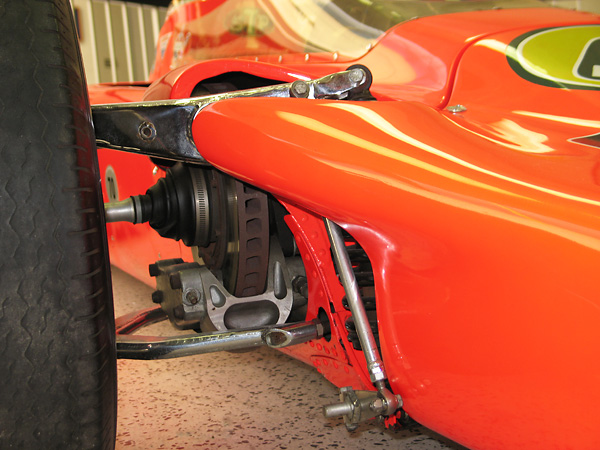 Parnelli Jones had led the 1967 Indy 500 by almost a full lap, with just four laps remaining, when a minor
transmission part failed and cost him the race. That had been the debut of turbine-powered cars at the
Indy 500, as fielded by Andy Granatelli's STP team. Granatelli returned in 1968 with three new turbine
engine powered cars. Graham Hill started in the center of the first row, and was running fourth on lap 110
when his rear suspension broke. Hill's teammates, Joe Leonard (who had qualified in first position) and
Art Pollard both suffered broken fuel shafts; Leonard's flame-out happened while leading, and with just
nine laps remaining. After just two spectacular years, the turbine era ended.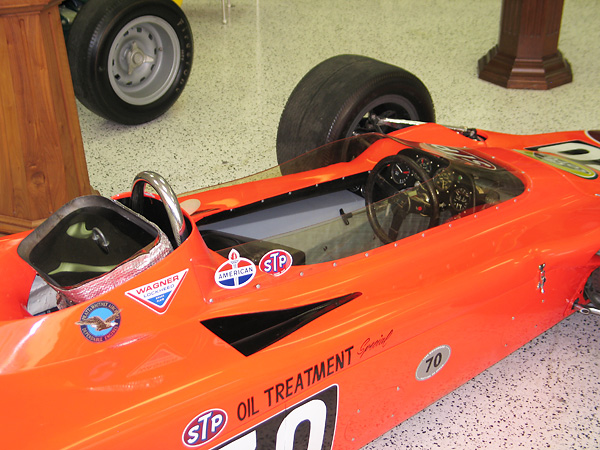 Pratt and Whitney conservatively rated their 1968-spec turbine engine at 400 horsepower. Their 1967-spec
turbine was unquestionably even more powerful, but USAC adjusted rules to keep racing competitive.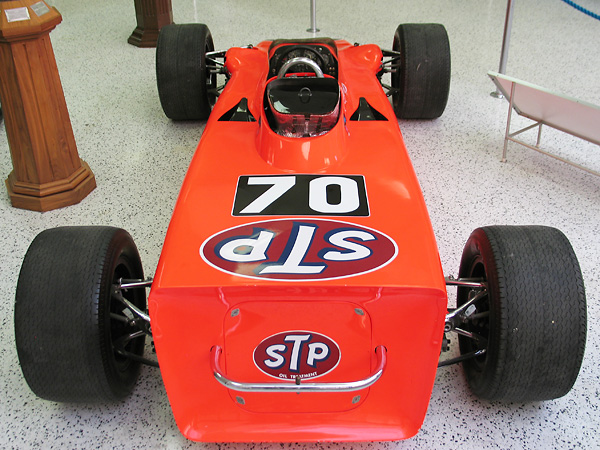 The Indy 500 Hall of Fame is the very best automotive museum I've visited. Most of the displays are lit brightly
enough you can see and take good photos of the cars. You can walk up close to and around two or three sides
of some of the most interesting cars. Signage is much better than average. Still, it's damned frustrating! It's
very rare that they let you peek under bodywork. Can you believe they featured this turbine-powered car so
prominently, but couldn't be troubled to display one single photo, diagram, or even a descriptive sentence
about how its unusual drivetrain was installed? Generally, newer cars are less well displayed and explained.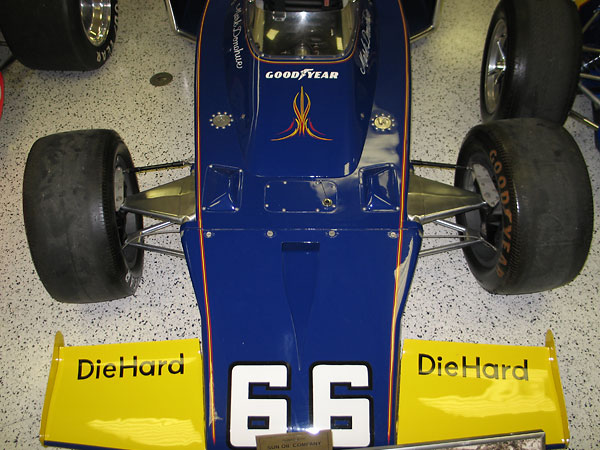 This car should have been presented much, much more prominently! This is the Penske-owned McLaren M16
that Mark Donohue drove to victory in the 1972 Indianapolis 500 at a record average race speed of 162.962mph.
Donohue completely shattered another record on lap 150, by completing it at an average speed of 187.539mph.
As remarkable as the Hall of Fame museum is, it's obviously nearly out of room in its current location.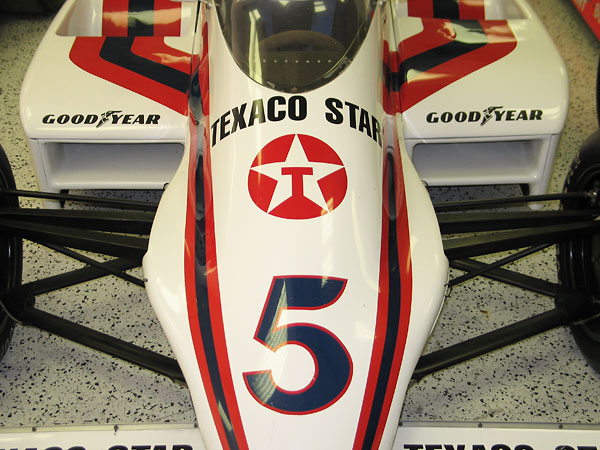 This is the March 83C that Tom Sneva drove to victory in the 1983 Indianapolis 500. Sneva had previously
finished the Indy 500 in second place three times. The No.5 "Texaco Star" was co-owned by Dan Cotter and
by famous race mechanic George Bignotti. 1983 marked the seventh victory for Bignotti as Chief Mechanic,
and historians credit Bignotti's development work on the March chassis with its success at Indy. Cosworth
powered March racecars won the Indianapolis 500 five straight times between 1983 and 1987. (Question:
why do you suppose the radiator vents on the tops of the side pods are at different set-backs?


Other Aspects of the Museum's Collection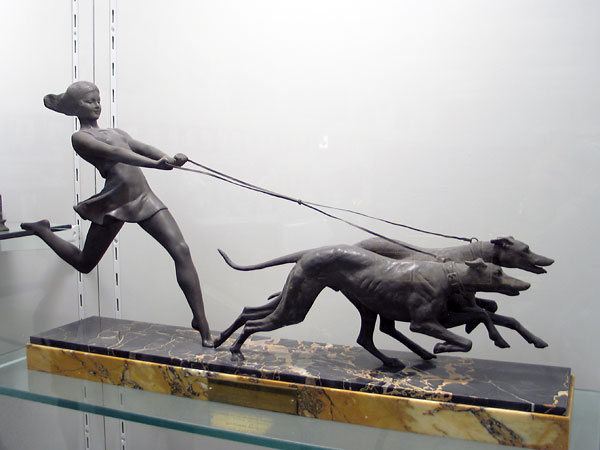 The museum has a terrific collection of old trophies. I didn't have time to look at it,
but this particularly attractive trophy caught my eye.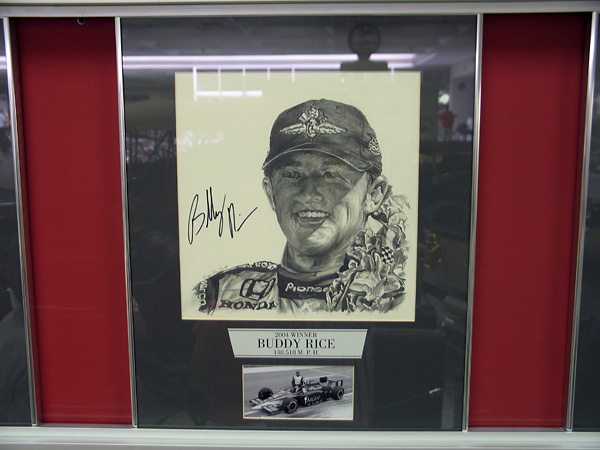 The museum also has a plaque for every Indy 500 Champion driver. Here for example, is Buddy Rice who won
the 2004 Indy 500 from pole position after leading 91 laps in his Honda-powered Panoz for the Rahal-Letterman
racing team. The race was called on the 450th lap due to severe rain and a nearby tornado. In interviews Rice
shared credit for the victory with engineer Todd Bowland, my close friend from Virginia Tech Formula SAE days.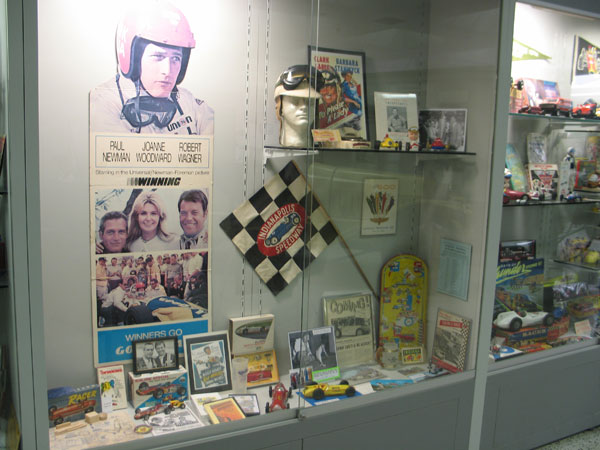 Finally, the museum collects and displays artifacts of the Indy 500's impact on American culture. For example,
posters from movies that feature Indy 500 racing such as Paul Newman's 1969 film, "Winning". We noticed that
the Hall of Fame has large gift shop, but we had to leave in a hurry for our next scheduled BritishV8 activity.


Disclaimer: This page was researched and written by Curtis Jacobson. Views expressed are those of the author, and are provided without warrantee or guarantee. Apply at your own risk.
Photos by Curtis Jacobson for BritishV8 Magazine. All rights reserved.